Flipkart adds new features and improvements to their Windows Phone app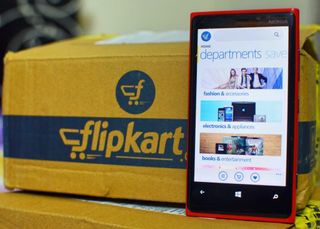 India's leading eCommerce store, Flipkart launched their official Windows Phone app last month. The app features a very nice user interface and easy navigation through different departments to find products.
The app has been updated to v1.1.00 yesterday and adds a host of new features in addition to some neat user experience improvements. That's pretty good for an app that's only a few weeks old.
The latest update adds the much-requested wish list feature that allows you to bookmark products to check out later or share the list with your friends and family so they know what to buy you for gift. The wish list syncs between Web and all your devices, so works pretty well.
The app now features recommendations so you look at products suggested based on your browsing history that you might be interested in. There's of course Search history, so you can check out your recently viewed products. Also, when you search for products, categories, or brands, the product filtering has been improved with the latest update.
Download the Flipkart app for free for Windows Phone 8 devices from the Windows Phone Store. It's a pretty good, and the quick update looks ominous to Flipkart customers on Windows Phone. What are your thoughts on the Flipkart app for Windows Phone? Is it the best in form and function, or you prefer apps from other online retailers?
We Indians are on a fly these days in terms of support for Windows Phone!

ikr especially since wp is catching up fast since people are starting to detest android and google these days in india except for maybe the extremely hyped moto e and g 3-4 of my friends sold their samsung phones and got 630s and 1520s

"3-4 of my friends sold their samsung phones and got 630s and 1520s" Same here. Some of my friends sold their droids and got lumias. I call one of them "Lumia Family", their whole family got lumias of different models, two 520s, one 920 and one 1520. Remarkably, the kids got them lumias just for xbox games!

But why so much hype for the G? It doesn't even have expandable memory!!

Yeah, well, Cortana doesn't show love for Bollywood though. I ask her to do a web search for Wake Up Sid, and all she shows me is my alarms. Apparently any sentence that has the word "wake" means I need to set my alarms.

I have Lumia 1520 (yellow)
My dad owns Lumia 720
My mom uses Lumia 630
My girl friend uses Lumia 925..
One great Lumia family

You count girlfriends in your family??

1520 for me,1320 for mom,720 for bro,720 for my friend & a 520 for his wife!

Was waiting for this "Where's whatsapp" comment. At least now we have something to say other than ....Seems faster.... in every unread article.

Yeah because that comment seems faster

How can a comment be described as fast? XD

also because of bad after sales support centres for samsung lg and sony nokia now microsoft is the only company that provides timely service in my city thane in india. my uncle is going to buy the nxt version of 720 and give up his note 2 to grandpa

Good to see the addition of new features ! I use this app to buy my stuff online and its really smooth.

Agree with you. Smoothness at its height. I've flipkart app in my Android 4.1.2 as well but that app isn't even comparable with this one. That just looks like a mobile version of flipkart but this one is a pure WP app with much better features and UI. The only app (online store) near to this one is SnapDeal. Their app is nifty too.

The update came like 3 days back

Ominous for flipkart customers? Why?

One new bank app also launced today for indians...pls share that news also ING VYSHA bank app..looks good in features.... Now icici bank is remaining

Icici sucks when it comes to online banking. Prefer hdfc app. It's good and useful
Windows Central Newsletter
Get the best of Windows Central in in your inbox, every day!
Thank you for signing up to Windows Central. You will receive a verification email shortly.
There was a problem. Please refresh the page and try again.