Get ripped with INSANITY from Shaun T, now available on Xbox Fitness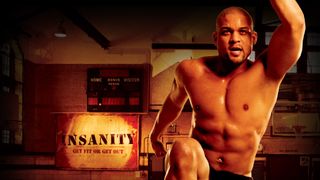 INSANITY is now here for Xbox Fitness on Xbox One. Beachbody is one of the biggest names in home-excercise DVDs having made programs like P90X and Insanity from Shaun T. Now you have this insane workout on your Xbox One.
Here's the description of the INSANITY for Xbox Fitness:
Xbox Fitness is probably one of the coolest but underrated aspects of the Xbox One. It's also a great case for buying an Xbox One with Kinect. We've seen great workout programs from the likes of Seahawks QB Russel Wilson. This new Insanity program for Xbox Fitness is like the P90X version we saw earlier this year. Both cost $59.99 and bring killer workouts to your living room.
The rest of Xbox Fitness is still free for Xbox Live Gold members (and will remain so into 2015). Programs like this new Insanity workout go above and beyond with detailed and intense workouts.
Anyone thinking of getting Xbox fit?
Via: @TheRomit
I am going to go insane with his insanity workouts! Summer beach body 2015, here I try again

good luck bro! we believe in you

I'm with ya Bro!! lets go to the beach ! LOL

Yeah, I better test myself, eat clen and tren hard along with this insanity program!! Anavar give up!

Gonna stop eatin all together...Auschwitz style...and work out like a mother fucker...hell yeazzz

Go after it, the problem with me and these workouts being 6'4" and 275lb too mucy plyo kills my joints.

Did insanity before and I was committed. All what I can say is that its as good as long as you do it. The moment you're done and you go back to life you lose your gains in a month. Insanity is very physically demanding and it cant be a lifestyle. On the other hand, weight lifting can be a lifestyle

Love big bulky muscle over vast quantities of fat.

Is this less videos than what you get with the DVD?

I'm actually gonna try it along with my weight training I already do. I wanna actually see if I can do it and achieve good results

Insanity works. I have the DVD set.

I've already achieved amazing results just with the three Insanity workouts available with XboxOne Live Gold !!! I'm in on the full deal.. Done !

Post some results, before and after, i think i am going to try that out !
one question... i go to the gym every day, minus sunday, work out, is this ''insanity'' going to ruin something ou not ? thanks !

Yeah, and I make 15000 a month on the fuckin internet...only takes 5minutes a day

Need help sticking to your workouts? Check out Motive, a WP8 exclusive motivational social network complete with habit tracking and progress updates! http://whatsyourmotive.com

Is the Xbox fitness version still horrible standard definition quality? I wouldn't mind being able to trade in my DVD set for it.

LOL! I think this everytime I see an infomercial for this DVD set.

I'm in the last week of the second month. Nice workout. Great results, I would love to try it on Xbox

Actually, Xbox Fitness is becoming really interesting. Especially when paired with the Microsoft band.

Im curious as to how this compares to the dvd set. The xbox one p90x only has around 6 workouts while the p90x box set has around 13 videos. Does anyone know if this is the same videos that you would get with the box set or is it a slimmed down (pun intended) version.

I purcahsed the P90x workouts for Xbox one and can confirm they were made just for this platform.I assume the workouts are quite similar but they have lots of Xbox branding and such in the video. As an added plus the xbox one videos are in HD vs the SD quality of the freeones you see in the fitnesss app. They certainly get the bloodflowing and are a welcome relief frommy normal outdoor runs when the weather is bad outside. I wish there was a little more you could do withe the purchased workouts. I understand the Kinnect Sensor is a big deal and it works great during the workouts but that kinda limits when and were you can use them. My XboxOne is in my family room which really isn't setup for a sweaty workout. It would be coolto at least view the workouts on my laptop when I'm traveling out of town. What about a podcast type workout ofthe audio portion of the exercises to be done outside at the park.... I seem to feel for $59 they could offer a few more options.

I got a ripped set ..still sittin in the same place from last year...i still got 15 days left for my last year's new year resolution. Then, I'll just roll it over for 2015.

must. not. fap. brain, stop!

Insanity is awesome. Period. Hard work... Yes... very! Great results... Yes!

This is great for those with XBox. I'm hoping for a Windows Phone companion app for this and P90X to keep all the data from the workouts vs. writing on paper and having the workout videos on there for when one travels. It would also be AWESOME to connect it with Microsoft Band to help count repetitions and keep track of heart rate automatically. They make apps for iPhone/Android (duh), so I can dream, right?

Won't buy this but I still need to get back to Xbox Fitness. I didn't go outside since September - so much games

I've done two rounds of Insanity.. I used to swear at the TV for an hour a day.. Lost 45lbs, so I guess it wasnt so bad.. I'm a beachbody coach now, best decision I ever made.. Im also in the best shape ive ever been. Any on the side questions, hit me up.

Big fan of Shaun T. I'm doing his beach body on my xbox one every other day. I'm not insane enough to do the INSANITY workout or lets just say I'm not 20 anymore :) I think the 100$ extra I gave for the kinnect were money well spent as I don't go to a gym.
Windows Central Newsletter
Thank you for signing up to Windows Central. You will receive a verification email shortly.
There was a problem. Please refresh the page and try again.