Stop the presses as original Instagram app Instance, version 2.0, finally arrives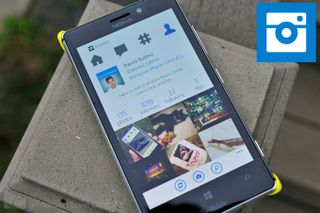 If you go way back to the start of Instagram apps on Windows Phone, Instance (previously known as Itsdagram) was one of the first apps to link straight to the service for direct photo uploads. It was a huge win at the time for Windows Phone as it gave the first, native like experience for the service. Later, 6tag came onto the scene and Instance faded.
Although beta 2.0 was previewed on this site way back in August, that update never came to fruition. Call it life catching up and other things, but that project was put on the back burner. Today though, that app has finally been polished and prepped for release.
Here's what is new.
Instance version 2.0
Geotagging
Flickr Support
Tumblr Support
Foursquare Support
Pinterest Support
Delete Comments
Theme options
Editing profile support
Improved privacy features
You get all of that plus a great new UI, that reminds us a lot of the excellent layout found in the Twitter app. That familiarity and clean design should appeal to many users.
To be clear, this is the free, ad-supported version that has been bumped to version 2.0 though we imagine that the paid app will also get the update.
Pick up Instance (free) version 2.0 here in the Store and we'll also post the link for the older, paid version in case that goes live as well.
Thanks, Forrest C., for the tip
Windows Central Newsletter
Get the best of Windows Central in in your inbox, every day!
Daniel Rubino is the Editor-in-chief of Windows Central, head reviewer, podcast co-host, and analyst. He has been covering Microsoft since 2007 when this site was called WMExperts (and later Windows Phone Central). His interests include Windows, laptops, next-gen computing, and for some reason, watches. Before all this tech stuff, he worked on a Ph.D. in linguistics, watched people sleep (for medical purposes!), and ran the projectors at movie theaters because it was fun.
Never too late for more apps.

I'm sure that's what most people said about Windows Phone...

Unfortunately, way too late.
7 months?!?!?
At least it loads properly on WiFi (unlike Instagram BETA), but I can't read any comments on pictures.

Instagram BETA works just fine on wifi.

Not for me, Instagram beta never loads the feed completely (sometimes not at all) on WiFi. Cellular data connection works good if the signal strength is high.
Instance and 6tag work great on both connections.

Works great for me on WiFi as well. Maybe it's your WiFi.

I doubt it, since everything else runs fine on it and I have had the same results with Instagram Beta on multiple other WiFi networks. Also, 6tag and Instance load feeds & pictures just fine on those WiFi networks while Instagram Beta does not.

Without him Rudy would even made 6tag :p eat is go rate him give him issues to fix then maybe it can compete with 6tag better you'll see!

It took too long. I waited and waited, but eventually I had to delete it and now use 6tag.

All the update did was remind me that I needed to uninstall the app :x

Lol I did it a long time ago.

I'm going to check it out and see if I like it better than 6tag.. I love competition which third party apps bring.

After the situation of non-functioning hashtags and the lame response of this dev on the subject, I must say this app is not touching my phone, ever. 6tag is of a much higher quality.

Dev took a hiatus for personal reasons, how can you hate on him for that?

I don't hate him, you can scroll this page down and read my other comments too...

He could release a express update for v1. to fix the hash tag problem (wich just need 5 lines of code and Rudy said that he could provide him code) but they disrespected their consumers and opted to not release that update and ignore us. Yes. I bought this app in the day one and had to create a new account to solve that and now I never get all my followers back again!!

Yeah because Rudy knows exactly how Daniel has developed Instance, and what code Daniel is or is not using, right?

At least appreciate the app, and the effort the developer did put in. He made me sign up to Instagram with his app. Too late or not, he does not deserve this casual way he is being dismissed. Options are good. Daniel Gary, your efforts and your team will always be appreciated here. That he upgraded his instagram app way too late does not mean he should be dismissed with such mean comments. Applaud him, encourage him, he can still make other apps. Well, apologies for the rant.

No apologies needed. I agee 100% with you. Most people complaining probably jumped on WP later in the game to appreciate the early dev support by Daniel Gary and others.

I agree...ppl here are turning out to be a bunch of assholes...yesterday they treated him like God.. and now that they don't really depend on him as much anymore, they let trash in them do the talking...

Its the culture of the internet, same attitude that handicapped the Xbox One & other things

Definitely agree with this. Those of us who have had to wait since November of 2010 for apps like these can appreciate the fact that he got us an instagram app. New users have been lucky to see great third party apps and official ones come fairly quickly in the past year or so. Kind of spoiled if you ask me. I remember the days of apps like WPGram being my only tie to IG. Back then liking pics and viewing comments was the best you could hope for. That being said, Daniel came out with instance and it was huge. I'm a big Rudy fan so I do us 6tag but ill be damned if i dont buy Daniels app to support him as well.

Damn some of ya'll is ungrateful bunch. Now that you have options suddenly this third party app isn't worth your time. Heh.

I used to really like Instance, has been in the beta, until the full release broke hashtags and the dev was so arrogant about fixing it. That's why I'm not going back. It was a great app but the dev was too busy being sarcastic and fighting over Twitter to fix the hashtag issue, which was a big problem as it banned our accounts for some time.

Arrogant? I agree I took too long to get the update out. I had a great deal of family troubles going on and still do. For everyone else, I apologize for the update taking so long. Life gets in the way. As a husband and father and with a full time job that can be very demanding of my time, I'm doing the best I can. But the delay is unacceptable, and I AM sorry.

Salutations for you, sir, I feel you.

You don't need to apologize about your update being late. I only remembered you were not nice about the hashtag problem, that's all. Now that everything is fixed, I really wish you success with your app. Even if I am not using it anymore, I can tell it has a great design from the screenies. Sorry if I was too hard on my critics.

Not everything is fixed. Even not close to that. Most people will never know why their pictures never get liked for other people! He even not mentioned that inside the app!!

Don't worry too much, people should be more grateful. 6tag is a quality app, but I still like yours better: the design is just astonishing imho. I'm really glad you made it and achieved to release v2. For most, you're still the first dev that gave us a way to use instagram, and it won't be forgot. Hope you'll be able to get some more nice apps like this, and wish you luck for all your family affairs. Sincerely, thanks Daniel. Keep it up!

All hail to Daniel! Full support bro

"Life has three rules: Paradox, Humor, and Change. - Paradox: Life is a mystery; don't waste your time trying to figure it out. - Humor: Keep a sense of humor, especially about yourself. It is a strength beyond all measure - Change: Know that nothing ever stays the same."
― Dan Millman, Way of the Peaceful Warrior

You could use the 5 lines of code that Rudy offered to you to fix the problem but you didn't accept the help... I'll never forget that. Sorry.

That's because he already had the fix in place. Jesus.

Not, he didn't. Are you telling me, and every people that bought Instance v1 that they should have waited until today to have their accounts unflagged?????? Worse, at least the V2 beta that was released months ago, didn't fix nothing!!! I used this beta and wait another month and nothing happened to many account! The only solution was create a new one, thanks to Daniel.

Dude. Until you are Daniel and you know what code is in your app and what isn't, and what code will work in your app and what code won't, you really should just keep quiet about Rudy's offer. You're talking out of ignorance.

Wow, what pissed you off so much? Daniel obviously had bigger issues happening. I'm just grateful that he tookas much time out of his own life to bring us an app that was missing on our platform. That is enough for me. The fact that you are complaining about someone who did this on their own time is sad. Just be grateful for what he did do.

I'm not complaining about he doing this in own time. There is no problem with this. The problem is he knews a problem that was affecting ALL the users, he knews how to solve that and he ignored all the people that supported he from the beginning. And he didn't provide any type of feedback to these users.

Sounds like you're talking out of your backside.

There is NO reason for you to appologise at all EVER. People should understand that some of us have other things to do in our life. You should not be made to feel bad and i hope you dont. And to many of the commenters with their disgraceful comments should just not bother to comment. For the fact that you even bothering to update your app for these ungrateful people i will now purchase a pro version of your app, thanks for updating your app, some of us to appreciate it.

No need to apologise. I started on WP8 earlier this year, amidst all the doubters and naysayers. Always appreciate the early works by the devs.

Need god instagram app for wp7.8

I don't think god uses Instagram.

And wp7.8, for that matter. I think God's moved on to 8.1

I use Instagraph (Lumia 900)

Still using 6tag and Instagram Beta.

2 things:
- I tough Daniel had give up this app;
- be careful people: this app may still flags you as a inappropriate account, so you won't can use hash tags.

Instagram was clearly targeting WP produced photos. It's way too much of a coincidence that flagged accounts, suddenly, became unflagged a few days before the announcement of Instagram on Nokia World 2013. So that shouldn't happen again.

This is true?? I didn't see anyone mentioning that.

Well, I speak from personal experience. I had my account flagged because of the hashtag problem. I didn't bother to create another (as my account is closed to friends only anyway) or do anything whatsoever (I didn't logged out of Instance, nothing). Then, all of a sudden, it was unflagged (and no, no particular time frame passed). When was it unflagged? Less than a week before the official announcement of Instagram on WP. So my belief is that indeed they were targetting photos with the WP code. Then all they needed to do to unflag all the accounts that were flagged because of that was issue a general order to reinstate the privilleges of accounts with said photos. Of course it could all be an amazing coincidence...I just think it's *too much* of a coincidence.

Unless you're going to write your own apps, you should shut the hell up about development efforts. You call Daniel out for being arrogant and ignoring folks, and yet here you are claiming to know everything.

Well, good to know. Unfortunately it took him too long. I tried to maintain Instance and 6tag. But the lack of updates to Instance made me rely only on 6tag. Now with the official Instagram on board, I'm using Intagram and 6tag. I unfortunately have no further need for a third Instagram app.

i have to say that light theme in the first picture pushed me to install instance well done

Nice effort, but 6Tag and Instagram Beta in that order will probably be sufficient for most. Keep up the good work though, Daniel Gary. You have a skill set that many people do Not

Better than instagram beta

I thought Daniel Gary discontinued Instance.

This occurs when the developer doesn't provide any kind of support to their consumers.

No this is what happens when people assume.

This is what happens when someone who dedicated his own personal time to a project had other things in his life come up. This isn't his full time job. Stop complaining. Why are you such an angry individual?

Wow. Never thought I'd see the day.

I used to use instance. Its hard to believe how far we have come since then. I prefer 6tag nowadays and instagram beta but props to the original instagram full featured unofficial app .

Its way too late for you Daniel. Go back on your hiatus!

You should just quit the internet.

Does this support video upload for free? Since my understanding is that 6tag requires payment to upload video's after a certain period of time

Oh no a whole dollar or 1.29$

The instance tile looks light years better than the official instagram beta's.

Oh god, all these haters -.- Instance is a really nice app and it is the first very good wp app for instagram. You can't expect the dev to give up his life just because you paid a few bucks.
The new update makes it even better.

Right I'm not complaining about the time it took for him to release this but Why release it as a separate app? I paid for the First version of the app and used it since beta. Shouldn't I be able to just update it or not pay for ad removal the second time round?

Hey Derek! No worries. You don't have to pay a second time. For whatever reason, the free version passed approval before the Paid. You should see the update next week sometime.

Ahh Right! Silly Microsoft I suppose. It was a little annoying seeing two Instance apps in my app list. I'm liking v2 so far. Keep up the good work!

Wondering when this guys would introduce direct message.

Nobody asked him to give up his life but dissapearing into thin air for months is unprofessional behavior. We paid for his product. A simple message update: "I'm taking a long hiatus for personal reasons" would suffice. As for the update, better than nothing but again, too little, too late.

I notice the article didn't say anything about new filters? I switched to 6tag because the filters in Instance seemed a bit dull for my liking, and the 'Instagram" filters weren't on this app. Has that changed? That was the reason I stopped using Instance, the filters.

Great! But, ive been paying for 6tag!

Garysnap or garytinder may compete?

Great job, Daniel. Always enjoyed your support of the platform early on. At this point I will continue with 6tag because of the multiple account support. I post for myself and an organization so I need the multiple account support which Instance and the official app don't have. I will continue to follow the progression of instance, though, as competition is good for the platform.

I don't use instagram much but I bought the app a long time go to support Daniel. Thank you!

Smh. Back when practically 80% of the community is hoping for Instagram to be available on WP, Dan gave us one of the best app and experience on WP. I understand the dissatisfaction, but can't you let the man do what he wants with his life? I admit that I was kinda disappointed when I realized he went mia, but he posted a few updates on his Twitter/Instagram (can't remember) and I got to know that he was taking a break from what he usually does. That's cool with me. Now that he released Instance v2, bunch of you are whining. Ungrateful brats.

Why is there so much hate for this guy? Be thankful he's even making apps for WP. Take a browse through the Market, not a whole lot of people are. As far as I can tell this is a quality app that this guy is making in his spare time. As a father its hard wanting to do ANYTHING in the little free time you get. If you dont like the app, dont use it, but dont sit here and degrade it. Respect the work, as simple as that.

The free app shows the 2.0 version. However.. I have the paid version and it's still at ver 1.3.
So the free version is better than the paid one?

No, it just takes a bit more time in the certification process in the store.

What people expect for 1.29 nowadays is astonishing. Talk about entitlement...

Does this app let u do videos or do u have to pay for it like 6tag

Why all the hate? Geez. At least the guy is still supporting the platform and I appreciate it.

At a glance I read that headline as "Official Instagram App Version 2.0 Arrives." I got excited thinking that we were actually getting shown some love from Instagram official. Then re-read it and was dissapointed. I bought Instance and it was great in the early days, can't blame Daniel for having some time off. But after I had to log out of all instagram clients for 2 weeks to get my hashtags to work again I don't think I'll be using 3rd party clients for my main account and I'll just use 6Tag with my secondary account.

Wow , some of yall are really ungrateful. How about some appreciation for Daniel's work?
You remind me of the BMW M Twins launch last week. Sigh

I am definately going to give this a try.

Sorry, too late. BYE FELICIA!

Daniel gary should have posted some kind of update on twitter b4 the hiatus. my original instagram account got flagged due to v1 and couldnt logout properly. though apparently v2 solves this, its too late. i have deleted my old acc. and created new one via 6snap ditching instance completely. now i use the official app. Instance basically took away the instagram experience despite being built for this very purpose. i know there are people suppoting the dev but he must understand customer satisfaction and delight. hope this is a learning for him. good luck for the future

Congratulations WP! You just received citizenship.

Half the reactions here are just SO wrong. I really feel for Daniel Gary right now. The sniping is unjustified, when he was the first person who gave the platform a respectable bridge to Instagram. Life comes in the way, and when you return from there, you find a bunch of ungrateful wretches acting like kids who are sulking. Just SO wrong. I hereby take this opportunity to explicitly thank Daniel for what he has done - THANK YOU!

Thank you. I will say this was an ugly side of the Windows Phone community that i had not seen before... Thank you to you and everyone else that has been understanding of my delays.

I'll be honest with you Daniel, prior to this article I was critical of the lack of updates and information, but family is more important than anything and I completely understand that this app really is a nothing when it comes to problems in the family. It was good that Rudy came in with 6tag and kept the momentum that you built going for the community when it comes to instagram on WP. With regards to the "ugly side of the Widnows Phone community" that's just an ugly side of humans. Don't let it get you down, roll with the punches and hopefully Instance will be one of many great apps that you produce. Keep your head up man and don't take the negative comments close to heart. Happy holidays

Hey Dan, glad to see the update. As an early user of Instance, i was happy that i finally had a chance to use instagram from my phone. Lack of updates made me uninstall it. But after seeing this, it made me one happy WP user again. No official instagram for me. Just instnce is fine by me. Please keep up the good work and thank you. Haters gonna hate, so don't be disheartened and do your thing. :) :)
Windows Central Newsletter
Thank you for signing up to Windows Central. You will receive a verification email shortly.
There was a problem. Please refresh the page and try again.