Instant Pot Duo 80 7-in-1 Electric Pressure Cooker, Slow Cooker, Rice Cooker, Steamer, Saute, Yogurt Maker, and Warmer, 8-QT, Stainless Steel/Black
It's just not Cyber Monday without a great Instant Pot deal. Lucky for you it is Cyber Monday so you have a chance to outfit your kitchen with the Instant Pot Duo80 7-in-1 electric pressure cooker while it's on sale for $65. While this deal expired over the weekend, it is the same price we saw on Black Friday. The Instant Pot normally sells for around $100 and until now has never dropped this low.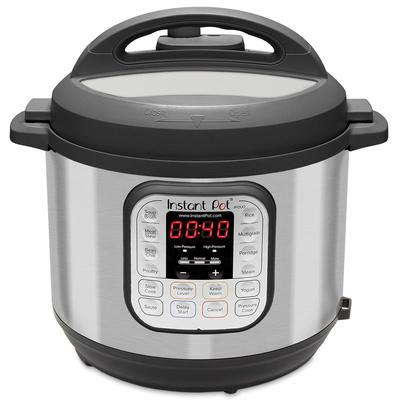 This price drop brings it to a new all-time low, but it will only stick around for today. This version of the Instant Pot has a large capacity, multiple cooking functions, and more. If you don't have one already, change that today!
$64.99 $139.95 $75 off
Don't have an Instant Pot yet? Then your poised to have your kitchen life changed forever. This convenient little machine does the job of seven different appliances. It might replace some you already own. It might add all new functionality you never knew you needed. You'll be experimenting with all new ways to cook awesome stuff. In addition to pressure cooking, the Instant Pot can also be used as a slow cooker, a rice cooker, a steamer, a saute, a yogurt maker, and a warmer.
It's also powered by a microprocessor that helps monitor things like pressure, temperature, and time. It works with you to achieve the best results every time. Of all the presets, you'll find 14 one-touch smart programs that help you set the right scene for cooking things like ribs, soups, beans, rice, and more.
The 8-quart stainless steel pot is easily removable and easy to clean. It's dishwasher safe along with the included accessories: a steam rack, rice paddle, soup spoon, measuring cup, and condensation collector.
Download the Instant Pot app on iOS or Android. It's loaded with plenty of recipes for you to try. Plus you can connect with the community for other ideas. and tips on how to use your new device.
We may earn a commission for purchases using our links. Learn more.