Intel Y-Series vs. U-Series Ultrabook CPUs: What's the difference?
What's the difference between Intel Y-Series and Intel U-Series CPUs? Read on.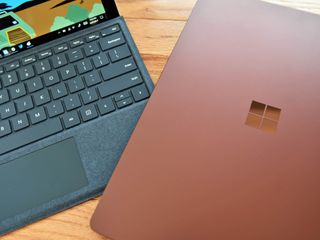 When shopping for a new Ultrabook, you might notice that Intel's Kaby Lake line of processors (CPUs) are commonly available in either U-Series or Y-Series options. These two lines of processors are not the same, and it's good to know exactly what you're getting into so that you can make an informed decision. Here are some similarities and differences so that you can ultimately decide which CPU is right for you.
How to tell Y-Series and U-Series CPUs apart
A lot of PC manufacturers will often list the processor in their device as simply Intel Core i5 or Intel Core i7. While this isn't technically incorrect, and it's doubtful that they're trying to mislead you — it's more likely the person who wrote the spec sheet didn't feel like filling everything out — there can be differences after the i5 or i7 designation.
Take, for example, these two processors:
Seventh generation "Kaby Lake" Intel Core i7-7Y75.
Seventh generation "Kaby Lake" Intel Core i7-7500U.
The only difference between these two names is the designation at the very end. Y-Series CPUs will always have a Y in the designation, while U-Series processors will always have a U at the end.
Still, it can be tricky if you aren't 100-percent sure what you're looking for, and a lot of people don't realize their mistake until after they've already purchased a new Ultrabook.
What is the performance difference between Y-Series and U-Series processors?
There are a number of variations to both U-Series and Y-Series CPUs, but to keep it simple, we will focus on the original three of each. The U-Series has the Core i7-7500U, Core i5-7200U, and the Core i3-7100U. The Y-Series has the Core i7-7Y75, the Core i5-7Y54, and the Core m3-7Y30.
All six of these processors (and indeed all processors from these series) are dual core with four threads. They all, with the exception of the Core i3 U-Series, take advantage of Intel's Turbo Boost technology, and they all have some form of integrated Intel graphics.
Let's compare clock speeds first.
Swipe to scroll horizontally
| Processor | Base clock | Turbo clock | Cache |
| --- | --- | --- | --- |
| Core m3-7Y30 | 1.00GHz | 2.60GHz | 4MB |
| Core i5-7Y54 | 1.20GHz | 3.20GHz | 4MB |
| Core i7-7Y75 | 1.30GHz | 3.60GHz | 4MB |
| Core i3-7100U | 2.40GHz | None | 3MB |
| Core i5-7200U | 2.50GHz | 3.10GHz | 3MB |
| Core i7-7500U | 2.70GHz | 3.50GHz | 4MB |
As you can see, Y-Series CPUs have a significantly lower base clock speed. If you buy a PC based on just Core i5, you could be getting a big difference in performance.
Thanks to Turbo Boost, the CPUs are pretty evenly matched, but Turbo Boost isn't meant to always be on. To get a better idea of how performance differs, here are some real-world results using Geekbench 4.
Swipe to scroll horizontally
| Processor | Single core | Dual core |
| --- | --- | --- |
| Core m3-7Y30 | 3,069 | 5,810 |
| Core i5-7Y54 | 3,729 | 6,810 |
| Core i7-7Y75 | 3,652 | 7,058 |
| Core i3-7100U | 3,196 | 6,201 |
| Core i5-7200U | 3,804 | 7,508 |
| Core i7-7500U | 4,394 | 8,216 |
These results can vary quite a bit, but in most cases, the U-Series is going to offer better performance in everyday tasks.
How much and what type of RAM can be used with Y-Series and U-Series processors?
When buying an Ultrabook, you'll no doubt be looking at how much RAM it has, and also what type it is. If you're looking for the latest DDR4 RAM, you have to go with a U-Series CPU.
Y-Series only supports up to 16GB of LPDDR3-1866 or DDR3L-1600 RAM. U-Series supports up to 32GB of DDR3L-1600 or DDR4-2133 RAM.
What integrated graphics do Y-Series and U-Series processors have?
An Ultrabook with either series of CPU shouldn't be your first choice if you're looking for a gaming laptop, but the U-Series does come standard with Intel HD Graphics 620 as opposed to Intel HD Graphics 615 in the Y-Series.
The difference in performance is marginal, but the U-Series might just net you enough frames that your game can be played on high settings as opposed to medium settings. There are Intel Iris variations in the U-series that deliver superior performance, so watch out for those if you need the most integrated graphics power possible. These designations look similar to the standard U-Series, but with a different ending. For example, i7-7560U or i7-7567U, as opposed to the standard i7-7500U.
What is the power difference between Y-Series and U-Series processors?
One of the main reasons why Y-Series CPUs are so popular is that they suck up about a third of the power as standard U-Series CPUs. When you're running off of a battery, that can make a huge difference.
To get technical, the thermal design power (TDP) of the Y-Series CPUs is 4.5W, as opposed to 15W in the U-Series CPUs. Although there are fanless options in laptops with both series of CPUs, you're going to get less heat and a longer battery life (assuming batteries are the same size) from the Y-Series.
Intel Y-Series vs. U-Series CPUs: TL;DR
In summary, Y-Series CPUs suck up less power and don't emit as much heat, don't have as much graphics oomph, and generally won't perform to the same level as the U-Series. That's not to say that the Y-Series isn't a great option — it is.
Next time you're shopping for a new Ultrabook, keep this information in mind. Don't forget to read reviews, and check out our laptop buyer's guide for a wide selection of the best Ultrabooks being made today.
See our collection of laptop reviews
See our laptop buyer's guide
Senior Editor, Laptop Reviews
Cale Hunt is a Senior Editor at Windows Central. He focuses mainly on laptop reviews, news, and accessory coverage. He's been reviewing laptops and accessories full time since 2016, with hundreds of reviews published for Windows Central. He is an avid PC gamer and multi-platform user, and spends most of his time either tinkering with or writing about tech.
Thanks! Good read :)
I didn't quite realize there was such a difference, or that there was a difference at all

I don't see the point in the Y series, U series just beautifuly fits the ultra book world. The faster paced cpu can smoother and more apps running at the same time, when turbo knocks off this is where the difference is 1ghz to 2ghz base speeds.

I have a work ultrabook running the U series, and a home ultrabook running a Y series. The battery life is substantially greater in the Y series. This is why I end up using my Y-series when I'm travelling. I know that the battery will last for the flight(s) with minimal need for a charge. Remember it isn't always about pure power and speed. When streaming, web surfing, or quick word processing is all that is needed, a Y series is quite nice.

I want a tablet as thin and light as the Huawei Matebook E or as small as the 10" Samsung Galaxy Book. Neither is possible with U series yet.

What I learned...the m3 sucks, the i5 Y is actually good for pretty much anything but gaming or graphics stuff. After this I would be open to a nice premium windows tablet with an it Y series. Too bad 1 does not exist to my knowledge.

Huawei Matebook E is a really impressive Windows tablet. It's basically an iPad that runs Windows 10 with a much better keyboard accessory in the box.

It does now...crowdfunded Eve V

4.5W? That's so good it's below Nintendo's Switch Tegra which uses 5W of TDP.

Yeah, but the iGPU in the Y is garbage compared to the one in Nintedo Switch.

I'm wondering how upcoming Snapdragon will compare to the Y series.

The theory behind Y CPU's is clearly battery. But is it the reality? Tests from the Surface Pro 4 seemed to show the m3 variant had less runtime than the i5. I have not yet seen anything from the new Surface Pro but Microsoft only quote runtime from the i5 which seems to point to it having the longest runtime (all are supposed to have the same 45Whr battery). Would be great to see a like-for-like device test (eg new Surface Pro) of battery life (general use; video watching etc).

Wouldn't the Y series be significantly slower on an extended task like video editing due to thermal throttling? Base clocks are significantly lower.

I'd think so, the TDP is a third of the U series
Windows Central Newsletter
Thank you for signing up to Windows Central. You will receive a verification email shortly.
There was a problem. Please refresh the page and try again.