Intel's 7th Gen Core chips will start showing up in laptops and 2-in-1s this September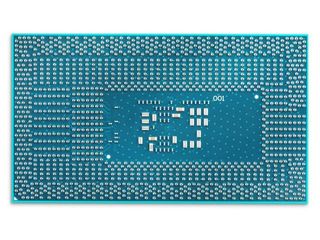 Intel has announced that its 7th Gen Core processors, using its 'Kaby Lake' architecture, will begin showing up in new laptops and 2-in-1 PCs in September, with over 100 devices going on sale by the holiday season.
In a press release, Intel stated the benefits of its 7th Gen Core processors:
Faster and more responsive: Intel's engineering and manufacturing teams have drawn even more out of our 14nm process technology with what we call 14nm+. 7th Gen Intel Core delivers up to 12 percent faster productivity performance1 and up to 19 percent faster web performance over our previous generation from just a year ago.
Access to premium 4K UHD content: With new computers powered by 7th Gen Intel Core, TV and movie fans will have access to premium 4K UHD content streaming from studios like Sony Pictures Home Entertainment and providers like Fandango. This is just the beginning as we see 4K UHD content go mainstream over time. We're excited about some additional content announcements in the next few months, so stay tuned.
Opens a world of user-generated 4K UHD content: People can now view the 4K UHD content being shared on sites like YouTube and watch for longer on 7th Gen Intel Core based systems. But they also have the power to create, edit and share their own 4K UHD and 360-degree clips up to 15 times faster than on a 5-year-old PC thanks to the work we've done under the hood with our new media engine.
Gaming on the go: Gamers will see a threefold improvement in graphics compared to a 5-year-old PC, meaning you can play popular games like Overwatch anytime and anywhere on a thin, light laptop. And with Thunderbolt 3 support coming to more devices, gamers can use a single cord to plug in an external graphics dock and 4K UHD monitors for top-line gaming performance.
Powers the thinnest and lightest devices ever: Just compare what is available now to a 5-year-old PC, and it's obvious how far we've come. Some of the new 7th Gen Intel Core PCs are thinner than a phone, with the full performance expected from a PC!
Intel added that desktop and enterprise PCs will begin to add its 7th Gen Core processors in early 2017.
Windows Central Newsletter
Get the best of Windows Central in your inbox, every day!
Hopefully this means we could see the new Surface devices this fall instead of next year. And Microsoft needs those holiday sales.

Its very strange, Surface Phone is getting SD 830 (possibly) or Kaby Lake mobile chip. There are rumors around it. *edited*

you mean surface phone? a 'surface book' with an SD 830 won't be an upgrade compared to this year. More like a downgrade from the original surface pro.

4.5W just for the CPU/GPU alone with 300$ price tag. Then again no one is expecting first gen Surface Phone to be anything but proto, Surface Phone 3 coming 2019-2020 will be the real thing.

The reality is Microsoft always get it right in the 3rd attempt.
So agreed. Surface phone 3 will be a smashing device.

Right. After windows 8 and 8.1 windows 10 is also third attempt

8.1 does not count, lets wait for 11.

Well there's not going to be an 11 so hold your breath on that and Windows 10 is great so there's that.

And in many ways, 8.1 is the better OS. Hmm.

You guys think as if the upcoming device is going to be a waste of production and consumer money. It really doesn't work like that, It has been reported earlier that Surface Phone would be available in 3 variants. This changes everything! A prototype can have a lot of corrections and implementations but these variants are not going to be prototypes. This is not going to be the same as Surface Pro and Book.

Nothing has been reported about Surface phone, only *rumored*. And there's really nothing yet to get excited about.

I've given up on Microsoft's phone efforts. They have no idea how to compete in that arena.

Fair to say that this chip will be at the centre of Surface Pro 5/Book 2. Do we think Microsoft will still wait for RS2 in Spring 2017, or go ASAP to make shareholders happy?

I think that they would prefer to test the CPU for couple months to make sure that there will be no issues like what happened to the 6th generation

Well they have a press conference coming up sept 7th or around that time. They may release some hardware now some 2017.

Which event was that? I was expecting more of an October timeframe for the event.

Yah I guess I'm just jumping based on this article. Maybe they are just announcing new office stuff for apple. http://www.winbeta.org/news/whats-microsoft-got-sleeve-september-7th-iph...

I think you're confusing them with Apple. That's the date of the iPhone 7 announcement. No way in hell would they be dumb enough to go head to head with that.

They're waiting for the next OS update, not the hardware. It's been said here for a long while that the new hardware is meant to launch with the Redstone 2 update, not Kaby Lake.

Should we trust intel after sky issues last processer?

I won't trust them after what happened. I wish if Microsoft start to use AMD instead of Intel

I dont trust them with the new 4k video decoding DRM in 'Kaby Lake'.

Intel chips are better for productivity, which is what the Sruface Book is aimed at, Design, animation, editing, not gaming, so you will not see an amd card in a book, and I wouldn't WANT to see an amd card in a book!

sky issues? was it falling again? sorry, couldn't help myself xD

I find it funny they're using 5-year-old computers as a comparison.

Yeah. It sounds like they've hit a wall and now the improvements are small. Posted via the Windows Central App for Android

I think they are just countering that argument Apple made with the iPad Pro that apple's processors were faster than 5 year old PCs. Intel just wants to put that into perspective with how fast their CURRENT processors are compared to their own 5 year old processors (which are still in wide spread use, btw) case in point, I'm typing this on a Sandy Bridge (2nd gen) i3

I didn't know Apple made that comparison. I would hope the iPad Pro's proc is faster than a 5-year-old PC proc. That'd be pretty pathetic otherwise.

Difference between 6th and 7th gen processors in terms of performance appears to be small. To be fair to Intel, historically a single generation jump has never been huge. Also, with the tick-tock methodology (new design, smaller size, new design, smaller size...), the even generations are currently proving to provide the bigger customer-impacting changes. Or to put it in their sales thinking -- if you just bought a computer last year on 6th gen, not a compelling upgrade, but if you're still on a 5-year old system, now's the time to get something new.

No mention of Intel caving to Hollywood and enabling DRM in the media engine. AMD's Zen is looking like a good bet if they don't do the same. DRM is anti-user. http://www.theregister.co.uk/2016/08/30/intel_core_7th_gen/

This video engine also enforces anti-piracy DRM protections as required by the major studios. Hollywood bosses didn't want to stream 4K ultra high-def content from their studios' websites without mechanisms in place to thwart casual rippers, and so Intel gave the entertainment giants what they wanted. "There are hardware-based protection mechanisms to make the studios comfortable with sharing high-quality content to PCs for the first time," said Regis.

AMD will have the same... otherwise, sorry your AMD won't play 4K UHD. DRM is part of life when Hollywood is involved.

Erm if you're streaming legally from youtube or Netflix or renting a 4k bluray then what's the issue, I don't see a problem.

YouTube doesn't need DRM.

With Kabylake being so small, who's to say a scaled back performance version couldn't fit into a surface phone factor, I assume heat and power is the only issues their? wonder if it's liquid cooled like in the lumias could that work, it seems size is no longer an issue but heat and power is what prevents Kaby Lake from phone form factor?

Not sure but I guess it has to do with gsm modem not built into the chip which means its not an soc. Hence the added component cost more in tend of money and battery power. And the size grows.

They should have compared it with the sixth gen cpu rather than a 5 year old pc. Besides how many of those devices are still in the market now. I do not see any real performance benefit compared to what we already have.

Funnily enough afaik around 40% of the PCS are 5+ year old. All the companies are targetting this segment of users and hence the comparison. There even was a cross Windows OEM ad campaign on this

Lots of companies have 5 year old pcs.

and they did. It's 12% faster. RtFA

I'm sorry it was The Phone I was intended to mention.

Incremental progress. Yes, they'll be a little better than 6th gen chips, but the only way they can make their chips seem really good is to compare them to things from 5 generations ago.


I personally want Microsoft to nick the chip, perfect it quickly and launch it in September. But we didn't hear much things from them so far (well, apart from SB2 leak).
Apple is refreshing their MBP in 2016 (possibly Sep). I wonder if they will come with 7th gen or not. What do you guys think?

Anyone have an idea when we can expect new DELL XPS Desktop Towers with Kaby Lake?

Build your own and get everything you want for less. :)

I hate that Intel always makes the most arbitrary comparisons. Well no **** this processor is faster than one from five years ago, but I don't care about processors from five years ago. How does it stack up against the competition /now/? Don't get me wrong, I'm excited for the new processors and I'm sure they're great, I just hate how Intel's marketing department always seems to make arbitrary comparisons to old products that are no longer relevant. Just like how Microsoft boasted how powerful the Surface Book is by comparing it to a MacBook model from 2011 at their devices event last October.

How about they make something that is in fact actually faster than a 5 year old chip, rather than being faster 'per watt' or faster per some obscure metric of web browsing that simply cant be true because 99% of web performance is choked at getting the page to the PC in the first place.
The ONLY reason these chips are faster in any real-world sense is because they are finally using SSDs instead of HDDs, and because onboard GPUs are finally to a point where they don't need a dGPU for anything more strenuous than video playback. Outside of that everything has been towards making PCs smaller, lighter, and last longer in the mobile space... which is all well and good... except that the only reason to shout out to 5 years ago is to try and gain some of that Sandy Bridge desktop business back. Here's a clue Intel: We don't care about faster web performance, battery life, iGPU performance etc. All we are waiting for is a 6-8 core "CPU only" processor that can run on a 'normal' motherboard, that costs $300 or less while offering ~30-50% more per-core compute power across the board. Something that offers truly more performance than our 5 year old desktops that won't break the bank to upgrade to. As it stands now, the only things I am looking forward to upgrade for is m.2, PCIe4, and 10Gb Ethernet... and 2 of those things are still a few years away, and with how my 5 year old desktop performs I think I can wait.