Interop Tools for Windows 10 Mobile lets you edit your registry for some hacking fun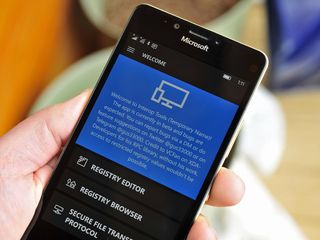 Microsoft's Windows Phone and Window 10 Mobile operating systems have always been more locked down than Android, but there are ways around the security.
A new tool just released by Gustave M (@gus33000) lets those on non-interop unlocked devices edit their registries, which could let users tinker around with the OS. The app is still in beta but is available and working.
Interop Tools brings with it three main components for now, including:
Registry Editor
Registry Browser
Secure File Transfer Protocol (FTP)
Who is this for?
Modifying your registry on a Windows Phone is considered an advanced modification. While it is easy to do with this tool, you can damage your OS. If that happens you will likely need to use the Microsoft Windows Device Recover Tool to re-flash your phone losing any data, saved games, documents, photos, and videos in the process.
Please back up your device before any modifications!
Registry changes can be found at various forums including XDA and even our own at Windows Central. Like all hacks, be careful as there could be unintended consequences. There is a reason why Microsoft locks these features down!
It should also be noted that since this is not an app per se there is no easy (or rather, obvious) way to uninstall it once on your phone.
Where to find it
The Interop Tools (temporary name) by Gustave is not in the Store. As such, you need to download the AppX file from Mega and sideload it onto your device.
Warning
Normally, this should be a red flag as developers do this all the time to test their apps, but it is not recommended to install random AppX files found on the internet.
While there is still a risk here, Gustave is a well-known developer and tinkering on XDA forums and has a public, if slightly underground, reputation. Use your judgment accordingly, but in this case, we are giving a nod for those who are concerned.
If still interested download from the link below:
Interop Tools by Gustave at Mega
Enable Developer Mode
To install Interop Tools, you first need to have your phone in developer mode to accept side loading of AppX files.
Settings
Update & security
For developers
From the Use developer features area choose Developer mode and accept the warning. Once again, your phone does not need to be interop unlocked to install this tool.
Download and install
After you have downloaded the AppX file you can open the file directly in Outlook (if emailed it to yourself) or use File Explorer to navigate to where you download it to on your device (usually Downloads folder.
Tapping on the AppX will give you a messaging asking if you want to install the file. Select install from the dialog menu.
That is all that is required.
Where to find Interop Tools
Interop Tools will not show up as an app on your device. Instead, it is found under Extras.
Settings
Extras (at the bottom; you may have a nested Extras to tap again)
Select Interop Tools from the list
Now you should see the app opened and from here you can tinker with your registry, just be careful!
Daniel Rubino is the Executive Editor of Windows Central, head reviewer, podcast co-host, and analyst. He has been covering Microsoft here since 2007, back when this site was called WMExperts (and later Windows Phone Central). His interests include Windows, Microsoft Surface, laptops, next-gen computing, and arguing with people on the internet.
Can this work on Samsung ativ se?

It explicitly says "For Windows 10 Mobile". Why on earth you tried that on a WP8.1 device?

just install and use - part of the registry tools work only on Lumia

It kinda installed on my 640XL but nothing is happening when i try to open it.

There's a guide in the forms for how to install Windows 10 on the Ativ SE

What benefit could there be from using except maybe changing the RM number to reflash to get rid of excess splash screens?

The ones on startup like ATT and the windows logo coming up twice etc

I don't know but as a layman enthusiast, it urges me to download this app and play with it ;)

Thanks to reg editing, I have been using Redstone builds on my Icon for a month now. Sent from my Toaster Oven (Lumia Icon)

Well, I just enabled the mobile hotspot functionality that ATT disabled on my 950. --------------------------------------------------------------------------------------
Motorola Q9H, Samsung Focus, HTC Titan II, Lumia 925, Lumia 640, Lumia 950
--------------------------------------------------------------------------------------

Almost anything. I had the system font on my phone changed to Comic Sans, changed the icon "H" and "H+" on the top of screen to "Doge" and "Doge+",and some adjust in brightness. And I'm still trying to find more

You need full file system (FS) access

Use this tool to enable DNG capture on your phone:http://forums.windowscentral.com/guides-tips-tricks-how-tos/431141-%5Bw1...

I think I'll never use it. But it's nice to have an extra feature like this, because it could be useful sometime. So I'll download it :D Posted with the Windows Central app for Windows 10 on HP 250 G1 notebook. It is a scary old monster, I think :D

Quite handy :p +640 on Windows10Mobile

Can I use this to make MS think my 1320 is a Lumia 640 XL, thus allowing me to get newer versions of Windows 10?

You can, but do it only at your own risk. Maybe not everything will work after it. And please, if you do so, please don't leave negative feedback in the feedback hub :D Posted with the Windows Central app for Windows 10 on HP 250 G1 notebook. It is a scary old monster, I think :D

don't - you need to go back anyway
Redstone is certainly not supported
Hack Icon->930 instead!


You can get Redstone builds now on the Icon

That won't work on newer builds.

Bootloop. Send from Bikini Bottom via my ShellPhone 950 XL

Doing that could install the wrong drivers for your device and make it unusable. You can give it a try and let us know. I would guess the recovery tool would be able to fix it unless it determines the phone model in the same location you modified.

Someone is going to use this app, screw everything up and blame MS for it.

Stupid people will always be stupid...
Sad panda is sad :/ :D Posted with the Windows Central app for Windows 10 on HP 250 G1 notebook. It is a scary old monster, I think :D

Awesome Posted from the still best Lumia 640 running build 14332

Wow now everyone can do a lot more with just slight changes to your registry like you can launch any app with camera button,have static ip address settings,enable dng for supported devices and many.
To launch any app with camera button,Just navigate to software>oem>photos or camera> default lens and add a new key with app id of that app.

You can change the default camera app in the settings, or am I wrong? Posted with the Windows Central app for Windows 10 on HP 250 G1 notebook. It is a scary old monster, I think :D

You can add proshot,camera 360 sight or any other app to that settings.

Which key? Sent from my laptop on Windows 10 Pro Insider Preview

App id as new key in that location

it's an interop Unlock....you can't get full Root access to Mobile. it's just use for to install Unauthorized Apps, Some Basic Level Tweaks like adding Menu or Faking out some Information by Registry Modification..... Hopefully what I said upon is false...I want to install Android OS or Full Fledge Play Services in my Windows Phone. I just ******* Hate Windows Phone app gap Problem. ....and Gentleman who found this is Better Name it "Astoria".

The tool described here is just a registry editor, not an interop unlock by itself. So you're out of luck. In theory you can use wpinternals to make deeper changes but Android is still not supported as you'd need proper drivers for your Lumia. If app gap is a major issue for you then you better move to an Android phone. Sent from my laptop on Windows 10 Pro Insider Preview

...just waiting for Surface Phone (Last Hope) after that I'll defiantly get fking Flagship who runs Android and Replace Most of apps with MS apps.

If you hate WP so much, why don't you just leave now?

FYI...I Used Windows Mobile 6, Windwos phone 7, Windows phone 8 and Windows 10 Mobile as my Primary Phone ...I don't hate Windows Phone....just Hate App Gap.

I agree. If the app situation is dire for you, you really need to move to IOS or Android. WP is good at doing WP, but it's not for everyone yet.

A very decent and appropriate reply from STXVI, unlike all other WP enthusiasts who literally ask you to leave the party for complaining anything genuine.. #DownVotingTrendStarts Nokia Lumia 1520
~The Power of Windows 10~

It will not install for me. I am asked if I wish to install and respond yes, it just flashes and goes back to explorer. Nothing new in extras. I noticed the email attachment in the article is 1.38MB while the download at the link is only 984KB. Is this a problem?

Wait a bit. Sideloaded apps install in the background after you hit that Yes button. After some time, it should be there. Posted with the Windows Central app for Windows 10 on HP 250 G1 notebook. It is a scary old monster, I think :D

Your welcome ;) Posted with the Windows Central app for Windows 10 on HP 250 G1 notebook. It is a scary old monster, I think :D

Ironically when I try to access CurrentControlSet under HKLM\SYSTEM the app crashes.

You won't get a notification for appx installations. Just wait a few seconds and go to Settings/Extras/Interop Tools. Sent from my laptop on Windows 10 Pro Insider Preview

Maybe someone can find the registry line that has all of our features. I'm just messin

No you cannot have all features as they aren't actually available in OS.registry editing is just like switch to turn it on or off along with some small hacks.

For those who have issues with enabling Mobile Hotspot on their phones: HKLM\System\ControlSet001\Services\ICSSVC\Settings\EntitlementRequired to 0

YES! Thank you! This works and my phone is a thousand times more useful now :) (950XL on Cricket)

Thanks Daniel. In my case (AT&T Lumia 640) I had to change "Enabled" to 1. But it worked and this is awesome!

Interesting that you had to go to a 1. I went from a 1 to a 0 and now I can enable Mobile Hotspot without the warning that I need an approved tethering plan.

Different case due to different manufacturer settings. Changing "EntitlementRequired" from 1 to 0 does as you described. Changing "Enabled" from 0 to 1 makes the toggle work at all (previously when toggle was activated it would toggle back off again after ~1 second). Lumia 640 hasn't ever been supported on AT&T network for tethering. (Lumia 650 is supported, so process for 650 should be like yours, not like mine.)

Oh! I got it now. Different key, different flag. Thanks for the clarification :)

This doesn't work on my AT&T L640. The Mobile Hotspot app says "we can't share this internet connection because we can't connect to the celluar network." what?! The SIM card is valid and active, but belong to a business account...could that be the reason?

How did you get it to work? I installed, when I go to browse to HKLM\System\ControlSet001\Services\ICSSVC it then crashes at this point back to extras screen. Thanks for any help. Also a 950xl on cricket Sent from Surface Pro 3 or my Lumia 950 XL!

Got it to work, there is a new version of the tool that does not crash. Sent from Surface Pro 3 or my Lumia 950 XL!

My Lumia 1020 when I share the mobile hotspot and someone connect it. It works but not after screen turn off

bro....how to locate this location...???

bro...how to locate this location...???

I downloaded the Mega App now what?? I'm stuck!! Posted from my pretty NOKIA Lumia 630 Windows 10 Mobile App

I had the same problem, I installed it from the app though on my 950XL. It's really weird. You have to have an account and then you navigate to the above page link and it will warn you that you are using a mobile browser but it will ask if it's installed. You click Ok (do this after you have signed in on the app and leave the app open). Then it will open the app and at the bottom is an option to import (it's the link looking icon). Click it and it will ask if you want to import or download. I chose download and then it asks where to save and I saved it to my device in the download folder. Then I used the File Explorer to click on the download and it installed right away.

Download on pc, then email it to yourself. Don't install the mega app

The MEGA app worked for me

Not sure why you are telling people to not install the MEGA app. Sure you could download on pc and then email it to yourself. But what if you do not have access to a pc at the moment you see the article, but still want to install it? Answer: install the MEGA app. There is nothing wrong with the app and it does indeed work. In fact, this is the exact situation I was in. I was able to download the interop tools from the MEGA app, so there are multiple ways to get it installed. Options are always good.

this is called "regedit" on win desktop, a simple app that lets you do anything, but for some reason the mobile OS cant have it

Windows Central is too late in posting such important developments these days. I've used interop a few times to change the System fonts. I tipped them about this with screenshots via an email. I send emails to tip them about such news but they don't check their desk, I reckon lol.

We've covered interop before and since 2011. We also have our forums. This is a new, well done, and easy to use app. Also, when you have 1% market share, writing about how to hack the phone for that 2% of 1% is not exactly a priority for us.

Why covering a OS with 1% at all?

Because they, and (most of) the readers like tat OS even with 1% at all? Posted with the Windows Central app for Windows 10 on HP 250 G1 notebook. It is a scary old monster, I think :D

You always come at the comments section with a knife in your hand, don't you? :p

I think that you've missed a lot of cool hacks! I advice you to xda forums in windows phone and windows 10 sections. There are a lot of hacks that are missing on this blog. Here's a list custompfd, vcreg, root tool, wptweaker, customsystemsounds, reboot app, device diagnostics hub, windows phone internals, dht font changer and more!

If you get time do post a detailed discussion in the forums!

Lol you can even directly flash mw10 on compatible devices

How can you change fonts using the app?

To be fair, I think Windows Mobile is up to 3% on the last quarter I saw

Would this be a step closer to getting USB Audio Class 2 drivers installed onto WP/W10M? I need a programmer who knows!

It would be nice if you could use this to be able to install Redstone on my 1020. Sent from Windows 386

It IS possible Posted from Windows Central for Windows 10
Using the Alcatel OneTouch Fierce XL for Windows 10 (Redstone)

I guess that is possible if you know the relevant Registry keys. But highly prone to leave your phone bricked since it also can download the irrelevant firmwares on your device.

Anybody know a tweak to make my 950 think it has the screen size of the 1520? There are few things I miss from the 1520 with the display scaling set to 150% or something like that. The 950 only goes to 300%.

If you know Windows very well, you know you could do almost anything with the registry to Windows. Now for WP, very cool, lots of custom stuff, and there is a few threads over at XDA about registry hacks, so you can find plenty of things to do with this. Worthy to play with if you used to ROOT Android or hack around with iOS...gives you some of the same options. I wonder if they got the Wi-FI router on the phone to work WITH OUT a extra plan...I know it used to work on WP7 and custom roms...

Installs properly on 950XL. Registry editing works. I can connect with WinSCP, but no clue what to use for name and password.

I think you can uninstall it. I haven't tried it. But still. Many "Settings" apps can be uninstalled by going to Settings > System > Storage > This device or SD card > Apps & games. Here's a list of all the apps which can be uninstalled. I had uninstalled Nokia account, rate your device, network services, etc. which are listed in the Extras section. So, this app could also be uninstalled that way. I don't exactly know btw.

Good stuff, though I don't really have any incentives to use this. None of the registry edits interest me, I just want to edit the .hosts file. But still, awesome that we now have a registry editor in app form! Have fun hacking guys!

This type of apps exists from a lot of time, custompfd for example. i saw in xda that there is a way to edit hosts file

Care to share a link to working hosts file edit for the Lumia 950 XL? All the info I can find suggests that the Lumia 950 and 950 XL don't have any way of accessing system files to edit the hosts file just yet. Trust me, I've been looking.

What you need is to sideload a c: Shortcut

Any links to a guide for this the Lumia 950 XL?

Is there a list of common reg edits? That would be nice.

it's not a nicely ordered list but you'll find a lot of possible registry edits here: http://forum.xda-developers.com/showthread.php?t=2434959 E.g. a useful one for 640XL users is enabling DNG (raw image format). You'll be able to take pictures in raw and jpeg compressed format. HKLM\SOFTWARE\OEM\Nokia\Camera\Barc
"DNGDisabled"=0

How do you change fonts to comic san

You can see this post: http://forums.windowscentral.com/microsoft-lumia-640-xl/344377-2.htm#pos... and then follow instructions from this post: http://forums.windowscentral.com/microsoft-lumia-640-xl/344377-2.htm#pos...

instead of using the DHT Font Change app you can edit the registry yourself of course. You have to modify font sets though or download the already modified ones. http://winphonehub.org/interop-how-to-change-system-fonts-on-windows-10-...

Not working ok.many keys,when browsing, make the tool crash back to Extras Using Lumia 950

Happens for me as well... L1520.

This is why the tool has been released as beta.

Is there a registry entry to get DTtW working on 950/950XL?

THERE IS BUG IN INTERLOOP TOOL(I CANT OPEN PLATEFORM )

You should try Interop Tools instead. I believe Interloop Tool is malware.

if you have a phone still in Threshold ... was .166
then yes

Search xda theres a way to load it

Lol I wish I knew what the regs meant :D:D:D

I'm downloading this just for the sake of it. Might use it once it twice. Maybe. Although I doubt it's possible, can this bring Glance to a phone that doesn't have it? *cough*Icon*cough* Posted from Windows Central for Windows 10 Mobile

Did any of you managed to enable VoLTE or WiFi calling in DualSIM variant of 950? If yes sometipswpuld be appreciated

What if I update extras so this tool will disappear or anything??

Can I activate/deactvate microphones in the registry? If yes, it could solve the software issue of Lumia 930 microphones. Does anybody know wich are the keys?

Use this tool to enable DNG capture on your phone: http://forums.windowscentral.com/guides-tips-tricks-how-tos/431141-%5Bw1...

Dunno if there's a way to trigger onscreen Navigation buttons with this tool...My lumia 830 buttons jst stopped working..Have done both soft and hard reset but all to no avail :( Edit: Done Already :D :D

I used this tool to get Redstone on my HTC One M8 and it seems to work just fine. However, I used a Lumia 735 identifier to get the update. Does anyone know what the registry info is for a Lumia 930? I feel like using an ID with more similar hardware might yield better results.

Update: Was trying to download in a new tab (ctrl + click) and didn't work. Just a link click (in the same tab) in the browser works fine. Download link doesn't work.

I was tried it
Every thing is ok but app is not showing anywhere..
What's the problem?

PLEASE SEND MI A LINK OR SOFTWARE OF INTERLOP TOOLS I CANT FIND IT ON THE NET

Can I set\change the focus lenght for an app without autofocus?

ok if i going to install and make Continum work in lumia 830 will i get future updates normallyy ??

is this still working in build 15063.138? I've tried installing a few versions and its not showing up in extras like it has in the past.

Interop Tools now available in store.
So no need to side load :)
Windows Central Newsletter
Get the best of Windows Central in in your inbox, every day!
Thank you for signing up to Windows Central. You will receive a verification email shortly.
There was a problem. Please refresh the page and try again.