IOGEAR UpStream Pro Dual Video Capture Adapter Review: Double your streaming possibilities
Dual-HDMI inputs come at a price.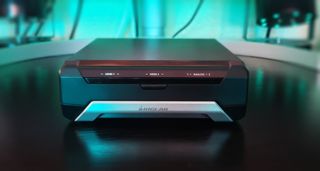 (Image credit: Windows Central)
As the popularity of game streaming and live streaming in general continously grows, so do the options for impressive capture cards. Brands like Elgato and AverMedia have dominated the conversation in the gaming space by delivering great performance at a reasonable price, but often these devices focus on a simple, single-input capture.
I recently spent some time with a fairly impressive device that introduces a full suite of video and audio inputs for convenient, portable streaming or recording. The IOGEAR UpStream Pro Dual Video Capture Adapter opens up some unique possbilities with two HDMI inputs, an XLR input, and a HDMI passthrough. While the hardware is undoubtedly impressive, all these features come at a steep price that might not be worth it for the average user.
IOGEAR UpStream Pro Dual Video Capture Adapter
Bottom line: The IOGEAR UpStream Pro Dual Video Capture Adapter offers features other capture cards simply don't have, but for some that might not justify the steep price tag.
For
Impressive input options
Convenient app controls
Sturdy design
Against
Fairly expensive
Doesn't support Android 10 devices
No microphone gain knob
IOGEAR UpStream Pro Dual Video Capture Adapter: What I like
One of my favorite things about the IOGEAR UpStream Pro Dual Video Capture Adapter is the sheer amount of possibilities it creates for different streaming or recording applications. IOGEAR packed a great deal of hardware options in a small, durable device built for portablility, making it ideal for production enthusiasts who need to travel frequently or even aspiring shoutcasters attending local gaming tournaments. With 2 HDMI inputs, 1 XLR input, 1 RCA (L/R) input, and an HDMI passthrough the UpStream Pro Dual Video Capture Adapter is perfect for laptop or mobile recording.
In my case it opened up some exciting options for comparison video recordings between competing consoles. I was able to simultaneously connect my Xbox Series X and PS5 to see how certain games stacked up to eachother in real time without the need for multiple devices or seperate recordings. I could quickly and conveniently record the difference in load times between these consoles for games like Monster Hunter World. As more and more 'next-gen' games release, I can definitely see myself continuing to use this as a handy tool for comparison videos.
When recording these console comparison videos I was able to fully experiment with the Upstream Essentials companion app, which unlocked a solid kit of video and audio controls for the UpStream Pro Dual Video Capture Adapter. You can connect your Android of iOS device via bluetooth to the capture adapter to access video controls, screen orientation, and even an audio mixer. Having a variety of simple controls for instantly changing video layout and adjusting audio levels was really cool and super easy to use.
IOGEAR UpStream Pro Dual Video Capture Adapter: What I don't like
While the IOGEAR UpStream Pro Dual Video Capture Adapter delivers some genuinely innovative capabilities on the hardware front, this mighty little device doesn't come cheap. At close to $400 at most retailers, this dual-HDMI adapter is comfortably more expensive than many of its counterparts. The max recording quality of 1080p 60fps might also make the price tag harder to swallow for some as well, as many capture devices in this price range support 4k in some capacity.
For potential buyers more interested in its abilities as a mobile focused recording or streaming device, I'm fairly disappointed to report that due to the reliance on UVC via USB, the UpStream Pro Dual Video Capture Adapter won't work on any Android 10 devices. If you're using a current iOS device you'll likely have a better time using, but I was completely unable to use it with my Samsung Galaxy S9+. This will certainly affect the plug-and-play appeal for some users and because of this I can't really recommend this product for customers with Android phones.
My experience with the HDMI inputs on IOGEAR Upstream Pro Dual Video Capture Adapter left me very impressed. The picture quality was fantastic and there was a negligible amount of video delay. The XLR input is a different story. While the option of a direct microphone input introduces a more convenient multimedia hub in theory, the lack of a gain control knob makes its uses very limited. I connected my Rode ProCaster via XLR and could only get a very weak signal. With no way to adjust these levels on the microphone itself, I had to run the signal out of an external mixer to get proper audio levels.
IOGEAR UpStream Pro Dual Video Capture Adapter: Should you buy?
Ultimately how you plan on using the IOGEAR UpStream Pro Dual Video Capture Adapter will determine whether or not this is the right product for you. If you're someone who plans on doing remote streaming or recording that requires multiple video inputs as well as multiple audio inputs including XLR for a microphone Or if you're someone like myself who's fascinated by the applications for side-by-side console comparisons, this adapter is a sturdy, simple way to get the job done without the need for several devices.
While the uses in certain situations are unquestionably robust, if your goal is to primarily stream or capture locally and you need a native 4k signal, there might be some better and cheaper options on the market. If you truly plan to take advantage of the dual-input functionality of the UpStream Pro Dual Video Capture Adapter, it opens up some serious possibilities, but if this will only be a neat option for you, you'll probably want to invest your money elsewhere.
From a hardware standpoint, the IOGEAR UpStream Pro Dual Video Capture Adapter is pretty remarkable. The design team clearly packed a lot of great functionality into a compact device and seemlessly swapping display orientation and audio levels while recording is made a breeze thanks to the Upstream Essentials companion app. Convenience is certainly this product's biggest selling point and for some that will absolutely justify the price tag. Just be away that in this case, convenience comes with a few caveats.
IOGEAR UpStream Pro Dual Video Capture Adapter
Bottom line: The IOGEAR UpStream Pro Dual Video Capture Adapter is a premium recording product that expands the possibilities for remote streaming. If you want to compare or toggle 2 signals simultaneously and don't mind spending the money, this product absolutely delivers.
Get the Windows Central Newsletter
All the latest news, reviews, and guides for Windows and Xbox diehards.
Miles Dompier is a Freelance Video Producer for Windows Central, focusing on video content for Windows Central Gaming. In addition to writing or producing news, reviews, and gaming guides, Miles delivers fun, community-focused videos for the Windows Central Gaming YouTube channel. Miles also hosts Xbox Chaturdays every Saturday, which serves as the Windows Central Gaming weekly podcast.