It's Ampere time: NVIDIA's GeForce RTX 3080 and RTX 3070 detailed in new leak
NVIDIA's next-gen video cards will allegedly feature up to 20GB of GDDR6 memory.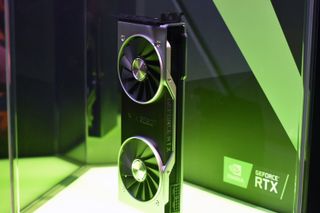 (Image credit: Windows Central)
What you need to know
First details leak out about NVIDIA's upcoming RTX 3080 and RTX 3070 video cards.
The leak suggests the RTX 3080 could feature up to 20GB of GDDR6 memory, with the RTX 3070 offering up to 16GB.
It also hints at more 3870 shaders for the RTX 3080, and 3072 shaders for the RTX 3070.
We're slowly starting to get more details on NVIDIA's next-gen architecture, Ampere. A report from last week suggested Ampere would deliver 50% better performance at half the power consumption, made possible by a shift to a 7nm manufacturing node.
We now have more details on the cards themselves, with MyDrivers posting initial specs of what could turn out to be the RTX 3080 and RTX 3070. The site has listed GA103 and GA104 as the possible GPUs for the first wave of Ampere cards, with the former associated with the RTX 3080 and the latter with the RTX 3070.
There's also a few specs to go along with the names. The GA103 GPU will allegedly offer 60 streaming multiprocessors with each holding 64 cores, leading to 3870 shader processors. The leak also suggests a 320-bit wide memory bus, and as noted by TweakTown, we could be seeing up to 20GB of GDDR6 video memory on the RTX 3080.
As for the RTX 3070, we're looking at up to 16GB of GDDR6 memory on a 256-bit wide interface, along with 48 streaming multiprocessors resulting in 3072 shaders. Of course, this is all conjecture at this point, and it isn't likely NVIDIA will offer double the amount of VRAM over the RTX 200 series.
There's little in the way of official confirmation, and at this point we don't even know if Ampere will end up being the name for NVIDIA's next-gen architecture. We should have more details over the coming weeks and months as we lead up to GTC 2020 in March, so stay tuned.
In the meantime, what do you want to see in NVIDIA's next-gen video cards? Share your thoughts in the comments below. And be sure to browse our collection of the best graphics cards for far more buying options currently available.
Affordable accessories that'll pair perfectly with your PC
Every one of these awesome PC accessories will enhance your everyday experience — and none cost more than $30.
KLIM Aim RGB gaming mouse (opens in new tab) ($30 at Amazon)
Whether you're a gamer or not, this is an absurdly good mouse for the price. It's ambidextrous, has a responsive sensor, a braided cable, tank-like build quality, and, yes, it has RGB lighting, though you can turn it off if that's not your thing.
AmazonBasics USB speakers (opens in new tab) ($16 at Amazon)
These neat little speakers may only pack 2.4W of total power, but don't let that fool you. For something so small you get a well-rounded sound and a stylish design. And they only cost $16.
Razer mouse bungee (opens in new tab) ($20 at Amazon)
Use a wired mouse? You need a mouse bungee to keep your cable tidy and free of snags. You get no drag on the cable, and this one has subtle styling, a rust-resistant spring and a weighted base, all for $20.
Waiting patiently for a laptop to release with the RTX 30 series card so I can prepare for Halo Infinite. My 1060 3GB card in my current laptop won't be enough.

Something with 20 GB of GDDR6 would cost well over $2500, just because of the VRAM.
Add in the premium price of any new silicon, and well, that sounds more like a professional card, not a consumer card.
Nvidia launched the Turing architecture on the professional side first, and I expect them to do the same with the Ampere architecture.
IF Ampere launches in 2020 on the consumer side, it will be early-4th quarter, just in time for premium pricing during the Holidays.

Ughhh I'm trying to build a pc, last built one 10+ years ago, and I am super conflicted about whether to get the "newest" tech or to just settle for the previous generation.

Same here. Considering current gen. It might be better to wait to see what next generation brings
Windows Central Newsletter
Thank you for signing up to Windows Central. You will receive a verification email shortly.
There was a problem. Please refresh the page and try again.