Join us for a special 'Surface event' edition of the Windows Central Podcast today at 1PM ET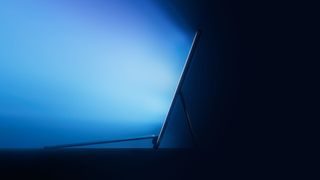 (Image credit: Microsoft)
The Windows Central Podcast with our Executive Editor, Daniel Rubino and Senior Editor, Zac Bowden will be LIVE on today, Wednesday September 22 at 1PM ET for a special episode focused entirely on the announcements coming out of Microsoft's hardware event, which takes place a couple hours before at 11AM ET.
We'll be talking all about the new hardware, from the Surface Duo 2 to the new Surface Book 4 (likely called Surface Laptop Studio.) We're expecting up to five new Surface devices to be announced, and that's not even including the accessories! So, there will be lots to talk about, and we'll have all the info you need.
The show will be LIVE on YouTube at 1PM ET on Wednesday. You can tune in via the embedded video above, or head to the Windows Central YouTube channel to catch us when the show goes live. If you miss the show, don't worry, as we'll be making available a video on demand version and an audio-only version that will be published on podcasting platforms.
Zac Bowden is a Senior Editor at Windows Central. Bringing you exclusive coverage into the world of Windows 10 on PCs, tablets, phones, and more. Also an avid collector of rare Microsoft prototype devices! Keep in touch on Twitter: @zacbowden.
I'm most looking forward to hearing / finding out about the trade-in deals for the new Surface hardware. Biggest determinant of whether I buy any of it!

I get the logic behind the Surface Laptop Studio name (it's basically a Surface Studio form factor as a laptop), but I hope that's not the final name. It's the kind of wordy, clunky naming that comes from a bad meeting where no one can come up with a good idea.

I agree. A good name is important. Let's hope they pleasantly surprise us.

Not sure what the alternative would be. It could take the Surface Studio name and just shift the product line to portable, or be called some thing like Surface Studio Go. I think that will be the name at launch.

You don't HAVE to do a "use the old name to make a new name" logic. If they did, "Surface Studio Go" would be more apt/easier to convey its purpose without feeling as wordy, though I'm not a fan there. They could call it whatever they wanted, it's just about having a decent brand and going with it. I'm not exactly a marketing genius (not do I have experience with it), so I'm sure anything I threw out would suffer the same "probably not good" solution. That said, a name to really set its purpose in the market could have helped. It seems like it's been forced into being viewed as a Surface Book successor when it just doesn't come anywhere close to the same form factor or use cases. Something like the Surface Create (ideally something less generic and bad) to convey it's being marketed more at artists/creators than the prosumery efforts of the Surface Book. Make it clear that it's a new vision for Surface, rather than having it tethered to the Book, or even the Studio, where I think the sentiments of its predecessors drags down the new device's initial perception.

interesting the dial wasn't featured with the laptop studio

Very. I was waiting for it. Maybe adoption was low.

I don't think Microsoft really cares about the Dial anymore. It always seemed very niche and unlikely to be a force in the portfolio, so they might just let it die quietly. However, I agree that having it (maybe with its own haptics enhancements and other updates) would have been a sensible thing to consider for this launch.

wow..what a blast of an event!!!! loved the laptop studio....and the pro 8!! yummmm
good job microsoft

It would be awesome if you can let us know how many watts that 3050 Ti is dialed in at on the Laptop Studio. 3050 can be fairly weak at 35 watt configurations (potentially worse than the SB3 1660 Ti) and strong at 80W configurations... would be nice to know for purchasing decisions.

Let us know if it has replaceable storage panels as well!
Thank you!

One of the few events where everything they showed was amazing and yet somehow I didn't walk away jelly. Probably because the devices I'm most interested in aren't must haves. The Go 3 isn't different enough from my Go 2 (m3) to warrant upgrading (and I'm still very happy with my Go 2). And I don't need any of the features of the Duo 2. Even the processor on the Duo 1 still feels good enough to me. Everything else isn't stuff that I was gonna buy anyway.

I agree on the Go and the Pro. Both feels like good improvements, but not anything substantial to where you'd have a reason to feel badly if you got a Go 2 or Pro 7 recently. They're just not that exciting or revolutionary, though if you like the Pro X aesthetic, you might want to upgrade to a Pro 8. I do think, though, that the Duo did a great job of iterating on the first-gen solution quickly. It fixed most of the original problems. While I don't think there is justification for the price increase, it's overall a much better package worth being excited for. This is especially true if, like me, you were interested in the first Duo, but passed on it. The Laptop Studio is the only one where I'm really disappointed in the product. Calling it a 2-in-1 feels generous. It doesn't at all seem like a product that seems like a Book successor. The only correlation between them seems to be that they're premium devices with sky-high price tags whose form factors seem clunky and will probably not be updated frequently or find much success in the market. The Book needed some refinement (especially with drivers), but I at least imagined some reasons to want one (we actually got one for someone at my work, though he seems indifferent towards it on the whole). The Laptop Studio seems like it's aiming for an EXTREMELY niche use case that I'm not convinced really exists. If it folded flat and have more of an aim at being a tablet when folded down, I'd understand. Instead, it's just...bleh.
Windows Central Newsletter
Thank you for signing up to Windows Central. You will receive a verification email shortly.
There was a problem. Please refresh the page and try again.