JoyBits's latest game, Doodle Tanks, drives onto Windows Phone and Windows 8.1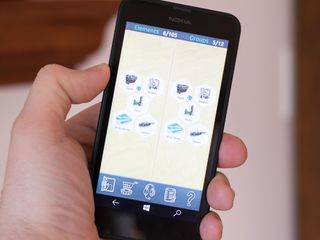 Publisher JoyBits has released many of its Doodle themed puzzle games for Windows Phone and Windows 8.1, including Doodle God, Doodle Kingdom, and Doodle Planet. Today, that trend continues with the new game Doodle Tanks, available in both the Windows Phone Store and Windows Store.
This game is meant in part to help celebrate the 70th anniversary of the end of World War II. JoybBits says this is an all-ages game that lets users design their own WWII-themed tanks and armored vehicle. Here's a look at its features:
Start with four basic elements and watch your creations come alive as you create historically accurate tanks and armored vehicles that once rolled across Europe and Africa. Along the way, learn about the historic events and designers that shaped the outcome of the free world. It's time to go to War in Doodle Tanks!
Available in 6 languages: English, German, French, Russian, Spain, & Portuguese
Dozens of Tank and Armored Vehicles to Engineer and Build
Over 80 reactions to perform and over 100 elements to combine
Learn about the legends of Tank & Armored Vehicle Design
ALL ages puzzle fun with a historical twist
Doodle Tanks is launching at the same time as the iPhone and iPad versions, and there's no Android version yet, so it would appear that JoyBits really likes the Windows platform for its games. The Windows Phone version is compatible with 512MB devices. However, it's sadly not a universal app.
Download Doodle Tanks from the Windows Phone Store ($1.99)
Download Doodle Tanks from the Windows Store (opens in new tab) ($2.49)
Windows Central Newsletter
Get the best of Windows Central in in your inbox, every day!
People complaining about price in 3..2..1.

That god damn, good for nothing, yeller bellied, two bit, low down price!

Thank you so much joybits...we will support you either

It's raining apps and games!

And is not available here in Brazil.
Developers seams to often forgot us.

Change your region then switch it back.

I don't claim this only to me but for the whole "normal" people that don't know about it or don't want to do this.

You're the most annoying person I've ever seen on here. Congrats.

Yeah he's totally right though. Saying someone's annoying is just trolling. Saying why they're wrong (if you can) is good.

I don't find it that appealing. But it's always good to see quality apps being supported.

Does the game require a constant internet connection? If so, I won't be buying it. No demo either seems a poor decision by joybits.
Windows Central Newsletter
Thank you for signing up to Windows Central. You will receive a verification email shortly.
There was a problem. Please refresh the page and try again.