June Patch Tuesday updates now available for Windows 10 and Windows 10 Mobile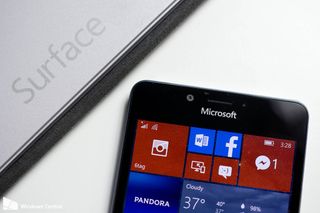 Microsoft is rolling out new patches for Windows 10 and Windows 10 Mobile devices today. Today's patches bring Windows 10 PC up to build 15063.413, and includes a number of new fixes and enhancements. A Patch Tuesday update is also rolling out for Windows 10 Mobile users as build 15063.414, too.
June Patch Tuesday changelog:
Addressed issue where the user may need to press the space bar to dismiss the lock screen on a Windows 10 machine to log in, even after the logon is authenticated using a companion device.
Addressed issue with slow firewall operations that sometimes results in timeouts of Surface Hub's cleanup operation.
Addressed issue with a race condition that prevents Cortana cross-device notification reply from working; users will not be able to use the remote toast activation feature set.
Addressed issue where the Privacy Separator feature of a Wireless Access Point does not block communication between wireless devices on local subnets.
Addressed issue on the Surface Hub device where using ink may cause a break in the touch trace that could result in a break in inks from the pen.
Addressed issue where Internet Explorer 11 may ignore the "Send all sites not included in the Enterprise Mode Site List to Microsoft Edge" policy when opening a Favorites link.
Addressed additional issues with time-zone information and Internet Explorer.
Security updates to Windows kernel, Microsoft Windows PDF, Windows kernel-mode drivers, Microsoft Uniscribe, Device Guard, Internet Explorer, Windows Shell, and Microsoft Edge. For more information about the security vulnerabilities resolved, please refer to the Security Update Guide.
These updates are now rolling out for all Windows 10 users on the Creators Update, so make sure you install them to stay secure and up to date!
Zac Bowden is a Senior Editor at Windows Central. Bringing you exclusive coverage into the world of Windows 10 on PCs, tablets, phones, and more. Also an avid collector of rare Microsoft prototype devices! Keep in touch on Twitter: @zacbowden.
Where is the info for Mobile?

In the Obituaries section

Nice one... Edit: I love my 950 XL, but I think we all can live a little nowadays. Hey, at least Microsoft still gets a ton of attention and free press targeted on them, even if it is about how dead their mobile is.

As they say, any press is good press.

Amcluesent.....ZING!!!!!!!! Nice shot!

not going to lie, that made me chuckle out loud

I had to say that made me lol

A new version number? I know, old and cheesy.

A number ahead....w10m. 14063.414
Doesn't sound like dead!!

I got a new number on RT the other day too....Guess thats' alive and well too!

whiney fanboy downvotes for the truth....love them! And...come on...that was funny! The little fan girls in here get their panties in bunch of the smallest thing....

Well it was never 'killed off'. =P

Well not publically announced dead...but we all know it's done. just like RT was not publically announced until well after every device was sold off...just like xp is still getting updates...etc. it's Dead!

XP is alive and well, thank you very much! /s

Dead implies that something doesn't function. My phone is functioning just fine.

15063. Mobile patch has to stay in front even if no updates.

15063 mentioned in article, not 14063. This is for those with Spring Creators Update, correct? My 735 is still at 14393 (Anniversary Update), and I am also getting an update. 10.0.014393.1198 to 10.0.14393.1358.

You should continue to check for updates you are not far to the 15063 just be patient

OldMill, I'm getting the same on my L730

Need a power point update to fix mouse over vulnerability.

Don't bite when the trolls fish

Are my eyes ok?
Is this really happening?!!!
Mobile number is ahead of pc 👀👀

What does that mean to you when that happens?

It means they f-ed up the mobile build and had to take the next one.

You release these are standard RTM/release updates - not insider builds?

Anyone download this yet on mobile?

Seems like a small update; downloads really fast. Not done installing, though. (On Lumia 640.)

Yep. Took 50 minutes.....950 🕚

Installed on my X3. Fast install and no noticeable changes so far.

i'm not sure what you're looking for standard patch...

Well, everybody looks for buggs fixes, their are many! Annoying and naughty, and they make me buy a nokia soon.

Lumia Icon got the security update part of it - took a few minutes but not tons. Everything working normally so far.

Well, at 12:01 Central time I proceeded to download to the Surface Pro 2. Ten minutes I think to start the process on my Microsoft Lumia 950. I will update the Surface Pro 1 at a later date since I don't use it very much.

2017-06 Update for Windows 10 1703 for arm-based Phone Devices is what I am seeing. Is it safe?

The update says while downloading: "2017-06 Update for windows 10 1703 for arm-based Phone devices". Looks like they are getting ready for ARM based phones this Oct.

Phones have always been ARM based devices. The difference between this and Windows 10 on ARM is Full Windows 10.

They changed that to say 'arm-based Phone devices' a few releases back. It absolutely doesn't mean that there will be ARM based phones this Oct. Terry Myerson has been very clear to state they're focusing on the larger screens for the initial ARM releases. (and to IamDeena's point...yes, we're currently running on ARM devices...)

Phones are indeed ARM. What's more, I can use any sized screen I like with my phone, so it fits with the plans on all fronts.

Phones are ARM based, lmao.

Maybe they're getting ready to differentiate between arm-based Phone devices and arm-based PC devices when Windows on ARM comes out... or they're eventually planning some Intel-based Phone devices...

My 950 is always restarting. It became unsuable...

Snap... And my 950XL is still power hungry esp with the Garmin Connect App which kills it dead in 30-40 mins...

JNeail, which Garmin are you using? Iam getting a Vivosmart HR for Fathers day. Does it work ok with your 950XL.?

Garmin Connect is power hungry on Android too. my tablet keeps yelling at me about it.

Hi Ludy, I had a similar issue with my 950. Random reboots with no apparent reason behind, nor identifiable app crashing it. I performed several hard resets to no avail. So, I went on the web and found some forum threads that blamed the battery. One particular solution which worked for me was to put 3 or 4 paper sheets the size of the battery, beneath it, and another 3 or 4 wrapping the upper side (opposite of contacts). Then I placed the battery as usual, and close the back cover. No more resets for me. If you need, I could produce some photos of this.

I also feel like is the battery. When is fully charged it doesnt restart but when it reaches 77% and below it starts restarting. Please send me the pictures. U can email it to ludy_branco@hotmail.com

Don't post your personal information on a public space, unless you love spam.

so true, I was actually surprised to see it....

Ludy, You phone battery is broken that is why it does crashes and restarting. I am pretty sure about it becaouse i had similar issues before. Not anymore with new battery.

Do tell!!! I have random crashes. Is this an overheating issue and the paper some how prevents the board from getting hotter?

I believe it has something to do with a battery not properly held tight, thus moving and loosing contact. Kind of an unwanted battery pull.

If it was a loose battery, it would just shut off and stay off. I have had my L950 reboot just sitting on the desk so not sure I am buying the loose battery explanation.

high quality hardware there!

Incredibly poor quality, and I had it on several devices. My now retired Lumia 925 had a dettached screen on the upper right hand side that would mess with the sensors, making glance screen work in a "hit or miss" way. And my Lumia 640 XL apparently got a fried SIM card tray. I do have to clarify that these are devices assembled locally in my country (Argentina) and not imported (a way to fabricate national industry at higher costs to the consumer).

Luis, gracias a Cristina...

Try a new battery if you haven't already.

Get a new battery for it. This seems to be a common problem as the batteries age on these devices. It seems to happen when you get below 50% battery level that the voltage sags enough, so it restarts whenever something starts to tax the CPU in any way, even very briefly. A new battery completely solved the restarts for me.

Look at your battery,if it's swollen then you need to replace it,I was having restart issue after 50% then I looked at battery it was swelled.I have replaced it and now everything works fine no more restarts

I uploaded a post in the forums for you to check. Photos included. https://forums.windowscentral.com/microsoft-lumia-950/460655-lumia-950-r... May this solve your issues, and enjoy an otherwise great device.

Calrification needed: my battery is not swollen in any way (sits perfectly flat on an akin surfce on both sides). Also, getting a replacement where I live is too expensive (around USD 130) and quite short in supply (if any).

Try placing some paper or a peice of business card to hold the battery firmly in place.

The papper trick sorted out the problem apparently. 2 days with no reboot. Thanks for the help

Gestures beta speakerphone option, is it back. Has paypal or ebay app returned?

Is it not possible to download the update using mobile data?

Yes. As long as you had initially installed last month's patch. This update is about 57mb

This is Production/Release update.

Does it happen to anyone else when you load a site in Edge on Mobile, it loads up like a desktop version and nonresponsive? I have to close the tab and load it again, it then works like a mobile version.

Happens to me since CU. Lumia 950.

Yes same here, I hope it's fixed in this build (15063.414).

Yes it does, reported many times on FB, no fix has been implemented yet.

Well, it happened to me after the update too, so it hasn't been fixed. It is very annoying.

Updated L930,stream11 and my Pavilion laptop nice and easy 😃,happy bunny 😃. All working nice and smooth !

Still No VOLTE For LUMIA 950 XL

One day may be it will be there in Lumia 950 :(

The update on my Lumia 950 says 2017-06 update for windows 10 1703 for arm-bases Phone Devices... This is not the bad one breaking it down is it?

No, that's how the updates are called for some months now.

Edge on W10M still only saves files not on SD-card and on PC you still cannot move store apps to a new location and end up with an error message when trying to in the apps section of the preferences.

So far so good for my Lumia 640 LTE update. Barclays banking app still works this time and just hope email notification sounds still work. Can't see any changes or improvements yet.

No Super Sensitive Touch, No Flip To Silence, No VOLTE, Second SIM Is Only 2G , Battery Backup Is Poor, HERE LUMIA 950 XL DUAL SIM

Addressed issue with a race condition that prevents Cortana cross-device notification reply from working; users will not be able to use the remote toast activation feature set - I receive SMS notifications on PC but replies don't send, it was working about a week ago. This patch hasn't fixed this. If I send a text from Cortana it does work

Please bring night light mode to mobile!!!

Please patch the constant reboots of my 950xl please Ms please

Have you checked your battery? This has been an issue with reboots. Battery becomes unstable and causes reboots. Pins of battery, loose battery or small bulg of battery can cause this.

No i haven't, what would you recommend looking for?

Some people recommend to change it. I will recommend to to first bring each two pins from the 3 slots of your battery togehter with a needle. Bring them to the center as much as you can. In the same time, i do not think is only the battery. I have had some restarts since CU update, and never had before. They normally happen after the device gets hot. Yeah, windows 10 is far from stable and i start to get sick of it. I stopped insiders since a long time ago now, just cause i was tired of buggs. Well, i do not feel the difference. . .

Hmmm, available phone storage on my 640 xl dropped to below 400 megabytes after update.

Yep, on mine as well, you'll have to delete some stuff :( that's 8GB for you.

The problem was it downloaded the update but didn't complete the installation process. Restarted and completed the update process and things are as they should be.

Anybody having issues with your phone hanging on the reboot after the update install? My 830 (on anniversary update) has been on the windows logo screen for about an hour now.

I had to restart the update process and I thought it was stuck on the Windows logo screen but it eventually finished the update.

I am on Creators on my 830 and had no problems with the update

I have a 950XL and it has occured on every update since I recieved the phone. It gets stuck on the blue windows logo. Simply soft reset (power + up button) it will come back to life

When this happens on the next update, just leave your phone for about an hour on the windows logo screen, just to be sure and then press the power button for about 8 seconds until your phone vibrates, release and then it will continue normally

I get this issue after every update now. Soft reset normally solves it.

I love it when Patch Tuesday rolls around, it's really fast to update my PC to the latest version and nothing broke so that is always a nice thing.

I have 15223.0 on my mobile (feature 2)???

I can not install updates on L640 xl bc there is not enough storage and I have deleted everything

This might seem elementary but, in addition to uninstalling Skype, Facebook messenger, and other large size apps i went in and cleared out the temporary files and deleted media files still contained in text messages.

Will the 930 be patched or is a forgotten phone?

for a couple of builds now when opening pdf apps on mobile they always open in edge and the prompt to select app to open file no longer shows. Any fix for that?

PDF Reader has been phased out. It has been announced for months every time you opened a PDF with the PDF Reader and they even gave the option to open in Edge.

They need to make it so edge doesn't suck so much on moble. Can't play videos without flickering constantly and websites keep reloading so annoying

Does anyone else experience a black screen when starting videos after the creators update? Sometimes the picture takes a while to display and sometimes doesn't at all. The sound plays but the screen is black.

Great... Lumia 640 DS caught in constant reboot cycle after this update.

Update Center don`t download this update. Only 0% of download. Why?

Both my L650 and L730 updates work fine. I had reinstall the Windows Central app though.

This update for my Lumia 950 is absolutely *wonderrrrrful*! The glance screen comes on much quicker, double-tap to wake is now quicker and Windows Hello feels faster.

Unless Garmin devices now work correctly and with notifications, this means nothing to me. If all I needed was a basic phone, Windows Mobile would be fine but, I need a little more than that now.

Yahoo changed. Now it sucks even more. Everything else seems to be working good.

The Bluetooth issue is still not fixed

amcluesent. Hahahaha and I tried to look for the obituary section. In windows central. Man, what's wrong with me. Hahaha

After update Windows 10 mobile to this version (14393.1358), I am facing issues in touch response. The touch response is too slow and sometime hangs, double tap to wake screen is also no responsive. Double tap on navigation bar is also non responsive, while scrolling app list, the navigation hangs and some app opens on its own.

The initial Creators update broke the Bluetooth connection between my Lumia 830 and the Realtek BT 4.0 radio in my HP X360. This seems to be a well known, unresolved issue with Realtek radios. The devices recognize each other and pair up but do not connect.
I have been using USB to transfer files between both.
After this weeks creators update I get "device unrecognized" when I connect my L830 through USB. I have no way left to transfer files.
Device mgr error message:
"Windows has stopped this device because it has reported problems. (Code 43)
A request for the USB device descriptor failed."
I connected my Lumia 830 to my old Windows 7 PC and it is not recognized there anymore either. So the USB problem seems to be with the Lumia 830 creators update where the BT problem is with creators on the HP X360.
I am really stuck now.

This version seems to have broken missed calls sometimes on Windows 10 Mobile 😢

Is this applicable to Lumia 930?

I have Nokia Lumia 830 and smartwach Garmin Epix. I cant conect sucessfully this two devices ower bluetooth. When I connect Epix with Lumia, watch freeze instantly and i must perform hardreset watch and turn off bluetooth on mobilephone. Garmin wrote some advice for resolving freezing Epix on support page but this work only temporarily. Then work syncing activitis betwen Epix and Lumia fine but second day when i turn on watch freeazing start again and I cant establish syncig data between this two devices. Problem must bee in bluetooth settings in Windowsphone software. Before windowsphone i have Android mobilephone and watch Epix was connected with this mobilephone succesfully and worked months fine with no problems. It was connected 24/7 with android succesfully and now dont work neither 1 day with windowsphone 10.

HI! I am using Lumia 540 Dual Sim When I upgraded to creators update my phone's screen goes black but phone keep running. I have to remove battery and on it again.
I also update windows regularly but issue is not fixed yet.
What is the reason behind it?

My Lumia 950XL screen is going black frequently and then it requires soft reset.(long press of volume down + power key). Really annoying me. I did a factory reset, still facing issue. 414 sucks...

We're still waiting for the cumulative update on the 950's in the UK which takes Windows 10 Mobile to 15063.447. Contacted Microsoft UK and they have given me the "BS" about it's being rolled out by regions etc. They really need to get their act together if they want to keep any Windows 10 Mobile customers. I have been a supporter of Microsoft since the early 70's when I was going to work for them in the UK as employee 4 here but my patience is wearing really thin now.

My Lumia 650 have update number 15254.489
Windows Central Newsletter
Get the best of Windows Central in in your inbox, every day!
Thank you for signing up to Windows Central. You will receive a verification email shortly.
There was a problem. Please refresh the page and try again.