Kaspersky Anti-Virus 2015 review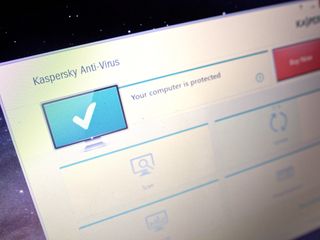 Kaspersky Anti-Virus 2015 offers full spectrum security for your Windows machine. In addition to their free PC antivirus offering, there are several premium versions available, and we're trying their entry-level product. Kaspersky Anti-Virus 2015 runs fine on Windows 8.1. It leverages data sourced from the larger community of Kaspersky users to identify the newest threats. You'll also enjoy real-time virus protection, a rollback function that undoes the nasty work done by malware, and a web browsing monitor.
Kaspersky Anti-Virus 2015 will run you $39.95/year. The Internet Security package upgrades that with a two-way firewall, transaction protection, parental controls, and theft protection for an additional $20/year. For an extra $30/year, you can get Kaspersky Total Security, which has all of the above, plus remote device management, additional password protection, a file shredder utility, and online backup of sensitive files. A visual breakdown of each version's features can be found over here (opens in new tab).
In lab tests by Virus Bulletin, Kaspersky Anti-Virus scored better than Avast in reactive and proactive tests, but was beat out by Bitdefender, Avira, and AVG. In AV-Comparatives' real-word protection test, Kaspersky did fairly well, placing fourth behind Bitdefender and Trend Micro with no false positives. Kaspersky also did well on AV-Test with 6 / 6 for protection, performance, and usability. Overall, Kaspersky has proven itself in a gauntlet of virus and malware tests.
Besides scanning for viruses and keeping threat definitions up to date, Kaspersky keeps tabs on activity through detailed reports. You can drill down into a full activity log, and filter based on what you want to see and date range. Kaspersky's network of users provides a cloud-based repository of virus definitions that ensures new threats are identified as early as possible. A full scan took about a half hour. Kaspersky wasn't particularly clever about scheduling regular scans on its own, launching into a rootkit scan right in the middle of the workday, but controls are in place to dictate when Kaspersky is allowed to kick in. Toggles are also available to have Kaspersky give priority to other desktop applications. A web-based console lets you see the status of connected devices at a glance.
One of the more interesting features in Kaspersky is a secure virtual keyboard, so you can put in passwords and PIN numbers without fear of keyloggers skimming sensitive information. A separate vulnerabilities scan analyzes system settings through which malicious software could operate, and offers easily accessible solutions. Diagnostics along this line are specifically available for Internet Explorer to improve web browsing security. There's also a privacy scrubber available that gets rid of any tracking cookies that may be lingering in your browser. The checkmarks indicating the safety of links in search results are less visually obnoxious than what we've seen in other antivirus programs.
Bottom line
Kaspersky enjoys a smooth, polished interface, and has a few tricks up its sleeve that you won't find anywhere else. Lab tests for protection show Kaspersky can handle its stuff, and we certainly found it was up to the task.
Score: 4/5
$59.99 for one year and 3 PCs - <a href="http://usa.kaspersky.com/?PID=7293438&mnsid=cl-av-kasp)" rel="nofollow rel="nofollow">Download Kaspersky Internet Security 2015 now
I like Kaspersky and its my most preferred antivirus software.

Yeah, I use it myself. Doesn't seem to slow my system down or anything.

Before Windows 8, that was what I used for years. If you watch the flyers or the net, you can frequently find it free after rebates at Fry's. With Windows 8 having improved Windows Defender I haven't installed an antivirus in a few years, though. As an IT professional, I still recommend it for those not on Windows 8, though.

Same here. Never needed an external antivirus while having Windows Defender, from last two years. It consumes less CPU, won't annoy you with notifications and has powerful definition engine to detect recent viruses.

Just started using Kaspersky Internet Security a couple of days back. Really nice and unintrusive...and best of all, my bank in the UK gives me a 3 user licence for free each year!! (Barclays Bank)

Even for me Kaspersky is the best...but currently I've installed MSE and Malwarebytes on my systems.MSE is very light on resources and does a fair job.
I don't really think one need to buy an anti virus for his personal computers if he really knows the actual sources of the malwares and knows how to deal with them...

I love Kaspersky too but the avp process is annoying. It takes up a large chunk of memory.

I used it before, but for the last four years I've been an ESET man. Never had any issues.

Eset user for 6 years and never had any issue. Loads fast and updates everyday.

Microsoft Security Essential is sufficient. For some reason I consider other antivirus to be spyware. They are too intrusive. I have used Norton Antivirus for four years and my experience had been horrible. Now I am relying on only Microsoft Security Essential. Also I have stopped surfing for utility/apps etc on the web and use only the Windows store apps.

I always thought ESET was rock solid unti last week when a client of mine picked up the Crypto Locker virus and ESET did not notice a thing. Good thing I had my client doing regular backups, but it was still disconcerting to have ESET just sit there and watch while her files were being encrypted.

Publications such as PC Magazine and Consumer Reports rate this software really good. I dropped Norton last month and went with this and I'm very happy. Nice clean interface and half the price of what Norton used to be.

Why are you paying when the microsoft antivirus is free? Also integrated within windows 8. I have used for the past 6-7 years and never had an issue.

Because theirs isn't as good as it used to be 4 years ago. I think its still better than Symantec (which is the worst thing I've ever seen), but it performs fairly low on catching viruses.


Windows Defender is very poor. It's better than nothing - but literally every other AV vendor is better than it.
Didn't use to be that way - but I guess Microsoft got pressured into making a sub standard bit of software so they didn't cannibalise the AV market

Which one work with Windows 10?

I'd like to know as well. Avast was working very good with build 9879, but I had to uninstall it in order to get internet access in 9926.

The built-in Windows Defender will continue to work, hopefully.

Sure but windows firewall isnt that great imo

Why use this in W8 and W7 with MS Security Essentials? Please do a review of FREE built in Security Essentials

Isn't it called Defender in W8?

Agreed. I use security essentials also. Is there something we may be missing?

I've come to the conclusion that all antivirus software is more trouble than its worth.
I've been using Defender and Security Essentials for years, and I can't remember the last time I got a virus.

Some would claim that you have but Defender didn't pick up on it...
I find it hard to justify the steep prices on anti-things-ware. Are they really gonna stop someone, or just the kid next door who's doing some pranks?

That's possible, but if I'm not noticing any adverse affects... then I doubt it.

The last few years has shown that MSE/defender isn't as good as it used to be when it first launched. It performs fairly low on catching things.

You just have to look at any AV review to see Defender is not what it used to be.

For me works the same... No problems since W7

I haven't used more than Security Essentials and Windows Defender in over 7 years now. Why would anyone party for this stuff?!

The security software that is bundled with Windows isn't nearly as good as what these third parties offer. The lab tests from the sites above confirm it (AV Comparatives, Virus Bulletin, and AV-Test), and even Microsoft agrees.

True but for average users its good enough.

Keep believeing that, you are exactly the sort of person the malware writers love. #naive.

Well, most PC's in my University are infected with small annoying viruses... And whenever I insert my USB drive in one of those PC's, my USB is infected. The next time I insert it into my Laptop, Windows Defender catches them and cleans the drive without me having to do anything. So yes, it is good enough. Third-party antivirus programs slowed my laptop a bit, so I stopped using them. Why use them when Defender does the same thing without slowing my laptop? I don't use pirate-ware and stay careful enough so I don't get exposed to serious viruses beyond the capability of Defender.

It's the average users that need the most protection.

One would argue that average users are exactly the sort of people who need solid "don't need to think about it" anti-virus protection.

Microsoft Security Essentials is good enough if you don't visit porn sites. If you are just casually browsing news sites etc. from reputable companies, you will be ok.

Even the worse AV (AVG or Avast) would be fine if the idiot users weren't so freaking stupid (punch the monkey anyone) and all the 'free' software didn't sneak install malware like google chrome and the crap from Ask and Search Protect. Windows Defender/Security Essentials are more than adequate and work perfectly so long as the moron user stops doing the stuff they KNOW is risky to begin with.

Kaspersky Pure 2.0 made Skype freeze on Windows 8. Only after I uninstalled Kaspersky with the Kaspersky deinstallation tool I could use Skype again.

Frankly I don't trust any company with such close ties to the FSB/KVR (formerly known as the KGB). The liaison officer would literally walk down the hallway to Kaspersky with his requests.

Symantec is no different. They allow various us intelligence agencies in the backdoors that they say they patch

KGB? really? *claps to you* sir for such an amazing comment, I bet you thought the good guys were CIA? or maybe Obama just like other US presidents brainwashed you so you would believe their propaganda?

Simply because he doesn't want something so closely associated with FSB speaks nothing of how he feels about the CIA, but leap to those conclusions.

How the hell did Obama get worked into the conversation?

Fully agree! Tovarisch Huilo Putin of KGB definitely appreciates people using Kaspersky, Yandex, Rambler, ...! All in all, it is an interesting topic - software made in Mordor Russia, and its potential threat to western countries. Wonder why we do not see sanctions imposed on "Made in Mordor Russia" IT products and services?

Id stay away from panda aswell due to them giving out customer contact info to certain religious groups

For the past two years I haven't used antivirus except for the built in Windows Defender. It works good, and I'm not someone who just installs stuff by pushing next over and over.

If you're careful its probably good enough. If your an average user, its not you'll want something better.

Nothing comes close to kaspersky,this antivirus is perfect

No, there is no such thing as a perfect AV product.

Yeah there is, it's called the power button!

Sure there is, but its a physical product called 'pair od scissors' that you use to cut your cat5 cable. The best AV is user non-stupidness. But not many people have or use it.

@Zybch, the ending of your comment is so true! The best way to prevent viruses is to read the things that are checked by default when you're installing stuff, or to not use sites like thepiratebay.

I use Kaspersky internet security 2015 and am very happy with

Luckily PirateBay is back so that price is meaningless XD just kidding.

Zajebavas se, al zamalo. Odatle meni licenca za malverbajt premijum. :) El provaljujes ove sabane sto koriste win difender, jebote, kako mogu da veruju da ce to da im zastiti PC?

Nema Srbina koji ne koristi torente, za sire mase je zajebancija, podrazumijeva se. Inace koristim NOD x64 potpuno otkljucan i odlicno me sluzi. A defender nek misli ko sta hoce, on jednostavno ne funkcionise u dovoljnoj meri da zastiti racunar.

My PC protection includes using Windows Defender and Essentials and not visiting porn and torrent sites. Never had an issue.

Porn sites on the whole are remarkably safe, after all, they want you to be able to trust them and part with credit card info. The most insecure sites are generally the DIY churchy ones that the admin sets and forgets. They are very easily compromised through out of date and insecure wordpress (etc etc) plugins and the admins have no idea about security in the first place. Also, Jesus.

I use Kaspersky on a daily basis on many computers, both business and personal.
Kaspersky is a great program, there internet security product is definitely the way to go.

What's with the antivirus review posts lately? Nobody cares. Microsoft Security Essentials/Windows Defender all the way!!

Hi @Vinit, can you send me your IP address please. Hmmm, thank you ... kay.

The IP address will get you as far as the modem, then so long as its got NAT turned on (they mostly do now) and remote admin off (they mostly do now) you'll not be able to get further.

Don't challenge the hacker!!

the best anti virus is the built in windows one and my eye. All others simply slow machines down

Yah when you're doing nothing in your computer you can see that AV program is using max resources out.

You are clearly ignorant of the facts. On my baytrail T100, Kaspersky uses 80MB of ram and ~0.9% CPU...
It provides multiple layers of protection that Defender doesn't...and has no tangible effect on the way I use my computer.
Since most people have more powerful computers, the net impact on performance gets even smaller.

@spinzeroWL Most people have more powerful computers? Most people buy the $200-$300 laptops at Walmart.

I have a 1.3GHz Baytrail Atom with an eMMC 32GB storage drive & 2GB of RAM :). Those specs are fairly anemic....but as I say, the AV software has next to no impact on performance.

I know symantec slows you down and is worse than defender, but pretty much anything else works better than defender and many of them do not hit performance either. I can vouch that AVG doesn't affect performance in a noticable way. I can also vouch that at least in the past it was teenager proof. I used to maintain laptops and our required symantec (I tried to get them to switch) failed miserably. In many cases it was so bad that I didn't care if I was violating the TOS, I installed AVG free edition on some of the computers and they never had another virus again. Back then it was called Microsoft Security Essentials and it appeared to be good, but that has changed.

Symantec slows you down? When was the last time you used it? I've been using it for more than a decade and 4 years ago when they updated it, it has been far less a memory hog as some other virus protection. I tried Kaspersky last year, after a week I went right back to Norton. To each his/her own I suppose.

I agree with you about Norton having vastly improved...however, did you REALLY test out Kaspersky?! I don't see why you would have done if you were happy with Norton?
The reason I ask....Kaspersky Internet Security 2015 has almost no impact on my baytrail tablet, and I have all protection modes switched on. ~0.9% CPU (often less), and 80 or so MB of RAM.

Good question. I used Kaspersky because it was pre-installed with the computer I purchased. But like you and me, and many others we use what we feel comfortable with. I read many of the lab reviews and most anti-virus get high scores based upon the type of testing is being done at any given time. The best thing though is to have some type of protection at all times. :)

Sorry, but any AV that constantly pops up false positives to justify that its working should be consigned to the dustbin at first opportunity. AVG, Avast and Malwarebytes do this all the time.

Kaspersky has a 0% false positive rate according to pretty much every AV review out there...
It also has a gaming mode to suppress notifications when in full screen activities.
& it is given away for free by Barclays Bank in the UK :)

I own a lifetime updates with Malwarebytes Pro. But that thing is a memory hog. I paid for the lifetime updates but I don't use it on any of my machines. I bought it to occassionally run it as a back-up or secondary back-up in case if Norton missed something. But I just couldn't get with the amount of memory it took to run.

I found Norton to be too "bossy" on my computer. What I mean is, an antivirus should sit quiet in the background and if it spots an intruder, pop out and do its business. Avast is like that and kinda always have been. Maybe its better but Norton used to put banners on everything showing up annoying the hell out of you. But Avast seemed to work as it should.

Yes... Norton has improved vastly from years gone bye. I've been using it for a long time so I've seen the changes from years past.

I am using the microsoft security essentials since 4yrs.

I recommend Kaspersky Pure.

I'd love to see a review for Bitdefender Total Security 2015.

Been antivirus-free for well over 4 years. You don't need one if you know what you're doing.

Agreed.... But when you let your parents use your PC... Oh my god they click on everything Google has to offer!

Yeah, all the 1 millionth visitor crap.. My parents are smart enough to ignore that stuff, though I usually protect their computers anyway, to avoid having to format them in the future. My father has a Surface 2 now, so I don't have to worry about it.

I like avast!, still has a very small foot print, really don't notice it running. Sand box mode is great. I simply have a fundamental problem with Kaspersky being Russian and the current global climate as a result of Russia's actions.

Bitdefender FTW. Besides the lack of customization, it's really great.

I don't trust the Russians. Probably has bots just waiting to be unleashed!

I've had good luck with two years of Windows Defender backed by malwarebytes.

Haven't had a virus since I stopped using anti virus software, LOL. MS Defender all day.

Same here, but of course I'm a lot more experienced than I was back when I thought I needed antivirus.

I'm using SMADAV. It's ugly as hell but it's just 2 Mb and it finds that annoying SHORTCUT VIRUS that everybody have on their PCs or that VIRUS that HIDES your files in the flash drive. For the life of me I can't understand why AVs such as AVAST or any other AV I tried don't recognize those.

Try Bitdefender. No pop-ups and s$@#%. Works great.

ESET is best. I dont trust Kasperski especially when the owner is criminal

I used Security Essentials with 7 and it's simply built into 8. I find most security software to be far too invasive. Years ago my dad bought me a computer that came pre-installed with Nortan that wouldn't let me go on the internet because in doing so I might somehow get a virus. Makes sense, if i'm not connected, how could I get one?

Anything is better than symantec/norton which are the same product anymore. However with those exceptions just about everything catches more viruses than MSE. I can't speak individually for performance, but I can confirm that AVG doesn't affect system performance even on low end celerons (purchased in mass against my recomendations)

Does Kaspersky still not work with Windows 10? I know it didn't when I installed the technical preview way back when, but they may have updated since.

Have you guys done Norton?

If any UK users are interested, Kaspersky is free for Barclay Bank customers. Sign in to your account online and there's an option to download latest Kaspersky. Have had it for free for past 4 years.

Just signed up for it as of a few days back. Seems to be a great bit of software. Almost no impact on system performance, nice anti malware and URL blocking, and a pretty useful spam filter too.
I've given my nan one of the licences as she is always calling us up asking us about various things which turn out to be fraudulent things.
The older generation is far too trusting of what they come across on the net....Kaspersky is a good firewall against their misplaced trust :)!

It's even incrementing the host performance, OMG

<--- ESET here all the way also works great on Win 10. Waiting on the ESET article now.

I got ESET free with the purchase of my WinBook 7" tablet. Haven't bothered to activate it yet. How resource intensive is it?

Right now on my PC it's using 0.5 - 1.8% CPU and 125.1MB of ram while idol. It's really light and very good. The choice of PC gamers!

Kaspersky amazon sometimes has it for 25 total security

I have been Avast free user for years, I wonder if there is a better free alternative, I'd like to change my AV solution.. Posted via the Windows Central App for Android

Are you a UK resident? Do you bank with Barclays? If you do, they give away a 3 user licence for free to each of their customers!

Bitdefender! I was in the same boat.. Give it a try :)

So how much did they pay for WinCentral to review the software?

I guess you missed the other anti virus review last week. C'mon man stop trying to insinuate stuff that ain't there.

This isn't a sponsored post. If it was, we'd label it.

malwarebyte premium+bitdefender total security(or whatever its called) 2015. Works good so far. Ive used kaspersky few years ago, and it was alright.

I also use the same combination. Works good so far

Webroot secureanywhere is my av of choice.

Where is Kaspersky based out of?

Ok. I not saying that anywhere in the world has 100% civil liberties but that last time I checked.....................

Kapersky is notorious for false positives. Not a big deal for the average consumer but it goes whacky when we use software that interacts with backend databases. Care must be taken to put in all the proper exceptions... Annoying...

No it isn't. It has a near 0% false positive rate for pretty much every major review in the last 2 years...

I am not talking about reviews. I am talking real world in the field experience in corporate manufacturing environments. Kapersky is the worst offender for false positives of the major antivirus packages we encounter, causing lots of grief...

This is starting to sound suspicious man

How so? Can you elaborate?

If I were to bother with AV software I'd probably choose Kaspersky, but I've never had any issues so I'll keep on keeping on.

Thank you Windows Central for doing these kinds of reviews on anti-virus apps. I've been a believer in Avast for years and I'm curious about Kaspersky. This is something to ponder. (no pun intended George). :)

What about Advanced System Care Ultimate

I started using Bitdefender with the latest Windows 10 build and I am very happy with it.. Light works great, simple (free version). Give it a try :)

$40 per year is a bit much. I use MSE/Windows Defender and MalwareBytes.

If I could still get those lifetime malwarebytes subscriptions, I would. It's great for the malware that MSE seems to miss. ADWcleaner is great post-infection, and free. We use AVG pro at work. TBH, not particularly happy with it. We had 1 cryptolocker style attack pass right through without detection. It has also given us the occasional false positive, but we contacted AVG and they handled it with an update, which was nice.

I used to use Kaspersky, until I found out it doesn't (won't) detect most govt. malwares. I am now using Bitdefender, works really well compared to Kaspersky.

I got Kaspersky for free from my ISP and it works fine for me. I had to uninstall Kaspersky in order to install Hyper-V but after thai it worked without problems.

Next tine, do a review on ESET. Otherwise it will be incomplete.

Microsoft Windows Defender (built-in in Windows 8 and free download for windows 7) is more than enough for me. I used to install Norton, Mcafee, AVG, Kaspersky from the days of Windows ME, but now I've been without a commercial AntiVirus for more than 3 years. As a developer, I hate to see my machine performance crippled by the AV. Micrososft Windows Defender has nearly 0 impact on performance. Moreover, It's regularly updated with Windows Update.

ok everyone is talking about stopping viruses. not sure of the last time ive seen a virus on any computer in the last 10 years. what i do see and what most of the programs you pay for don't stop from infecting a PC is malware. Which one of these will actually stop malware from getting onto your system? I have yet to find anything that does this, only malwarebytes AFTER a PC has already been infected. i look forward to seeing what you all have to say about your experiences.

Kaspersky has a built in URL blocker, a phishing engine and an anti-spam/malware blocker for incoming emails.
Whereas Defender allowed me to visit and download malware (and then, after 30 seconds, remove it), Kaspersky completely stopped me from even visiting the malware riddled website...
I'm fairly impressed with Kaspersky so far.

AVG still seems like it's better than most.

Haven't been using any antivirus since Win8.1. Windows Defender is doing a good enough job in keeping my PC secure.

What is the best free antivirus for windows 10?

So now we're waiting for NOD32 review...

I love Kaspersky. Sadly it isn't compatible with Windows 10

ESET is the best in my book. Never encountered a virus it can't handle, even the throjan that hides files and produces shortcuts is dealt with very easily. And Norton , avast and avg struggles with it

ESET is the best, have been using it for years. Also have Malwarebytes for anything that might get through.

I hate it. Bundled free with VAIO computers, but after a year you have to pay. So an average user would be stuck without protection after a year. It is not intuitive our simple to remove. Uninstalling will mess up your PC. So you need to download a special uninstaller. (which a typical user will not be aware of) Then you need to activate Defender, which is hidden.

I use Kaspersky Anti-virus 2015. It seems to work well and not bog the system down. The best part about it is that Newegg is almost always running some promotion on it with a Mail-in-Rebate for the full cost. Basically makes it free (after a delay).

We have Kaspersky at home, and it works pretty well. If you let the license expire, after a few days, they knock the renewal price down by over half what you would pay full retail. Only problem is, when you let it expire, your system slows to a crawl, and they remind you with pop-ups every ten minutes or so that you need to renew.

Yup. I wouldn't mind it if it was easy to remove without damaging your OS. But removing it using the regular Uninstall Programs utility will mess things up. So while it may be a decent product for those that choose to purchase it, for those that don't want to purchase it it's not much different than malware.

I've been using it for a few years and have been very satisfied. Runs pretty light and does a thourough job. Highly recommend it.
Windows Central Newsletter
Get the best of Windows Central in in your inbox, every day!
Thank you for signing up to Windows Central. You will receive a verification email shortly.
There was a problem. Please refresh the page and try again.