Kensington's new USB 3.0 docking station can turn your laptop into a desktop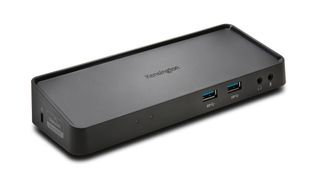 Kensington wants Windows 10 laptop owners to have a better way to connect their device to larger desktop screens. The Kensington SD3600 Universal USB 3.0 Docking Station, revealed as part of CES 2016, is designed so that laptop owners can be more productive while working at their desktop office set up.
Here's a look at the docking station's features:
Dual HD Video Output - With an HDMI port and a DVI port, users can expand their workspace and increase productivity by adding two external screens. The HDMI connects directly while the DVI port can be connected directly or through the included DVI-to-VGA adapter.
Zero Footprint Mounting - The dock can be mounted to the back of a 75mm or 100mm VESA-compatible external monitor (mounting plate sold separately), allowing users to keep their desktop less cluttered.
Extend or Mirror Modes - Extend mode allows users to drag an open application to an external monitor so users can work across multiple screens, while Mirror mode allows users to replicate the content on their computer display to an external screen. 
2 Front USB 3.0 Ports– Enable data transfer at up to 5Gbps with the fast and powerful ports positioned on the front of the dock, which is ideal for devices such as smartphones, tablets or external hard drives.
4 Rear USB 2.0 Ports– Positioned at the rear of the dock, users can can keep all their peripheral productivity accessories such as a keyboard, mouse or printer to help keep cables or wireless receivers hidden from view.
Dislay Settings Software - Allows users to easily switch display modes, change the master monitor, or adjust the alignment and position of their screens. Kensington's corporate install support provides for mass installation via the Microsoft® server.
Gigabit Ethernet Port - Provides a reliable wired connection to a network or the Internet
The Kensington SD3600 Universal USB 3.0 Docking Station will be priced at $139.99, and an optional VESA Mounting Plate, which allows the dock to be attached to the back of a monitor, will also go on sale for $19.99. No release dates for the products were announced.
Source: Kensington (opens in new tab)
Cheaper than the crazy expensive surface dock

These have been around for years now. Toshiba has one that I have been using since the Surface Pro 1. What makes the Surface docking stations better is that the video is going through a native video output (display port in this case). That allows any onboard GPU hardware to do the video processing. On the USB3 docks, a software video adapter/driver is created and the video is being handled by that so the CPU gets hit a little harder and the GPU is not driving the external monitors. Having spend hundreds of hours over the years using Surface Pros and a USB3 dock (as well as official docks) I can say it still works very well for 2D workflows, but for anything that benefits from graphics acceleration or for gaming a hardware docking solution is worth it.

The new dock is $179 and connects to the power port. Provides power and all the ports and keeps the Usb 3 port open on the surface.

Yeah, still ridiculously overpriced at $179 for a damn dock, LOL, thats what you call Apple pricing i.e. insane and idiotic milking your customers.

Well, Microsoft Store has it retailing for $199.99. In any case, I don't think it's terribly overpriced for what it is. It does offer various benefits over the one mentioned (better graphics capabilities) and does charge the machine as well. Granted, I have to say that this Kensington does at least offer some competition. The extra graphic capabilities are probably only needed by a small percentage (source: me making a total guess off the top of my head) and many people probably won't mind having to plug in 2 things instead of just 1.

It's actually pretty much standard pricing IMO. My Lenovo dock for my work laptop cost $250. $150 to $250 is pretty typical for a hardware laptop dock.

The docking station is no ripoff when you consider everything it offers and compare it to the competition. Besides being proprietary and neat looking: - As it's pretty compact, it can double as a second/replacement charger with not just a meh 1 USB charging port (like on the charger that comes in the box) but 4 USB Charge AND Sync ports + multiple other ports,
- It supports Mini DisplayPort daisy chaining,
- Offers gigabit Ethernet port,
- Offers an additional audio in/out jack, and
- Simultaneously charges your Surface Pro/Book (you'll only dream of doing that over a regular USB port) All of the above is accomplished on one connection attempt, via 1 outlet like a regular charger, and should anyone trip over your cable, your device won't come flying off the desk as it's a magnetic connection. You could get a Pluggable docking station for half that price (or even less), more cheaper than this Kensington dock, and it'll offer way more ports PLUS it'll work with ANY PC that has a USB 3.0 port, similar to this Kesington dock. However, no cool factor to that, no trip protection (off flys your device with he USB cable), won't be as portable (especially as you'll require both the dock and your separate charger), AND you'll have to be connecting/disconnecting at-least 2 cables; 1 for the USB 3.0 from the dock (which itself needs an outlet), 1 for supplying power to the Surface Pro (a second outlet), AND 1 for the Mini DisplayPort if you desire to use a Mini DisplayPort display or the daisy-chain function of Mini DisplayPorts.

Docks like this have always been really overpriced. In a place I worked quite a while ago we had some USB 2.0 HP docks for some laptop users. The performance was okay, but they were expensive. This doesn't seem too bad considering it's universal across most devices. We have some Surface Pro 3 docks, and some generic Pluggable USB 3.0 docks for the Surface 3 (non-pro) users - Put them on those mainly so the company doesn't need to fork out for new docks when we get new devices down the line.

Pluggable Docks are even more cheaper and have been around longer...

I think in the future we should see these also have built in continuum docks.

The article makes it look like it only works for or intended for windows 10. I think it should work for windows 7 and 8 and maybe even osx. Please correct me if I'm mistaken.

I don't think the article is stating that. It says laptop owners. I think its just an off the cuff comment that a whole lot of machines were sold with Windows 10 over the holidays and Kensington just might be targeting those new devices possibly. I wouldn't read too much into it. In any case, yes, its compatible with windows 10,8.1, 8, and 7. No word on OSX though (and this is from Kensington).

How about that universal windows 10 WC app?

If only it had USBType-C, it would be perfect for me.

But then you've also got Lenovo showing monitors at CES 2016 that allow single cable docking via USB-C/Thunderbolt ports. Why I need a $139 separate dock if I can get a monitor with single-cable docking? The other thing is, how does the USB-C/Thunderbolt approach support multiple external monitors? This whole docking thing is getting very confusing, and we need Windows Central to help us sort it all out. Doesn't have to be today.

Microsoft should have just one docking station, compatible with the surface line and the lumia (type C) line! Kensington one should have a surface adapter and a type C adapter

I've been using a Targus USB docking station for months now. Function-wise it's very similar to the one in this article. The experience is mediocre because it lose track of my dongled wireless mouse/keyboard every now and then. And the power plug to the station is loose.

Can I use an portable external hard drive without power source with this?

You'll need a power source for the dock itself regardless of what you want to connect to it, so, portable external HDD would connect without an additional power source...

Or you can buy something like the screenbeam Mini2 or pro and have your laptop connect to the tv wirelessly which only cost $50(in australia)

Different device entirely! Posted via the Windows Central App for Android

We need a USB 3.0 docking station roundup. Pluggable, Anker, Dell, HooToo, Kensington feature comparison and deathmatch. Connectability, size, driver support, speed, stability, display quality, etc...

I think they are at least one year late with this technology.. no usb-c port, separate jack for mic and headphones, no display port, only one HDMI.. this thing will be obsolate in a year
Windows Central Newsletter
Get the best of Windows Central in in your inbox, every day!
Thank you for signing up to Windows Central. You will receive a verification email shortly.
There was a problem. Please refresh the page and try again.