The keyboard for Windows 10 on Phone has a virtual precision pointing stick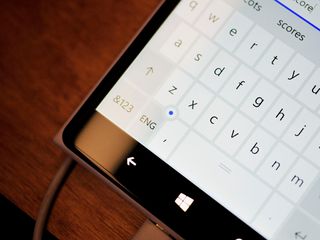 File this under subtle but cool. Windows 10 for phone has a new addition to the keyboard: a precision pointing stick, akin to the famous red nub on Lenovo keyboards.
Positioned on the lower left of the keyboard and in blue (likely the Accent color), the virtual pointing stick has one function: let you navigate with ease and precision on the screen. Yup, instead of the old problem of using your chubby finger to move the caret to edit text, you can optionally use this nub to move it around.
Although not worthy of a full announcement, it is neat additions like this that has us excited for Windows 10 next month on our phones.
Windows Central Newsletter
Get the best of Windows Central in in your inbox, every day!
Daniel Rubino is the Editor-in-chief of Windows Central, head reviewer, podcast co-host, and analyst. He has been covering Microsoft since 2007 when this site was called WMExperts (and later Windows Phone Central). His interests include Windows, laptops, next-gen computing, and for some reason, watches. Before all this tech stuff, he worked on a Ph.D. in linguistics, watched people sleep (for medical purposes!), and ran the projectors at movie theaters because it was fun.
I think Joe Belfiore has skipped many things on Windows 10 for smartphones.

Yeh, there was way to much to narrow down every new aspect of it.

Yep hope there's more but happy with what we got:)

Including the major one as to how he replied to the text message without switching apps ! man that should have been called out

He did, he mentioned that you can now reply inline on a notification item.

ohh..i must have missed it then. laggy videostream

Yeah, it cut out a bit for me too. Noticed things I had missed the second time around.

Yeah, same here. But thanks to Daniel's live feeds that kept me in hooked in with what was going on!

Ya that was bad ass!! can reply right there to notifications/toasts without having to tap on it and open the message conversation. Their gunna just start dropping bombs on us I am sure of it about the sweet details.

Agree. I think there is bunch of stuff not mentioned. It will be a nice surprise, once it lands on our devices. :)

They have ages to finish it, after all they are still rolling out denim

It's probably because alot is still up in the air.

People don'trealize that there will be a separate press conference for just windows phone 10. This was a general overview to show how everything goes together.

When did they announce that? I must have missed it. Or are you just assuming?

My guess build will see a more phone related stuff and more consumer features

GDC, MWC, WinHack and Build. All will show more on Windows 10 across its various incarnations between now and May. Confirmed during the event yesterday. And we'll be at them all (except maybe the one in China)

Did you watch the entire live show? there was only so much time for his part to go over. If he was going over everything, he would be still talking. I think for the time he had, he went over A LOT of stuff. We will see and hear way more in coming weeks, as many ppl played with, Hololens(THE MOST AMAZING THING IN TECHNOLOGY EVER, can't wait to get 4 of them for my enter family), Windows 10 phone, Windows 10, and Surface Hub(FREAKING AWESOME too, and NO ONE has ANYTHING like it too)after the show was over. so keep watching and keep reading about Win10, Hololens, Surface hub. My biggest concern is, when CrApple is going to COPY EVERYTHING, and make huge production and tell the iSHEEP everywhere, they were 1st to invent them all. We saw that in iJUNK Phns, iMaxi-Pad, MacCrap, iPod crap,.......which MS and others had them ALL YEARS before those CrApple Overrated garbage came out. If you ask 1000 iSHEEP, who had those prods 1st, 999 will tell you CrApple invented them all, and others copied from them. CrApple is great in brainwashing, fooling, lying, pretending,...........marketing. I'm sick and tired of CrApple steeling the show all the time.

I think @Joe Belfiore was too excited to show off the capabilities of Cortana at the expense of all the other cool W10 features. I'm hoping for a video demoing all the cool stuff on phones

Have you ever used an iphone.

Did someone who works for Apple steal your girlfriend/boyfriend?

Those stupid fanboy abbreviations make you sound like a right wally!
CrApple?! iSHEEP?
Come on, you're making the rest of the Windows community look bad!

Agreed, he was too focused on how they managed to tie Windows phone more with desktops than he was showing off new features for Windows Phone. While the better integration and syncing is cool, I think people were expecting to see more new features for phones instead.

Hm... I understood that the event was to show the new Windows 10 family across all devices and how they are connected. I don't think it was meant to focus on particular things.

Yeah I know, features will probably come later down the line in future events, or users can discover them on their own when Windows 10 rolls out next month for insiders. But I do agree that the main goal of the event was to show people how Windows will run across all devices, and not just to say "oh look at this cool new thing you can do with your keyboard!"

he mentioned this feature. he was going through the demo fast and skimmed over many things. he mentioned the stick but didn't demo it.

That's actually pretty cool. Good attention to the small details, Microsoft :)

It is! I can't wait to see all the little features that were skipped today.

I don't see emoji button in that picture

Perhaps it is not enabled.

wait will my phone be upgaded to win10?? i have L635

Yeah they did announce that all Windows Phones running 8.1 would be getting Windows 10.

And Daniel will my Lumia 520 be upgradable to win 10 or not

All WP8.1 phones will be upgradeable to Windows 10 for free.

YES, EVERY Win phn will have Win10.

Every phone, unless you are on T-Mobile with the 810, or Cricket with the 520 and 620...

Every phones that running on Windows Phone 8.1 can be upgraded to be Windows 10.

Until yesterday purple were asking that would their phone get Lumia denim But today new generation of questions started in this planet which asks will Windows 10 chikne to their phone

I hate when purple starts asking stuff.

look at the pictures and look at the phones used in the demos http://www.theverge.com/2015/1/21/7869441/windows-10-for-phones-features...

FTW Windows 10 (for phones) android and iOS be afraid.

Lol why? Windows 10 is great but it's hardly an Android/iPhone killer.

That doesn't mean that it has no potential to be in the long run. It all depends on how devs are going to react to it and support it. So far they've been doing nothing but bailing, so it doesn't look too promising. But with the demos of the universal apps that were shown hopefully theyll reconsider.

How about a microphone button so we can speak into any text field? Lol

That is there too. That was announced this morning!

Thanks for the coverage sir

This feature was showcased in the event.

It was in the messaging app on the text box. I think instead of making it exclusive for the messaging hub though they made it universal across the whole device. So searching, internet, messaging, etc. All voice controlled if you wish

Joe ​said the mic will be available in any place where you can type.

That's pretty much what I just said wasn't it? Lol

i'm not sure i get it, i feel stupid lol

Ever try to cut and paste and not be able to highlight the right stuff or get the cursor in the right position. This fixes that

Instead of tapping your finger on the text your writing to move the cursor you can hold your finger on the nub and move the cursor from the keyboard more precisely. I for one do not like how we move the cursor currently, this seems like a great update.

Ya I actually thought that they took a step backwards from 8 to 8.1 in the way that you move the cursor. Excited to try out the new way.

I've been thinking the same thing ever since I updated to 8.1.

Completely agree. I actually really liked the 8.0 method of holding down until you got that I-shaped cursor icon and then dragging it to exactly where you wanted it. I'm not sure how this new W10 method will feel in practice but I'm glad they're trying something.

I agree, the cursor right now isn't horrible, but it definitely needs improvements. There are times where trying to just move the cursor accidentally scrolls through the text box or highlights text when I don't want it to. It does get annoying

Doubt id be using this very much. But I guess if the need to do so I will

awesome! they didn't say anything about that! can't wait to try it!

YES! This is desperately needed--- moving the "cursor" in WP8.1 and even in Window 8.1 on a small tablet, are unnecessarily difficult. Apple definitely has the best solution in its magnified bubble, but I really look forward to testing this out on my Windows (soon to be 10) devices. Any video of this in use?

Yes u can watch these all in yesterdays live show.really awesome...all new feature for windows 10 for my pc and phone.

The bubble is horrible compared to what we had in Windows Phone 8.0

No its quite interesting.....

Every thing in this OS looks great. Hope MS releases it clean and we won't see any amateur apps and resuming screens.

I worry if it will be as difficult to press as the existing caret pointers are, but I can't wait to give it a try and find out! :)

The good news is that you will be able to use websites with mouseover menus ;)

That is a good idea but I don't see myself having my keyboard open when browsing. Mouse over should be dead in mobile anyway ​

What I do is tap and hold on it, usually triggers the mouse over event

Tap, hold and drag. So that "open link in new tab" pop up won't come out.

This is great news, I tried that red nub the other day at work on a thinkpad and instantly fell in love

Feels like incomplete article. What about Voice entry and movable keyboard?

Daniel I saw this stuff on Samsung note 4 in the comparision with Lumia 1520 ,, but now its a great kick for that ....keep it up Ms...great work..

Speaking of larger screens, I hope this comes to tablets and maybe they'll even bring WordFlow to tabs! :)

Yeah as in the show it was been Demonstrated in Lumia 1520 .so feel good but I thing it will be forr all the lumias .that is not available in android just in high end handset only ...

Looks like Win 10 for phones will have a lot of new features that weren't shown to us. Here's hoping they will do a more thorough announcement of it.

Nice! -Lenovo loyalist (though I've moved to the SP3)

Will my damn Icon get the 10 update? Or I this dang thing a lost cause..

Every Windows Phone 8.1 device will get Windows 10

The Icon has not yet received the Windows Phone 8.1. Officially it is still on 8.0. Hence the question. Obviously Microsoft will send it out, but will Verizon ship this update, and will it be done in a timely manner? Nobody knows. I wouldn't bet on it.

Win10 for Icon in 2023!!!!

oh my god, are you people stupid or lazy?? it's explained on practicly every article, everyone gets it!!!

While I don't normally comment on people asking questions that have been answered time and time again, he has a valid point, although I'm sure he doesn't realize it. The latest software version for the Lumia Icon is 8.0. They stated during the keynote all Windows Phone 8.1 phones will be updateable to Windows 10. Technically speaking, that doesn't include the Icon. And with the way Verizon has been treating Windows Phone owners I won't believe them Lumia Cyan until I see it officially released and running on multiple phones.

and all the WP8.0 are updatable to 8.1 (yes, some carriers are lame and slow, but it's a fact) ergo all WP8.0 devices are updatable to win10. and it has been said like a millon times.. more annoying than the "seems faster" comments...

Still not sure if I can shake to undo typing.

The new Lumia Etch-a-Sketch supports that function.

I like that feature, but its a pain in the ass typing on that device

does my phone have to have the official 8.1 update or will my developers preview be enough (I have a lonely Icon with no official update yet)

You can get the update through the preview

How about editing personal dictionary? deleting one or two words than resetting whole keyboard. I think that's one of most desired thing on WP

This was the thing I also needed ...but not ...

Been waiting for that 3± years. Since Lumia 710 came out

But I think it is not available for any OS 7 ,,, and also this was announced one month befor no 3years ...

What was announced 1 month ago?

And another part that now windows 10 will be named instead Lumia cyan . Denim etc...isnt it ????

I'm not sure. I hope so. I love the meaning scheme

Meee to but it will be a sad news as there will be no longer any Lumia in the update

It's not as good as the moveable cursor we had in 8.0 but better than dragging those bubbles around. I'll have to try out. I hope there's a way to turn it off though. It kind of looks like the keyboard has a zit. I just noticed that the space bar no longer say "space" on it and several of the keys are shaded differently compared to 8.1. Blah. Hopefully it looks better with the dark theme.

That is so much useful! Hell yeah! I think Windows has the best keyboard compared to ios and android.

Bloody keyboard is terrible as it stands. UK keyboard.. Hopefully this will be an improvement.

Will this also be used as a mouse for mouse over and flash based sites?!

Is the HTC One M8 considered a flagship?

My Lumia 620 gets the Windows 10 update next month? I am already on Developers Preview (Got the latest WP8.1 updates already)... Little confused...

I was wondering what that point was about when I first saw it this morning... That´s Microsoft really listening to users :D

I hear ya. I put in the consumer feedback app that I would've liked to see the action center replace the charms bar, and they actually did it. That impressed me a lot, probably the most out of the entire event aside from the new Xbox capabilities and Hololense.

this should already have in 8.1....as right now there no way to edit a phone number in dial pad.....late but not bad....

Can the phone revert to original OS if there's something wrong with the preview?

Yes you just download the firmware of the current version of Lumia cyan or denim later just flash it or you can use the Nokia recovery tool ..which was being used before...

So many of the "little things" like this has already made me decide to put Tech Preview 10 on my laptop next week, and W10 on my phone as soon as it's available to the insiders. Can't wait. Cortana on both.. Woohoo!

I'm in the same boat. Been skipping TP, but I'll put it this time when it's out next week.

I've been using the techpre since it was available, first as a curiosity, now as my daily runner. It's just leaps ahead of 8.1. I had been dual booting but next week I will back up my files and do a full clean install.

Password protection for apps? Any update?

Lots of very nice additions in Windows 10 all platforms I hope that it will be a commercial success and that WP10 will part with the ridiculously low 2.5% market share of WP8.1 . Please make all apps portable from PC to tablets to phones and vice versa .

It seems like Windows 10 is going to be a major improvement.

I wonder how this will be done on the Khmer keyboard, considering how many keys there are. https://www.facebook.com/WPKhmer/photos/pb.489053517804554.-2207520000.1421896247./702910453085525/?type=3&theater

I had a feeling that's what it was

Did anyone notice the downward arrow on the right corner for some of the mails in the notification centre of wp?...I guess that works same as the one in windows...

It's the same OS tailored to fit different devices, of course it's going to work the same lol.

This is great. I constantly have issues moving the caret.

Any kind of a tab button to move to the next field? The biggest annoyance in trying to fill out a form on the web is you can't see the next field. I'm constantly closing the keyboard and tapping in the next box. Gotta be a better way.

Any word on more languages support for the flow keyboard? Portuguese?!

For the people with chubby fingers like me!

I'm wondering will al these features work smoothly on low end devices.

We'll just have to wait and find out

That could be hard to get to. I would be afraid to hit the letters next to it.

I am pumped about this! Love the red nub on my ThinkPad!!

Love windows 10 already, now i dont need denim again... waiting for windows 10

I was kinda hoping the word flow keyboard to come to touch Windows 10 tablet devices, no mention of it. Hopefully its an unannounced but implemented feature

It has to right?? I sure hope so, I find myself trying to do it on my surface often.

Well the phone version of windows 10 is supposed to run on devices with a screen of 7" or smaller, so those tablets will have it, but as far as the bigger devices go I'm unsure. I would think they would put it on the just for the sake of having it

Holy crap this is a godsend. I was never able to edit text properly before due to the cursor never going where I wanted. I always had to just highlight a huge chunk and erase it.

I will hold judgment until I use it, but I think I would prefer the arrows used in Windows.

This is a great move that will make a bigger impact (for the better) than most people think it will.

Great idea. Tabbing the exact spot when I want to change text is often a frustration. This should help with that.

No landscape mode? Again....

You don't know that. Joe didn't really show off a lot of features for WP10, he focused more on how it integrates with desktop versions of the OS. Plus it is still unfinished, so if its not on there now it still could be in the future

no secret filiming allowed I suppose. Videos would have been awesome

So this will be like the arrow keys? Because I REALLY want arrow keys for navigation, but if this does it, well that's nice too.

I was actually waiting for a smart watch thingy... Not just like MS Band.. Somrthing like Android Wear for wearables... But.. Microsoft can always surprise us anytime..

I like this solution! I've been frustrated at times with the current implementation of the precision select using the long hold over the word etc..

"your chubby finger" Wow, how offensive to those with larger hands. Way to single us out and make us sound like freaks. Jsut because I'm a phyically incompetent screen navigator doesn't mean you need to call my fingers hurtful names.

This is so cool, now this is a windows phone

What about some formatting features like bold, italic etc? They can be inserted to the left of the microphone. Like sliding the mic to the left will reveal them. I use these features a lot while writing imp notes.

This is a great idea. The expanded iOS and Android on-screen keyboards have "<" and ">" keys, but this may be even better. Leapfrog style. I hate the WP 8.1 cursor movement. WP 8.0 wasn't as easy as a keyboard and mouse, but it was far superior to 8.1 in controlability. The joystick nub is a small feature (literally, and figuratively), but it will make interacting with text so much less frustrating on the phone.

I wanted many new features, i.e., transition from 8.1 to 10 in phone, but Joe B did not show them. :(

Lumia ThinkPad, or ThinkPad Lumia!

Neat, I wondered what that dot was.

Now this definitely seems faster...

The in line text thing. That sold it for me. I can't wait for that!

Window 10 will be a revolution. No doubt. Tight you seat belts for an awesome ride.

Thats awesome, I always have trouble to edit my text. sound like my work will be more easy in next month :))

That's cool, I think this is important for office.

I'm more excited about the adjustable keyboard for large display devices myself; one-handed texting, yay!

Little helpful things like this one are difference between win or fail for OS.

if it's Apple, they'll make a big deal about this. Maybe because that's one of the 3 things they improved that year for ios.

Nifty. Are they using a new font? That font looks slimmer, or is that just because its on a 1520?

Same font, but yes it looks like they're using the SemiLight style rather than Book/Regular.

What is this blue colour button between Z and X?? What's the use of it?

http://windowscentral.com/commenting-guidelines/

Hopefully with the full merge of Windows I can finally have the Dvorak keyboard layout on phone! I've become fairly "bilingual" by now but it'd be ideal to have one layout everywhere I go. I'd also love to try shape writing on Dvorak; I suspect it could be more accurate with fewer mix-ups than Qwerty.

Just installed Windows 10 Phone Preview build 10149. There is no Dvorak keyboard option. Unlike you, I am not bilingual, and without Dvorak support, I will not be able to move to Windows Phone. I too had been hoping that it would be included. Hope has reduced.

lolol Did Microsoft get anything wrong? This is amazing. And they barely had any infamous hiccups during the Event.... Wow... I'm going to take a guess and say Nadella has sparked things up a little at Microsoft. I would imagine that Nadella's tech passion has sorta enthused Microsoft engineers and designers and leadershi qui a bit. They just seem focused ever sense the Xbox One release.... The reason they didnt demo a whole lot of Windows Phone is because its very unfinished. I cant tell that they weren't really planning to demo anything at all. But recent months have showed that people were l patience with MS, so i think they compiled all of their most recent "presentable" updates a month or so before this event so that they could quench our thirst a little bit..... But i can tell there are so many things left out that we cannot see with Windows 10 for phones, specifically in the UI. Little hints are seen in the Photos app and the messanging App. Those apps are very polished in terms of UI, and i can imagine that that theme of smaller icons, more realestate, and thin lines is a design theme they are trying to carry throughout the whole OS. The background images is not an update. One software dev could have added that feature 15 minutes before the event. They just didnt want peole to say "They didnt change anything". The UI will look much more modernized and crisp and possibly different then what we are looking at right now.... Mark my words. When you compile new functionality updates, usually you dont add any UI changes yet because the UI depends on the functionality.... And you dont want to have to udpate both the UI and the functionality everytime you want to add or change a new feature of the OS. So the Design and User Experience teams are definitly pouring loads of time int conceptualize Windows 10 on phones. They probably have like 5 different prototypes they're working with just in VS Blend as we speak. They definitly look at the concept portfolios of Windows Phone 10 all over the internet, and they probably are inspired by certain ideas.... So yea, dont look at this build as a design revolution....because its not.... This is specicially geared towards functionality... And the same goes for Windows 10 for Desktop/Tablet. I can definitly tell the recent build doesnt have the touch of the UX and UI team's latest interation because transitions dont really have animations.... and most new features are just simple plain stagnet UI's.... That might be the theme for the desktop, but its TOO simple, and i think they know this... The incompleteness of Windows 10 is what excites me the most. Shoot, i would run Windows 10 across all of my MS products right now and be 100% happy as they are..... But they still have 3/4s of a year left in development... which is like 3 years in Microsoft time (they have a lot of developers) so thats really really exciting. On top of the fact that when this comes out, they will update the crap out of it like they did with Windows 8.... Look at the first Windows 8 version compared to Windows 8.1.... Now imagine the Full Windows 10 version and then Windows 10.1.... Yea, thiare getting juicy at Microsoft Way...

Comma button left of the space bar.

Wow this is amazing! Small feature? No way! This is revolutionary! What a great idea! This will make the keyboard experience top notch.

This is amazing! BlackBerry have it mostly right with their implementation (bb10 - and the passport has a capacitive keyboard) but this addresses a major issue. I'd love to see how accurate and usable this is. Note if they say they finally support openvpn then I'm all over it!!!!

Provide option to select multiple sentences to copy and paste it on another application

I'd say that's more than worthy of a full announcement! The TrackPoint is a major selling point of ThinkPads, at least for me!

I have skinny fingers and it's still a pain in the butt to move the current cursor to the right spot. Also, waiting on Portuguese support for WordFlow keyboard.

I was watching some Cydia tweaks on iOS and hit upon something like this. I was like "man... MS should add this cool feature" and they did! WOW!

I would like to see this keyboard feature on tablets as well. So many websites bury sub-navigation under mouse over or hover states that can't always be accessed in a touch only environment

Oh this is awesome!. Definitely a feature i could get used to using often!

Hey I'm still kinda foggy about the release date for phone and desktop. Can anyone fill me in?

I don't know if people know but the inline message feature wasa first introduced by Apple in IOS7 conference.Not an apple fan though but just saying.

cool! if that works then great! i always have a problem moving the cursor around. i felt that the android's (maybe just samsung, not sure) answer of having a movable arrow thingy to where you want the cursor to be was a better system to what windows or ios (magnify glass anyone?). can't wait to try it out.

I am still hoping the will add the "drag up for numbers"-feature to the phone keyboard like they added in "full Windows 8.1". Especially when you have passwords with mixed letters/numbers its a pain to switch the letter and symbols mode all the time...

FINALLY!!!! For me, this is BIG NEWS because moving around in text in WP8.1 is a chore! WP8 wasn't as bad as 8.1 is. Tap, hold & move around I could handle, the current Tap, tap again because it selected a whole word, tap again because it still didn't change to a cursor, tap again, finally, try to move, cursor does nothing, try again, it selects the whole word again, try again, it finally moves but now my finger blocks the cursor... is awful! I can probably forgive sins like hamburger menus for the sake of getting this improvement.

they should add a bunch of keys for cut copy paste up down left right... Would love to se a video of this working... sounds good

The pointer would be good. The "new" 8.1 "upside-down pin" to edit text is much harder to use that the 8.0 "I-Bar".
Windows Central Newsletter
Thank you for signing up to Windows Central. You will receive a verification email shortly.
There was a problem. Please refresh the page and try again.