Killer Instinct Season 2 launch trailer promotes its release Wednesday for Xbox One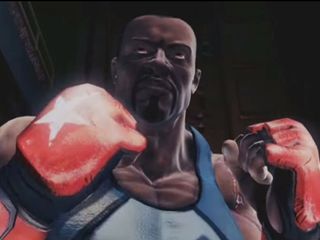 Microsoft is about to launch Killer Instinct: Season 2 for the Xbox One and today the company released a new trailer that offers new gameplay and teasers of what fans of the fighting game can expect when the season officially launches on Wednesday, October 15.
Microsoft revived the Killer Instinct franchise for the Xbox One's launch in 2013 with a unique business model that offered players access to one character for free with the option to purchase the remaining seven characters either as separate downloads or as a pack with all eight fighters. Under the game's new developer Iron Galaxy Studios, Season 2 of Killer Instinct will offer eight more fighters to download, and Microsoft will provide one of them for free, with a different character rotating in the free slot every week.
Four of the new Killer Instinct: Season 2 fighters are in fact new version of class Killer Instinct characters TJ Combo, Maya, Riptor and Cinder. The other fighters are all new to the series, with Microsoft stating they will include " ancient Babylonian sorcerer, an avenging ghost, a battle-hardened war golem, and more." All of the Season 1 fighters have been re-balanced for Season 2 . New graphics, a new progression system and more will be added to Season 2 throughout the season.
Each fighter can be bought for $4.99 each, or players can pay $19.99 to gain access to all eight Season 2 fighters, with TJ Combo and Maya available immediately and the other six added on a monthly basis. Paying $39.99 adds all those characters plus a bunch of extras including "16 accessory sets and 8 exclusive costumes designed by Kevin Bayliss, art director for the original Killer Instinct arcade games." It will also contain a port of Killer Instinct 2 Classic, originally released in 1996.
Are you happy with what will be included in Killer Instinct: Season 2?
Source: Xbox Wire (opens in new tab)
Is this or how is this compatible with season 1. Do you get to buy just the characters and add to season 1 or are they separate games with separate fighters? I don't quite understand how this works? Also I never bought KI classic but would like to have KI classic 1&2 is there an option for that.

These fighters are added to Killer Instinct Season 1 fighters..it's not two separate games

The Seasons are just new characters for the same base game. Dividing them into seasons allows Microsoft to sell "Season Passes" that include a fixed number of characters. To get KI Classic, your only option is to buy the KI Ultimate upgrade for Season 1. It was on sale for a while a few months back, but I'm not sure if they regularly offer the upgrade option. For reason 2, it would definitely be wise to get the Ultimate version that comes with KI2 Classic.

Ultra Edition of Killer Instinct. ;)

Whoops, too many U words.

So does that mean that an additional 1000GS or so will be automatically added to the game, including for those who only have Season 1 (meaning their 100% achievement percentage will instantly drop to 50% tomorrow, regardless of whether they buy Season 2)? Also, this line from the article: "All of the Season 1 fighters have been re-balanced for Season 2." So, even if we never buy Season 2, all our Season 1 characters will be re-balanced and we'll also still experience this revamped online ranking mode? KI Seas 1 consumed the first six months of my Xbox One tenure. I 100%'ed the game and ended up with hundreds of online victories (like a champ!). It was actually kind of relieving to complete the game and step away, as the game was so good and so addicting to play it online against all those 'rage quiters'. But Season 2 is looking great, and for just $20 more...oh man...there are so many good games coming out this fall and I've already got a backlog...

KI Classic 2 definitely has its own fresh Achievement list. KI Season 2 probably will be updated with new Achievements (nobody has discovered them yet though). Not sure if they will add 1,000 GS to the overall KI list but it's possible. Yeah, rebalancing, new modes, etc. would be accomplished by title update and not specifically the purchase of the Season 2 characters.

Oh almost forgot +Xbox One, sp3 and Lumia 1520,1020

I've been playing Killer Instinct since 1994. KI was my original reason for wanting a Xbox One. I purchased the Ultra Edition of Season 1 and the Ultra Edition of Season 2. $40 per KI game is an excellent deal, especially considering Killer Instinct Arcade and Killer Instinct 2 Acrade with online play are included. I play KI2 online more than I play Season 2. 20 years is a long time to wait for Killer Instinct Arcade to be "Available for your home..." 1995 came and went... I can't wait to play Season 2 tomorrow evening. I haven't played Season 2 Early Access much due to the lure of KI2 Online.

I almost purchased an XBox One for Killer Instinct on its own. I've always been a huge fan of the series. I even played with emulation some long ago trying to bring the classics home. I also have the GameBoy, SNES, and N64 ports too. Glad to hear about this new version and it is tempting!

What's your gamer tag!? Lets get a game going tomorrow!

My gamer tag is Deaconclgi. :)

Glad MS isn't the one making the game. There would be characters that appear on a PS4 version and would be marked "coming soon" for XBOX.

Huh? Microsoft owns Killer Instinct, so no PS4 version is possible.

I was making a joke about Skype Qik Fliks. MS owns Skype, and... well...

you were making a dumb comment. that's all, not "joke" since jokes are supposely to be funny, no? and about your amazing joke!... Qik Fliks doesn't make the entire app more useful, I wonder if you read what it does, and if you need that super feature so bad, you can get a new phone, just saying. and well, MS is making the game, only because they have a non MS studio designing it, it doesn't mean the studio can do whatever they want, so yes, MS is making the game.

It was the joke to end all jokes. It was funny beyond compare. Your sense of humor is obviously broken. I love WIndows Phone and I'll stick with it. Apparently, I love it more than MS does. And you don't need to tell me about how publishing in games work. Chances are that I know more than you do about that.

I just looked at my email and saw an older version of your comment where you wanted me to die of cancer.
Talk about unstable people... LoL

It was just temporary insanity. At least it was edited rather quickly.

No worries Reflexx, your comment made me chuckle. I got the joke.

Your comment makes no sense.

That's because it's making dollars!

xbox one beats ps4 sales in US

I have been waiting for cinder....oh god this is a happy day for my inner child lol fav character ever

Is kind of confused why don't they give one price to get all characters but instead they opted by selling each character. So how much it cost to have all characters from season 1 and season 2

They sell the whole batch of Season 1 characters and the whole batch of Season 2 characters as single purchases, as stated in the article. They just don't bundle Season 1 and Season 2 together because it's not necessary. Would make for a cool sale someday, maybe.

The cost for all Season 1 and Season 2 characters would be $40. Season 1 is $19.99 (Combo Breaker Edition - All Season 1 Characters) + Season 2 (Combo Breaker Edition - All Season 2 Characters) is $19.99 = Roughly $40 + tax for Season 1 and 2. If you want all of the DLC for each season: Season 1 Ultra Edition is $39.99 (all Season 1 characters, costumes, Killer Instinct Arcade) Season 2 Ultra Edition is $39.99 (all Season 2 characters, costumes, Killer Instinct 2 Arcade Online) Basically, if you do not care about the Killer Instinct arcade games from 1994 and 1996, you can just pay a total of $40 for just the new Xbox One Killer Instinct game. When they make a 3rd season, the Combo Edition will be $19.99 for 8 additional characters again, completing the entire KI and KI2 roster plus new characters for a grand total of $60 ($20 x 3 Seaons), the price of current Xbox One games. That will bring Killer Instinct (Xbox One) development full circle and if you look at it that way, the pricing for the base game (Combo Breaker Edition) is perfect.

Im dying for this game but kinda sucks that not all characters will be available right away. Cinder and Riptor are my most anticipated.

The game is free, you can download it and while cinder and riptor aren't available, you can practice with the current roster.

Waiting till the roster complete

The game will be 900p for S2, not 720p like S1.

I'm waiting for the Ultra.. Ultra...Ultra.. Edition that gives me everything... At a fair price.

I want to buy both classic versions, but do not want the new Killer Instinct. When will that be possible?

Probably never. It would be a nice option, not that I can see why anyone would want to play the classics but not the new version.

I'd pay for a SP storyline for this. Like with the last Mortal Kombat and Injustice games. Those were great. I have little desire to play a SP ladder with no context, or get crushed online by a 14 yr old who has mastered 35 hit combo's

"For those asking about the Enhanced Graphics for #KISeason2, enjoy the sexy resolution bump from 720p to 900p! Game looks better than ever." - Alex Jebailey https://twitter.com/CEOJebailey/status/522070177840525313
Windows Central Newsletter
Get the best of Windows Central in in your inbox, every day!
Thank you for signing up to Windows Central. You will receive a verification email shortly.
There was a problem. Please refresh the page and try again.