Killer Wireless AC-1535 drivers updated with fix for Wi-Fi connection issue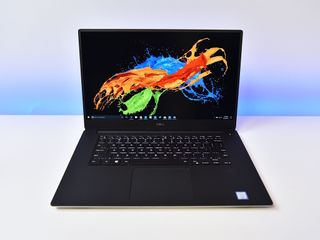 Killer has released a driver update for its wireless card that appears in the new Dell XPS 13 9360 and Dell XPS 15 9560, offering up a fix for a particularly annoying connection drop issue plaguing some users.
As we noted in our XPS 15 9560 review, the wireless chip worked normally through things like basic web surfing and video streaming. However, once you put it under heavy load, the issue would cause your connection to drop:
This driver update is for all devices running the Killer Wireless AC-1535 including the Dell XPS 15 (9360) and any Razer products as well. Those companies will push the driver through their own update channels soon, but you can update yours now if you like to fix any issues.
Interestingly, the original problem was caused by an update by Microsoft that broke some functionality in the Killer card.
Thankfully, after some time in beta testing, that issue should be cleared up with these new drivers. If you have an XPS 15 9560 or any other device that uses the Killer AC-1535, you can grab the latest drivers direct from Killer at version number 1.1.67.1760.
Windows Central Newsletter
Get the best of Windows Central in in your inbox, every day!
Dan Thorp-Lancaster is the former Editor-in-Chief of Windows Central. He began working with Windows Central, Android Central, and iMore as a news writer in 2014 and is obsessed with tech of all sorts. You can follow Dan on Twitter @DthorpL and Instagram @heyitsdtl.
90% of the time (surface and ipad being exceptions) I won't buy a device unless I can get or put in it an Intel Wifi chipset. Driver releases are few and far between for killer. The drivers go WAY deeper than they should and attach themselves to processes they have no business doing (wait till you try to remove them) and they have been proven time and again to do next to nothing for connections. Intel is tried and true and gets incredibly timely updates. And it works perfectly

"Driver releases are few and far between for killer. "

Disagree. They used to be once a month, they are now on a quarterly release cycle unless there is an issue/problem. Source: I spoke with the team for an hour yesterday about it. No point in doing monthly update for the sake of monthly updates. Consumers don't care about that.

Hmmm, I'll hold off till they push just the driver to windows update...not going near the killer suite ever again on my GS63VR. Fortunately I've not seen drop out issues recently with the windows update driver I have (4.0.2.217) - do remember issues when I had the suite though.....

I bought the new XPS 15 and I already have an iMac. I do a speed test on the iMac and it's 70mbps download. 2 minutes later, I do a speed test on my laptop and it's 10mbps. It's so slow that I can't take it. I'm considering returning the laptop. Can anyone help me with any tips to increase the wifi speed? (forgot to mention that I tried the above and didn't help)

Hey cardosofill, I just got my XPS 15 9560 six days ago. I had a network "corruption" almost immediately (within an hour) where it took down my network (forcing a hard boot of my AC1750v2). I called Dell and they had me install their driver suite. First attempt to do a Speedtest.net run and it brought down the router. Insstalled the latest AC1750v2 drivers and the problem seemed to be limited to a drops and reconnects but woefully slow x-fer rates. Ran a series of tests with this and my SP2 and the latter averaged 110Mbps, the XPS averaged 39Mbps and still took down the router albeit at a much less frequent basis. I was set to return the XPS to Best Buy but saw this article and here's what follows: Downloaded Killer Wireless driver latest driver above
Began installation which instructed I must remove the existing Killer Wireless driver Removed the prior installed Killer Wireless driver and rebooted as instructed upon completion Noticed the Wi-Fi card seemed to work, ran some Speedtest runs and it was indeed working very well (over 100Mbps) Installed Killer Wireless "new" driver as this was the original intent
Upon installation, card was immediately rendered inoperative Had significant issues just trying to get the card to recognize a Wi-Fi network After a few minutes, it brought down our network (whole house). Uninstalled "new" Killer Wireless driver (so it reverted to the original driver – Atheros Communications 4.0.2.217 circa 2/25/2016) Network and Card seemed to run fine Began more enthusiatic testing
Ran what seemed like 30 or more Speedtest runs with no issues (and very high speeds – many +200Mbps) Connected to my other laptops and began internal network testing i. Pulled 11GB zip file from another machine to the XPS (x-fer rate seemed to average around 6MB/s) ii. Pushed same 11GB file back to the source machine once complete (x-fer rate seemed marginally higher at a bit over 6MB/s) iii. Halfway through step ii., using a third machine, pulled the same 11GB file to it from the XPS (x-fer rate was near 7MB/s) iv. While both ii. & iii. were still transferring, opened up Speedtests on the XPS and laptop iii. – Speedtests showed 250+ Mbps rate I had it run a few more Speedtests today but while it had two drops from the network, they were auto-recovered and didn't disrupt the network at all. This – in both cases – is a massive improvement. I am posting this here to see if anyone can give me an idea if this should go back to Best Buy because this doesn't bode well for long term where I won't be able to patch. Intend to reach out to Killer to see if they can explain or address.
Windows Central Newsletter
Thank you for signing up to Windows Central. You will receive a verification email shortly.
There was a problem. Please refresh the page and try again.