Kingdom Hearts III for Xbox One: Everything we know so far
Want to know what's going on with Kingdom Hearts III for Xbox One? Here's what we know so far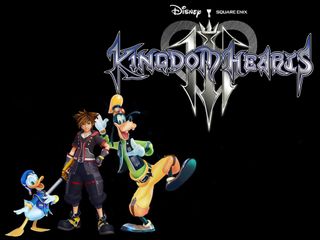 In the early years of gaming, there were quite a few swings taken at the creation of a game utilizing Disney properties. Most of those games ranged anywhere from unplayable to mediocre in quality.
Then in 2002, Square released Kingdom Hearts on PlayStation 2. Disney fans and gamers rejoiced as they finally had a significant video game with Disney characters. Thus far, there have been a total of nine Kingdom Hearts games but not until 2018 has there been a new title offered on Xbox.
We have been hearing rumblings about Kingdom Hearts III for years, but there is finally light at the end of the tunnel for fans of the series. As it stands now, we should see a release toward the end of 2018. However, what do we know about Kingdom Hearts III? Let's take a look.
What's new with Kingdom Hearts 3?
All the latest Kingdom Hearts 3 details can be found straight ahead. Be sure to check back often to find out everything new as we head toward release!
January 28 - It was the day before Kingdom Hearts 3...
Happy day before Kingdom Hearts 3 everyone! Everyone here at Windows Central is excited about the upcoming release, so be sure to keep checking here for all of your Kingdom Hearts needs. I'll be checking the comments to see if anyone has any questions, so fire off in the comments down below if you have any questions!
While we're talking about unanswered questions. Square Enix and the Kingdom Hearts Youtube channel have come together to release a mini-series of videos in the attempt to catch people up with the core story so far. There are five videos in total and takes about 15 to 20 minutes to get through. So if you want to prepare for the big day tomorrow, this is a great way to get started!
Of course, if you fancy a more detailed explanation of things, don't forget to check out our Kingdom Hearts 101 article which is a deep dive into the Kingdom Hearts lore.
January 11 - Update Schedule for Kingdom Hearts 3 Secret Movie & Epilogue
Thanks to an update on the official Kingdom Hearts Twitter account we can now get an idea as to when we can access the epilogue and secret movie.
Tuesday, Jan 29: The Memory Archive will be available to view, and an update will fix some bugs and data issues.
Wednesday, Jan 30: The Epilogue will be available for those who have completed Kingdom Hearts 3 and have seen the ending.
Thursday, Jan 31: The Secret Ending will be available to those players who have completed Kingdom Hearts 3 as well as completing special criteria.
January 10 - Update to Kingdom Hearts Classic Kingdom's Points!
It's safe to say, that unlocking the Starlight Keyblade in Classic Kingdom is a little bit of a struggle. Those mini-games are by no means easy and it's a challenge to get the point needed to meet the criteria. Well, there is some important news for those who are grinding away those precious points in order to get their code for the Starlight Keyblade for Kingdom Hearts 3.
An update from the Japanese updates page states that :
This means good news for those who have been toiling away at Classic Kingdom. You're now a lot closer than you think to getting that code for your Keyblade.
January 7 - Kingdom Hearts Walkman, Exclusive Bonus, & Memory Archives.
It's been a busy few days for Kingdom Hearts news as we gear up for the last few weeks until Kingdom Hearts 3! Best Buy has announced that their pre-order bonus for Kingdom Hearts 3 will be the Monogram Direct Kingdom Hearts series 3D Foam Keyrings Series 1 blind bag. If you want to pick up this exclusive bonus, you can preorder by heading to the Best Buy website.
For those folks who Kingdom Hearts 3 will be their first entry into the series, there may be concerns that they will not be able to get up to speed before the game releases. This is a particular concern for Xbox players who will not have had access to The Story So Far bundle that is exclusive to PlayStation. Fear not! As Tai Yasue confirms with Newsbeat that there will be a "Memory Archive" similar to what is found in other entries in the series that will recap the series in a series of short movies. This is akin to what the Square Enix Japanese Youtube have done for Japanese audiences.
In exciting news, there is a partnership with Sony's Walkman brand to have a Kingdom Hearts-branded walkman and headphone set. It's set to include the full track of "Face My Fears" by Utada Hikaru & Skrillex. While we don't have many details on this kit just yet, its an exciting time to be a collector of gear. There is a signup link to find out more about this set on the Sony Walkman site.
January 3 - Disney Worlds and Disney Games!
Happy New Year from all of us here at the Android Central team! We only have a few short weeks left until Kingdom Hearts 3 arrives in our hands, and it has been revealed that there will be no more surprise Disney worlds. Kingdom Hearts 3 co-director Tai Yasue confirmed via an interview with NewsWeek that there would be no more surprise reveals for Disney Worlds. This means that in total we will have eight Disney worlds in Kingdom Hearts 3: Olympus, Kingdom of Corona, Toybox, Arendelle, SanFrankoyo, Monstropolis, The Caribbean, and 100 Acre Wood.
For those who play Disney Blitz, Tsum Tsum and Final Fantasy BRAVE EXVIUS we have some exciting Kingdom Hearts related news for you. Disney Blitz will be getting a special clear mode during the 17th until the 20th of January.
In Tsum Tsum, there will be banners in January featuring Sora, Riku, Kairi and Aqua. These Tsum Tsum's will be available from January 20th to January 22nd as well as January 29th to January 31st. Sora and Riku will be available from January 25th to January 27th. So keep an eye to collect your favourite characters! Special thanks to Tsum_luke and the r/tsumtsum group on Reddit for being on the ball!
For Final Fantasy Brave Exvius, fans will be delighted to hear that Sora and Cloud from Kingdom Hearts 1 will available in a limited time event. From now until 11th January 2019, players can obtain Sora and Cloud from Kingdom Hearts 1 through a new featured summon. There will be other bonuses too like login bonuses, and special raid bosses like Guard Armor and Darkside that players can look forward to during this time.
December 21 - Kingdom Hearts 3 Ultimania reveal & Jump Festa 2019
The Kingdom Hearts Ultimania is a series of compendiums that detail the nitty-gritty of everything to do with the particular game of the franchise. There has been an Ultimania for every series entry so far, and they cover everything from monster details to Keyblade breakdowns. While only published in Japanese these are essential guides for anyone who is a fan of Kingdom Hearts. As the 29th of January creeps ever closer, Square Enix has revealed the pre-order link to the Kingdom Hearts 3 Ultimania, which boasts about being the biggest yet, having more details than ever before and including an exclusive interview from Tetsuya Nomura. You can preorder it from the Square Enix website for 2,700 yen (or about $24).
Square Enix has released its lineup for Jump Festa 2019, with a list that includes Kingdom Hearts 3. Jump Festa is usually the last major event of the calendar year (December 22 - 23), and the lineup mentions that there will be a trailer for Kingdom Hearts 3 presented at the event as well as a photo op. While we're unsure about the trailer details at this moment in time, you can be sure that if it's a new trailer, you'll find out about it here!
While there is no demo area for Kingdom Hearts 3 at the event this year, there is an opportunity to purchase some exclusive merchandise, and you can find out more details about it here.
December 17 - Final Kingdom Hearts 3 Trailer.
Given yesterday's news of their being Kingdom Hearts 3 disks in circulation, today gave us a surprise.
That's right, Tetsuya Nomura has decided to move the schedule forward for the release of the final trailer. There is a lot to dig into this 3 minute and 56-second trailer. There is much new gameplay as well as cinematic. Please be warned, this trailer is not for the faint of heart, and it has more questions than answers.
There is a lot of lore included in this trailer and I'll leave that for you all to enjoy. So, I won't be discussing the story elements of the trailer here. However, we do get the exciting reveal of Riku being a playable character in Kingdom Hearts 3. We get to see our first gameplay footage of the Stitch summon (or D-link) known as Plasma Encounter, Rene's from Ratatouille summon (or D-link) call Frying Pan where you can, quite literally, run around hitting things with a frying pan (I'm a fan).
In the next scene, we get to see what look like are going to be new mini-games throughout a couple of worlds. In Andy's Toy Box (Toy Story) you collect special pudding heartless using the Mad Tea Cups summon. In the Caribbean (Pirates of the Caribbean) we are on the Black Pearl looking to take down heartless using the cannons. In San Fransokyo (Big Hero 6) we are bouncing on heartless to go higher and higher across the cities landscape. In this trailer, we join Rapunzel (City of Corona) in a dancing mini-game!
This is only a taste of the content that this trailer contains! So sit back, and enjoy this last trailer that we'll see before the game releases on the 29th of January 2019.
December 16 - Illegal copies of Kingdom Hearts 3 in circulation & a note from Tetsuya Nomura
As we creep ever closer to the release date, with a little more than a month away, it has been revealed that illegal copies of the game are being sold via the Facebook Marketplace.
We here at Windows Central take these things, and the leaks very seriously. As such, we will never be reporting on Kingdom Hearts 3 content that doesn't come from official sources. So, you will never have to worry about finding spoilers here.
With the fan base (rightfully so) tremendously worried about the prospect of having this highly anticipated game spoiled for them, members of the community have been warning each other against potential spoilers that may appear online and to use filters on social media to ensure that players remain unspoilt.
This has caught the attention of Square Enix, and Kingdom Hearts series director Tetsuya Nomura who issued this statement today.
Thankfully it seems like this is something that they are getting a handle on. As Tetsuya Nomura mentions in the statement a lot of the significant spoilers like the epilogue and secret movie will not be able to be accessible until the game releases. However, be careful out there Keyblade Wielders!
December 9 — New trailer shows off scenes and old battles from opening movie
We're finally 50 days from the release of Kingdom Hearts 3, and the hype is starting to get intense. Kingdom Hearts has been releasing trailers every few weeks showcasing new worlds, weapons, attacks, and allies, but today's new trailer doesn't show off new gameplay or new battles.
It shows off all the battles that led up to this point.
This "Opening Movie Trailer" takes us back before the beginning of Kingdom Heart I and gives us an ultra-compressed history of the Dark Seeker Saga in less than 90 seconds, from Aqua being trapped in the realm of darkness after her battles with Xehanort and Ven's heart taking refuge inside Sora up to Sora, Riku, and Kairi reuniting — along with Donald, Goofy, and Mickey reuniting — as they prepare to face Xehanort's "13 wielders of darkness".
It's hard to sum up the drama of a decades-long war taking place over half a dozen games involving dozens of important players, but it's great to see that Kingdom Hearts 3 is going to fill in the blanks for those of us who didn't play every KH game released in the last 16 years.
November 27, 2018 - Cyber Monday Amazon & Kinda Funny Games & New Trailers
Black Friday is an exciting time of the year for shoppers of all kinds, but this year's Black Friday came with an exciting teaser for Kingdom Hearts fans. Amazon and Kinda Funny Games revealed in a live stream that on Cyber Monday that there would be some new DLC for the game, as well as another world premiere trailer.
This wasn't to be, however.
Shortly before the live stream was due to start, Amazon Video Games released the following tweet about the trailer.
With the new trailer devoured by heartless, an unsuspecting fan base that still joined in on the live stream expecting brand new content was only to be left disappointed by a 30-second re-edit of the Together trailer launched earlier this month! To add insult to injury, the exclusive DLC is the Dusk till Dawn Keyblade which was already released to pre-orders in Japan at E3 this year!
In happier news, Tetsuya Nomura took to the Japanese Kingdom Hearts Twitter account to let fans know the schedule for next month. While the translations are a little inaccurate at present, what we can take from the tweets is that there will be a new trailer on the 10th of December, a new video on the 18th of December and on the 21st a combination of a new trailer, 30 seconds of footage and cinematics. So there is plenty for fans to look forward to next month!
November 26, 2018 - Another Kingdom Hearts 3 Trailer, Water spells & Clothing Lines
How blessed are we that the trailer gods decided to rain down upon us this month! We have received one trailer a week this month with the Together, Winnie The Pooh and Lucca trailers all dropping this month it's been a whirlwind of content for the franchise. With there being rumors of another trailer releasing this week to round out the month, we recommend keeping your eyes peeled to here and the official Kingdom Hearts Youtube Channel for the latest updates.
In exciting news for a magic user of the series, there seems to be new elemental magic that has been included in the series. As long-time players will know, water magic has been excluded from Sora's magic. However, it seems like in the Winnie the Pooh Japanese trailer that there is confirmation that there is a water spell. While we're unsure as to what type of spell this would be, it's exciting news for magic users.
Ever wanted your own Kingdom Hearts clothes? No, I don't mean specially branded merchandise with the logos on it. But items of clothing and accessories that are designed after the main characters of Kingdom Hearts 3. Yes? Me too.
Our prayers have been answered by the brand Super Groupies as they have released a limited edition line for Kingdom Hearts 3 which starts preorders on December 1st. There is a pop-up store at the Seibu Ikebukuro main store for a limited time from the Saturday, December 1, 2018, to Wednesday, December 5, 2018! For those of us who aren't in Tokyo; fear not! International shipping is available, but you'll need to be quick as orders are from Saturday, December 1, 2018 - Sunday, December 16.
November 20, 2018 — Development has wrapped!
Square Enix has announced that development on Kingdom Hearts 3 has officially wrapped. Bet you never thought you'd read that sentence. To celebrate the occasion, the studio released an extended version of the trailer that's been playing in North American theaters. It all comes down to this as our heroes band together from all across the worlds of Disney to take down Organization XIII.
November 10, 2018 — Winnie the Pooh is back!
During Microsoft's X018 livestream a new trailer for Kingdom Hearts 3 was shown featuring everyone's favorite bear, Winnie the Pooh, and his gang of friends. The 100 Acre Wood will be home to mini-games focusing on puzzles that players can complete.
Aside from Winnie the Pooh, this trailer also gave us a new glimpse of Organization XIII. Whatever Master Xenohart is up to, it doesn't bode well for Sora and his pals.
November 3, 2018 — New trailer shows off the Kingdom of Corona
During the Italian comic and games festival LUCCA 2018, Square Enix revealed a new Kingdom Hearts 3 trailer showcasing the Tangled world, Kingdom of Corona. While fans got a better look at the upcoming game, franchise director Tetsuya Nomura could unfortunately not be in attendance as planned.
"I was supposed to visit #LuccaCG18 but as development on #KingdomHearts III is coming to an end, I have to focus on development," he said. "Instead, I've prepared a special trailer for everyone - please watch!"
October 2, 2018 — Grab the Deluxe Edition for a tad cheaper
Amazon is putting on a nice deal for the Deluxe Edition of Kingdom Hearts 3. Normally $80, the game is sitting on Amazon for $75.16. That's a savings of 6%. Take another $1.53 off when applying the coupon attached to this deal.
The total upfront discount isn't massive, but it effectively eliminates your tax obligation, so that's a win. Don't forget that Amazon offers a $10 credit for Prime members who pre-order it. The credit is delivered 30-35 days after the game ships. That's nearly $20 in savings with no hoops to jump through if you're already a Prime member (and if you're not, a free trial gets you there just as well).
The Kingdom Hearts 3 Deluxe Edition comes complete with a premium steel book case, a hardcover art book, and a collectible pin. Look forward to the game launching in the west on January 29, 2019.
September 18, 2018
Following the trailer released last week, Square Enix has released an extended trailer diving deep into the world of Big Hero 6! This is our best look at the recreation of San Fransokyo yet. Expect to hear more information soon as Tokyo Game Show 2018 begins in a couple of short days.
September 10, 2018
Ahead of Tokyo Game Show (TGS) 2018, Square Enix has released a new Kingdom Hearts 3 trailer showcasing the world of San Fransokyo in Big Hero 6. Along with new gameplay, we got a glimpse at cinematics from the worlds of Monsters, Inc., Tangled, and Toy Story.
July 17, 2018
Those looking to pre-order Kingdom Hearts 3 just received some extra incentive to do so from GameStop. The company has revealed that one of three fabric posters will be included with your pre-order of the game, and it's up to you to cast your vote on Twitter with the hashtags noted in the image above to decide which one it will be.
June 11, 2018
Sony had their own piece of exclusive Kingdom Hearts 3 footage to show at E3 2018. The new footage confirms the inclusion of Pirates of the Caribbean. This isn't the franchise's first appearance in a Kingdom Hearts game, with Kingdom Hearts 2 having been the first.
Yes, Captain Jack Sparrow is back, and Sora's crew are on deck to help him live the pirate's life. The gameplay sequences for this world seem pretty epic, with both a ship battle and a fight with a huge sea monster being featured. The trailer also shows that a replica version of Riku will make an appearance.
Alongside that new footage, we get word that not only will there be a special edition Kingdom Hearts 3 PlayStation 4 console, but you'll also be able to buy all three mainline Kingdom Hearts games as a bundle. That means you'll get Kindom Hearts 1.5 HD Remix, Kingdom Hearts 2.5 HD Remix, and Kingdom Hearts 3 in the same package. They've even thrown in Kingdom Hearts 2.8: Final Chapter Prologue for good measure.
A release date for the special edition PS4 has not yet been confirmed, though it's likely we'll see it on or close to Kingdom Hearts 3's release date, which was previously confirmed to be January 29th, 2019.
June 10, 2018
Square Enix has announced a release date for Kingdom Hearts 3. It'll be arriving January 29th, 2019. Originally, their goal was to get the game out in 2018. However, the company needs more time to ensure the game is the best it can be before launch.
With that news, we also saw a new trailer at E3 2018 that revealed new details, namely showing off new content and abilities surrounding previously unannounced Disney franchises. Those franchises include heavy-hitting staples such as Frozen and Lion King, with Elsa and Mufasa making appearances, respectively.
Information line-up
A whole new world
Since its inception, an important element of the Kingdom Hearts games has been the setting. Part of the joy of these games is the opportunity to explore familiar Disney worlds in a way that is not possible when you're watching a film. Some of the worlds which have been tapped for inclusion in KH3 include Andy's House from Toy Story, Twilight Town, Mount Olympus from Hercules, Monsters Inc, Tangled, and even San Fransokyo from Big Hero 6.
With Disney owning just about every existing IP under the sun there doesn't seem to be many worlds left that are not within their reach. However, everything indicates that all the worlds tapped for inclusion will remain those who lie directly under the Disney Umbrella, as well as some from underling Pixar.
While Kingdom Hearts 3 isn't a traditional open world game, Square Enix has a clear goal to increase the scope and capacity of each world. Some of these levels are the most expansive we've ever seen in a Kingdom Hearts game. You'll especially feel the scale at places like Toy Box in the Toy Story world, or Mount Olympus over in Hercules' corner. Despite the increased size, Square Enix manages to create each world with the level of detail that'll make you feel like you're in the theater watching your favorite movies all over again. It's this nice balance of scope and focus that gets us excited to be sucked into Disney's magical kingdom once more.
Characters welcome
Another critical element of the Kingdom Hearts series has, of course, been characters. There is something undeniably exciting about running into some of your favorite Disney denizens whilst you progress through a KH game.
While your main characters will remain steadfast - Sora and the gang are back - there are some additions. With the inclusion of the aforementioned worlds, it should come as no surprise that we will see end up crossing paths with their related character inhabitants. You'll certainly be seeing Woody, Buzz, and the glutton of other toys living in Andy's room for the Toy Story sections. I, for one, am totally ready to get some heals from Beymax.
And that's alongside mainstays such as Goofy, Donald Duck, and Mickey Mouse, all of whom have proven to be valuable comrades for Sora over the years.
Kingdom Hearts III for Xbox One gameplay
Kingdom Hearts 3 will seemingly feature a keen blend of all the combat mechanics introduced in each previous title. Keyblades still cut foes down with ease and magic is still here to help you quickly dispel waves of enemies. However, we'll also be seeing new mechanics such as character summons, keyblade transformations, link attacks, something Square Enix is calling "attractions," and more. Here's a quick rundown of what those types of attacks are:
Character Summons: You can call on one of your Disney or Pixar friends to fight alongside you for a short time.
Keyblade Transformations: Alongside your keyblade's normal abilities and combos, you can transform the keyblade after hitting a series of uninterrupted attacks. The temporary transformation unlocks a wealth of new abilities, as well as a finisher attack.
Link Attacks: Like Character Summons, this mechanic brings your friends into the fray, but instead of being there as a sidekick they'll execute a more coordinated and powerful attack with Sora.
Attractions: These are flashy, big abilities that play out like rides you'd see at Disneyworld and Disneyland. For instance, you can call on something like a water ride to splash through a ton of foes.
New and interesting mechanics
There will also be other miscellaneous gameplay mechanics that may be unique to certain worlds and sequences. For instance, Sora can take control of robot Gigas at Toy Box to help him get around the store and fight enemies faster. Expect a lot of variety in this regard.
Players will get stronger as the game goes on with a leveling system that should increase your power, health total, mana pool, and offer new abilities. And it's not just Sora getting this treatment, either - all your mainstay companions have their own experience to grow.
World traversal has been a big part of the Kingdom Hearts series, and Sora's movement abilities are seeing some interesting changes with this entry. Sora has seemingly been practicing parkour as a new mechanic allows him to scale up, down, and across walls. This is likely to help players quickly maneuver through a world is just as wide as it is tall, with verticality being a staple element of Kingdom Hearts.
As was the case in most Kingdom Hearts games to date, you'll be fighting enemies who use Darkness for evil. Darkness is both an alternate realm and an actual force of energy. Good characters can use Darkness to augment their abilities, though the bad ones use it with far more malevolent intentions. Much of your battling will be done against those known as the Heartless, a common enemy in the game. The Heartless are actually living forms of the darkness that exists in everyone's heart. Their goals are likely driven by some evil no-gooder behind the scenes, as the heartless don't act on any sort of feeling or emotion of their own.
When can you play?
During Bethesda's time of E3 2018, they finally released the information of when Kingdom Hearts III will be officially released. Get ready because, on January 29, 2019, this game will be available to play!
If you want to get in line early, you can always head over and preorder a copy for $60.
What do you want to see in Kingdom Hearts III?
I'm sure you're just as excited as us. Let us know in the comment section below what you are most excited about! In its long and storied history, Kingdom Hearts has done a stellar job of taking the elements that work and adding new ones. Like a fine wine, Kingdom Hearts has (mostly) gotten better with age. At this point, we don't know everything about what is in store for us but as the year progresses we will undoubtedly see more new pieces of the puzzle unveiled.
I think Square knows that part of the magic and joy in these games is the surprise of running into unexpected characters. I have no doubt that they are holding a few cards close to their chests for the time being but I can't wait to find out what those cards are.
Updated January 2019: We updated this post to include info on a secret ending and epilogue.
Get the Windows Central Newsletter
All the latest news, reviews, and guides for Windows and Xbox diehards.