Kingdoms & Lords In-App Purchase Guide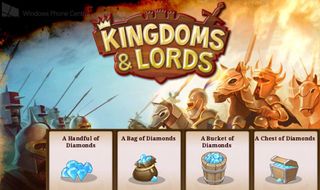 Gameloft's previous Xbox Windows Phone 8 release Six-Guns had so many different in-app purchases that we published a lengthy guide just to cover them all. Seriously, virtually every aspect of that game had an IAP component, with some feeling less optional than others. The purchase model diminished what would otherwise be one of the best action games on the platform (though I still enjoyed it).
Kingdoms & Lords takes a much different approach, as only one thing costs real money: diamonds. Players can earn the sparkly gems by leveling up and completing story battles against bosses, but that's about it. Run out and you might be inclined to buy more. Just what should you spend them on, anyway? Read our latest In-App Purchase guide to find out!
Diamond Packages:
A Handful of Diamonds –15 Diamonds – $1.99 (7.5 diamonds per dollar)
A Bag of Diamonds – 40 Diamonds – $4.99 (8 diamonds per dollar)
A Bucket of Diamonds – 85 Diamonds – $9.99 (8.5 diamonds per dollar)
A Chest of Diamonds – 175 Diamonds – $19.99 (8.75 diamonds per dollar)
A Handcart of Diamonds – 450 Diamonds – $49.99 (9 diamonds per dollar)
A Tramcar of Diamonds – 1,000 Diamonds – $99.99 (10 diamonds per dollar)
Now let's go over the many ways to spend diamonds and which ones are most productive.
Speeding up time-based process
Several aspects of the game require real-time to complete, including:
buildings that produce gold on a timer
crop growth
resource production (wood, stones, and wool)
unit production
unit upgrade research
However, each of these is a poor use for diamonds. You'd burn through them so fast by using them for speed ups, and you wouldn't be any better off than had you just waited.
Energy
Energy is a consumable resource that refills at a rate of 1 unit every two minutes and 30 seconds.
Many actions consume energy, such as: collecting gold from buildings, harvesting resources and crops, harvesting resources from the wild such as trees and animals, engaging in story battles, and attacking random opponents. It does not cost energy to plant crops or start resource production, "Revenge" attack a random opponent who attacked you first, or visit or invade someone from your friends list.
Energy can be purchased in the following quantities:
5 Energy Units – 5 Diamonds
10 Energy Units – 8 Diamonds
15 Energy Units – 10 Diamonds
25 Energy Units – 15 Diamonds
Like spending diamonds to speed up production, buying energy is wasteful. Your energy will fill up over time anyway, so don't squander a precious resource just to save a few minutes.
Coins
Instead of selling coins as an In-App Purchase, coins just cost diamonds.
1,000 Coins – 10 Diamonds
2,000 Coins – 18 Diamonds
10,000 Coins – 80 Diamonds
The coin prices are – frankly – ridiculous. You're so much better off just earning coins the old fashioned way.
How best to rake in the coins then? By farming crops! You'll find Homestead buildings under Production, where they cost 400 coins each. You should purchase as many homesteads as possible – basically one or two for every unit of energy you can currently hold.
Plant crops constantly and collect the riches from them before they wilt, cutting into your profits. If you've planted more crops than you have energy to pick them with, either pick up a little extra energy by visiting friends or come back in an hour or two when your energy has refilled. Keep doing this throughout the course of the game and you should be able to afford one land expansion per day, if not more.
Magic Cards
Single-use magic cards are used in battle against CPU opponents or other players. They provide a variety of beneficial effects such as damaging the opponent's team or healing your own. Sometimes they'll make the difference between losing to a superior force and coming out on top.
Magic cards exclusively cost gems; you can't buy them with coins. You could buy a few cards with gems, but they're so temporary that you're better off getting them another way. See, friends can gift magic cards to each other for free. If you and a few friends send magic back and forth to each other, you'll seldom run short during those tricky battles. Players can also win a couple of spells from the free daily lottery.
Premium buildings
Several of the game's buildings come in both regular and premium varieties, the latter costing gems. Players can choose between premium houses, production facilities, and even research facilities. Better houses pay more coins, better research facilities complete research faster, and production facilities both finish faster and pay out slightly more coins or resources.
Premium buildings are good, but they're not really worth spending diamonds on. They do allow you to be more productive in a shorter time, but it's not like anyone could afford to populate a whole kingdom with premium farms or something. You're better off buying tons of homesteads and other facilities with coins instead.
Premium Heroes
After leveling up enough to purchase the Tavern, players gain access to heroes as military units. The selection of heroes is mostly comprised of the campaign's bosses, who become available for purchase after being defeated.
Only a few heroes like the Evil Monk cost coins to unlock, though. The rest require massive quantities of diamonds to unlock. If you really get into the competitive aspect of the game, you might enjoy having one of those premium warriors on your team. But heroes have a cooldown period after every battle. You can't use before the cooldown ends unless you pony up more diamonds – not a good idea.
Research
Surely there must be something worthwhile to spend those diamonds on, right? That something is research.
After purchasing a Training Field, players can research upgrades for any military unit in the game. To actually unlock the ability to upgrade a unit, you'll first need to acquire sufficient quantities of four upgrade materials.
These materials can be bought outright with diamonds, but you can get them two other ways as well:
Select the unit you want to upgrade from the Training Field and then request the necessary materials from your friends
Visit and invade friends' villages to earn stars. Those stars can be spent on upgrade materials in the black market of the store.
So Windows Phone gamers with friends can get around the need to unlock a unit for upgrading through social means. That unit's upgrades can then be purchased with gold. However, each unit's seventh and final upgrade can only be purchased with diamonds.
That's what you should spend diamonds on; unlocking your units' ultimate upgrades. But don't do this with every single unit in your command. Early units will quickly be outclassed by units that unlock at high levels, even when upgraded. If you don't want to spend diamonds on a unit that will eventually be retired, you should save them for the final iterations of each unit type.
Etcetera
Diamonds can be spent on a few more things like reviving fallen units after battle, decorations for your kingdom, land upgrades (which also sell for coins), or spare units. All of these things are frivolities – never spend diamonds on something that can be accomplished with gold or patience.
Kingdoms are a gamer's best friend
The decision to buy diamonds or not comes down to how much you like Kingdoms & Lords' battle system. If you love fighting other players, the advantages from premium heroes and fully upgraded units are hard to beat. The final boss is also quite tough, so you might want an edge there as well. Players who aren't concerned about finishing the campaign or the competitive aspect can probably make do without spending.
Also, keep in mind that progress made in this version of the game will be shared with the Windows 8 version that releases later this year. And your progress is protected by a cloud save, so there's no danger of making a purchase and then losing it when you switch devices.
That wraps up our In-App Purchase guide. We'll have our full Kingdoms & Lords review later this week!
Kingdoms & Lords – Windows Phone 8 – 122 MB – Free – Store Link
Paul Acevedo is the Games Editor at Windows Central. A lifelong gamer, he has written about videogames for over 15 years and reviewed over 350 games for our site. Follow him on Twitter @PaulRAcevedo. Don't hate. Appreciate!
i get some kind of bug and they only replied me once and it didnt fix the problem

i cant build more building now. whenever i build a new building, another two building disappear randomly next time i launch the game . it started when i first use cloud save. i have reported to gameloft about this and they say they will investigate this. i've tried reinstalling and this still happen

Hey Paul, did you aware of this AWESOME bug? (look at my coins and diamonds) :p http://imgur.com/BauHc4N

I was as I have a similar bug, second time I started the game jumped up to 2billion diamonds

how to do that with WP version?! :D

Will this come out on windows 8?

Yes. I even mention that in the last section of the guide.

Will it come out for Windows 8.1?

Also will it be compatible with WIndows Phone 8.1?

lol Windows Phone 8.1 wtf is that

Of course the one paragraph I skipped. My B

Does anyone else have a lot of connection issues with the game? Saves out of sync, can't connect to friends, the market building connection times out. I have a solid LTE connection or wifi doesn't matter which. Also Xbox Live is missing some of the acheivements I've unlocked in the game which is annoying.

I do. When I do I won't have any luck the rest of that session, so I restart the app. I don't believe I've had any Achievement issues, though.

Yes. I lost so much gold entering random pvp battles only to get dropped due to a connection timeout, without the option to return to it later. I emailed Gameloft about this and they said it was my WiFi at fault even though the same problem happens at home or out (LTE).

I get constant dropped connections even on WiFi. It will sync when I start and lose the connection before I can do much. Very frustrating.

Good guide, Paul. I wish you had written it earlier! I blew through a lot of diamonds early on without realizing how difficult they are to come across later for free. My main gripe with these freemium games is that the IAP are just ridiculously overpriced, and this one is no different. The costs of diamonds in real dollars, especially when paired with how much diamonds it takes to do certain activities within the game, is exorbitant. Gameloft and EA need to hire an economist because there is no way that any rationale person would buy them at that exchange rate. I'd consider it if it were more reasonable (say, 100 diamonds for $1). And as you pointed out in the guide, the in-game costs are absurd (5 diamonds for 5 energy units!? There are some that take 50 diamonds to skip a mission. A single mission! That's roughly $6.50! Ludicrous.). That said, I actually really like this game. It's not as bad as other Freemium games (like Tetris Blitz) where IAP/boosts really take away from the gameplay. I just wish I had been more prudent with my diamonds early on because, you're right, the best use is to save them till the end so you can upgrade your final warrior units (or possibly buy premium warriors). Looking forward to when this comes to Windows 8/RT so I can have it on all of my devices with cloud saves.

Agree!! I will NEVER buy any in this game because of the price. If they were more reasonable, I would!

Off topic a bit, I know, but I will never support IAP that affect game play in anyway. Charge for a game and be done with it. Offer a free trial as well.

$100 for 1000 diamonds for a phone game? Sheesh.

I hate freemium, basically it is meant to get download numbers in order to maximize whale fishing. Every other user play it for a couple of days. Awful.

Paul every time you invade me, when I go to fight you I lose connection. I also can't invade you or anyone else. Everyone is occupying me but I can't do anything to stop you, and yet I can play the rest of the game normally. :(

Sucks that's happening to you! The game does have dome connectivity issues and bugs. We can wish for an update...

I have the opposite problem - I can invade people no problem, but never seem to have the option to fight off an invasion myself other than on the very first day of playing :/ I'm stuck on 3/100 for the 'Resist Invasion' stat, but have practically done everything else in the game. Nightmare! ...feel free to add me and try to invade though: RancidSkank :D

Is this game similar to Jungle Heat on iOS/Android. All my friends are playing that constantly.

Great game and great guide! I wish to hace more friends play this game ;) I arrive at the same conclusion after played the game for a week. I agree with others guys: the game has many bugs and I already reported it to gameloft. I experienced many frustrating connection issues and timeout even with wifi. Tha game doesn't save my notification and sound settings too. Anyway is a great game ;)

Add me to XBL: MrAndMrsSmiff08

Awesom work as always Paul. The game was actually pretty fun. However, after grinding for almost a week non-stop I am glad that my journey to 100% is over. I just wish Gameloft reconsiders their pay structure a bit. This game is obviously playable without investing much (any) cash, but it irks me when I see both useful and useless crap listed at astronomical prices.

is there any way to get free diamonds without spending money?????

I've given up attempting to invade people because of the connection time out. I think I'll just focus on building my kingdom. LOL
Windows Central Newsletter
Get the best of Windows Central in in your inbox, every day!
Thank you for signing up to Windows Central. You will receive a verification email shortly.
There was a problem. Please refresh the page and try again.