Know where your Country Variant Lumia comes from for OS updates #LumiaDenim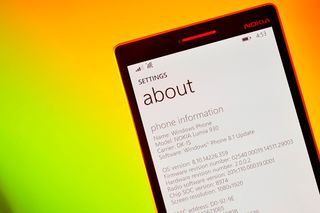 The Lumia Denim update is hitting more devices each day, and a big chunk of those are country variants often marked as CV. Country variants are non-carrier phones, but even though they are SIM unlocked, they still feature region localization including default language, preloaded apps pertinent to that country and carrier network settings.
Because of this there is no such thing as a "generic" Lumia Windows Phone. Hong Kong, Mexico, Thailand, Norway, and others all have their own country variant of each Lumia model. These country variant Lumias are increasingly eligible for the Lumia Denim update, including the Lumia 930 starting today. However, not all of CVs are yet cleared, and if you bought your Lumia from a retailer, you might not know its region code.
Here is a simple way to check your region of your device, which you can then compare against the Lumia update page (opens in new tab).
How to check your region on your Lumia
Getting the area code from your Lumia is relatively straight forward, however deciphering the info can be tricky sometimes. Here's how to get the information.
Settings
Extras + Info
More info button: Manufacturer Name, Mobile Operator
Another, similar method is this one:
Under those areas, you should see an RM-9xx number followed by the region information, For example, on my Lumia 1320:
Manufacturer Name: RM-994_apac_Hong_Kong_210
Mobile Operator: 000-HK
This information suggests this is a Hong Kong variant of the Lumia 1320. Checking Microsoft's Update page reveals that the Lumia Denim update is available for my device. Sure enough, checking for an upgrade (Settings > Phone Update) does confirm one is available.
My Lumia 930 and Lumia 735 though are listed as CV GBIE, which translates to 'Country Variant, Great Britain, Ireland'. This version of the phone is commonly sold through retailers worldwide. Denim is not yet available for those phones, unfortunately. Finally, my other Lumia 930 is DK-IS (Denmark) but with a Mobile Operator listed as 000-33, which may be a developer version.
Update: You can decipher the region codes through Microsoft's website, found here: dev.windowsphone.com/en-US/OEM/docs/Customization/Registry_values_for_carrier-unlocked_phones
That is all there is to it! So hopefully you can now have a better understanding of why your phone is not yet getting an OS update, even though you see other Lumias that are getting one. As to why it takes so long for CV Lumias to get the update, seeing as there are no carriers in the way, your guess is as good as ours.
Remember, check Microsoft's own update page to see if Lumia Denim is ready for your phone! You can find that site here: http://www.microsoft.com/en/mobile/support/software-update/wp8-software-update (opens in new tab)
Windows Central Newsletter
Get the best of Windows Central in in your inbox, every day!
Daniel Rubino is the Editor-in-chief of Windows Central, head reviewer, podcast co-host, and analyst. He has been covering Microsoft since 2007 when this site was called WMExperts (and later Windows Phone Central). His interests include Windows, laptops, next-gen computing, and for some reason, watches. Before all this tech stuff, he worked on a Ph.D. in linguistics, watched people sleep (for medical purposes!), and ran the projectors at movie theaters because it was fun.
Daniel please stop giving me hopes about Denim for my Icon

I am beginning to think my Icon will probably get it by 2100 or so. Too bad I won't be here to see it. :P

I was quite surprised that Verison chose to give my Lumia 822, Denim skipping Cyan, about three weeks ago. They probably didn't mean to do that...could be accidental.

LOL: Lumia Icon Verizon Black 8.00.10521.155

I'm thinking us Icon owners will be getting Windows 10 before Verizon releases the firmware updates. Hopefully we can opt into firmware direct from MS with 10 that way we don't have to wait anymore.

Firmware updates are overhyped anyways, and rarely brings anything must-have.

Microsoft said Lumia devices will receive denim update at the end of 2014. where is that ???

Not quite, UK 1520 CV here, still no update. I don't think anywhere apart from Nordic regions have received 1520 denim update yet. Microsoft treats their customers so well....

In all reality, they do. Every Windows Phone I've owned has received at least 2 updates. Even my original HTC Surround was updated from Windows 7 to 7.5, then 7.8. I can't say the same for my various Android devices. In fact the only phone that gets better updates is probably the iPhone, and even that is debatable.

Not here (Denmark) either... Although, thanks to this article, I confirmed my suspicion that my 1520 was actually German! No Denim for 1520's there either... :-(

Im in Norway, 1520 , no update yet here.

There is no Denim release of any kind, CV or carrier dependent, in Australia - complete BS! Apple releases an update and it goes global same day and time - this is where Microsoft need to be, certainly with all unlocked handsets at the very least.

So what's the latest on Lumia icons? Unlocked Lumia icon, in the UK on T-Mobile SIM.

As simple as it gets. Hope people will stop asking now why their phone not receiving Denim update. Thanks WC

Does the article make it clear why some phones aren't receiving the Denim update? For example, does it state wh 920's aren't getting denim yet?

Have you started by reading the article yourself and attempting to answer your own question?

Obviously. It doesn't help most people understand when they'll get the update for their phones. These people will still want to know....

Doesn't explain why we were lied to about the 830 and it's Denim/camera status upon launch.

Dont see this stopping those questions at all, only difference is now they know WHERE the phone comes from not WHY the update isnt available..... :)

Unless the phone says it's Denim and the Store says u need to upgrade :-P

My Lumia 520 is a Mexico's Country Variant but I installed some months ago the Preview for Developers update. My mom have the same country variant model but she didn't install the Preview for Developers update. The curious thing is that she got the Denim firmware upgrade and I didn't, we have the same OS features but I have the Cyan firmware. Do I have to downgrade? I did it wen Cyan was rolled out but I couldn't restore my apps from backup (or maybe I don't know how to do it). And you know, reinstalling all the apps can be a little messy.

Turrn off dev preview and then check for updates. Sometimes that wiggles it free.

I turned off dev prev and checked, got nothing, then uninstalled the app and checked again, got nothing. I'll wait a couple of days and if I'm still getting nothing I'll downgrade.

There is no firmware update for your phone in the Denim Package. If you already have the lastest OS version you already have Denim.

Thought Denim was the firmware update. The software 8.1something is what was available through DPP, and for normal people came along with Denim.

I love to read the confusion.

@Daniel.. Give a look at this http://m.gsmarena.com/windows_phone_81_gdr2_update_certified_still_alive...

This is only "news" if you first believed GDR2 was dead. I said the other day it was still around, so...

So no need to expect any new small features than more hardware support?.. :/

Just off the topic but your(I mean the whole team) decision to turn this into windowscentral was too hasty. The site in my view is in mismatch with its target audience. Most of us are here for our smartphone related news, now with wpc turning into wc site has kinda turned into boring with lots of news article that aren't related to smartphone. Like who cares what lenevo is launching wr have other reviewing sites wpc was all complete different. And you are risking your success with the success of win10 on pc , if it fails on pc the site will either have to go back to target mobile customer only or become irrelevant. Just a thought. I know denial is strong headed person he most probably wont read it :P but still I want wpc to be as interesting as it was.

Haha! Your right. We were supposed to get it mid January and there's is not even an update for the matter

It's not always that easy, my Lumia 830 shows this: Manufacturer Name: RM-984_1005 Mobile Operator: 000-33 Operator also is DK-IS So I'm clueless, you said that probably those are developers versions, will it get Denim along others ROMs?

Yeah, some of these are confusing. I think that means it is truly a generic, SIM unlocked phone. Still not sure where you would find it though on their page.

000-33 is for Europe models, http://dev.windowsphone.com/it-it/OEM/docs/Customization/Registry_values_for_carrier-unlocked_phones

You guys are seriously the best! Thanks :)

Did your Lumia 930 with 000-33 get the new update?

Yeah, my mobile operator is 000-22. What does that mean?

000 is Unlocked and the 22 for Latin America models.

Latin American Unlocked. If you're in the states, THIS is the one you want for true global mode. The Lumia 1520.3 (RM-938) has this code.

That's what I have. But there are only countries listed on Microsoft's update page. I don't see which one of these applies to me.

Why is 000-88 (worldwide) not THE true global variant?

Wow that was very helpful. I'm on tmobile USA and been looking for a true unlocked device. Now just waiting for a version of the 830 or 930 with this mobile operator code. Thanks!

This is another type of mobile operator ID which is for phones that will be sold in a large geographic area instead of a single country/region. Look here: https://dev.windowsphone.com/de-de/OEM/docs/Customization/Registry_value...

Exciting! Hope to get Denim before W10 Preview next week

So GBIEs are more likely to get up updates later?

I have no clue, i have the same CV GBIE, yet my phone states denim, yet none of the denim features work....confused.

Are you on the Developer Preview?

So my 1520.3 shows ITA_ITA which I assume means Italy. I find that a bit surprising as it was all in Spanish when I first set it up.

Actually is lta_lta, because is a latin american variant. That's why all is in spanish

It's actually a lower case L I beleive. Your unit is a Latin America CV

Thanks Marcelo and Baritone. I made a bad assumption aboout the first letter of the code beng upper case. Latin America makes more sense.

My 930 has RM-1045_1040 and carrier is 000-JO
Since I bought the phone in Jordan, then I'm assuming that's what JO stands for. Looking on the Microsoft website, Jordan does not have the L930 listed at all even though all other countries in the Middle East shows denim for L930....
I hope that doesn't mean there's no denim for Jordan....

I noted the 730/830/930 are missing for a few e.g. AT&T in the US there is no 830 listed on MS's page either...odd

Odd indeed... But hopefully we still get the update soon... Fingers crossed

i got my L930 in Jordan too but its 000-88 "worldwide" ... still no denim here

Mine says CV 000-eBay. What does this mean?

means you been living on the internet. get off it :P

Means its from China and you have no warranty

Mine says CH on my new 930. Shouldn't have checked... x.x

My 930 it's also DK-IS but is a Finland Firmware.

Manufacturer Name: RM-937_im_mea3_1019
Mobile Operator: 000-55
MEA should stand for Middle East, so it is the same model for the whole of ME. Interesting, means we would all get the update the same time.

Mine is also a middle east one.. But never got any official updates than DP.. Still in Black :S

Black? Cyan is available for your device. try disabling PfD and check for updates.

Tried it.. No updates.. I've registered a complaint before Acquisition of Nokia by Microsoft.. They said i'll get the update when i'm there in Middle East .. ! And i was like WTH o_O

You're lucky.. There some people said that lumia camera better on black :3

i got my 930 from jordan ... i have 000-88
which means worldwide .. why they have such complications

I am a few button presses from flashing my RM 940 ATT 1520 to a RM 937 Finland CV for Denim. I've been using Nokia care to flash Symbian ROMs for years. I will research more on the bands compatibility before I hit the Go GO GOOOOO button. Daniel, thanks for the informative post!

Mission aborted. I'll just wait. :)

What about UNITED STATES 1520????

My L625 is RM-941_im_mea3_209 and i have no idea what that mean.. Still in Lumia Black.. DP 8.1 ;-)

I personally think the higher models should be getting the updates first

Microsoft is not working for your personal thoughts ;D

You can just use this simple app, it's much easier than manual checking. http://www.windowsphone.com/s?appid=bfefc2d6-fa3a-4afe-8661-8c19c86b91a6

My 1520.3 does not show the carrier in the about screen. In the extras and info it shows the carrier as 000-22 However I know which variant I have.

Great article, good explanation :)

So where is denim for my 1520? Last year promise end of Dec or early of Jan. But now I'm using denim with Finland rom. Boooo

What this does not explain Daniel, is how come in my country Vodafone's 930 is already getting Denim, but my factory unlocked, bought from official retailer, "000-country code" 930 does not.

Funny, thing, my Lumia 620 started to "look for updates" and now its still searching for 2 hours now :D must be some digging.

I have a CA.. Does it mean that mine is a Canadian variant??

So I have a Lumia 830, with NO carrier listed in 'about'. Mobile operator is 000-33, manufacturer name is RM-984_1070. I sill don't have a clue, which country's availability I should be looking at. I'm guessing it's not the hungarian cv (that's where i'm at), since there is no 830 cv listed there. What Daniel said is interesting though, I've been wondering the same thing as to why cv phones take so long to get the latest update.

Basically if the person phone manufacturer is a Hong Kong,that person have to change the region and language to Hong Kong?

I knew all this already but thanks

This article was helpful, thanks. I live in New Zealand but my Lumia 1520 is not listed by MS as available in this country (it was sold at some retail stores as well as through parallel importers but not through any telcos; in fact a sales rep for NZ's biggest Telco had never even heard of the 1520), so I wasn't sure how to check whether to expect a Denim update soon. Having now identified it as being 000-HK and seeing it listed under Asia Pacific/Hong Kong, I was able to confirm the current OS status as unchanged. No worries. Updates happen when they happen. Thanks for all the helpful tips that guide us along in between, much appreciated. :-)

Yo, I got my 930 through Vodafone NZ no joy for me yet either but at least we know exactly where to check now

How did you get the update on your 000-HK (Lumina 1520)?

Hi ernestperol, as mentioned in my comment, my Lumia 1520's OS status is unchanged, i.e. it is still Cyan.

It's crackers that CV variants are slower, and ridiculous that high end devices are behind on updates

Thnx Rubino for this, been wondering about this recently. Got a 1520 and considering getting a Finish rom. I have a CV phone but 1520 seems to be the last phone to get it.

So here's a question... I have an unlocked 1520 ATT US variant but I am on Telus in Canada. Do I get my update from Telus or ATT. The settings say that the carrier is ATT.

John from Att united states not of telus

AT&T. The SIM card/network the device runs on has no relevance whatsoever... I'm in a similar situation, I bought my 1020 in Australia, but live in UK, mine will only get an update when it goes live in Oz.

Also do you have to opt out of DP to he the update?

With or without pd, I tried for my 1520, it's no denim.

Odd. No 830 and 730 in APAC

Site says update is ready. Firmware number on the site matches mine. No update Anyone else who has this

I also have this problem, it shows that my L930 from Hong Kong.. I tried changing the region in my phone but it didn't work

Could you explain when the AT&T 925 still hasn't gotten the denim update? And if not, when to expect it? Because at this point I just feel hopeless and I'm kinda tired of getting my hopes up :c

I have a Lumia 930 (carrier = Vivo) from Brazil, but there's no Lumia 930 in Brazil on the list :(

WTF why the Denim update is still for 'basic' phone.

I have a icon and it says I have denim and I live in oregon

Mine it's 825_lta_lta1_488 mobile operator cla-cl

It's my idea or DENIM it's taking so long in the release

How the hell did I get Mango;D

I have an unlocked Lumia 930 I'm using on ATT. Manufacturer name: RM-1045_1044
Mobile Operator: 000-HK I'm assuming this is Hong Kong, but according to the website Denim is live for my phone but I can't get it to see the update. Any suggestions?

Give it a few hours. Or try turning off PfD too. Some people can make regular channel OS updates show up by disabling it.

No matter how many times I check the update page, my phone still has yet to receive Denim. Is already mid Jan and still no news.... Is just so slow regardless is fault of the carrier or MS.

920 with 000-88 here. No demin either.

For all worldwide L930 .. "000-88" .. Turn off the preview for developers and enjoy denim

R.I.P. United States Lumia Denim Update

Hong Kong. 720 has Denim but 1520 nothing...

My lumia 720 updated to denim .....in india. Unable to post image of extra + info in comments...dnt know how to....

I kinda lost hope for getting the Denim Update!! Really disappointed

You guys are just playing with our hopes why you are not giving the denim update for all devices.you guys just gives us hopes not that what we want.

Dose it matter if I have DP???

Still no Denim for my 1320 CV Italy though it's listed on MS website :(

I updated my lumia 520 in india...i'm not on DEVPREV. i can access folder,data toggler in action center, os update scheduler....but extras + info still show cyan...phone shows phone is up to date....'m i on cyan or is it problem with extras + info.

I believe you are still on Cyan as the Denim firmware update for your 520 isn't still available yet. Remember, when using the PfD program, OS updates and firmware updates are separate entities that even though you're on latest WP OS, the firmware might not be.

So this presents me a problem. I have a 720 (nice little phone BTW) whose mobile operator is 000-22. I had found before that corresponds to Latin America. When I go to the MS updater page, there is a whole section for Latin America from Argentina to Venezuala, but no listing for just Latin America. So, where do I go to see what my device should be running?

Lumia denim....coming...soon2014...coming soo...2015..coming soon...2016...believe .....i think Ms is not even caring for flagship phones...like 1520,1020..all others...hmm..lets see....

The fact the 1520, 930, Icon have been prepped to get 4k recording, dynamic flash etc disagrees with you. If you had watched the interview they (Daniel and Myriam) had with Juha, you would have understood why they couldn't bring improvements to every single Lumia phone including the 1020.

I don't he think he is being nearly as literal as you think, more like comical.

What im saying is dude...they can give the max that's possible to flagship phones.....amn"t I right

I see no country name in my manufacturer's name. It says RM-976_1192 Help Someone?
There's no carrier in the more info option too...Just name model and Sw info...

I'm super confused. How do I decipher my phone showing:
Mobile operator: 000-44
Manufacturer name: RM-821_im_mea3_497 I know it's imported from Africa but since there are many countries in Africa, which county variant do I need to look out for when Denim comes to my 920?

Guys who have 000-HK and didn't get the denim update TURN OFF your developer preview app and you'll get instantly ;)

Apparently, no one is listening.

I wonder what need the phone operator to review before approve an upgrade of software and firmware, I don't understand why we should to wait until the carrier review the os, what so special thing should to review no idea, also now phones can be used in any carrier my phone is from Claro Chile but moved to movistar cl and Microsoft should understand that the phone not necessary should be used with the operator that you got the device so the wait it's not justified anymore

My eyes are bleeding from reading this comment lol. Every carrier needs to make sure that the update works on their network, (also the fact they can bundle in their apps is an added bonus for them). Simply because they are the first point of contact for support from customers.

I had to clean mine out with bleach.

Extras +info says I have denim, turn preview for developers on, and it says I have Cyan. How can you really tell if you have Denim?

No you don't. Its a bug. U r on cyan

Not sure, but maybe you got the denim not through PFD.

Well I got a problem, Microsoft site says my phone got denim , WC says I got denim, firmware version of my phone is same as in MS site but I don't have denim and when I check update it says your phone is up to date My phone is 520 CV India with 8.1.1 update preview for developer

8.1 update
Can't edit my comment

Try to turn off your Preview for Developer app then check phone update again.

OMG! DOwnloading now. Today, Denim arrives in the UAE for Lumia 930!

730/735 is missing from the list :-o

I really hope that MS figures out a way to fast track deployment for Country Variants. When there aren't carriers "blocking" the deployment the only real difference between countries with Denim and those without is the language. At this pace you cant even be sure to get an update before the next one is out :/

#VerizonWillNeverUpdateIconToDenim

I don't know when are they gonna release it for india l925

Waiting for denim update... For Lumia 830 in India

This should hopefully reduce the countless requests from users asking how they find out which variant they have. If everyone used the search function, it would put an end to such requests. However even that is too much to ask for, poor windows central team...lol. Lastly, thanks for the region codes that will be a massive help :).

It's there job. Freak, I like your comments, don't get me wrong. At least you have half a clue as to why things work the way they do.

Mine says rm-937_eu_euro1_935 8 Mobile operator 000-NO (I live in Norway), but i cant download the update (and Microsoft says on their page that we are not to get it yet). But mine says EU, so i should have gotten it or?

Didnt help! About pgae: CEE SW version -->boom, its Central and Eastern Europe.. didnt help. 000-33 --> decrytion: Europe! How surprisiing, so didnt help.. As if Europe is a single country...

I am up here in Canada...just received the Denium update.....i have a unlocked Lumia 930..i am through Rogers Canada....

My mobile operator ID is 000-IR and its not in that list. Funny they listed 000-IQ for Iraq and then obviously removed -IR.

Thanks Daniel, two weeks ago since I am enjoying my new L1520 in yellow Destroyer, it's a wonder device. Now ceases to go crazy trying to figure out which was the region to which belonged my device. Greeting from Spain.

Bose i didn't get denim , im using dp, what to do for official

Hi, I have checked and rather i live in Hungary the unlocked Lumia 930 which i have is a 000-CH a Swiss type. When i will have the Denim update?

The availability depends on your phone's region, as stated in the article.

No Denim rollout in India today it seems.. I am using a Lumia 535 with Denim and a Lumia 620 with Cyan on PFD.. awaiting Windows 10 preview next week.. not to be a pessimist, i hope i am able to get Windows 10 preview even without getting the Denim update..Judging by the way MS rolls out updates, i hope they dont restrict PFD users to get Windows 10 without getting Denim update... i am seriously praying now..

Maybe MS will keep update the windows firmware, but possibility that Lumia update will be pull out very soon.

Hi Daniel ,
There is no Carrier information for Lumia 925 in India..

Is the Lumia 1020 gonna get the update or not ? Because iam stil waiting and My girlfriend with a budget Lumia 520 has It already ?

Useless for many. I have an 1520.3 RM-938_Ita_Ita_905. There are numerous Latin American 1520 variations in different countries and even multiple in some countries so still have no idea which country or variation I have. WC users would be better served if someone tracked down a cross reference list which absolutely must exist somewhere. Did anyone even ask MS for that info?

I bought Lumia 930 from Singapore before it was launched in India, it shows 000-SG in operator details. Now I live in India, will I get the update when MS rolls out the denim update in India or Singapore?

How about a nice article which outlines how you can tell if you actually have Denim (the firmware) or not, other than Extras saying so. I can toggle Cyan/Denim with the Dev Preview app as many can. I have a Latin America 720, which isn't called out seperately on the MS version pages. OS and version number don't help much. Here is why. Country; Product; Description; Release; OS version; Latest version
Mexico; Lumia 720; Country variant; Denim; 8.10.14219.341; 3058.50000.1425.0001
Argentina; Lumia 720; Country variant; Cyan; 8.10.12393.890; 3058.50000.1425.0001
Brazil; Lumia 720; Country variant; Denim; 8.10.14219.341; 3058.50000.1425.0002
Colombia; Lumia 720; Country variant; Cyan; 8.10.12393.890; 3058.50000.1425.0004 Notice the OS makes sense. Cyan and Denim are unique. Version however shows the exact same version, 3058.50000.1425.0001, for both a Cyan and Denim model. Further there are Cyan versions with numbers that would seem higher than some Denim ones. So with a 720 with version 3058.50000.1425.0001, I still am not sure whether I have denim or not, as I don't know which country to look at. When we got Cyan firmware there were some distinct features we got that were ONLY available with the firmware update. Anything like that for Denim that is easily checked?

I wish my 920 got an update to improve it's battery life, which took a dive into an abyss after the 8.1 update. It's a moral responsibility of Microsoft to solve this issue.

OOO MY GOD I READ THE COMMENTS ON HERE SOME BY PEOPLE WHO WORK FOR THAT RETARDED APP AND PEOPLE ARE FAR BEYOND RUDE!!!!! ALL WINDOWS EVENTS OF ANY SORT COME WITH LITTLE OR CONFUSING INFORMATION SO THAT'S WHY YOU HAD TO CREATE THIS FREAKING APP. YOUR JOB IS TO RESPOND INFORM BE NICE CUSTOMER SERVICE AGENT AND DROP THE ATTITUDE TOGETHER WITH YOUR SHIT BEFORE YOU LEAVE FROM HOME TO WORK.. UNACCEPTABLE

Costumes will always ask the same questions it happens is normal don't you know that average person even knows where Nokia used to be made. I know its driving you crazy but that's life desk with it . It's actually your fault yes it is.. Is there a box in ur app that you just type the info and everything shows up? I'm reporting you I'm sorry I work in costumer service and I know when someone is passionate about their job.. You just direct me to look for a different eco system... Plus nokia has been slow with updates since it was created

Installing on my German L930 (Mobile Operator 000-DE) right now ... at least I think it's Denim :D

guys denim now available on 1520 in uae

Ok, All is fine with me to wait and wait , but still,i bought my Lumia 930 unlocked in Hungary, all models have the update, but not mine, mobile opeator is listed as 000-CH which is Switserland, i do not live there, my simcard is a vodafone on,asume, nothing to do with this. when i will get Denim?

I have country variant 00-22 phone RM-938_lta_lata_905 which stants for Latin American based on the table at this link https://dev.windowsphone.com/en-US/OEM/docs/Customization/Registry_values_for_carrier-unlocked_phones so when I go to ths link http://www.microsoft.com/en/mobile/support/software-update/wp8-software-update/availability-in-latin-america/ There are a lot of counties in Latin America and they all have Country Variants so what is the right one for my phone? thanks for any pointers!!! Gary

Hi Daniel! I have two clarifying questions: - Does your Lumia 1320's 'Extras+Info' still read 'Lumia Cyan' after the Denim update?
- Am I wrong to use the 'Extras+Info' as proof that the Denim update has not installed yet? Just in case it can help others at all, here are my Lumia 1320 details and recent history. I have the same Lumia 1320 details as you:
- Manufacturer Name: RM-994_apac_Hong_Kong_210
- Mobile Operator: 000-HK As of 29 January 2015, I haven't yet received the Denim update, however. I am a member of the 'Preview for Developers' and my 1320 was purchased unlocked. My 'Extras+Info' still reads 'Lumia Cyan'. I switched off 'Preview for Developers' and checked for updates to see if it would knock anything lose but no luck. Thanks very much for everything!
You rock the most!
Peter

Hi! I have a Nokia Lumia 735 buyed by Amazon. Its OS-Mobile operator is 000-DE but im living in Spain. I want to know if I need to wait the Country Variant for Germany or for Spain, and, is there an other method to actualize my Lumia Denim software? I dont even have Cortana. Thanks!

Hi! I have a Nokia Lumia 735 buyed by Amazon. Its OS-Mobile operator is 000-DE but im living in Spain. I want to know if I need to wait the Country Variant for Germany or for Spain, and, is there an other method to actualize my Lumia Denim software? I dont even have Cortana. Thanks!
Windows Central Newsletter
Thank you for signing up to Windows Central. You will receive a verification email shortly.
There was a problem. Please refresh the page and try again.