Last-gen Surface tablets pass through Bureau of Indian Standards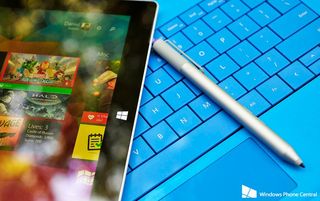 Microsoft may consider launching Surface tablets in India, according to a listing on the country's regulatory authority, the Bureau of Indian Standards.
The website lists two Surface model numbers, 1516 (Surface RT) and 1601 (Surface Pro 2), as being approved for distribution in the country. Maintek, the company that is listed on the BIS site, is a manufacturer that has registered the tablets for sale in the country.

Even though the tablets have been certified by India's regulatory body, there is no telling when (or if) Microsoft decides to launch either model in the country. According to a Microsoft spokesperson:
Indian users, would you be interested in buying either tablet if it were available in the country? Would you rather see the Surface Pro 3 instead? Sound off in the comments.
Source: BIS; Via: Evyush
Windows Central Newsletter
Get the best of Windows Central in your inbox, every day!
Harish Jonnalagadda is a Senior Editor overseeing Asia for Android Central, Windows Central's sister site. When not reviewing phones, he's testing PC hardware, including video cards, motherboards, gaming accessories, and keyboards.
I am a big MS fan but if they release first gen and surface 2 now in India, I hope no one buys them and they fail badly. Apple did the same for the first 2 generations but they realized the importance of markets like India and corrected the mistake later. They have been ignoring India for almost 2 years. If not for Nokia, WP also would have failed badly here. Google released pathetic chromebooks and selling their nexus devices here and APPLE releasing ipads within 2 months every year but MS behaves as if they cant keep up with the demand in US or other markets. - Lumia 920, Surface RT (got it shipped from US) owner from India.

I'm sorry, but if anything is a failure in India, it's their regulation system for everything tech-related. You can't blame Microsoft for a shitty government.
And no, just because they got Nadella on the lead now doesn't mean everything will get there faster. Microsoft is and will continue to be a US company, as much as it hurts the rest of the world.
And this is coming from a Mexican that lives right across and gets nothing as well.

I'm sorry but that's a bad way to do business. You go where the market is. Just look at the markets where Windows Phone is the strongest. Not just India; Russia, Italy and Brazil are also patronising WP but what have they got in return? Proper Bing services? Cortana prioritised? If it's Apple who does this, then it's understandable, as they are one of the strongest in US. But MS is not Apple. Heck, even Apple with their miniscule share in India releases their top products within 2 months of US release.

What regulation system you are talking about? Care to elaborate? Don't talk rubbish if you don't know anything. Every other company is able to release their products in India. Why can't Microsoft? They are allowing unknown Chinese companies. If anything India would allow Microsoft with open arms rather than blocking.

This isn't even stupid anymore. Posted via Windows Phone Central App

People wont buy it if its not very much cheaper. Indian logic... ( bdw I am indian)

I don't know exactly how cheap they would want them to be, but I know you can purchase gen-1 Surface RT 64GB for around $200 brand new, in the States. How does $200USD sound in India, should Microsoft pass that low price into the region?

Ignore his price rant, Samsung has 47% marketshare in India and Apple is in second place with 14%, so there will be buyers for quality products if you launch at the correct time, ofcourse not everyone can afford everything but its idiotic logic to think only cheap can sell. Microsoft should concentrate only on surface pro 2 and Pro 3 in India as RT will only create confusion amongst general public who will later disparage the product for not running their old softwares, so just launch surface pro 2 and 3 as premium products for enthusiasts and eneterprise customers. The mid-end will be served by Dell, Asus, Acer etc and the low-end by Micromax etc.

Its India, 90 % of smartphone or tab buyer look for cheap price products. I have seen Hp Omni 10 having a price tag of ₹24,000 or 400 dollers. People rarely buy that product because its costly. I dnt knw how much hp omni 10 cost in America but I am sure it is less than $400 doller.
I look at quality not at quantity but the $400 or ₹24k is too much.

Bdw hp omni 10 is 230 doller in America amazon.com.

LoL bro what's the procedure to apply for american passport 3:)

http://www.ustraveldocs.com/in/
Lol

Its not just about the percentage. There is a difference between 4 in 10 and 40 in 100. The marketshare you are speaking about is more the former type. Yes, Indians do look for low prices.. But they won't buy the scraps just because they are priced less. We need value for money more than anything else. Make a good one and price it reasonable. And you could take the marketshare for granted in India.

I understand ur point but maximum guys in india buys products which give more in a less price tag.
One year ago, when I bought a Nokia Lumia 520 worth of $180 or ₹10500 (when Lumia 520 was released first), people used to think that I must be a RICH guy to use Lumia series phones. So u can understand our situation. :D

Apple has 14% market share in India? Apple has just 1.3% market share as of June 2014. Samsung-63%, Nokia-25%. Windows phone is India's 2nd most used OS, Source-IDC,Hindustan times and this has been quoted in wpcentral lots of times. Please get your facts right.

Learn to read before posting irrelevant facts, those numbers you are quoting are for phones, this article and the subsequent discussion is about surface and other relevant Tablets and Apple does have 14.4% marketshare in India in Tablets section. Here are some facts for you: http://www.crn.in/news/hardware/2014/05/28/indian-tablet-market-declined... http://cdn.idc.asia/files/72306b3a-705a-415f-9133-b8d7c7823d36.jpg http://cdn.idc.asia/files/6cbdc24d-8d6c-405d-99fe-b7b9546674d0.jpg http://gadgets.ndtv.com/tablets/news/tablet-market-in-india-shrank-32-pe...

Only rich daddy's son buy iPad. At least in Kolkata I haven't seen anyone using a iPad

That depends upon the different locations, different income levels and spending pattern, here in Bangalore i see almost everyone with an ipad, even young people working in smaller companies can easily afford an ipad here, so again different locations with different economy.

If MSFT anyhow launches Surface RT for $250 then I am sure it will be a great price for Indian Market.

According to spec of Surface RT , it may cost minimum ₹18k or $300.

₹7300.. Its pretty new.. 2 month old baby..

Mine is 1 year 3 month older. Lol

200 USD should be 12k INR, the price of a brand new (no carrier locking here) Lumia 625 or 630. But Gen-1 RT 64 GB retails at 28k, way beyond the price point.

If RT is above 12k...then its not worth it...pro devices are okay if they are price in the 18k-28k range But RT which is a generation old...should be max at 12k...they can make the accessories costly...to cover the price though...

Hell yeah!! But i need surface pro 3..!!

Finally something to be happy about.. waiting for the announcement. hoping for a competitive price

Am gonna buy it what we want next is Microsoft stores sitting everywhere..Come on MS pour the love

Give me a surface pro 3.....!!!!!!!

Really? Thought it was released there already. How do they expect to sell more if they don't release the damn thing?

Not interested in high end tablets...ms 1st rollout the wp8.1 fast..after 625 & 925 no news.....

i think its good but how much time it takes to sell

Yeah...surface *.* finally

Indian standards! Are you guys kidding ?

Why? What's there to kid about ??

India has standards ?, you mean they had to pay corrupted politicians......India has no standards in electronics!

No country is without corruption, India is more, but then, every country has one or the other problem.

Hongkon is more corrupt than India

Where is Hongkon ?! Bangladesh?

That is the most retarded thing i've encountred on internet today.

Ofcourse we Indians have standard and that's better than ur standard but we are unfortunate to have a standard-less govt.

That was the first thing that came into my mind and I'm an Indian.

yeah, right, release the unsold junk to the third countries. I know this story, here in Brazil it happens all the time.
I bought my Surface Pro in a trip to Canada and would totally upgrade to the SP3, but no Surface for Brazil. If they release just the last gen here now I would be more offended than happy.

Its already there on ebay: http://www.ebay.in/itm/Microsoft-Surface-Pro-3-256GB-Intel-i5-June-2014-Version-eBay-Deal-/121377043108?_trksid=p2054897.l5662

I will totally buy if Surface Pro 3 is launched in India. I am actually thinking of buying it through international market, though the problem is of warranty if I ever need it.

If I were to buy it, I would rather wait for latest gen instead of the last gen -_-

Nay, I would not consider a tablet as I feel it would be too costly.

Even for a last gen model, it will be way too expensive for Indian audience.

So I guess we know where they're dumping excess supplies off. Posted via Windows Phone Central App

The Chinese just unveiled the first holographic phone.... I know this doesn't have anything to do with this article

Then why post Posted via Windows Phone Central App

Because idiots do this kind of things
Posted via WPC app for Nokia 1600

Yes will be whooping the marktet share withing the first quarter.
Here in India, if we got this standard tablets, its sure that people will bang on to buy that first instead of just a tab which just downloads apps and games noramlly.

Epic web desing from India. And I want to see how the "Old Website" looks like o_O

Nice. Microsoft dumping their non successful Surface here. All these earlier months we were expecting them to launch their Surface here. They are doing it NOW with old generation.

You can sell shit in India if its cheap, look at micromax, xolo etc made fortune

They make shit but sometimes they also offer some good products. And I find buying an Indian product better than buying from Damnsung.

Bring surface pro 3 also, don't know when MS will suddenly pull out support from SRT m Sp2

Great!!! Was waiting for surface lineup to come to India... But disappointed that there's no SP3.... Hope they bring SP3 too... Gonna buy for sure if they bring in the SP3

I'd like surface pro 3 in India. Guess will have to wait for 3 years. -__- I'd import but if I get a faulty product I'm screwed.

I'm a college student and I want to use Surface Pro 3 as my primary laptop/tablet.

A lot of my friends are looking for a surface here in the Philippines. But Microsoft never released one. Had to go to Malaysia just to buy mine.

Seeing the progress of current technology and delays like this, I wish I could've been able to live 200 or 300 years.

Then u should have posted ur thought earlier. Now it has been stolen.

I just got the Surface 2 off ebay for $215, can't wait for it to come in :)

# Surface Pro 3 #
& relist the price according to indian market.

Wait India has standards?? Forget the politics of electronics and such and concentrate on the people of India first.... #priorities

You mean to tell me they weren't selling them already........ Why?

Finally !!!! But I want SP3 not the previous models ! :/

I'm unsure but I think Microsoft is doing a little experiment before bringing in the real thing here, officially. But, doing so might already disappoint a lot of audience who are willing to pay for the newest high end device.
(can't stop laughing at people misunderstanding "standards" here though!)

I think Microsoft should release the whole surface lineup in India and different people with different budget will get different choices.

Why not spro3???? What is so different from the other older models

I am also now worried about the future wp's coming to India late,already the launches are late here and now this

It would be good, if MS launches Surface 3 in India. Many gadget freaks are waiting for it.

Surface mini full windows 8.1

Surface Mini tablet with windows 8.1 is the better choice Surface RT and Surface pro 2 are outdated

maybe yes..if Microsoft launches Surface Pro 3..
it would be a competitor to Samsung's Note series...
maybe people will buy it too..(not considering the cost)
better performance and build quality

i am not a fool to buy the old stocks of outdated products.

Well said bro but there are people with less budget and they would love to buy a good product even if is outdated for Rich Daddy's kids like you.

India needs SURFACE PRO 3

Although it's pretty late for Microsoft to start selling it's first and second generation tablets in India, at least it's a start. Hope their next releases are faster.

Yep v need surface pro 3 in India...!!

Back when Microsoft was busy writing off a whopping $900 million for the first gen. Surface tablets I was left scratching my head because their "strategy", if they even had one, was simply incomprehensible. Why didn't they expand the availability of the tablets to countries like India and Brazil, price them decently keeping in mind purchasing power parity, educate people (especially students) about Windows RT and put some marketing muscle behind them? I've used all the models released so far (bought on trips abroad) except the SP3 (gonna buy one soon!) and do believe they'd have sold fairly well here given the right push in terms of pricing and marketing, thus netting them a tidy sum that would have helped a lot in offsetting their loss. Releasing the first gen. tablets now though would be ridiculous, and Microsoft would deserve to be spat upon for even considering it. While the SP3 will no doubt be priced out of most people's reach here there's no reason at all not to sell it. Despite dumping old iPhone 4s here Apple does sell MacBook Pros and iPad Airs too and is generating profits in excess of a billion dollars yearly, so why can't MS introduce the SP3 (and why did it not introduce the previous generations back when they were new)? They can still redeem themselves somewhat by releasing the latest Surface model and positioning the S2 and SP2 as the cheaper more "pocket-friendly" (relatively speaking of course) alternatives. Still, Microsoft should be ashamed of itself and fire its marketing/sales people for not tapping into such a huge market sooner and allowing Apple meanwhile to laugh its way to the bank.