Latest 6tag update for Windows Phone adds a refresh button and more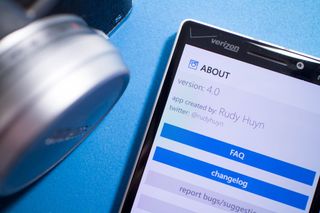 6tag, the popular third-party Instagram Windows Phone app, was updated yet again today by its very talented, and very busy, creator Rudy Huyn. The new 4.0.4 version has a couple of new features, including the addition of a refresh button.
Here's what's included in this update:
add refresh button to refresh notifications/popular images on home
use geolocation from image when edit
This is the fourth update for 6tag since Huyn launched the 4.0 version of the app just a week ago today. Since, then he has continued to fine tune the app with improvements and new features, along with supporting additional Lumia branded smartphones from Microsoft.
Download 6tag from the Windows Phone Store (free)
Windows Central Newsletter
Get the best of Windows Central in your inbox, every day!
Sorry, this is irrelevant but I feel like you guys should know so I need it at the top. I tried to create a new account through 6tag yesterday and it got instabanned. Create your accounts through the official app then switch to 6tag.

Very nice but why does it still use pull-notifications?

I remember that is a restriction from instagram to third party clients.

Couldn't update the last 3 days

That calls for a new phone

Naaah ! Was just an error ! Am not going to change my 1020 until 1040 shows up

Αν δεν μπορείς να κάνεις update:
1. Διέγραψε την εφαρμογή
2. Κάνε επανεκκίνηση στο κινητό
3. Ξανακατέβασε την εφαρμογή

Wow Rudy!!!! You are on fire. MS should think about snatching him.

Yeah I don't know why MS hasn't taken him yet.

Maybe they did. He tweeted something recently about relocating to the west coast US soon. Taking Joe Belfiore's job would be nice! Lol.

Developers really need to take WP as seriously as Rudy does... :)

Wow!!! Awesome. 6tag updating again n again with lots of features.

Why Rudy Huyn don't make third party Facebook App for wp? Is it possible guys??

I would buy that app. The official or Beta FB app sucks big time and is my least favorite app!

I'd rather have 6Tag for Windows 8.1 PC's (Modern UI app) first.

That would be very complex

We need more devs like Rudy:)

Person who get more appreciation by Windowsphone users is RUDY HUYN for his dedication and complete work.... Try an app for Facebook too

It isn't possible to make a good facebook app. All of em are bloated and slow.

If he went that route. I would drop the Microsoft app like a hot rock:)

Not to spoil the mood, but am i the only one who finds 6tag to be very slow? (server side), when compared to the official Instagram app

Sometimes only on low end devices..!

Not really. Not here in Sweden on my L930 anyway.

Thanks for the update Rudy. Just a question...When is 6tag going to be integrated to people's hub?

Lockscreen support, please Rudy (http://forums.windowscentral.com/windows-phone-apps/257430-my-wishlist-6tag-v3-5-a.html)

Guessing version five this will happen for WP10.

And an ability to minimize the appbar and/or the option of having the iOS and Android tabs on bottom

Why 6tag still can't upload pre-recorded video ? Does anyone know why Rudy still not add it ?

He's already said it's coming in 5.0 with Windows 10.

Thanks for the info guys, now I understand why official Instagram is neglected WP ):

When will there be a 6tag for Windows? Universal App please

Daniel Rubino talked about it, 6tag v5 will be universal

Instagram should just buy 6Tag instead and allow Rudy and his team do their thing.

Instagram has no interest in WP.You won't see them funding or working with any WP Dev.

Its almost like he's getting it on parity with official IOS app so that he can negotiate taking ownership of it as official app

Still waiting on a much needed update to the TV Show app!

Blows instagram out the water...well done Rudy

I love you and your app... :-*

I couldn't find "refresh" button, I'm sorry but I noticed that auto-fix button is not adding vibrance to the image like in v4.0.3 its just equalizing photo and not always the best. Colors get darker and dull instead of a quick fix. Its the same as it was prior to v3.0 That's why I was bouncng betweeen 6tag and IG beta for so long. Now back in square 1.

Still unable to upload edited videos.

Wow the Rudy comments are a little much lately. Thanks for the update, though.


Fire Belfiore and hire this guy in his place already!!!

We would have the technical preview of 10 on all phones before the end of the weekend!! LoL!

Am I the only one who couldn't find the refresh button ?