Latest Cloud Raiders update boosts the Stronghold and level caps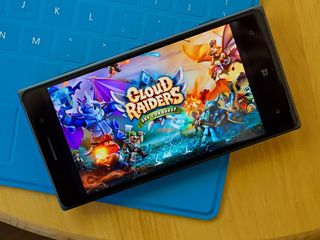 In August, we got to get hands-on with a preview of what publisher Game Insight had planned for future updates to their popular strategy game Cloud Raiders. Now that update has been released for Windows and Windows Phone, with the new 7.0 version giving players a new level cap, along with a boost to their Stronghold level as well.
Here's what's new and improved in the version 7.0 change log:
Stronghold Level 10: The floodgates are open! Upgrade your Stronghold to level 10 before anyone else and enjoy a whole new set of deadly contraptions! Dragon Tower, Poison Barrels, the indomitable Gauntlet and dozens of dangerous upgrades await! Put those clouds to good use, Captain.
New Level Cap: Level cap raised to 160! Actually, hang on… let's make that 180!
Gauntlet : The strangest troop to arrive in the clouds yet… immense damage, incredible toughness and a strange charisma makes him one of the most dangerous troops ever to set foot on the airborne archipelago!
Dragon Tower: The Builders Guild has cooked up a fire-breathing, lava-spewing bbq-grilling tower. It takes a while to warm up, but the damage output is colossal. Also doubles as a hog-grill for summertime troop rallies.
Poison Barrel: Drop this barrel to create a pool of deadly poison on the battlefield. Anyone stepping in it will receive continuous poison damage!
Updated News Hub: Now you can earn daily rewards through the News Hub. Check it out and claim your FREE Diamonds! Today and every day! Forever and ever!
Fully Redesigned Inventory: We completely redesigned the inventory to be more convenient as you store and manage your stuff! No more pain in the aft as you try to find your Nature Blessing! You can easily find and sort exactly what you need.
Be sure to check out our recent preview of the upcoming Game Insight titles that the publisher has planned for Windows 10.
Download Cloud Raiders for Windows 10 and Windows Phone (Free) (opens in new tab)
Very very nice update..hope the next update will have clan wars already..

There will be a big update very soon but it won't be clan wars, wars will come after ;)

They need to change the update system, most of the resources just use gold, my cloud mostly stays unused.

Can't get any of my friends to this game from clash of clans. Hope they use Astoria to their advantage and release an app. Till then blue stacks to the rescue.

Now I cant even play cloud raiders it just crashes everytime

Sweet, more hours to burn during travel

This game consumes too much time to play, sad i cannot afford

Slowly getting more and more members from our coc clan to play this we even named the clan the same. Just wish you would do something about all the adds.

I never played any of this genre games except kingdom n lords ( which is better offline) !

Now I can't play it on my laptop (win10) :(

How do I reset the game's data? I would like to start over.
Windows Central Newsletter
Thank you for signing up to Windows Central. You will receive a verification email shortly.
There was a problem. Please refresh the page and try again.