Latest Cloud Raiders update boosts the Stronghold and level caps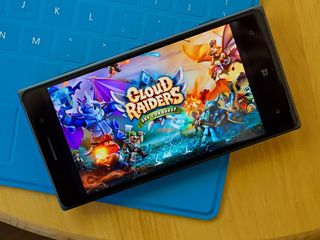 In August, we got to get hands-on with a preview of what publisher Game Insight had planned for future updates to their popular strategy game Cloud Raiders. Now that update has been released for Windows and Windows Phone, with the new 7.0 version giving players a new level cap, along with a boost to their Stronghold level as well.
Here's what's new and improved in the version 7.0 change log:
Stronghold Level 10: The floodgates are open! Upgrade your Stronghold to level 10 before anyone else and enjoy a whole new set of deadly contraptions! Dragon Tower, Poison Barrels, the indomitable Gauntlet and dozens of dangerous upgrades await! Put those clouds to good use, Captain.
New Level Cap: Level cap raised to 160! Actually, hang on… let's make that 180!
Gauntlet : The strangest troop to arrive in the clouds yet… immense damage, incredible toughness and a strange charisma makes him one of the most dangerous troops ever to set foot on the airborne archipelago!
Dragon Tower: The Builders Guild has cooked up a fire-breathing, lava-spewing bbq-grilling tower. It takes a while to warm up, but the damage output is colossal. Also doubles as a hog-grill for summertime troop rallies.
Poison Barrel: Drop this barrel to create a pool of deadly poison on the battlefield. Anyone stepping in it will receive continuous poison damage!
Updated News Hub: Now you can earn daily rewards through the News Hub. Check it out and claim your FREE Diamonds! Today and every day! Forever and ever!
Fully Redesigned Inventory: We completely redesigned the inventory to be more convenient as you store and manage your stuff! No more pain in the aft as you try to find your Nature Blessing! You can easily find and sort exactly what you need.
Be sure to check out our recent preview of the upcoming Game Insight titles that the publisher has planned for Windows 10.
Download Cloud Raiders for Windows 10 and Windows Phone (Free)
Get the Windows Central Newsletter
All the latest news, reviews, and guides for Windows and Xbox diehards.