Exclusive look at the next big update for cross-platform strategy game Cloud Raiders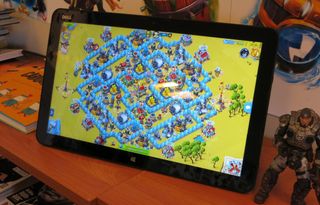 International software publisher Game Insight recently invited a handful of mobile gaming journalists to its Innowate research and development studio in Riga, Latvia to preview the company's upcoming lineup of mobile titles. That's a long way to travel, but we saw some cool games that I look forward to sharing with you in the weeks to come.
While visiting the studio, I couldn't resist checking in on one of my favorite Game Insight titles: Cloud Raiders. A free to play Clash of Clans-style game, Cloud Raiders has a huge feather in its cap: cross-platform multiplayer between Windows, Android, and iOS platforms. And as luck would have it, the game will soon receive a major update that increases the maximum Stronghold and player level, adds new offensive units and defensive towers, and much more.
Read on to learn what's coming next to our favorite cross-platform competitive raiding game, complete with hands-on video!
Version 7 update
The Cloud Raiders version 7.0 update (also called the 'Stronghold 10' update) adds several new features. Here are some of the most important ones:
Maximum Stronghold level raised to 10 – See below.
Maximum player level raised to 160
New unit: Gauntlet – The strongest offensive and defensive unit in the game. Players can only take eight Gauntlet units into battle, but they'll wreak havoc on enemy bases thanks to their sheer size and heavy armor.
New barrel: Poison barrel – Drop these barrels while raiding other players' bases or defending your own during single-player levels. The noxious gas clouds will sap life from enemies.
New tower: Dragon Tower – This imposing tower wears a dragon skull and targets both air and ground units that attack the player's base.
New Titan Rush – Challenge yourself against a series of increasingly tough bosses in this single-player mode. Leaderboards encourage competition between players and clans.
The new Gauntlet unit
Stronghold 10
The key to the next Cloud Raiders update is the Stronghold. This building is the most important one in every player's base. By leveling it up, players will unlock new buildings, towers, units, and more. Naturally these upgrades cost more and more resources as the game progresses, but they're worth it since they allow you to attack higher level players and survive more of their attacks.
Currently, the stronghold maxes out at level 9. But once the update lands, players can take it to the next level for the not-so-small price of 4,500,000 gold. The upgrade process takes two weeks, which gives everyone time to build up another nest egg for the building upgrades the Stronghold will unlock. (Of course, the upgrade cost and time are subject to change between now and the update's release.)
Upon upgrading the Stronghold to level 10, upgrades for nearly every part of the player's base will unlock, from towers to traps to walls. You'll have lots of raiding to do if you want to upgrade it all.
More Cloud Raiders to come
As much as the version 7 update will add to Cloud Raiders, it's the next update after that which will really shake things up – and draw a whole new crowd of players. Seriously, the next next update is going to be exciting. We'll share those details (and exclusive footage) with you guys very soon.
Game Insight's Cloud Raiders is a competitive raiding game set in a fantasy world of floating islands, heroes, and goblins. Each player will build a base, engage in single-player campaigns against AI armies, and raid other players' bases. You've probably played similar mobile games, but few are as robust and polished as this one.
Cloud Raiders is free to play and quite fairly monetized, so don't let the presence of In-App Purchases scare you off. The ability to jump back and forth between Windows 10, Windows Phone, Android, and iOS at will is super convenient, making this one of the best multiplayer raiding games to get into.
Paul Acevedo is the Games Editor at Windows Central. A lifelong gamer, he has written about videogames for over 15 years and reviewed over 350 games for our site. Follow him on Twitter @PaulRAcevedo. Don't hate. Appreciate!
Forget Cloud Raiders, I want an AoE Castle Siege update! Like an Age 10 Keep and stuff?

Me too f### cloud raider. Love AOE

Aoe is not that fun to play in my opinion

Waiting for Clash of clans

This this this! Comon SuperCell!

You should play Star Wars: Commander

Clash of clans very bad game..

Cloud raiders is better than aoe any day

Great this game is overcoming major strategy game title in the market. I used to play COC and yes there are lot of players but when i switched to cloud raiders and started off my journey with WP i found it more interesting and with more options and things than COC. Its just like playing COC but on steroids. Lol i love this game.

Will have to give this a shot. Still hoping for CoC on Windoze Phone :D

Gameplay is better than coc.

this or AoE CS is less paid to win

When clash of clans for all Lumia mobiles???

What's different in coc than aoe, cloud raiders etc.?

The difference is that AoE:CS is more realistic, therefore better. To me, that is.

Lumia, don't make comments like that. They are not helpful.

Im disappointed for the lack of clan wars. I would have wanted that kind of update.

This isn't really my type of game but I gave it a try becuase of the good WP support. I thought it ran great, and because of the multi-platform support I got a friend of mine to basically give up Clash of Clans for this on his phone. So if this type of game suits you, give it a try

Wish it had clan wars. Its what keeps me and my friends hooked in CoC. But ill give this a try.

I think they're building on that in a future update.

What's the estimated date of release? ;)

Hoping that they will soon release the update...its been a long time!!!! And no clan wars this time also. :!

<p>please help i have spent a lot of real money on this game and now i cant play it al all .( open case 7143166 ) i have open up 8 cases to Game Insight Support but not been fix and case keeps being closed and says solved but its not ( IF YOU CANT FIX ISSUES I REQUEST A NEW BASE AND GIVE MY STUFF BACK FULLY UP GRADED THAT I HAVE PAID ALOT OF REAL CASH FOR AND FULLY UPGRADEED ALL MY ITEMS ).
I CANT PLAY THE GAME FOR 8 DAYS NOW, I HAVE NOT BEEN ABLE TO PLAY THE GAME AT ALL . this is all the details about the problem. when i load game , weather its from the app Facebook or any device as in laptop and tablets. i have taken 2 screenshots. the game loads up OK , for about 3 seconds, then a green outline of a circle goes around for about 1 second. then stops , then it looks like it crashes , you can still see my base and music playing but you can not do anything at all . the problem must be your end as i have tried all the devises i have used OK in the past. ( ALSO I MY WIFE IS PLAYING COULD RAIDERS ON HER FACEBOOK ACCOUNT ON MY LAPTOP AND IT WORKS FINE THEREFORE IT MUST NOT HAVE ANYTHING TO DO WITH MY LAPTOP OR TABLET) ,i have spent a lot of money on this game please help me, my ID is 1831286906 . ( this is what im playing the game on ) on one laptop its windows 8.1 on my 2nd laptop its window's 10 and i got Samsung Galaxy note 2 , my game was working on all 3 and its now not working on any of them, so the problem must be your end . (the game was working on all 3 , when i went to buy 1000 diamonds it would not let me after this i got the problems ) i have all so tried using google / Firefox / and internet explorer but it has the same results . i have also uninstalled the game's app and put it back on to get all updates but it still has not fixed the issue.( can you please help me )

If you were exploiting a bug then you're ban from the game otherwise keep pressing support; granted! They aren't the best support but Oh well

shame all this game dos is crashes and items i win don't go in inventory i think it may be time for me to stop playing this game and go back to my xbox not getting any help and if i go on goggle a lots of people are have the same issues

its will be all ok there said on big update i love this game (( best game ever : ) cant wait to start playing again

Does that mean the big update will be on Wednesday 2nd September

we want clan war with next update...

So many cry babies here.. No ones gonna give u support here n coc developers won't look at your comments here

No need to be rude, Swapnil.

im so happy my game will be fix for me on big update i love this game and keep up the good work best game i played and i cant wait to start playing it again . a big thank you

Sorry man but I see this type of thing in every app/games :(

not long now for the big upgrade : )

Stronghold 10 walls pink dash

HELP why dos my dragon tower only do ground difference and only got 5 range when it should have 6 HELP sh 10 no gold or could on raids getting 40k must of the if that ANY ONE ELS GETTING THIS ?

I think im going to try out this game now.
Windows Central Newsletter
Thank you for signing up to Windows Central. You will receive a verification email shortly.
There was a problem. Please refresh the page and try again.