Exclusive look at the next big update for cross-platform strategy game Cloud Raiders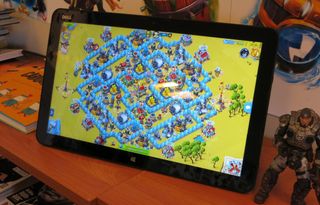 International software publisher Game Insight recently invited a handful of mobile gaming journalists to its Innowate research and development studio in Riga, Latvia to preview the company's upcoming lineup of mobile titles. That's a long way to travel, but we saw some cool games that I look forward to sharing with you in the weeks to come.
While visiting the studio, I couldn't resist checking in on one of my favorite Game Insight titles: Cloud Raiders. A free to play Clash of Clans-style game, Cloud Raiders has a huge feather in its cap: cross-platform multiplayer between Windows, Android, and iOS platforms. And as luck would have it, the game will soon receive a major update that increases the maximum Stronghold and player level, adds new offensive units and defensive towers, and much more.
Read on to learn what's coming next to our favorite cross-platform competitive raiding game, complete with hands-on video!
Version 7 update
The Cloud Raiders version 7.0 update (also called the 'Stronghold 10' update) adds several new features. Here are some of the most important ones:
Maximum Stronghold level raised to 10 – See below.
Maximum player level raised to 160
New unit: Gauntlet – The strongest offensive and defensive unit in the game. Players can only take eight Gauntlet units into battle, but they'll wreak havoc on enemy bases thanks to their sheer size and heavy armor.
New barrel: Poison barrel – Drop these barrels while raiding other players' bases or defending your own during single-player levels. The noxious gas clouds will sap life from enemies.
New tower: Dragon Tower – This imposing tower wears a dragon skull and targets both air and ground units that attack the player's base.
New Titan Rush – Challenge yourself against a series of increasingly tough bosses in this single-player mode. Leaderboards encourage competition between players and clans.
The new Gauntlet unit
Stronghold 10
The key to the next Cloud Raiders update is the Stronghold. This building is the most important one in every player's base. By leveling it up, players will unlock new buildings, towers, units, and more. Naturally these upgrades cost more and more resources as the game progresses, but they're worth it since they allow you to attack higher level players and survive more of their attacks.
Currently, the stronghold maxes out at level 9. But once the update lands, players can take it to the next level for the not-so-small price of 4,500,000 gold. The upgrade process takes two weeks, which gives everyone time to build up another nest egg for the building upgrades the Stronghold will unlock. (Of course, the upgrade cost and time are subject to change between now and the update's release.)
Upon upgrading the Stronghold to level 10, upgrades for nearly every part of the player's base will unlock, from towers to traps to walls. You'll have lots of raiding to do if you want to upgrade it all.
More Cloud Raiders to come
As much as the version 7 update will add to Cloud Raiders, it's the next update after that which will really shake things up – and draw a whole new crowd of players. Seriously, the next next update is going to be exciting. We'll share those details (and exclusive footage) with you guys very soon.
Game Insight's Cloud Raiders is a competitive raiding game set in a fantasy world of floating islands, heroes, and goblins. Each player will build a base, engage in single-player campaigns against AI armies, and raid other players' bases. You've probably played similar mobile games, but few are as robust and polished as this one.
Cloud Raiders is free to play and quite fairly monetized, so don't let the presence of In-App Purchases scare you off. The ability to jump back and forth between Windows 10, Windows Phone, Android, and iOS at will is super convenient, making this one of the best multiplayer raiding games to get into.
Get the Windows Central Newsletter
All the latest news, reviews, and guides for Windows and Xbox diehards.
Paul Acevedo is the Games Editor at Windows Central. A lifelong gamer, he has written about videogames for over 15 years and reviewed over 350 games for our site. Follow him on Twitter @PaulRAcevedo. Don't hate. Appreciate!