The latest Surface Pro 4 ad takes it on a football player scouting trip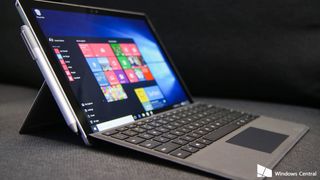 (Image credit: Windows Central)
Microsoft has roll out yet another set of new TV commercials for the Surface Pro 4. This time, the focus is on pro football scout Trey Brown, as he uses the tablet on the road to evaluate college players.
Image 1 of 3
The new Surface Pro 4 ads debuted on Thursday night during the Carolina Panthers-Denver Broncos NFL game. They represent yet another aspect of the partnership between Microsoft and the NFL when it comes to the tablet. In the commercial, Brown says having a powerful device like the Surface Pro 4 allows him to quickly go through all of the data he collects on each player he scouts.
Once again, jabs are made against Macs, with Brown stating that being able to write on the display of the Surface Pro 4 and the ability to turn it from a laptop to a tablet cannot be done with Apple's notebooks.
Windows Central Newsletter
Get the best of Windows Central in your inbox, every day!
Such an opportunity too at the same time market a surface phone, both products featured hand in hand.
Will it ever happen? Is it too late?

Probably not the best time to release a device, even the mythical surface device. The market is currently full of bull about the new iMug phone with out the headphone socket, but wireless buds are $170. With such hype around, a killer device, should it appear, would be lost in the waves of suck up to Apple. I agree wholeheartedly that it should, actually MUST, be tied in to the surface. Maybe when a Surface 5 appears? What I find confusing is that they can plug the Surface, showing how it is actually streets ahead of the Apple offering, yet it's always one device. If the OS is going to be one entity across a range of devices, why not show them all? People NEED to be made aware that Win10 doesn't just exist in desktop OS. I guess they know what they are doing, and I suspect they are distancing themselves from the train wreck that was Windows Phone. Whatever happens next, or indeed if, it has got to be something special, and I believe with the amount of OEM's onboard, things could pick up, BUT, we need a big name to come onboard, and I suspect they are watching the HP situation closely. I could be wrong, but being BiPolar, lithium always let's you be an optimist!!

Agreed. The single biggest differentiator MS has is the common core of their ecosystem, and using OneDrive, Cortana, etc., to seamlessly sync all of your stuff between devices. And they consistently come up short in communicating those features and abilities. As an IT pro, I've enjoyed those features for years already with my Winodws Phones, Surface, Dell Venue 8 Pro, and desktop machines, but I can't be the embassador MS needs to create the emotional hook for the average consumer.
Why they can't come up with something along the lines of "Windows is you. Your life. In everything", and then actually show how that works is beyond me.
They also need to realize that for most, a device is just a gateway to what they really care about. This ad is a fairly good example, but it still falls short of tying the product to what people really care about. Featuring football scouts, bug ladies, and police sketch artists is fine, but that's not what most people do. They are still hung up on the business aspect of using Windows, but that is the market they already have 95% of. They need to be showcasing how to use the devices as a gateway to what most "normal" people care about doing when they are not at work. Ads need to feature people engaged in Facebook, Hulu, Netflix, Instagram, Skype,etc. By continuing to paint the product line in their ads primarily as a business tool (and it is a good one), they miss making the connection with people that it's a lifestyle tool. This would be like Pixar advertizing their latest animated blockbuster movie by showing clips of how the artists do virtual 3D rendering, instead of showing clips of the movie itself. Tie the product to LIFE and the experience of it, not just the nuts-and-bolts work aspect.


Good promos. But I cannot see it in the app though.

Thank you! That's what I'm thinking too. Microsoft's focus on "business" and "productivity" as an end makes them unable to engage the truly aspirational message of "doing stuff", "living your life better" and so on in their marketing. Go to Apple's website, their devices are front and center. They sell a holistic experience of something special. (Disclaimer: While I admire Apple's story telling, I use Windows 10 laptop and Windows Phone 8.1). Don't just briefly talk about how you can write on the screen unlike on a Mac, actually follow a high school student as she transitions from waking up, to set a location-based reminder alert on her Band 2 using Cortana; to bathing, brushing, eating and seeing that reminder pop-up on her Acer Jade Primo (with ninja cat lock screen image) as she gets to school; joining her class and taking notes on OneNote on her Surface or the new Lenovo 2-in-1 (show other classmates not having this advantage) and asking Cortana to pull up pictures of something for the class; then after, she goes to gym class and her teacher gets an upload of her activity level for physical education reporting; then she goes home and receives a OneNote assignment from her teacher which she begins on her phone, leaves to watch TV with her family, then sees a Skype call notification on the windows phone which she picks up on the home All-in-One (screen size). Finally she goes to her room, completes her assignment (which is shown to update on her teacher's screen as she reviews her notes); then our girl sets her voice reminder on Cortana before falling asleep with a smile on her face. This kinda shows a life lived better (and intrinsically more "productive", without flogging the word) through Microsoft services on supported Windows 10 devices. Microsoft shouldn't stop device-specific ads but they should find ways to introduce the platform as life-improving and affirming without the whole business angle they keep pushing.