The latest update to Secrets and Treasure: The Lost Cities adds 75 new winter-themed levels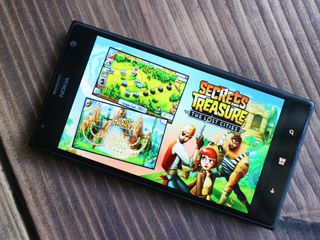 Developer Mediatonic and publisher Microsoft Studios have released a new update for its recent free-to-play Windows Phone and Windows 8.1 puzzle game Secrets and Treasure: The Lost Cities. Gamers can now download and play 75 new levels set in a winter landscape. Secrets and Treasure now has 200 levels with this new update.
Here's the breakdown of what's included in the "Winter Supply Convoy" update:
Brand new Achievement for Gamerscore-hungry adventurers: 'Secrets of the snowy mountain!' for 30G
75 new challenging levels to lead your crew through
A whole new land of ice and snow to discover
New story and characters who can bring you closer to the truth... if you can trust them
Download Secrets and Treasure for Windows

(opens in new tab)
Now we are in the middle of the week but no sign of vlc player.

Don't worry.....a few more weeks and we will get it....

But it was expected to be released this week.

Alert alert! sarcasm detector broken.

There is no update in the store

And is still not available here in Brazil. Great MS!!

Is it really hard to switch to US region then switch back?

Oh gosh, I already stated this so many times here! I do not this because of me, I know I can change regions. I do for the WHOLE community of brazilian users that do not know, or do not want to, this, the "normal" people. You and me are tech guys, but the vast majority of the users are not.

Since when does WP games add achievements in updates?

Super rare, but they did it once with Halo Spartan Assault.

I uninstalled this game this morning after I got fed up with it crashing/closing after almost every time I played the game. I have a Lumia 820 with 1GB RAM so there shouldn't have any trouble running it. More graphics intensive games like Halo run just fine.

I tipped around 5 news articles from week ... But not even anyone of them is updated here..... Hope my recent tip from abhishek******ndra@live.com would be updated now here

Please don't post personal email address on a public space.

That's why I used ********to keep it as secret

Glad I didn't delete this game... or does it matter? Progress syncs between PC and phone so maybe I would have been ok. Hope they fixed some of the bugs.

Which region got the update?

No update in Germany on WP and Win 8.
Additional achievement shows up but nothing else.
Windows Central Newsletter
Thank you for signing up to Windows Central. You will receive a verification email shortly.
There was a problem. Please refresh the page and try again.