Leak reveals refreshed Dell XPS 13 with 16GB RAM, 1TB storage options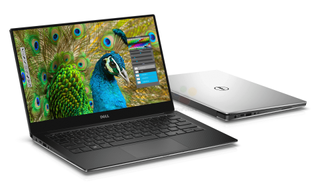 Following a leak earlier today that detailed the upcoming Dell XPS 12 tablet with a 4K display, details have emerged on how the company plans to refresh its XPS 13. The folks at WinFuture.de are once again behind this leak, and report that while the design of the XPS 13 remains much the same, the internals have gotten quite the refresh.
The most notable changes are the upgrade to Intel's latest Skylake CPUs, along with new 16GB RAM and 1TB SSD options. Ports are also getting a shakeup, with the addition of Thunderbolt 3 and USB Type-C. Here's the full list of leaked specs:
Dell XPS 13 (9350)
Display: 13-inch 3200x1800 matte; optional HD 1920x1080 matte panel
400 nits brightness
CPU: Skylake Core i3 (2.3GHz), Core i5 (2.8GHz, 2.8GHz Turbo Boost), or Core i7 (2.5GHz, 3.1GHz burst clock)
RAM: 4GB, 8GB, or 16GB
SSD: M.2 SATA 128GB, 256GB, 512GB, or 1TB
Ports: Two USB 3.0, Thunderbolt 3, USB Type-C
Battery: 56 watt hours
Weight: 1.29 kg (2.84 lbs)
Though the above specs aren't comprehensive, this should give you an idea of the major changes to expect out of the next XPS 13. WinFuture.de also notes that the trackpad has been revised, growing in size by a bit and tweaks have been made to prevent cursor jumping and "accidental activation" from contact with your palm.
As with the Dell XPS 12, we're expecting that we'll get a peek at the latest XPS 13 at Dell World later this month, so be sure to keep your eyes locked to Windows Central for more.
Source: WinFuture.de
Windows Central Newsletter
Get the best of Windows Central in your inbox, every day!
Dan Thorp-Lancaster is the former Editor-in-Chief of Windows Central. He began working with Windows Central, Android Central, and iMore as a news writer in 2014 and is obsessed with tech of all sorts. You can follow Dan on Twitter @DthorpL and Instagram @heyitsdtl.
That actually looks really good

Ready for the original to come down in price so I can afford one.

The new venue 7000 looks freaking awesome, they should release a windows version soon.

The small bezel looks magical.

Dell XPS: Xtra Pretty Speccy machines!

XPS actually stands for Xtreme Performance System. Lol Posted via the Windows Central App for Android

Xtremely Powerful Stoners

PLEASE put the intel realsense camera on this Dell.

Man surface 3, surface 4 or XPS13. Tough choices to come.

Wow. Same here. I need a new machine pretty badly... cost isn't a huge factor (computers are my business and I haven't gotten one in five years). But trying to decide between a tablet with removable keyboard and an Ultrabook is one of the things that has made me hold off.

I'm looking hard at that SP4. But I'm worried; is the battery REALLY going to last over the lifetime of the device? I've never bought into the surface line before.

My experience: SP3 is exceptional hardware. My advice would be to go for Surface line.

How's the battery? That is my primary concern, I practically have battery PTSD from my last 2 laptops.

Battery life in SP3?
Million$ question. Depending on your usage and OS. For light Office work and daily activities (internet, mail, messaging) it will last 7-8 hours easily (running 8.1).
However, the beauty is the docking station. Turns your SP3 into desktop PC. No worries about battery at all. No other hardware give you that flexibility and reliability. Not even close. Looks like SP4 is going to be even better.

Actually many laptops have docking stations, not sure about the XPS series though.

I'm sure there was an article about how many charges you get for batteries on WC, to evaluate appx how long it will last. May be worth a search on the site.

Check out the new dell venue 7000, it looks seriously awesome, tho they don't have a windows version yet

Just wondering....where is webcam on that beautiful bezelless device? Or does it not have one? I was hoping to see an inbuilt retina scanner to take advantage of windows hello.

The web cam on the current XPS 13 is actually beneath the display. It'll likely stay there for this refreshed model.

And that webcam placement is one of the major flaws of the bezelless design. It gets blocked by your hands easily and viewing angle is bad.

Well if the Aussie dollar hadn't dropped so bad against the USD I'd probably pick one of these up in the near future!

How it should be, 16GB has been the norm for years now, people rally need to stop being conned when buying 4GB laptops.I swear I saw Mac with 4GB the other week for over a grand :\

Lol. 16 gigs of ram has not been the norm for years.

I know right? 16gb is new far as I'm concerned lol

A mac with 4 gigs of ram?! I thought they were still at 512mb.

My 4yr old HP Envy came with 16gb...

16GB is not the norm. Idk where you're getting that. 4GB is the norm, maybe 8GB. Maybe.

It certainly is on a desktop. I for one am tired of having to look at laptops that resemble concrete slabs just so I can get 16gb ram and run my virtual machines. We never seem to have a choice of lightweight portables with an option for 16gb, given that the addition of an extra 8gb on the original 8gb xps13 would have added pretty much no extra weight. Well done Dell, brilliant.

It certainly is not. I use my desktop for mostly media consumption and gaming. You know, the norm. 8GB hasn't run out so far

IMHO, with DDR4 on the horizon, 16 GB should be the standard. But it isn't currently. 4 is the de-facto minimum on anything bigger than a netbook/small tablet. 8 is the current 'standard' or 'state of the art' (which doesn't mean top-tier in this use of the term, just the standard methodology in the current state of the industry). 16 GB is still considered mid-to-high end, depending on the application, or weather or not you are on a desktop or laptop...

Looks amazing! On my wish list!

The best laptop just got better

Ready for a bezeless tablet dammit!

That way you can't hold the thing without touching the screen?

Hold the screen on a laptop? Surely you hold it by the keyboard...

Holy! These highend laptops with Windows 10 are so attractive. Specially Dell XPS ones with infinity display. I want to buy them all.

Damn! So many awesome W10 devices out lately it's hard to keep up! And I'd say Dell is back.

Wish it was 16:10, looks like plenty of room at the bottom bezel

Not as much room as your think: There is a web-cam at the bottom... It has to go somewhere...

Unless the Surface Pro 4 blows my socks off, I'm thinking I'll pick up the new XPS 15. The 13 and 15 are both lovely machines.

Looks beautiful and amazinf Posted via the Windows Central App for Android

I absolutely love the bezel less design! Does it have touch screen? If so I will consider buying this! But.... I'm not thrilled about Dell support.

There is a option for most devices to choose touch or no touch, especially on the XPS 13 series. It used to be a choice between 4k or less resolutions with touch to get that battery to survive. I don't know how that choice is on the new XPS13'ns.

XPS15 V SP4 - hmmmm which one!!!

Obviously the xps 15 as it will come with a 2gb gddr5 graphic card. Can't really say if the sp4 will have that !!!

For me, at work at least, a dedicated GPU is a big negative, as it would drain precious battery life, and likely shorten the lifespan of the device iteself, with no tangible benefit for what I would use this laptop for... Work... Not to say that others wouldn't find this to be an advantage, but for me, I'll stick with an Intel graphics solution or an AMD APU, thanks... Now that 16 GB of RAM and the USB-C port is very attractive for this XPS... If only all manufacturers went Chrome Pixel and had dual USB-C that could charge from either port...

It only lacks physical trackpad buttons. The rest is A1

I wonder what happened to SSHD options? Are they still popular? I taught the performance is comparable to SSD for those who wants best of both.

SSHD is hybrid. Most part of it is a normal HDD and only the caching consists of "SSD". This means you still have the fragile mechanical parts, weight and size of a mechanical HDD. Who would want that in a portable laptop. When it comes to performance, I'm not really convinced that this will perform as good as an SSD. For the best overal performance, just go for an SSD.

SSHD performs only slightly better than HHD in real life, so totally useless.... Unless you like to wait for your computer, and wait, and wait...

But awesome is OVER 9000!

Will dell ever have non-capacitive pen support (NTrig or Wacom)? Without that it's a deal breaker for me on the entier touchscreen XPS line. Lenovo Thinkpads use Wacom tech which just makes them that little bit better.

amazing Notebook!!!! lovely work dell!