Leaked internal Windows 10 build reveals new Start menu experience
By Zac Bowden last updated
The new Start menu experience for Windows Lite has leaked in an internal Windows 10 build. Here's your first look!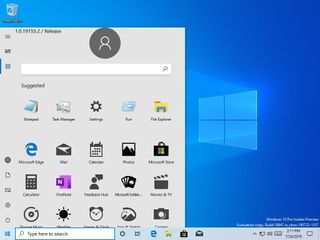 A leaked internal Windows 10 build has revealed a brand new Start menu experience that replaces live tiles with a more traditional grid of apps. This Start menu experience is believed to be the Start menu that Microsoft is working on for Windows Lite, featuring a more simplified app layout.
The leaked build comes directly from Microsoft itself, thanks to an issue with the Insider Program rolling out builds that were never greenlit to ship to testers. As a result, an internal build that includes features that are not supposed to be seen by the public has leaked. The new Start menu is very early, and its UI isn't finished. So don't judge it by its looks just yet.
I mentioned a while back that Microsoft was done with live tiles. Windows Core OS editions don't have them, and the only place where they still exist is on desktop. I don't think that's going to change anytime soon, but I also don't think we're going to see them on any new Microsoft projects going forward.
It's unclear if Microsoft intends to ship this new Start menu experience on Windows 10 desktop, as we know it's designed for Microsoft's new Windows Lite OS experience. We'll keep you updated on any new developments that come out of this leaked build. In the meantime, what are your thoughts on the new Start menu for Windows Lite? Let us know in the comments.
Thanks for the screenshot, Bas!
Portable (and affordable) power accessories we love
Each and every one of these charging gadgets will keep your favorite gear and gadgets going for longer, and none of them costs more than $30.
VisionTek 8,000 mAh micro-USB power bank (opens in new tab) ($13 at Dell)
This compact dual-output powerbank can speedily recharge any and all your devices, thanks to a two-amp "fast charge feature," using its micro-USB out port. Its simple design includes an LED indicator, and it costs about as much as a single ticket to the movies.
Panasonic eneloop AA batteries (opens in new tab) (From $13 at Dell)
Panasonic's rechargeable batteries are among the best available, and just a couple of them will keep your favorite remote, mice or other peripherals powered up when you need them. They're also eco. And the company's affordable charger (opens in new tab) fits and charges both AA and AAA batteries at the same time.
Belkin Qi Wireless Charging Pad (opens in new tab) ($30 at Dell)
This unobtrusive Qi wireless charging pad looks good (and kind of like a UFO …) and easily charges all your Qi-compatible device up to 5W. Its LED indicator lights up when you're charging. And it costs just $30.
Zac Bowden is a Senior Editor at Windows Central. Bringing you exclusive coverage into the world of Windows 10 on PCs, tablets, phones, and more. Also an avid collector of rare Microsoft prototype devices! Keep in touch on Twitter: @zacbowden.
Might work for desktop but for Windows light....ummmm!!!!

I would have said the opposite, I mean the icons look at least as big as the icons on a phone screen, so if it can be utilised there it can be utilised here.

The death of Windows Tiles?

The tiles are there, it probably just switched based off of you are in desktop or touch mode. Couldn't tell if they were live or not.

That's what I'm thinking. They might just be at full transparency on the base.. Looks nice though, this way, but an option for both ways is really what MS should do.

Yup, they should include a switch in the settings that force tiles into icons for those who prefer icons. Also people could have just used the smallest live tile size, works perfectly well as an icon. Edit: Just seen the video, there is an option for "classic mode" which has live tiles and I hope that remains.

Looks so much better than a bunch of tightly packed squares holding icons of all different sizes with no uniformity. This new layout looks much more uniform and promising. I imagine they plan on adding color to their icons like in promos we've seen from when they announced the new office icons.

Too bad this is something you could still achieve with the Tile layout. Nobody said anything to resize the Tiles to different sizes. There are different ways you could reach uniformity with Tiles layout already. And IMHO mixing these uniform built-in-app icons with the colorful third-party icons will look just as distracting as anything.

Why not just add an option for both? 🤔🤔🤔🤔🤔🤔

They should make it like an Android Launcher and allow manufacturers to create their own experiences. Get the manufacturers excited about the platform and what they can do with it.

No thank you, manufacturers already put too much crap on their Windows installs.
You can already replace it yourself, and there are multiple alternatives you can install. (Classic shell, Stardock start10, etc.). Some retailers even pre-install one of them, mostly for older people that don't get used to a new ui too quickly.

Then manufacturers will continue to ignore Microsoft platforms other than full Windows. Microsoft needs to sell these to the OEM first and foremost, not you. They need to get OEMs excited and doing the legwork. They can't do it themselves.

Microsoft has never required you, as a Windows 10 PC user, to have a Start menu filled with different sized tiles. If that really messes with your mojo so much either a) turn off the live tiles, or b) delete all the tiles from your Start menu. Simple, eh!

Yeah no. Pretty much every icon is the same size in same sized live tiles. This new start menu looks like a (too) basic grid of icons just like explorer. The current live tile layout makes for a very organized start menu. The only thing I miss is dynamic colors for every icon. Office applications (non-uwp) for example, get a color matching their icons. Most of the other applications just use the chosen theme color.
It's a very early version, I get that, but it still requires much improvement to be able to replace live tiles. And, if icons are not all the same size now, they could be the same in this new start menu just as well.

Yes, this new one just reminds me off how my Desktop looked like in Win7 and before.

Hard to judge for me 'cause it's using the Light Grey Theme which looks downright horrible to me. However there's a couple of things that concern me: 1 - why the unnecessarily big round user photo? Most people don't spend their day switching users on Windows... Or anywhere for that matter. 2 - Where's the traditional list of apps? Just hidden? Or are they merging the two? 'cause merging the two is a damm dumb idea. Replacing the tiles with a custom grid of icons to use as shortcuts is fine. It's what most people who use tiles use them for anyway. But to clutter it with the entire catalogue of installed programs... No. Just no. 3 - The suggestions can be turned off, right? 'cause otherwise it's yet another thing cluttering the UI. 4 - What about tablet mode? Devices like the Surface Go are awful to use in desktop mode due to poor desktop UI sizing. The Tiles interface (already made really ugly in the May Update) is the best solution for it. This seems to indicate that they're going for a more Android-esque UI on tablet mode? Is that it? 'cause Android on tablets s*cks...

The icon to select the tile view is still in place, so appear that this thing is replacing the all apps view.

No, there is a picture of this UI in tablet mode on the same account that provided the picture in this article and the all apps view is still available on the side. This is intended to replace the pinned tiles view.

I don't think we can conclude anything yet. In the screenshot it seems like a replacement for the all apps (suggested apps on top, and no all apps button), and in the tablet mode there's an extra button for the all apps list, besides the tile view and "grid view".

don't get rid of the damn live ties!!!!!!!!!!

no live tiles, just grid of app icons = waste of space and lack of utility maybe there is both though and you can use either interface. look at the little face icon that is selected in the upper-left. just above that is a tiles looking icon.

I think this new layout is much more useful and easier to find apps than a tightly packed grid of tiles. Also, it's likely the "little face icon" is showing the new insider start menu experience while the "tiles looking icon" just reverts to the original. After testing, they would likely remove the original experience completely.

You and I are enemies. Plain and simple.

LMAO..... That's awesome.

@scoots37 you do realize that you can space out live tiles?

I wonder how information at a glance will work.

This is awful. They're killing Live Tiles, the only forward thinking addition to UI designs in the last decade.

Putting squares around icons and gimped widgets isn't "forward looking". It's "me too" while looking slightly unique.

@bleached, Oh go away with your widgets. If you like widgets so much why don't you find away to add windows gadgets back into W10 :P since you like widgets soo much lol.

Ribbons were also quite a good thing compared to deep menus. Worst idea ever is the hamburger menu, which does hide all functionalities behind an additinal click/tab, even if there is space enough.

Is it just me or does it look like there is still an option for live tiles at the top left of the start window?

I will berate Microsoft relentlessly on every platform I can if they end Live Tiles. This is a disgusting turn.

I'm sure MS will be devastated by your criticism Robert. Get over yourself man.

Live Tiles were the biggest mistake Microsoft has ever made. I said it from the beginning. No product ever released that Microsoft based the UI on Live Tiles has been successful. It would be a huge mistake for Microsoft to continue down that path. I am sure even you see that Robert.

Because live tiles is the reason Windows 8 and Windows Mobile failed....

I have always loved the Live Tiles. When I was still using my Windows Phones, it allowed me to see core info at a glance, and decide whether or not I actually needed to open specific apps for more details. That and the ability to customize the size and layout of home screen icons is the single biggest thing I miss on the Android phone I now use. It's the "Fisher Price" look that Android and iOS adopted way back, and I hate it. It static. It's boring. It makes me feel like I work at McDonald's having to dick with a register that just has pictures of the food on the buttons, instead of being the I.T. pro that I am. As a company I had to switch us from Windows Phone to Android last year, due to unavailability of WP handsets. I have since used a Nokia 8 and Nokia 9 Android Phone personally, and also supported OnePlus 5/5T, OnePlus 6, Nokia 6.1, Nokia 2, and Nokia 3.1 for our staffers. I still hate it, and miss Windows Phone every single day. All I've gained with Android is an app to work my home security system, and the HDHomeRun app. But I had to give up a ton of privacy and get slammed with a lot more spam and ads and general security issues in exchange. And having to deal with all the manufacturer custom skinning, and fragmentation of Android, despite my best efforts to keep things homogenous... I'll get a call from someone away form the office having aphone issue. The first thing I have to do is ask them or look up what kind of phone they have, and what version of Android it is running. Then I have to grab a phone here at the office that is the same just so I can walk them through the various screens, particularly in the settings area. Windows Phone was FAR simpler to support remotely.

"all the manufacturer custom skinning, and fragmentation of Android" OnePlus 6T is really nice in this regard. (For an Android phone.)

I've ben largely indifferent to live tiles, I didn't think they were as amazing as people said. In fact, the only one I found useful as Trivia Buff on my phone because it gave me a trivia tip on my home screen.

It looks kind of like the UI of an android or a iPhone. The top bar is the dock and the others are your favorites. If Windows Lite is for a mobile platform, maybe they gear the shell to fit comfortably on smaller screens and resemble a smartphone interface.

Press F4 on a Mac to see how icons should be designed. Big, bold and beautiful!

Live tiles were cool. They could keep a lot of info on just a glimpse. With Microsoft planning to shed of Live Tiles, would it take so long for it to get adopted by Android? Microsoft always had features that were years ahead than the rest, though they failed unfortunately. There's no better way to handle notifications for each apps in a mobile device than the Live Tiles, but yes, it required developer support. As Windows Lite is meant for more and more mobile devices, Microsoft has to rethink on dropping Live Tiles. Maybe lack of developer support maybe the reason for the neglect of these super cool tiles. Redesigning Live Tiles with a Fluent Design flavour would have been a very better choice, I guess.

I'm old-school. I do not like this at all. I prefer the Windows 7 style Start menu, and all the Windows 10 systems I have setup, I have made the Start menu to look as much as possible like the Windows 7 Start menu my users are used to.

Win7 start sucked, I never really used it, I just hit start -> word -> enter. And when I had to use it, digging down through the menu was bothersome at best, what on earth was so good about it? NOTHING! Had it been as great as you say, people would not have placed their application shortcuts on their desktop, yet so many did. I love the full screen menu with tiles. I still use start -> word -> enter, but everything else is available with a quick tap, and applications using live tiles can be usefull, with the same tap I can see the weather, upcoming appointments, tasks and so on, without starting an app. I've seen enough of you so called power users proclaiming how much better the W7 menu was, telling people how they should not use the new menu, changing the menu for people when assisting them. Well, I did the opposite, both at work and privately. I set up a decent full screen start menu and explained how to use it. And every none poweruser I've helped thinks the new start menu is much better. Even those placing icons on their desktop can now achieve the same, but are able to reach their icons without minimizing other apps. Being used to something does not make it better.

I was just making the same point at MSPowerUser; pressing the Windows key once to bring up Start is light years better than moving or minimizing windows to see the Desktop.

I suspect this is a windows light layout being tested on a working OS

It's about high time Live Tiles go away. Many end-users that I work with in IT don't understand them and find them hindering their ability to do work, so they either delete the apps or unpin all the tiles and use the classic experience. This looks cleaner and follows the traditional yet effective icon experience. Live Tiles just didn't take off, and it's high time they go. May 2019's release of Windows 10 confirms this just because of how bad the tiles look when searching for them.

Looks terrific.. Would still be cool if squared perimeters were an option. Honestly, I think you could fade the tiles out on WP8. 1 forward. I hope they still have some type of external information system like live tiles do.

Icons with external information? Lol, forget about it as the only additional info any icon can show is a small counter of outstanding notifications or a notification indicator. Beyond that it's not practical due to design constraints, however there is only one workable solution and that's the now defunct mix view.

That profile picture should be half out and half in the start menu. It looks weirdly constrained.

This grid of icons reminds me of something like this: https://www.thebarcodewarehouse.co.uk/Images/Product/Default/xlarge/Jana... And the HP Ipaq PDA used about 10 years ago to draw floor plans lol. I can't recall which Ipaq PDA that was - it came with the 'The Mobile Agent' package before the floor editing software was revamped. Talk about progress!

I like Live Tiles personally. I can make a big touch target with a bit of pertinent information on my Start menu for, say, Mail. I hope they don't completely bail on the general idea. Static icons of all the same size with badges just isn't great for tablets and 2-in-1's.

They got it all backwards, it's for this type of OS live tiles makes the most sense. They should instead develop them further... The problem was not people not liking live tiles, it was the rest of the WP/RT OS's that were only half baked and had issues from the get go.

It is already in Windows. I saw this yesterday and wondered what I had done. It hasn't appeared since.

I am just sad. From wanting actionable live tiles to the death of them altogether. And not because they are the relic from windows phone. But they actually had utility. With news apps and even live web tiles for news web sites i could look at the new news article titles when I wanted to right on my homescreen without being intrusive like push notifications or without having to open apps or sites or twitter lists etc. Microsoft never really got that potential out of them and well that's it.

Wow, what a step backward...
You can already set icons on your desktop, what's the point of having a second desktop hidden in the start menu ??
Please MS come back to your senses, live tiles are a huge advantage !!!

Microsoft is clueless. Interactive tiles for touchscreen with option to go horizontal and all apps list, multi select like on Windows 8.1. For desktop we just want something like ClassicShell. Microsoft can keep their crappy start menu.

Not phased, I haven't used the start menu in years, most used stuff is on the taskbar or desktop, and anything else I can search for from the taskbar (in fact it's only when the Cortana search has a hissy fit and decides not to work, that I have bothered to open the start menu, and it's usually just to get the calculator app up).

This is my experience with every average Joe user. They don't use the start menu instead choosing to clutter up their desktop and task bar. There are multiple ways to access your information and most people aren't choosing the start menu.

Over 3 decades of WIMP interfaces for desktop PC operating systems and 2 decades of the Start menu and the greatest innovation Microsoft came up with is to add a search bar to the Start menu? How pathetic. There is precious little difference between this and the Windows 95 Start menu. Windows has introduced many different options for how people can choose to interact with their computers (inking and touch input just a couple) and now Microsoft is planning to take away an option because... reasons? My choice to use live tiles should not depend on whether or not Microsoft can be bothered to improve the feature so more people will use it.

Guess I'll need a new way to glance at the weather on my desktop. So I guess this also signs the end of the tablet mode start? it's already pretty awful with live tiles (mostly because nobody bothered making useful live tiles and most of them are just icons anyway), take those away and you're left with, well, nothing really.

While I love the live tiles, in my experience the average user doesn't get them. My boss just the other day couldn't find the programs list on a computer that had the start menu set to full screen. He completely ignored the fact that the program he wanted was right there on the start menu. He wanted the program list. I've taught everyone in my office how to use, resize, add and arrange that start menu. They all end up just pinning things to the task bar, their desktop or searching the programs list. It's like they don't even see the live tiles start menu. I've given up trying to teach them how to use this really functional tool. If it replaced the task bar, and desktop I think it would get used, but as it stands now there are so many ways to find your programs, and the average user just doesn't use live tiles indicating they aren't useful to the average Joe.

With the new Start menu of a grid of icons it may make people, me included move to iOS. As a long time Surface Pro user who uses it in Tablet mode all the time, I really like and use everyday the Live (and not Live) Tiles and if Microsoft chooses to got to the new Start menu I will probably take a look @ iOS for my tablet needs instead of Microsoft. The beauty of Surface Pro is that I have my Desktop when I am docked and need it but also have the Tablet which I use every day. I guess Microsoft is giving up on being a leader and just following the flock. Disappointing!!

Absolutely hideous design, even as a preview. Can't believe they'd just throw away their design sense and resort to a cliché smartphone app icon layout. Even worse than smartphones in fact if we're expected to just have a meaningless grid of all installed programs. Live Tiles can go, sure. But I sincerely hope that on Windows 10 desktop they keep Tiles in general as a start menu layout option, 'classic' as it's seen here. Even if most users don't use tiles, they must surely understand that those who do are incredibly attached to them.

I agree with those who feel live tiles should be retained, at least as an option. Losing them would make the return of desktop widgets a necessity IMO.
One critical thing no one seems to be mentioning is the lack of custom folders. I would actually miss folders far more than live tiles. With over 200 apps installed, no flat grid or list of icons will ever be practical for me.

I so don't care for Windows Tiles. Long live "Classic Shell" app.
Windows Central Newsletter
Get the best of Windows Central in in your inbox, every day!
Thank you for signing up to Windows Central. You will receive a verification email shortly.
There was a problem. Please refresh the page and try again.