Leaked Snapdragon processor could bring a big boost to the Surface Pro X
The Snapdragon 8cx Gen 3 could bring a big boost in performance to Windows 10 on ARM PCs.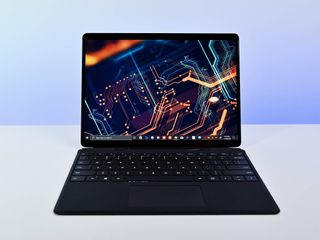 (Image credit: Daniel Rubino/Windows Central)
What you need to know
Leaked benchmarks of the Snapdragon 8cx Gen 3 show a massive leap compared to the Microsoft SQ2.
The Snapdragon 8cx Gen 3 appears to sit between the Intel Core i7-1065G7 and the Intel Core i7-1165G7 in terms of multi-core performance.
As with all leaked benchmarks, these figures need to be taken with a grain of salt.
Microsoft's Surface Pro X and other Windows 10 on ARM devices could gain a big performance boost in their next generation. Leaked benchmarks (via Notebookcheck) of the Snapdragon 8cx Gen 3 show dramatically improved single-core and multi-core scores over the SQ2 processor (which is based on the same Kryo 495 CPU as the Snapdragon 8cx Gen 2).
These benchmarks need to be placed in context before we dive into the numbers. Benchmarks like this always need to be taken with a grain of salt, as they can be incorrect, faked, or be for early models of devices that don't reflect the final product that will ship. These scores are also for a Qualcomm Reference Design (QRD), which means that the figures came from an engineering sample. The retail version of the Snapdragon 8cx Gen 3 could have better performance, but the main takeaway is that the figures need to be viewed in context.
According to the benchmarks, the Snapdragon 8cx Gen 3 earned a single-core score of 982 and a multi-core score of 4,918. In his Surface Pro X review, our executive editor saw a single-core score of 798 and a multi-core score of 3,100 on his device running the SQ2 processor.
The scores showed in the benchmarks place the Snapdragon 8cx Gen 3 between the Intel Core i7-1065G7 and the Intel core i7-1165G7 in multi-core performance. The Snapdragon 8cx Gen 3 gets 5% better multi-core performance than the former and 9% lower than the latter.
As expected, even a leap this large still has Snapdragon's offering fall short of Apple's M1 in the same tests. The MacBook Air with an M1 chip got a single-core score of 1,687 and a multi-core score of 7,433. Apple's M1 chips are so good that when someone used virtualization software to run Windows 10 on an M1 device it still got a higher score than the leaked Snapdragon 8cx Gen 3 scores.
Even if it does fall short of Apple's M1 chips, the Snapdragon 8cx Gen 3 could be a large leap for Windows 10 on ARM PCs.
Windows Central Newsletter
Get the best of Windows Central in in your inbox, every day!
News Writer and apps editor
Sean Endicott brings nearly a decade of experience covering Microsoft and Windows news to Windows Central. He joined our team in 2017 as an app reviewer and now heads up our day-to-day news coverage. If you have a news tip or an app to review, hit him up at sean.endicott@futurenet.com (opens in new tab).
I hope Nvidia or Samsung can make an arm cpu with same architecture philosophy as Apple. The best arm chip for pcs will be one that can run some x32 instructions natively.

It's not that the M1 chip from Apple runs them natively, but rather they design it in a way that greatly accelerates x86 emulation.

It'll be near impossible to replicate on PCs what Apple did with the M1. It's not just about the chip, it's about the RAM, the motherboard, etc., beside the chip itself, obviously.

The heat from the integrated modem will limit cpu and gpu performance

"Apple's M1 chips are so good that when someone used virtualization software to run Windows 10 on an M1 device it still got a higher score" !

Qualcomm is not doing a great job with their ARM SoCs on Windows, if this is like the 8cx gen 1, they will use their last gen phone SoC as a baseline instead of using current gen phone SoCs as a baseline or better create something from the ground up for Laptops. Maybe Samsung will end up making a good ARM SoC for laptops. This also needs to be great at x86 emulation, if it's not then I don't know what Qualcoom has been doing all this time.

I think once their Nuvia acquisition comes to fruition, they'll have better offerings. Also, x86 emulation is good at the moment. It's also Microsoft's responsibility, not Qualcomm's. Intel has clarified they don't allow hardware emulation of their instructions. This new chip will be faster, plus the Microsoft specific SQ3 will be even better than this because it'll be clocked higher (SQ1 was also clocked higher than 8cx Gen 1).

It depends on what you mean by the last-gen phone SoC. These 3rd gen 8cx cores should be based on Cortex A78C. A variant of current-gen phone SoC designed for PC by ARM. ARM creates three variants of A78. The A78 itself for performance core on mobile. X-1 for single boosted performance core on mobile (usually in the form of 3 A78 + 1 X-1). And the last one is A78C for performance core in compute module (which targeting PC). Qualcomm even uses a daring move by using A78C on all cores (low-high performance cores, in different clock rates). And even for this, they can only achieve that far against M1 (I wonder how this approach hamper the energy consumption when idling). So it depends on the release time of this gen 3. If they release it earlier than ARM releasing their new A79, then by definition, Qualcomm still uses the latest-gen phone SoC. If ARM is earlier in releasing A79, then yes, Qualcomm not uses the latest-gen phone SoC. 😅

Hopefully they price it properly. I can go buy the M1 Macbook for under $1,000. New SPX will need to launch well under $1,000, $699 at most, or continue to be a joke.

You're back!!!! You're even giving companies unsolicited marketing advice and calling devices a joke! All is right with the world.

If anyone needs marketing advice, it is Microsoft! The new SPX starts at $1499! How do you justify that?

1st, it doesn't start at $1499. MS selling it for $899. (Keyboard isn't $600). 2nd, It's been justified to you many times over. In the end, the market will justify it, regardless of your opinion (or mine).

Just looked and it is $1499 for the new SPX. The old one is $999 starting. That price is terrible. It isn't pushing the platform forward, it is actively holding it back. Just look at the reviews! There is no justifying it. The total lack of OEM machines with the 8cx is a big giveaway that Microsoft's WoA strategy isn't working. Unless they drop the price considerably, and get these machines into people's hands, they will continue to be marginalized. How can Microsoft justify being 50% more than a massively better spec Apple equivalent?

You said 'starts at 1499'. That's wrong. Nobody is using processor specs when deciding between MS and Apple.

https://www.windowscentral.com/e?link=https2F%2Fclick.linksynergy.co... Uhm, he's right. His original comment was "new SPX starts at $1,499" and according to MS's store page, yes, the new SPX(SQ2) base model is $1,499.99. The old SPX(SQ1) starts at $999.99. The "old" was released in 2019 and the "new" came out a year later(Oct 2 2019 to Oct 1 2020).

The Surface Pro X is a tablet after all not a notbook. It has touchscreen, pen input, detachable keyboard and LTE - all of which the MacBook does not feature. The MacBook is not a 7W device either - so stop comparing apples with oranges.
Nothing wrong with the Surface Pro X more expensive than an M1 Macbook due to the additional features and slimmer form factor.

This and other points have been explained endlessly. He's a circa 1990 spec hound. He dismisses features and usability.

Damn you're right. If only Apple could put the M1 inside a device with a touchscreen, pen input, detachable keyboard, and LTE, maybe even 5G.

That'd be the new $1,300 iPad Pro 12.9 with 5G. With Keyboard, it's $1,750. With Pencil and keyboard, it's $1,880 and you still only get 128GB of non-upgradeable storage.

Or just get a used 2018 iPad Pro / 2020 iPad Air w/ keyboard, pencil, and cover for <$800?
Still better than trying to use ANY Surface device as a tablet.

Stop praising M1 when you don't know what you are comparing. It's not the same class of cpu at all...

The big thing Apple has done here is to fundamentally change the way that the CPU and GPU talk to the RAM. It is pooled across both. Until we can get similar from Qualcomm MS is never going to beat an M series processor from apple. Here is a link from Anandtech with the details https://www.anandtech.com/show/16226/apple-silicon-m1-a14-deep-dive

Apple has been kicking a$$ in the hardware department since 2018 and are showing no signs of slowing down. They've managed to maintain a generation's worth of lead in their chip designs and now even their entry level devices are far more competitive than higher end devices from other brands. Its not even a competition nowadays except for niche use cases (gaming included). Even diehard Windows fans can't help but appreciate the value proposition that Apple is offering. Well, and Microsoft on the other hand ...

window's vastly inferior 64bit emulation (compare to macos) is still not here yet right? then why would hardware manufacturers will care at all? i'm not aware about their internal struggles, but looking where they are now; their 10+ years of arm journey seems a complete failure to me. one of the most successful software company failed so hard... impressive. if i were qualcomm, i wouldn't care too.

When Qualcomm increse the TDP and use cortex x1 cores, they can reach apple
Windows Central Newsletter
Thank you for signing up to Windows Central. You will receive a verification email shortly.
There was a problem. Please refresh the page and try again.