Leaked Windows 10 'Upgrade Assistant' lets you install the Creators Update early
By Zac Bowden last updated
A leaked version of the Windows 10 Creators Update Upgrade Assistant has leaked onto the web, and it allows you to download the Creators Update a bit early.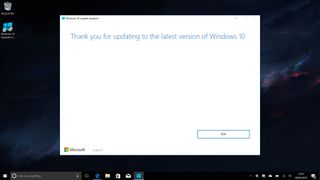 Update: Some users are reporting several issues with using this tool, likely because this is a leak and Microsoft aren't ready for it to be used yet. We suggest avoiding it for the time being. Original article follows.
If you're a Microsoft fan and not a Windows Insider, we've got some good news for you. A test version of the Upgrade Advisor tool Microsoft plans to use for the Windows 10 Creators Update has leaked from Microsoft's own servers, allowing anyone to now download the Creators Update officially and get upgraded to build 15063.
Of course, considering we're still a couple of weeks away from the Creators Update rolling out officially, there are still some last minute bugs that Microsoft will probably want to squash. So keep in mind that if you install the Creators Update today via the leaked Upgrade Advisor, you might run into some minor issues before Microsoft starts patching them, hopefully this week.
Microsoft also released ISOs for the Creators Update to Insiders today. Although several people are confused by the naming of the ISOs, the build 15063 ISOs are indeed the "RTM" (Release To Manufacturing) ISOs for the Creators Update, and will be renamed and distributed elsewhere when Microsoft is ready to do so. For now, if you'd like to clean install the Creators Update with an ISO, the Insider Preview ISOs are the way to go as they'll give you the same RTM build anyway.
As I exclusively revealed a few weeks ago, Microsoft is planning an April 11th launch for the Windows 10 Creators Update, first targeting a select list of Anniversary Update devices, and eventually rolling out to everyone over the weeks following April 11. This is similar to how Microsoft rolled out the Anniversary Update, by doing it in waves to minimize widespread damage had anything gone wrong.
If you're interested in grabbing the leaked installer for yourself, check this link (via WalkingCat) to get started.
Thanks for the tip, Christopher Fernandez!
Zac Bowden is a Senior Editor at Windows Central. Bringing you exclusive coverage into the world of Windows 10 on PCs, tablets, phones, and more. Also an avid collector of rare Microsoft prototype devices! Keep in touch on Twitter: @zacbowden.
already 60% download completed :-)

Could you confirm that you don't get the ISOs through this tool? I'd like to perform a clean install. Thanks!

once completed, I will update. The process is still running almost three times it went upto 100% and started again at 0.. now at 85%

Yes it won't download the iso. And I am on 15063 on my lappy. First look is awesome and I feel it as a new laptop for some days 😍

Thank you for the information! As I need a clean install, I'll have to wait for the ISO, then.

You can find links to the ISo files here: http://www.theverge.com/2017/3/28/15086112/microsoft-windows-10-creators... I have NOT yet been able to verify them however so use the usual precautions.

Thanks! The ISOs have been pulled, though I need the Spanish version anyway. It seems I'll have to wait until April 11.

This won't perform a clean install right? i have the option to keep my files... pls tell im noob.

Not "anyone." I'm on release preview and it doesn't let me do anything at all. I only get the screen shown in the article's screen shot.

Guess you didnt read the article...

Actually, it does seem to work for me. The Update Assistant linked to from Thurrott's article didn't work, and I accidentally clicked that file instead. The one linked from this article works for me on Insider RP.

I think what Zac refers to as Windows fans "not Insiders" is that insiders had access to the RTM version through fast/slow rings before. The UA tool provides that access to everyone (else). It's not limited to non-insiders.

It works I had, corrupt 63 download and was stuck on 61, this tool was a saviour

Nice. I'm installing it right away on my 2in1, because even though I switched it to fást ring some days ago, Windows Update still says that my PC is up to date :D Btw, isn't 15063 available for mobile too? Because I joined the fást ring with my 650, and it downloaded 15051, and shows no update available.

There's something weird with the updates at present, it seems. My Surface 3 on release preview is stuck on 14393.959 (I'm not getting the latest public release) and my wife's Surface Pro 4, also on release preview, doesn't get past 14393.953. They're both supposedly "up to date."

The weirdest thing is, that I got the fást ring app updates (like the filtered inbox for Outlook mail and stuff), but not the actual build :D

Oh yeah. I expected you to b*tch about typos :D

Random, Relax it's just the French spelling.

In fact, it's the hungarian keyboard 😀 We use the letter á pretty often btw ☺

cool..Never been there...want to tho! I will buy you a coffee or something when the wife and I visit! Did not know about the hungarian keyboard afflects either good to know!

Make sure to take out your sd card if you have one can prevent you from installing updates had the same issue on mine.

"If you're a Microsoft fan and not a Windows Insider"

I wondered about that as well, like, is that even possible? I'm a Microsoft fan, and a Windows Insider, but not all of my systems are on CU yet. So, this fits my needs.

I realise that, and probably could have phrased it better. :)

Why not simply join the Insiders program? It doesn't require you to actually install anything and you get almost immediate access to the latest build (on Fast Ring).

To join Insider program you heed to be logged under Microsoft account, some people maybe prefer local account so for them this is only one option to update without reinstall at the moment. If it works for local account though.

Joining insider fast to get the rs2 is easy...Leaving insider program is not!
MS wants you to stay as an insider. It takes a few builds until you're completely out even though your settings might say you're not a member!

Also, there is a 24 hour wait period.

Because we don't want to stay in this insider state for future - main devices have to be stable and reliable :)

I'll upgrade from 14393 to 15063 using the ISO and stay on Insider release preview

The latest ISO I've seen is 15058

I still have some issues on 15063.. My desktop would randomly crash and close everything I have open, then refresh

I think i'll wait for the official to drop...

Just installed this in one of my primary devices; everything works well, including Edge and Bluetooth. Nice features in this update!

We'll find out on the on patch Tuesday (Apr 11th) if this pre-release of 15063 is fully supported. And yes, I'm installing on a spare laptop. :)

What if you are windows insider on fast ring?

You should already have it!

So when the Creator Update gets officially rolled out, we just won't see the update then? I'm happy with the way it is on my PC (except the fact that my SP3 is heating up like crazy for no reason...) but on mobile it still feels like there's a lot of bugs including random shutoff or restarts

I'll have to look into this on the system I'm testing insider builds on its been stuck on a slow ring build since late last year.

Is it possible to create and burn an ISO from the temporary files downloaded by this too?

I am a Windows Insider, and I would recommend using the link above instead of downloading from the fast or slow ring (as these releases tend to be buggy and less refined). On my laptop with an i7-7700HQ processor, 16GB DDR4 and NVMe storage the link provided to ugrade to the Creators Update took about 40 minutes start-to-finish, downloaded using the onboard WiFi-A/C card on my laptop. It runs seemlessly, zero problems, I can use my Oculus Rift, all Bluetooth Functionality is good, and everything works as it did prior to updating. This update is obviously the true RTM that will be released April 11, I opted to install early on 3 out of 5 of my computers to avoid bandwith hogging at the time of release (around April 11th). This version is fully supported by Microsoft with current updates, I am happy for the leak as it's much easier to schedule time to ensure compatibility than to have to waste my time with long download periods after the official release date. I would emphasize that you should provide ample time for this to update on machines that were original Windows 7 computers and older AMD/Intel Processors, as I started the update on all computers at the same time, and the two desktop PCs each with 16 GB of DDR3, Wired GB Ethernet, Onboard Video cards, (HP Pavillions) are currently still installing at ~40%, and this is after approximately 50 minutes elapsed. Bottom line, if your PC is new and fast (purchased or hardware updated) within the past year, this update should be quick and painless. Remember, it is signed by Microsoft and most likely leaked to ease the strain on their servers come April 11th. Windows Defender/Firewall is combined in this update, and works seamlessly--and updates are currently supported, so don't be afraid of exposure.

Did notice one small difference between this version 1703 Build 15063.0 and the same Fast ring from last week. My Settings window on this one is a white theme as opposed to the Fast Ring's dark theme.

Scrach that.. After 5 minutes, it just changed to the black theme on it's own.

Doesn't work for me, I just get the message shown in the picture ("thank you for updating...")

It should automatically restart in a few minutes. Check Hiddden icons in the system tray for the Update assistant icon.

Nope, nothing. Maybe it's not available in the UK yet

Are you already on 15063? I am, and got the same message.

No my current build is 14393

What exactly is a "Creator's" update? Is it geared towards artists/creative users?

A lot of under the hood improvments as well as a lot of new features. It's supposed to run faster on older PC's and would love to see actual benchmarks. https://www.windowscentral.com/e?link=https%3A%2F%2Fclick.linksynergy.co...

Works perfectly! Already knew 15063 from virtual machine, but after applying this update on the real machine it feels very smooth and fast.

I just finished downloading 15063, It took about an hour. This update is running great on my HP Envy i5. Lots of new info.

having upped my internet speed to 300mbps, It took the update 10 sec to download. Love it. Just at 80 percent instsalled now!

What size is the update? Does anyone know?

The $GetCurrent folder says 3.37 GB and may not include post-install updates or whatever else was downloaded.

It took me 2 hours but I am there ..... feels good. (The Netherlands)

Am I missing something? Tried on my desktop and SP4 and version is still showing at build 14393. I even went though the setup process after the update...

I came here to inquire about the same thing. It downloaded, prepared, restarted, and then I got to the actual updating stage where it appeared to be working. Took about 30 minutes and a couple restarts. Got to the logon screen and logged in and was immediately faced with the "Update to the latest version of Windows 10" screen again, with it stating I was running 14393, which I can confirm through Settings, Device, About. :/ I thought it was my antivirus, so I uninstalled it and tried again, and the same thing. No idea what's wrong. Might poke around and see if I can find a log.

My upgrader_default.log in the Windows10Upgrade folder looks fine until the very end, then I have some telemetry errors and a whole mess of garbage that I can't make out. :/ Drat!

It's a shame if it's not the new Chinese SKU coming out that's supposed to be locked down without telemtry. :(

I did manage to pick out "Exit state: ShowingWin10Update, error code 0x800704c7." near the end of the log. It seems to be potentially associated with antivirus (I uninstalled mine to test) or messed-up system files. I've tried using dism as recommended to potentially fix some issues, so am about to try again...

Oh god. Okay, don't run dism.exe, LOL. Now, I get "Something went wrong" and an error 0x80190001 _immediately_ when I try to download the update. D'oh! :D

Yeah my wifi stopped working on my SP4...attempting to roll this back... I'll wait for official release. Thanks.

Two systems here did the same thing... SP3 and an X1 Yoga. Everything looked good during the process, but came back up to 14393, with no updates! Having to update everyhting again....

Hopefully you have better luck! I'm about to try a third time now, after trying a couple potential fixes. :)

Well, that didn't work. Now I really busted it, LOL. It's a SP3 I'm trying to upgrade too.

UK Low End Lenovo G50-30 downloading now at 74% all good thus far

Formatting my hard drive and installing ISO sounds tempting, but my Hard drive hasmore than 300GB occupied, so I'm too lazy to backup everything, I'll rather just upgrade using the official release when its launched.

Looks like Microsoft have plugged the leak, link in article now goes to blank page ☹

The link should just start downloading the installer. :) There is no actual page. Clicking on the link should take you to WalkingCat's Twitter post, then bounce you to the download page automatically. :) I tried again and downloaded the installer again.

I've found an available link on Softpedia.

I wouldn't download it from anyone other thna MS and I think it may be a Chinese build.

If you read the the setup log in Windows 10 Upgrade folder, Setup Client ID is Win10China?

I checked and see this too. What's funny is that I went out for Chinese food while it was upgrading. :D

LOL no joking, I had a Lean Cuisine Sweet Sour Chicken frozen dinner about 2 hours ago.. Time for the tinfoil hats!

I was actually looking at that in the freezer at the store before going out for Chinese food. Great minds think alike? Or fools seldom differ?

Great news! Worth a try. So it is the final-final-final version of the Creators Update? Literally this will be released on apr.11?

Nope the article says their could be some more bug fixes

unable to download unfortunitly , link takes me to a document

I've found an available link on Softpedia.

It downloads the Assistant which says "You have the latest Windows version" Sad

I have installed it and my first impressions are very positive. Edge seems mature now and the system is definitely faster (no Placebo effect). In the next days and weeks we will see how good this update really is. Having said that, there are not that many features that I care about. I am more interested in the internal stuff that was improved. My Surface Book works very well with the creators update.

It doesn't work. My PC was "updated" to 14393.0 and some apps are lost.

This is a good point. Me and a couple others were discussing above that after the churning and restarts, we logged right back into 14393 and were faced with the Upgrade Assistant offering to upgrade us again. But I then noticed too that some apps were missing, as well as some apps returning (like the 3D Builder, which I immediately remove). Ugh!

Same thing happened to me. All update process completed. But when i logged in it still showingold build and no features from Creators Update. No when i am trying run tool again to upgrade it showing connectvity error.

Same thing happened to me. When it finished I was back in 14393.0. I did a rollback to previous build and everything seems normal. I'll wait for the official release. Does any of you know if is safe to delete the $GetCurrent folder?

It's not available for me anymore! Is there still a way to get the upgrade assistant? Maybe someone who still has the installer? :-/

I was just in time ..... it seems that its gone.

My SP4 has lost the Windows Hello. Surface Diagnostics Tools confirms that the camera, ir camera and back camera are functional with this release, but not detected in the user login screen. Also, took like 25GB of disk with the windows.old backup Blazing fast, and no other errors detected

I used the assistant to update via a remote desktop session during lunch. I figured I would close the session and finish when I got home from work. I get home and now my pc is asking for boot media. Great.

I got my Nuvision tablet yesterday and windows update was stuck on 0% for hours. Disk usage was 100%. I found this Windows 10 upgrade assistant. It helped a lot with updating to the anniversary update. Finished under 1 hour.

annnnndd its taken down. I hope the peeople here have the exicutable and will post it

Someone have a new link to the file?

Did the update,using the tool. It just re installed the same version of the OS 14393.It told me on the update assistant it was upgrading it to 15063.

Unfortunately, it didn't work: after more than three hours of process, I'm back to 14393.0, and now I even have to install a big cumulative update. The worst part is that the update process started without me giving permission: I left my computer thinking the files would just download.

You gave permission by running the assistant... It's not a downloader tool but an upgrader.

I gave permission to only download the files. The programme said that I could decide when to perform the upgrade: eventually it did it right after downloading everything.

It worked fine on one of my machines. But, when loading Edge, it displayed a splash screen saying here are the new features of the latest version in the Slow Ring (or something like that). Build version is 15063.0 and the Insider Program has not been joined (so why display that Edge page?). Either way, it seems to work for me and I managed to keep the installer too now that it got removed.

IMPORTANT ANNOUNCEMENT FOR YOU ALL! THIS IS AN INSIDER BUILD! INSTALL AT YOUR OWN RISK! PROOF - http://i65.tinypic.com/vo1h4y.jpg

for me it just reinstalled 14393 again

Yep, same for me, this morning. Oh well just have to wait until it's released properly.

I want to download but forgotten my password
Windows Central Newsletter
Get the best of Windows Central in in your inbox, every day!
Thank you for signing up to Windows Central. You will receive a verification email shortly.
There was a problem. Please refresh the page and try again.