Learn how to create your own video games with this $25 HTML5 bundle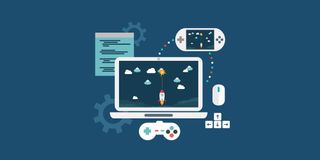 Everyone loves a great video game. Whether you play professionally in front of thousands of adoring fans (yes, that's a real thing) or simply love to unwind with some Mario Kart after a long day of work, games make life endlessly more enjoyable.
But did you know that you can also create best-selling games of your own in the comfort of your living room? The Zero to Hero HTML5 Game Developer Bundle will teach you everything you need to know in order to join this exciting and increasingly lucrative field. Thanks to Windows Central Digital Offers, it's currently available for 97 percent off the regular $1,182 price, bringing the total down to just $25.
With eight courses and more than 200 lessons, this in-depth bundle is ideal for both novice developers and more seasoned pros who want to expand their skill set.
After an introduction to the basic terminologies of the field, you'll learn how to create both 2D and 3D games using Python, build powerful multi-player games with HTML5, integrate a wide range of graphics into your projects, and much more. There's also extensive instruction that teaches you how to build replicas of classic games like Mario and Tower Defense.
Learn how to build awesome video games with this HTML5 training bundle!
Get the skills and tools you need to start building your own best-selling games from scratch with the Zero to Hero HTML5 Game Developer Bundle for just $25, more than 95 percent off for a limited time.
Get the Windows Central Newsletter
All the latest news, reviews, and guides for Windows and Xbox diehards.