Learn how to get rich off of cryptocurrency for $24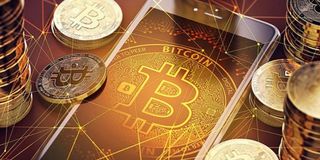 (Image credit: Shutterstock)
News of the increasing price of Bitcoin has spread like wildfire over the last little while, but many of the uninitiated have no idea what exactly cryptocurrency is or whether or not it's even a real thing. Rest assured; cryptocurrency is real, and it's making many of its early investors very rich right now. Now's a great time to get in on Bitcoin and other cryptocurrencies, since prices are still relatively low when you consider other trading options like the New York Stock Exchange. But how and where do you even get started? It's best to educate yourself before blowing your wad.
Save 94% on this valuable course on investing in cryptocurrency!
The Complete Cryptocurrency Investment Bundle is your full education in cryptocurrency investment. You get a lifetime subscription to five courses on how cryptocurrency works for only $24, while they regularly retail for $479 altogether. You save 94%!
You'll get an education in the following aspects of cryptocurrency investment:
Cryptocurrency Wealth: How to Trade & Invest Like the Pros
The Ultimate Bitcoin and Blockchain Course & Audio Book
Blockchain and Bitcoin Fundamentals
The Complete Ethereum (Cryptocurrency) Guide
Complete Steemit Course: Earn Cryptocurrency for Free
These courses will take you through everything you need to get started on your road to riches in cryptocurrency, and the focus on Bitcoin couldn't come at a better time, with it recently hitting record prices. If you're at all interested in investing in Bitcoin and other cryptocurrencies, then check out the Complete Cryptocurrency Investment Bundle at Windows Central Digital Offers and save 94%!
Learn about Bitcoin today, make a small fortune tomorrow?
Get the Windows Central Newsletter
All the latest news, reviews, and guides for Windows and Xbox diehards.