Lenovo announces new budget machine – The Flex 10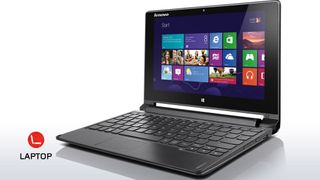 A few months ago, Lenovo announced their new Flex series of touch screen machines, the Flex 14 and Flex 15. While the line does offer up to the latest generation Intel Core i7 processor, 8 GB of RAM, and a 256 GB SSD, the Flex machines were not designed to be the hottest machines on the block – they were designed to fit a budget and came in at a starting price of $429. Now, Lenovo is back with another Flex model unit, the Flex 10.
As you might guess from the name itself, the Flex 10 is a smaller 10 inch version of its bigger brothers. Just as the other two budget machines do, the Flex 10 includes a 1366 x 768 display with 10 point multi touch and CPU configuration up to a Bay Trail processor. The unit weighs in at around 2.6 pounds and its battery said to run for around four hours off a single charge on its three cell battery.
Unlike Lenovo's YOGA machines, the Flex machines include just two modes – laptop and stand mode (there is no tent or tablet mode). As with all of Lenovo's machines, the Flex 10 will feature the company's patented (and very comfortable) AccuType Keyboard, along with a multi touch touchpad that has been optimized for Windows 8.
Ports on the machine include a single USB 2.0 port, a single USB 3.0 port, an HDMI port, and an audio combo jack for your favorite headphones. And of course, a 720p webcam is included so you can Skype grandma this holiday season.
The starting price for Lenovo's Flex 10 laptop starts at $550, but upon loading the unit up, you are probably looking at a unit a little under a grand. There is no announcement on availably, but we will make sure to update you if we hear anything.
Source: Lenovo (opens in new tab)
Does anybody make a tablet that supports 16GB? I need to run virtual machines (sometimes 2 simultaneously) and 8Gb just doesn't cut it...

A tablet that has 16GB of of RAM? *whistles*

Yeah, like a Surface Pro. 90% of the time I'm docked... but I want something small for when I do ho to a client. There's no technical reason they couldn't support 16gb pretty easily.

Well it's topped out at 8GB of RAM, I'm sure it's due to space constraints. Maybe they'll make a larger tablet. I haven't seen a Surface like tablet with more than 8GB of RAM. I'm actually hoping for a 13" Surface like tablet (i think).

Why not just remote desktop to a computer with VMWare installed? Surface Pro 2 (or even just a Surface 2) paired with you mobile and then use remote desktop to access a workstation with your VMs running. That's what I do.

Remoting somewhere is never as convenient as having it local. And many clients have poor internet, or bad signal, or it's tough to get the wireless password because they have security, or whatevee... I just wish they would be able ot custom build one of these tablets with more than 8GB RAM. I don't think it's muich of a space concern, and an extra 8GB is dirt cheap these days. I know most people have no use for it, but it would be ideal for me. I will just continue to stick with my 8GB laptop until someone offers one... hopefully someday.

http://www.powernotebooks.com/Custom-Built-Business-Laptops-Notebooks-De... I guess there few more companies does this. I saw some ads pop up fro some know companies but couldn't find now..

http://www.alienware.com/Landings/laptops.aspx solid build with 32GB

Im visiting Lenovo next week, having a look at their business lineup for a new pc-contract at work. Gonna be awesome :)

Why would anyone load that one up at that screen resolution?

Cuz we don't all need 1080p or higher

Because it has full size HDMI, miracast support and Bluetooth 4.0

It's no wonder Lenovo is now the largest PC-maker in the world. They seem to have everything and everyone covered.

Guys? Lenovo Miix 2 review? Please?

Michael, any 15"+ screen convertible laptop, preferably from Lenovo, that has the same resolution as the Yoga 2 Pro coming in the near future? I adore that machine but want something a little larger for both productivity and gaming.

The Lenovo Flex 14 with i3 and 4GB of RAM is $549.99, though it's on sale. http://shop.lenovo.com/us/en/laptops/ideapad/flex/flex-14

I actually picked one up last night. I'm liking it so far. Comfortable keys, screen is nice and responsive. Pretty quick. I mean a few stutters, but not bad. got it for $310 at Office Depot.
Windows Central Newsletter
Thank you for signing up to Windows Central. You will receive a verification email shortly.
There was a problem. Please refresh the page and try again.