Lenovo is beginning to pull away from other vendors in the PC segment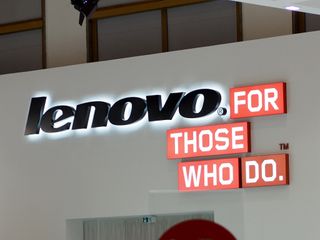 Lenovo announced its earnings figures for the financial year 2014-2015, with the PC maker boasting increased revenue and market share. In the three months ending March 2015, which Lenovo described as a "seasonally slow quarter with significant currency impacts," the manufacturer made $11.3 billion in revenue, a year-over-year increase of 21 percent.
Quarterly sales from the PC division amounted to $7.2 billion in revenue, an increase of 11 percent year-over-year. Shipments totaled 13.3 million for the quarter, resulting in a global market share of 19.5 percent. The company recorded a full-year revenue of $46.3 billion, with gross profit at $6.7 billion and operating profit at $1.1 billion.
For Lenovo as a whole, revenue from China accounted for 27 percent of the global revenue, with the company boasting a market share of 33.6 percent in the PC segment. Record shipments of PCs in the EMEA region saw Lenovo attaining a market share of 20.5 percent, up 4.8 points from the same time last year. The rise in shipments means that Lenovo is now the number one PC manufacturer in all 17 countries in the EMEA region.
Strong shipments were also witnessed in North America, where Lenovo made $3.6 billion in revenue with a 11.7 percent market share. What the numbers essentially mean is that Lenovo has had a stellar year that is set to continue into 2015, as evidenced by the company netting an operating profit of $127 million in a quarter where global PC shipments fell by 5.2 percent.
Source: Lenovo (opens in new tab)
Weird. Seems like with all the people still talking about super fish their PC sales would have gone down.

They produce so much across a huge range of process, and for Enterprise too. Personally I trend to only look at the think pad range but their consumer devices have had good press. And outside of those that follow tech or lurk in the web, I'll bet the majority don't even know about the aforementioned issues!! Personally I'm not impressed by the current offerings, think dell xps13 is arguably the best product out there and don't want a hybrid tablet whatever - many many more do. Really, I bet most people don't even notice the bloat on their devices.

XPS13 for live! Even makes me regret getting the surface pro 3.
If it wasn't for the pen support ...

I have too much history with Dell to ever consider another of their machines again.

Nonetheless the XPS13 is a great and gorgeous machine!

Get back to me when you've had it for a year. All brand new machines are great.

Sure, but this machine has very much going for it! Be it the stunning display or the resulting small footprint or its premium casing with its, in my opinion, beautiful design.

Most of these strong sales numbers happened before the superfish incident. Not that the numbers will go down or anything, I believe Lenovo will continue to do well. I'd never purchase anything from them though.

Well they will do well because they don't have an ass running the show like Asus have!

Average consumer probably knows nothing about superfish.

I heard of it... What was the problem (can u remind me?)

It was an Ad software spamming Ads in browser, Lenovo has apologised and removed the software from all the computers, Also this never affected the premium Thinkpad line of products.

Not to mention the additional ssl certificate (otherwise used to verify authentic banking/email sites) that was preinstalled which could give fake websites a "verified" lock icon. But I personally like Lenovo a lot. I'll probably continue to buy their laptops. I find them great value for money. I can deal with superfish stuff anyway.

Only people who talk or know about superfish are tech bloggers. No one I know in real life has ever mentioned it. They're unaware and dont care.

Just because a consumer doesn't know about it, doesn't mean that it isn't a real issue. If you approached a consumer shopping at Best Buy or Walmart for a laptop, and you told him or her that Lenovo computers shipped with malware, I'd bet that they'd steer cleer of those machines. I bet Lenovo worries about it plenty; it may not effect current sales, but you can bet that the company is concerned about losing that consumer in their *future* purchasing choices, if they have a bad experience with their current machine.

PC sales aren't in decline when they factor in windows tablet and 2in1 sales... They are in growth! Some interesting news headlines will come this year, when these missing figures are added to mobile figures. Everyone will be banging on about windows explosive growth in the mobile sector... Even though its been growing for a while now, quite considerably!

Is that smoke coming from your crystal ball or your bong?...

The rate of decline has slowed, but PCs are still in long term decline. Even HP, Lenovo and Intel admitted as much in their financial statements. Not exactly sure where *you* get your information.....

Is this revenue increase a trend among most manufactures, or are Lenovo an exception? Asking because of the "PC is dying"claims flying around everywhere.

My opinion: traditional PC market is shrinking, however, Lenovo focuses much on portable Windows devices (Ultrabook, 2 in 1s), while other PC makers become reluctant to react in this market and many are thinking of moving away of it. As a result, Lenovo grabs a big share from other traditional PC makers. Time will prove Lenovo's dedication is right, and their understanding to market trend is right.

Rightly said. I personally can't imagine going back to bulky laptops. Yoga FTW

Lenovo seems to sell huge amounts of laptops to businesses. I'm guessing that's the majority of their sales and companies continue to use Windows.

They deserve it based on the awesomeness of the Yoga Pro 3 alone. Not saying I wouldn't have bought a surface pro 3 had the yoga been available, but it wouldn't have been a no brainer.

That sound's unlikely. And who'd trust a Chinese company? The Companies here in the U.S. already concern me in regards to the tech sector when it comes to government intrusion.
..
It's bad enough China makes certain parts for multiple areas. So, again.....who'd trust a company that is ruled by a despotic government?
..
I'm going to need to see real numbers not shadow, and possibly manipulated numbers. When it comes to numbers, China is known for a less than honest record.
..
So, yeah. That's unlikely.

I guess US government is the most despotic among all so before you start criticizing others just look at your own junk

The USA ain't Mother Theresa, but they are far, far away from being"the most despotic country" that your comment just makes you look dumb.

+1, It is funny to see Americans blast China and Chinese companies when you consider the fact that USA is the homeland of NSA and uses their software companies hegemony to spy on everyone, not to forget the most warmongering nation on earth in the last few decades.

Don't be jealous little man.

Everyone spies on everyone...go watch 'The Presidents' Analyst' and get off your high horse. Oooooo warmongering....we don't start them, we're supposed to finish them...leaders win wars, pussies negotiate withdrawals.

Yet everyone in the world is using Windows, Google, and Apple. 'Merica.

Meh I could see it. Everyone loved the yoga series when it came out. I at times can't stand to look at my yoga2pro. It refuses to boot sometimes and just turns on and stays in a black screen. Smh...next time its surface for me.

Lenovo sells major volumes in India. They're everywhere. From personal experience, way ahead of hp and dell in terms of reliability. One area in my knowledge where the Chinese made good reliable goods.

Yeah I love my yoga 2 pro tablet it's awesome in everything.. the build quality, display, battery life and power. They're doing great in India

They also have a huge network of service centres(at least from what I observed in Chennai) like how Nokia has

Yep, bought my first Lenovo laptop in May 2004 when Lenovo had just made it's first appearance in India. So it was more of a leap of faith. 4 years later an acer. Lenovo is still in much better condition than the acer which is annoying to use with dead pixels and lines and cracking chassis. Third is a Lenovo again (Y2P)

Proof that the Chinese can do good.

I still won't buy/recommend their stuff after Superfish. I even leave articles about superfish open on the desktops of their computers at stores.

Europe, the Middle East and Africa

Ah, ok! Thanks for the info!

I'm curious to see what they do next? I do like the Yoga line, slick designs.

It seems that most of you guys are either grossly underestimating or have absolutely no real knowledge of the fact that Lenovo is killing their competition on the enterprise front with their ThinkPad laptops and ThinkCenter PCs. One of the state agencies I worked with recently started refreshing their desktops and laptops again this year--about 400 PCs in total--and they are all Lenovo ThinkPad laptops or ThinkCenter workstations without exception. Lenovo has great enterprise suppport and an excellent track record. They have successfully expanded upon the Think branding that they purchased from IBM and have relentlessly pursued good products, making incremental changes and conservative innovation that the enterprise customer is comfortable with. This is why they succeed. Dell and HP can't quite match the level of service or reliability. Even Apple--even if their OS was as universally accepted for doing business in enterprise environments (not likely any time soon) as Windows is--would have to make considerable changes to catch up.

Now that you mention it: Even at my school all new laptops used with the new whiteboards are Lenovo thinkpads!

No surprise to me. Lenovo was the ONLY OEM to fully embrace Windows 8 and release innovative products that took advantage of it. The other OEMs didn't even try until 8.1 and even then, it was half assed. It's only been in the last year that we've seen any innovation out of the big players like Dell and HP. And that innovation extends to a few select devices. Lenovo, on the other hand, has innovated across their product line. I maintain that if Microsoft had created a proper out of box experience for 8 that included a REAL tutorial on the new features and a wizard to build a Start Screen based on a user survey; and if OEMs had really gotten on board the way Lenovo did, there would have been NO slowdown.

I think they are putting some quality products out there. I'm really impressed and happy with my Yoga 3!

As an additional sode note, that same small state agency I mentioned has only two types of tablet devices they deploy for their workers--the Surface Pro 3 (about 30 deployed so far).

I'm glad to see Lenovo doing so well after shooting themselves in the foot. I would like to see them do more to keep the gains Google made with Motorola going. And a great big FU to Asus for their Ceo's damnable opinion of WP. Lol I am thinking seriously of buying the Asus MeMO pad available on GoPhone. I know it's android but its a good deal and i need a new tablet.

I bought my first ever Lenovo device--the Yoga 2 Pro--back in November 2013. After dealing with that flawed product for the past 1.5 years, including Lenovo's atrocious customer service, I will never buy another Lenovo product ever again. Things like Superfish since then have further etched that promise in stone. Too many other OEMs make much better products with much better customer service to ever have to tolerate Lenovo's crap again.

Flawed? Or yours was defective?

Flawed. Mine wasn't defective. It's flaws were with it's terrible color reproduction (Bing "yoga 2 pro yellow problem"), skimping on the type of RAM used, and using an outdated wireless /Bluetooth card along with unreliable drivers. Lenovo ignored these problems despite thousands of complaints on their official forums (many of which were deleted by Lenovo reps). Calling into tech support was even worse, with all of their reps claiming ignorance of these problems.

I'm aware of the color reproduction. But honestly I don't even notice it! I mean I'd be pissed if I'd have bought it for graphic designing. But for all other purposes yellow is yellow enough! Type of RAM used? That's something new for me. Elaborate please. I understand it's DDR3 800 Mhz but isn't that the standard? I wouldn't call it skimping. Wireless card was initially a non AC card. Later batches have AC card like mine. Drivers, yes they are not the best. But I find the best drivers by comparing the latest versions on vendor sites as well as from other yoga models (touchpad driver for instance I use is from Yoga 11 I think and it's flawless)

I hope the HP sees increases in sales due to their Spectre x360 line. It's the best laptop I've ever used. I've only had it for a week so we'll have to wait and see how long it lasts but so far I'm a happy camper. Previous laptop was a Lenovo IdeaPad 560 and it had no problems, so I was tempted to go with the Yoga 3 Pro but decided on the x360 because it seemed more sturdy for the long term.

I have both the 8" and 10" Lenovo Yoga Tablet 2 and I absolutely love them. Much better design than Surface (if you don't need full size USB). I'm thinking about getting the 13" Yoga Tablet 2. The device is just the perfect design with incredible battery life and a better Bluetooth keyboard than Surface. Just don't put Windows 10 on these devices as that OS is trash on a tablet.

Take notice IBM! That could have been your growth. Instead you're late to the cloud game and as a result have had shrinking profits for years.
Windows Central Newsletter
Thank you for signing up to Windows Central. You will receive a verification email shortly.
There was a problem. Please refresh the page and try again.