Lenovo Flex 6 14 review: Premium look with a few compromises
An attractive convertible laptop with a bargain price.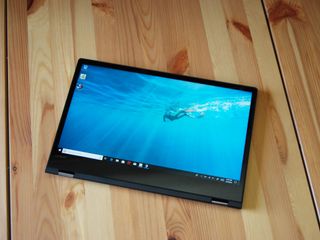 The Flex series of IdeaPad convertible laptops from Lenovo is all about offering a similar experience to what you'd find with the Yoga lineup, albeit at a far cheaper price. I reviewed the 15-inch Flex 5 last year and came away impressed with what was on offer at the price, even if there were a few concessions.
I have here now the refreshed 14-inch Flex 6. There are some seriously cheap configurations (starting at about $480), though they employ 768p displays or Pentium CPUs to cut costs. This review unit, which costs a modest $730, has an 8th Gen Intel processor (CPU), 1080p touch display, discrete NVIDIA MX130 graphics (GPU), and an optional active pen for Windows Ink. Let's see how it stands up after about a week of regular use.
Premium look, affordable price
Lenovo Flex 6 (14")
Bottom line: The Flex 6 looks like a premium laptop and has an above-average keyboard, though costs were cut on the display and battery.
Pros
Keyboard and touchpad are stellar.
Great performance.
Premium design and solid build.
Decent selection of ports.
Cons
Costs were cut on the display.
A bit heavy for a tablet.
Battery won't last through a workday.
What you'll love about the Lenovo Flex 6 (14")
The Flex 6 is using the same onyx black color for its chassis, and it's just as nice as I remember for the Flex 5. The matte finish on the outside does pick up oil from your hands, but it wipes down fairly easily. On the inside, the palm rest is a brushed aluminum that does a fantastic job of hiding oil and smudges.
Most of the chassis is made up of a PC-ABS plastic and glass fiber composite mix, and it feels entirely sturdy and durable. The lid has almost no flex to it at all, which is a good thing on a laptop where you'll regularly be converting it around to tablet mode. Overall the Flex 6 feels like a premium laptop, copying the Yoga's new design with a bit of an overbite when closed. It's relatively thin at 0.69 inches (17.6mm), and the hinges are sturdy as ever.
Swipe to scroll horizontally
Category
Spec
Form factor
Convertible notebook
Display
14-inch FHD (1,920 x 1,080) IPS, touch
Processor
8th Gen Intel Core i5-8250U
Graphics
NVIDIA GeForce MX130 (2GB GDDR5)
RAM
8GB DDR4-2400MHz
Storage
256GB PCIe SSD
Battery
Four-cell 45Wh
Wireless
Realtek 8822E
802.11ac
Bluetooth 4.2
Ports
Two USB-A 3.0, USB-C 3.0, HDMI, SD card reader, 3.5mm audio
Size
12.91 in x 9.01 in x 0.69 in (328mm x 229mm x 17.6mm)
Weight
3.68 pounds (1.67kg)
OS
Windows 10 Home
There is a decent selection of well-spaced ports here, including two USB-A 3.0, USB-C 3.0, HDMI, and an SD card reader (which doesn't go very deep or have a click mechanism). There's likewise a fingerprint reader set into the right palm rest, far enough out of the way to avoid rubbing against your palm while typing, and two down-firing Harman speakers on the bottom of the chassis deliver a decent amount of sound. A 720p webcam located above the display gets the job done, but don't expect anything special.
There weren't any standout issues with performance that I noticed and benchmarking confirmed my experience. The 8th Gen Intel Core i5-8250U hit a 3,988 single-core and 11,772 multi-core score on the Geekbench 4 test, while the discrete NVIDIA MX130 hit a score of 32,133. You're getting similar or superior (8th Gen has four cores) CPU performance compared to the 7th Gen Core i7-7500U, and the MX130 GPU is comparable to the older 940MX. It's good for some medium gaming and will run most popular esports titles.
The SSD here is a Samsung PM961, which is a nice touch for a budget laptop. Read speeds hit 3,361.1MB/s and write speeds hit 1,291.1MB/s, both excellent scores. I'm not sure if the cheaper Flex 6 models receive the same high-end SSD, so you'll probably want to confirm before buying. I ran a PCMark Home Conventional test to see how well everything runs together and came back with a score of 2,944, beating out 57 percent of all other results.
Finally, the keyboard and touchpad are absolutely spot on. Like the older Flex 5, this is one of the comfiest keyboards out there, rivaling even the ThinkPad. Keys have a slight cup to them, they're easy to press yet have a satisfying click, and there's plenty of travel and a soft landing when you hit the deck. The Precision touchpad is huge — which I love — and has a mylar finish for smooth tracking. For any writers out there who type all day, this keyboard is good enough that you could buy the cheapest model and use it as a premium-looking productivity machine.
Image 1 of 6
What you'll hate about the Lenovo Flex 6 (14")
The Flex 6's chassis undoubtedly looks premium and feels durable, but at 3.68 pounds (1.67kg) some might find it a bit heavy for use as a tablet. On a related note, the touch display is clearly where costs were cut. It's dim, reaching at most 250 nits but seemingly not quite that high, and color gamut is low. It hit just 69 percent sRGB and 52 percent AdobeRGB, and this is the pricier 1080p option. An optional active pen with 2,048 levels of sensitivity is available separately, and in testing, it worked as it should. My gripe here is that it's still using the USB-A clip to keep it attached when on the go.
Other than the underwhelming display, the other issue I have is with the 45Wh battery. Lenovo claims that it can deliver about 10 hours of life from a single charge and can give you a couple hours of life from just 15 minutes plugged in, but those are some lofty estimates. While streaming video at maximum brightness (you almost always need to have it cranked up), I saw about three hours of life. When typing and some odd web browsing, you can likely double that number, but this isn't a laptop that you can separate from its charger when heading to work.
Image 1 of 3
Lenovo Flex 6 (14") bottom line
Lenovo's 14-inch Flex 6 is much like last year's Flex 5. It's a slick-looking convertible that by all means seems built to last, and it has the hardware inside to tackle a number of tasks with ease, including a bit of light to medium gaming. Considering the price, though, there are some concessions to be expected. The display is dim and doesn't have great color, and the battery won't last through a full day of work.
That being said, if you're in search of a premium laptop but can't afford premium prices, definitely check out the Flex 6. For those who type all day, the keyboard is a knockout and there are enough ports that you won't have to worry about dongles. It might seem a bit heavy for a tablet but it remains functional, and the price is certainly right.
Windows Central Newsletter
Get the best of Windows Central in in your inbox, every day!