Lenovo refreshes ThinkPad Helix with Broadwell CPUs, announces Edge 15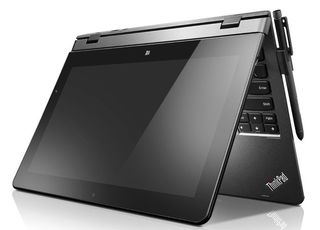 At the IFA, Lenovo announced a new 2-in-1 ThinkPad Helix designed for business users along with the Edge 15 dual-mode notebook that features a 300 degree hinge.
Featuring a full-HD display, the new ThinkPad Helix is lighter and thinner, with the tablet portion weighing in at 1.8 pounds and boasting a thickness of 0.38 inches, which is 15 percent thinner than its predecessor. The detachable design means that you can use the Helix in five modes: Tablet, Stand, Tent, Laptop, and Desktop. Under the hood, the new Helix will be powered by Intel's latest Core M "Broadwell" line of processors, and will feature 8 GB of RAM and a 256 GB SSD. Running on Windows 8.1 Pro, the Helix comes with Lenovo's software utilities like Lenovo Reach, a cloud storage solution, and Lenovo ShareIt, an easy file transfer solution.
Along with the standard keyboard dock, Lenovo is offering a Pro keyboard dock that features an extended battery that is claimed to last 12 hours. The Pro keyboard dock also comes with a connector for storing the digitizer pen. The standard dock comes with a battery that lasts 8 hours.
The ThinkPad Helix will be available in October with prices starting from $999. The Pro keyboard dock will be available from January 2015.
While the ThinkPad Helix is mainly focused at the business segment, the Edge 15 is targeted at mainstream users. With under an inch thin and weighing just over five pounds, the Edge 15 is Lenovo's thinnest 15-inch notebook. Featuring an aluminium design, a backlit keyboard and a 300-degree hinge that allows you to twist the screen back and lay the notebook flat on the keyboard, the Edge 15 is a more premium version of the Flex 2.
In terms of hardware, you get a 15.6-inch full-HD multi-touch screen, fourth generation Intel Haswell-based Core i5 or i7 processors, 8 GB DDR3L RAM, up to 1 TB SSHD Drive including an integrated 16 GB SSD or a standalone SSD up to 256 GB and an Nvidia GT840M with 4 GB dedicated video memory. Lenovo has mentioned that the Edge 15 will be available to consumers at Best Buy and Lenovo's website starting October from $899.
Are you guys excited about the ThinkPad Helix? What do you think of the Edge 15?
Windows Central Newsletter
Get the best of Windows Central in in your inbox, every day!
Harish Jonnalagadda is a Senior Editor overseeing Asia for Android Central, Windows Central's sister site. When not reviewing phones, he's testing PC hardware, including video cards, motherboards, gaming accessories, and keyboards.
In the title you have mentioned Broadwell, but in the specs you have mentioned Haswell.. Which one is right?

It's the Helix that has the Broadwell CPU I believe......the Edge 15 has Haswell

Helix is running "Core M" which is Broadwell-Y. http://en.wikipedia.org/wiki/Broadwell_(microarchitecture) Edge 15 is running Haswell.

Broadwell is for the Helix, whereas the Edge 15 comes with Haswell

I was really hoping that Lenovo would come out with something that competes with the Surface Pro 3 in terms of performance, design, and would include an active digitizer. I'll need to get an idea of the performance difference between the Haswell and the Core-M chips, but 256 GB SSD, 8 GB RAM, Win 8.1 Pro, and an active digitizer for $999 sounds pretty damn tempting from the get go. There's also the matter of 15" 16:9 versus 12" 3:2. I think the Surface Pro 3 may have the edge in the OneNote department.

The Helix is definitely a Surface Pro competitor. The direction they've gone with the keyboards is a little diffedrent, but they are probably the same category of device.

Oh wow, the Helix seems to be squarely targeted at the Surface Pro 3. Tempting... will have to wait for reviews though. Also you say "lay the notebook flat on the keyboard." Wouldn't that have to be a 360 degree hinge?

360 would bring it back to where it started. To lay flat on the table you only need 180 degrees.

Finally, but too late in my case as I recently bought the Surface Pro 3...

I wish there was a 13 - 15" version of the Helix. 11" is just too small for a laptop replacement.

What's the screen size on the Helix? I looked through the article a couple of times but didn't see that listed.

Man, I have been waiting for a helix with haswell, but it never came. So I just got an i7 surface pro 3. Now a broadwell helix comes out? Man... It looks like it would be cheaper than my sp3 256gb i7 too! Still thrilled with my sp3 so I really have no reason to complain.

This was the machine I wanted when the first and second surface came out. But they were expensive and had older CPU's. Now this comes out at a great price and includes a dock that effectively puts to rest any concerns people have about the surface not having a laptop feel and keyboard. Good job Lenovo... Although I do have a surface pro 3 and love it. Maybe next time.

I hope they release a version with AT&T LTE. Our current Helix models have it and come in very handy when there is no free wifi around. One feature I wish the Surface Pro 3 had.

Handed down my original Helix to my wife when I got my SP3. Now I'm wondering if one my my kids "needs" an SP3. The Helix was one of my all time favorite devices. The only killer was battery life in tablet mode. It looks like that issue is resolved and there is a Pro KB coming that adds even more battery.
Windows Central Newsletter
Thank you for signing up to Windows Central. You will receive a verification email shortly.
There was a problem. Please refresh the page and try again.