Lenovo ThinkPad T490 vs. ThinkPad T480: Which should you buy?
Windows Central is full of dedicated and experienced tech users that use a variety of systems and devices. When we compare and contrast two laptops, you can rest assured knowing that we know what we're talking about.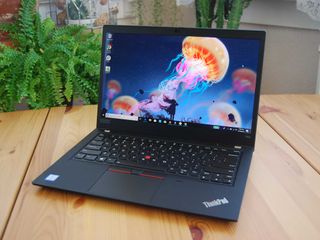 Best Overall

The Lenovo ThinkPad T490 is the better overall choice of these two devices. It features a more crisp and powerful display, stronger hardware, a lighter and thinner design, and better Bluetooth wireless connectivity. However, it has a worse overall battery life, and it's pricier.
For
Powerful display
Stronger hardware options
Lighter and thinner design
Better Bluetooth wireless
Against
Weaker battery life
No removable battery
More expensive
Best Battery

The Lenovo ThinkPad T480 is a less powerful, less expensive alternative to the ThinkPad T490, offering stronger battery life and a removable battery in exchange for lower performance and a less compact design.
For
Longer battery life
Has a removable battery
Less expensive
Against
No HDR display
Less powerful hardware options
Heavier and thicker design
Worse Bluetooth wireless
These two devices are pretty similar, but the Lenovo ThinkPad T490 is the better overall laptop as it has stronger hardware performance, a better display, and a more compact frame. However, the Lenovo ThinkPad T480 is no slouch, offering decent performance and more battery flexibility for a lower price.
T490 vs. T480: Overall quality or battery specialization?
Image 1 of 2
To put it bluntly, the Lenovo ThinkPad T490 is better than the ThinkPad T480 in nearly every way. The best thing about the ThinkPad T490 is its display; it can have up to a 1440p resolution with 500 nits of brightness, full HDR, and 100% color accuracy across both sRGB and AdobeRGB.
In comparison, the best display you can opt for with a ThinkPad T480 is a 1440p screen without HDR, and also without nearly as good of a color gamut or brightness maximum. The ThinkPad T490 also has options for an NVIDIA GeForce MX 250 GPU and an Intel Core i7-8565U processor, both of which outperform the NVIDIA GeForce MX 150 and Intel Core i7-8650U options available with the ThinkPad T480 respectively.
Even when it comes to minimum specs, the ThinkPad T490 has slightly more capable hardware. In addition, the Bluetooth connectivity of the ThinkPad T490 is stronger and more stable since it utilizes Bluetooth 5.0, as opposed to the older Bluetooth 4.1. Both laptops can be fitted with 1TB of SSD storage and up to 32GB of RAM.
As we move on to physical design, the ThinkPad T490 keeps on winning. It's considerably smaller and thinner than the ThinkPad T480, and it's also much lighter, coming in with a maximum possible weight of 3.67 pounds, only slightly heavier than the minimum possible weight of a ThinkPad T480, which is 3.6 pounds. The lowest weight you can achieve with the ThinkPad T490 is 3.17 pounds.
Swipe to scroll horizontally
| Header Cell - Column 0 | Lenovo ThinkPad T490 | Lenovo ThinkPad T480 |
| --- | --- | --- |
| Processor | Up to i7-8565U | Up to i7-8650U |
| Graphics | Up to NVIDIA GeForce MX 250 | Up to NVIDIA GeForce MX 150 |
| RAM | Up to 32 GB | Up to 32 GB |
| Storage | Up to 1 TB SSD | Up to 1 TB SSD |
| Display | 14", up to 1440p with HDR | 14", up to 1440p |
| Wireless | Bluetooth 5.0 | Bluetooth 4.1 |
| Battery | 50 Wh (7 hours) | 24 Wh internal, up to 72 Wh external (15 hours combined) |
| Dimensions (W x D x H) | 329mm x 227mm x 17.9mm | 336.6mm x 232.5mm x 19.95mm |
| Weight (minimum) | 3.17 pounds | 3.6 pounds |
Without a doubt, the Lenovo ThinkPad T490 is the winner in most categories. However, the ThinkPad T480 has an ace up its sleeve: battery life. Unfortunately, Lenovo got rid of the removable battery feature that was in the ThinkPad T480 when it designed the T490, trying to compensate by increasing the power of the internal battery to 50Wh instead of 24Wh. Even so, the standard 24Wh internal and external battery combo of the T480 gets nine hours of battery life, which trumps the seven hours of the ThinkPad T490's single 50Wh internal battery.
You can also choose to configure your ThinkPad T480 with a 72Wh external battery instead of a 24Wh one, which brings the total potential battery life of a fully-charged ThinkPad T480 to about 15 hours. This is more than double that of the ThinkPad T490, meaning that no matter what, the ThinkPad T480 is the king of longevity in this laptop duel.
T490 vs. T480: Which should you buy?
At the end of the day, the Lenovo ThinkPad T490 is the much better laptop choice for most people. The battery life, while not as great as its predecessor's, is by no means bad or terrible, and the improved hardware performance, higher-quality display, lower weight, and smaller frame all make it a better device for doing work, whether you're at home or on the go.
That being said, the Lenovo ThinkPad T480 isn't a bad computer by any stretch. It may lack the power of its newer relative, but it isn't weak, and you'll still be able to do most work tasks with it without much issue. The extended battery life will be hugely useful if you're someone who spends a long time away from your charging cable, and the 72Wh external battery option will allow you to get two entire days' worth of work done on a full charge, provided you turn the device off when not in use. In addition, it's also less expensive, which is great for people looking to save money.
Best Overall
Better in (almost) every way

The Lenovo ThinkPad T490 has a richer and brighter display, stronger processor, lighter weight, and smaller frame than its predecessor, making it the better overall choice and a fantastic laptop.
Best Battery
Lasts longer

While it isn't as compact or powerful as its newer T490 brother, the Lenovo ThinkPad T480 is great in its own right, and boasts a significantly higher battery life.
Windows Central Newsletter
Get the best of Windows Central in your inbox, every day!
Brendan Lowry is a Windows Central writer and Oakland University graduate with a burning passion for video games, of which he's been an avid fan since childhood. You'll find him doing reviews, editorials, and general coverage on everything Xbox and PC. Follow him on Twitter.