Lenovo ThinkPad T480 review: A lot to love about this business notebook
An outstanding laptop with an "OK" display.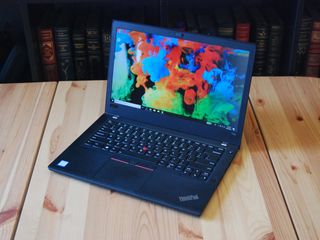 Last year I reviewed the ThinkPad T470 and came away impressed with what was on offer. Here was a laptop with a hot-swappable battery, lots of ports, a great keyboard, and the needed performance to get through a day's work. It also was plagued by a dim display and poor speakers, things that most business-oriented laptops suffer from.
Here now is the refreshed ThinkPad T480, with 8th Gen Intel Core CPUs, more display choices, a discrete GPU option, and a chassis that's nearly identical. Let's take a look at where it has improved over last year and how well it fares in the business market as a whole.
About this review
Lenovo loaned Windows Central a review unit of the ThinkPad T480, refreshed for 2018. This specific model has inside an 8th Gen Intel Core i5-8250U processor (CPU), 8GB of DDR4 RAM, a 256GB PCIe solid-state drive (SSD), and a 14-inch 1080p display. Expect to pay about $1,225 for this exact model, though prices start at about $860 if you can live with a 768p display, Core i3 CPU, SATA hard-disk drive (HDD), and 4GB of RAM.
Lenovo ThinkPad T480 review hardware and specifications
Swipe to scroll horizontally
Category
XX
Processor
8th Gen Intel Core i5-8250U
Quad-core
Display
14-inch
1,920 x 1,080 (FHD)
IPS, matte
RAM
8GB DDR4-2400MHz
Storage
256GB PCIe M.2 SSD
Graphics
Intel UHD Graphics 620
Ports
Two USB-A 3.1
USB-C 3.1
Thunderbolt 3
HDMI 1.4b
RJ-45 Ethernet
nano SIM (optional)
SD card reader
Smart card reader (optional)
3.5mm audio
Speakers
Dual 2W stereo
Wireless
Intel Dual Band Wireless AC-8265
802.11ac (2 x 2)
Bluetooth 4.1
Camera
Front-facing 720p
Security
dTPM 2.0
Keyboard
Backlit
Touchpad
Precision
Biometrics
Fingerprint reader
IR camera (optional)
Battery
24Wh internal
24Wh external (optional)
72Wh external (optional)
Weight
Starting at 3.6 pounds (1.63 kg)
Dimensions
13.25 in x 9.15 in x 0.78 in
(336.6 mm x 232.5 mm x 19.95 mm)
Lenovo ThinkPad T480 review design and features
Lenovo has kept the standard ThinkPad black color with a bit of sparkle in the finish, and the chassis is mostly the same size as last year's T470. It's made from a combination of magnesium hybrid and glass-fiber reinforced plastic, and the entire thing has undergone MIL-STD-810G durability testing. Picking it up, it certainly feels sturdy at about 3.6 pounds (1.63 kg), and there's not much flex at all in the lid or bottom. This isn't the lightest nor the thinnest 14-inch laptop, but this is a workhorse, and that's what it resembles.
The back panel is easily removed — there are six Phillips-head screws — and from there you can upgrade or replace storage, RAM (there are two RAM slots, one is unused), Wi-Fi card, and LTE card. Everything is right at the top, and there's hardly any digging needed to find these pieces. For those who want to buy light right now and save a bit of coin, know that it will be easy to keep this machine running for years to come.
Image 1 of 3
Also on the back is a hot-swappable battery that comes in either 24Wh (the one I have here) or 72Wh options. The internal battery is likewise 24Wh, giving this review unit a total of 48Wh and a combined runtime of just below nine hours. Adding the 72Wh battery to the mix would make the laptop heavier and bulkier, but you could no doubt get a couple of days of power out of the combination, perfect for long flights or time on the road.
Gone from the back, however, is the CS13 port that was used to connect to older docking stations. On the left side of the laptop there's instead a dock connector that attaches to the newer Lenovo Ultra docking station (opens in new tab). Other than the dock connector, you're also getting USB-C (doubles as a charging port), an optional smart card reader, and a Thunderbolt 3 port (with 4x lanes PCIe) on the left side. On the right, you have two USB-A 3.1, HDMI 1.4b, RJ45 Ethernet, an SD card reader, and a 3.5mm audio jack. Everything is well spaced, so using multiple peripherals at once shouldn't be a problem.
Image 1 of 2
A fingerprint reader sits just to the right of the keyboard, keeping it well out of the way of your palm while typing. You can also opt for an IR camera for Windows Hello, but in that case, you'll forego the shutter that can quickly and easily disable your 720p webcam. I've dealt with far less conventional methods of hiding my webcam for years, so I love this little feature.
Finally, inside is a dTPM 2.0 chip for that added bit of security and to allow system admins to do their thing, as well as a spot for an optional LTE chip. As a whole, this is a well-built laptop with sturdy hinges, a durable body, and plenty of connectivity options.
Lenovo ThinkPad T480 review keyboard and touchpad
As in most cases, the ThinkPad keyboard here is outstanding. There's plenty of key travel, there are three levels of backlight, and the cupped keys are a joy to touch. They make a satisfying click when typing, but they're soft when you bottom out. Having the Function key swapped with the Ctrl key does take a bit of getting used to, but it's a small issue that can be fixed at the software level.
The Precision touchpad is relatively large, allowing plenty of room for Windows 10 gestures. It's coated with mylar to make it smooth, and indeed it tracks well. For the diehard ThinkPad fans out there, there's still the TrackPoint system with little red nub and physical buttons.
The material used on the palm rests isn't quite as soft touch as the rest of the laptop, helping keep away smudges from palms and fingers. Still, it will require a wipe down once in awhile to keep it looking pristine.
Lenovo ThinkPad T480 review display
Image 1 of 2
The ThinkPad T480 has a 14-inch display available as low as 768p and as high as 1440p. The review unit has a non-touch 1080p display, but you can also get it with touch. All models have a matte finish that seriously cuts down on glare; I tried working with sun directed at it, and while one corner was shot, the rest remained completely visible. If you often take your laptop outside, this will be important.
Still, it's not quite as bright as I'd like it to be, something that I noted with last year's T470. As for color reproduction, testing brought back 65 percent sRGB and 48 percent AdobeRGB, both poor results. This isn't a great color gamut, but then again this is a business laptop. From the spec sheet, it does seem like the 1440p display gets brighter (about 300 nits compared to 250 here), but I can't say for sure without testing.
The bezel around the display has the same design as the ThinkPad X280, which had some plastic peeling away along the bottom. There's no sign of the same issue here on the T480, with everything sitting flat all the way around.
Lenovo ThinkPad T480 review performance
This review unit is pretty basic, with an 8th Gen Core i5-8250U CPU, 256GB PCIe SSD, 8GB of RAM, and no discrete graphics. There is a lower model with a Core i3 CPU and HDD, but that really should be reserved for bulk Enterprise purchases. If you wish, you can add an NVIDIA MX150 discrete GPU with 2GB of VRAM to the mix, but that's only if you opt for a vPro CPU.
In any case, this model kept quiet and cool when under pressure. You can tell there's a fan inside when it's running, but it's hardly audible. If you have some music playing over the dual speakers — which this time around seem to pump out better audio than the T470 — you won't hear the fan at all.
I used the ThinkPad T480 as a main driver for about a week and didn't come across any outstanding performance issues. It powered through the tasks I gave it, like word processing, heavy web browsing, and video watching, without a problem.
CPU
Geekbench 4.0 benchmarks (higher is better)
Swipe to scroll horizontally
| Device | CPU | Single core | Multi core |
| --- | --- | --- | --- |
| Lenovo ThinkPad T480 | i5-8250U | 3,940 | 12,559 |
| Lenovo ThinkPad T470 | i5-7300U | 4,394 | 8,580 |
| Lenovo ThinkPad X1 Tablet | i7-8650U | 4,971 | 14,289 |
| Microsoft Surface Pro | i7-7660U | 4,513 | 9,346 |
| Lenovo ThinkPad X1 Carbon | i7-8650U | 5,025 | 14,178 |
| Dell XPS 13 (9370) | i7-8550U | 4,681 | 14,816 |
| Lenovo Yoga 730 13 | i5-8250U | 4,178 | 13,354 |
| Lenovo ThinkPad X280 | i5-8250U | 4,061 | 13,017 |
| LG gram 15 | i7-8550U | 5,033 | 12,906 |
| Samsung Notebook 9 Pro 15 | i7-7500U | 4,431 | 8,669 |
The 8th Gen quad-core Core i5 CPU performs admirably well, matching closely with a lot of Core i7 CPUs we've tested. Multitasking was a breeze, and there weren't any snags to report.
GPU
Geekbench 4.0 OpenCL (higher is better)
Swipe to scroll horizontally
| Device | Compute score |
| --- | --- |
| Lenovo ThinkPad T480 | 18,245 |
| Lenovo ThinkPad T470 | 21,276 |
| Lenovo ThinkPad X1 Tablet | 22,211 |
| Microsoft Surface Pro | 30,678 |
| Lenovo Yoga 730 13 | 21,000 |
| Lenovo ThinkPad X280 | 21,142 |
| LG gram 15 | 22,334 |
| Samsung Notebook 9 Pro 15 | 19,769 |
Nothing exciting expected here, as the laptop is using integrated Intel UHD Graphics 620. An upgrade to the discrete NVIDIA MX150 would substantially boost this score, providing a bit of extra oomph for multimedia editing or light gaming.
PCMark
PCMark (Home Conventional 3.0)
Swipe to scroll horizontally
| Device | Score |
| --- | --- |
| Lenovo ThinkPad T480 | 3,254 |
| Lenovo ThinkPad T470 | 3,103 |
| Lenovo ThinkPad X1 Tablet | 3,059 |
| Microsoft Surface Pro | 3,055 |
| Lenovo Yoga 730 13 | 3,121 |
| Lenovo ThinkPad X280 | 3,335 |
| LG gram 15 | 3,395 |
| Samsung Notebook 9 Pro 15 | 3,542 |
The PCMark Home Conventional test measures how well the hardware in a laptop works together to accomplish usual tasks. Altogether, the T480 beat out a lot of laptops using Core i7 CPUs and came close to many others. No problems here.
SSD
CrystalDiskMark (higher is better)
Swipe to scroll horizontally
| Device | Read | Write |
| --- | --- | --- |
| Lenovo ThinkPad T480 | 1,738.1 MB/s | 1,174.9 MB/s |
| Lenovo ThinkPad T470 | 1,079 MB/s | 716.1 MB/s |
| Lenovo ThinkPad X1 Tablet | 3,398.1 MB/s | 1,946.6 MB/s |
| Microsoft Surface Pro | 1,284 MB/s | 963 MB/s |
| Lenovo Yoga 730 13 | 2,790.6 MB/s | 506.8 MB/s |
| Lenovo ThinkPad X280 | 3,366.1 MB/s | 1,901.5 MB/s |
| LG gram 15 | 554.1 MB/s | 449.6 MB/s |
| Samsung Notebook 9 Pro 15 | 549.9 MB/s | 519.3 MB/s |
The ThinkPad T480 is using a Samsung PM961 M.2 SSD. Performance is speedy, though it can't touch something like the PM981 found in the ThinkPad X1 Tablet. Keep in mind that supply usually dictates what sort of SSD a manufacturer uses, so there's no guarantee you'll be getting the same hardware as I have here.
Lenovo ThinkPad T480 review conclusion
The ThinkPad T480 is a business laptop through and through, and if not for the dim display and poor color reproduction, it would receive full marks. There are plenty of configurations that will appeal to bulk purchases as well as single personal device buys.
You're getting standard ThinkPad durability, one of the best keyboards on the market today, and the performance needed to get through a day's work, including an optional discrete GPU. You won't have to worry about carrying your charger with you to work, nor will you need a bag full of dongles to connect your peripherals. If you're in the market for a capable laptop that you can haul with you day in and day out, definitely consider the ThinkPad T480.
Pros:
User accessible and upgradeable.
Hot-swappable battery.
Great keyboard and touchpad.
Steady, able performance.
Plenty of ports.
Cons:
Windows Central Newsletter
Get the best of Windows Central in your inbox, every day!
Senior Editor, Laptop Reviews
Cale Hunt is formerly a Senior Editor at Windows Central. He focuses mainly on laptop reviews, news, and accessory coverage. He's been reviewing laptops and accessories full-time since 2016, with hundreds of reviews published for Windows Central. He is an avid PC gamer and multi-platform user, and spends most of his time either tinkering with or writing about tech.
Not 6 cores 12 threads - Next!

Lenovo! Pls take Lenovo Y50 with UHD casing and put in graphic card Nvidia 1050, i7-8750, with possibility to upgrade to 32GB ram for under 1750€ I buy immediately.

Lenovo display is always inferior to it's competitors. My company issues ThinkPad for me and that's so true.

Still I would like HP and Lenovo to offer i7 8750 6 core competitive notebooks. Not use for game or graphics, but many VMs for distributed programming.

Even if adding a new kind of dock connection, they should have kept the original dock connector on the bottom. Every desk in our office has that dock, we simply consider going to something else completely as far as laptop goes now that the dock doesn't keep us in that family anymore.

It still looks like the IBM thinkpad from 20 years ago. I don't know how that is beautiful...Just sayin.

It's a work computer, having a modern look isn't important but the Thinkpad always have that professional charisma.

I have seen a lot of work computers and they don't look like their 20 year old siblings.

T450 user here, definitely love the design and durability, would like a better display but I don't think it's a deal breaker, I use an external display when I am at the office. Overall great machine.

Oh no....not another review with washed out pics on a wooded surface.....the X1 Carbon pics were horrible enough....