Lenovo ThinkPad X380 Yoga review: A fine 13-inch alternative to the X1 Yoga
Slim and portable, the X380 Yoga is a worthwhile convertible addition to Lenovo's X Series.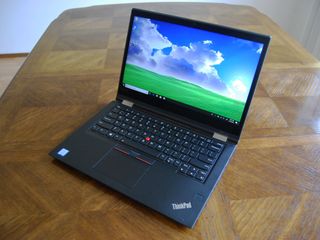 Lenovo's push to create slim, portable ThinkPads has been paying off, with the X1 Carbon and X1 Yoga coming in as two of the best laptops we reviewed this year. I have here now the X380 Yoga, a 13-inch laptop that certainly looks like a classic ThinkPad yet has convertible function and a very slim build.
It's the successor to the ThinkPad Yoga 370, and it's slimmer and lighter while holding onto ports and basic functionality. Let's take a close look in our review to see whether or not the ThinkPad X380 Yoga is worth your time and money.
About this review
Lenovo loaned Windows Central a review unit of the ThinkPad X380 Yoga. This specific model has inside an 8th Gen Intel Core i5-8250U processor (CPU), 8GB of DDR4-2400MHz RAM, a 512GB PCIe M.2 solid-state drive (SSD), and a 13.3-inch FHD (1,920 x 1,080) touch display. Expect to pay about $1,285 for this model with Windows 10 Pro, though you can get close to the $1,000 mark by opting for a 128GB SATA SSD and Windows 10 Home.
Lenovo ThinkPad X380 Yoga hardware and specifications
Swipe to scroll horizontally
Category
XX
Processor
8th Gen Intel Core i5-8250U
Quad-core
Display
13.3-inch
1,920 x 1,080 (FHD)
IPS touch
RAM
8GB DDR4-2400MHz
Storage
512GB PCIe M.2 SSD
Graphics
Intel UHD Graphics 620
Ports
Two USB-A 3.1
Thunderbolt 3
HDMI
Mini RJ45 Ethernet
microSD card reader
3.5mm audio
Speakers
Dolby Premium audio
Wireless
Intel Dual Band Wireless AC-8265
802.11ac (2 x 2)
Bluetooth 4.1
Camera
Front-facing 720p
IR camera (optional)
Security
dTPM 2.0
Biometrics
Fingerprint reader
Keyboard
Backlit with TrackPoint system
Touchpad
Precision
Battery
51Wh
Weight
From 3.08 pounds (1.4 kg)
Dimensions
12.3 inches x 8.75 inches x 0.70 inches
(313.5 mm x 222.2 mm x 18.2 mm)
Lenovo ThinkPad X380 Yoga design and features
The X380 Yoga has a standard ThinkPad soft-touch chassis that meets 12 MIL-SPEC standards to prove its durability, and it certainly feels like a well-built laptop. There's hardly any flex in the body, it doesn't creak when you pick it up, and the convertible hinges, which allow you to fold the display around for tent, stand, and tablet modes, are sturdy enough to keep the lid from shaking if you need to work while in a moving vehicle. If you're feeling blasphemous, a silver color option is available for an extra $30.
Sticking with the traditional black finish opens up the possibility of an IR camera for Windows Hello, which you do have to pay an extra $25 for and is not available on the silver color option. Both models come stock with a fingerprint reader set into the right palmrest, far enough out of the way that your hand won't rub against it while typing. In testing, it worked flawlessly and had me logged in seemingly as soon as I touched it. As for audio, it's a functional speaker that gets the job done; don't expect anything special.
Image 1 of 2
Ports are split up on either side and there's enough space between them to keep from getting jammed up when using multiple peripherals at once. On the left side, you get Lenovo's proprietary charging port, Thunderbolt 3 with 4x lanes of PCIe (which can also be used to charge if you're without your standard charger), USB-A, and a mini RJ45 port that needs a dongle to fit standard Ethernet cables. On the right side lives the ThinkPad Pen Pro — it's the skinny rechargeable style that has its own slot — an HDMI port, another USB-A, a microSD card reader, a 3.5mm audio jack, and a Kensington lock slot.
The X380 Yoga weighs the same as the X1 Yoga at 3.08 pounds (1.4 kg), though it does have a smaller display and fewer configuration options. Still, it's just as portable — perhaps even more so due to the smaller frame — and seems to be put together with the same attention to quality as the higher-end X-series laptops. If you're looking for a laptop that has the same sort of design but doesn't cost quite as much or take up quite as much space as the bigger sibling, the X380 is likely in focus.
Lenovo ThinkPad X380 Yoga display
The glass on the X380 Yoga's 13.3-inch touch display extends from edge to edge, meaning there isn't an annoying ledge to bump up against when trying to tap something in the corners. The bezel around the display is a bit lopsided, with a thin strip along the edges, a thicker strip along the top (no doubt to save space for models that opt for the IR camera), and again a larger chin along the bottom. It's nothing egregious, but on a 13.3-inch display, it's certainly more noticeable. When in tablet mode you might appreciate the size, as it's a bit easier to grab onto the laptop without accidentally hitting the screen.
The ThinkPad Pen Pro built into the laptop is of the skinny pencil style, and it has 2,048 levels of pressure sensitivity for an OK writing and drawing experience. You can quickly jot down notes in a meeting or get in some doodling while talking on the phone, but don't expect to paint a digital masterpiece.
A lot of ThinkPads suffer when it comes to brightness and color accuracy, but in testing I got back 97 percent sRGB and 75 percent AdobeRGB, both excellent results. Contrast seems to be spot-on as well, though I would love it if the display could go brighter than where it currently maxes out around 289 nits. Here there's only an FHD option, so those of you looking for at least 1440p will want to look elsewhere.
Lenovo ThinkPad X380 Yoga keyboard and touchpad
The keyboard on the X380 Yoga makes good on using a lot of chassis space, making for a typing experience that doesn't feel cramped. Keys are spaced well, there's plenty of travel and a soft landing when bottoming out, and you get the standard gamut of functions in the F-row. It's what you expect from a ThinkPad and I had no issues using it to type all day. With the display folded back into tablet mode, the deck around the keys actually rises up to sit flush. This prevents accidental key presses and provides some protection to the keys, and it seems to work flawlessly.
The TrackPoint system is still here and working as it should for those who like the red pointer and physical buttons, and the standard touchpad is using Precision drivers. The only problem here is that the touchpad is relatively small. If you're a fan of having a lot of room for gestures, this one will probably drive you mad for the first few weeks of use.
Lenovo ThinkPad X380 Yoga performance
These thin ThinkPads have ditched a hot-swappable battery to save space, but the 51Wh option inside gets about eight hours of life from a single charge when used in a standard office manner (word processing, web browsing, light multimedia editing). It charges quickly with the proprietary brick, filling up to about 75 percent in an hour.
There are nine screws holding the back in place, and inside you can get at the SSD for a swap later down the road when you need more space. Unfortunately, RAM is soldered to the board, so no upgrades there. Inside is a dTPM 2.0 chip for some added security, and the laptop is Fast Identity Online (FIDO) enabled for extra online safety.
I never felt the X380 Yoga get very hot, likely thanks to a good-sized fan inside that you will hear kick on when under load. Nothing terrible, but it's not exactly whisper quiet, either.
CPU
Geekbench 4.0 benchmarks (higher is better)
Swipe to scroll horizontally
| Device | CPU | Single core | Multi core |
| --- | --- | --- | --- |
| Lenovo ThinkPad X380 Yoga | i5-8250U | 4,242 | 11,996 |
| HP ZBook 15u G5 | i7-8650U | 4,853 | 16,075 |
| Lenovo ThinkPad T480 | i5-8250U | 3,940 | 12,559 |
| Lenovo ThinkPad T470 | i5-7300U | 4,394 | 8,580 |
| Lenovo ThinkPad X1 Tablet | i7-8650U | 4,971 | 14,289 |
| Microsoft Surface Pro | i7-7660U | 4,513 | 9,346 |
| Lenovo ThinkPad X1 Carbon | i7-8650U | 5,025 | 14,178 |
| Dell XPS 13 (9370) | i7-8550U | 4,681 | 14,816 |
| Lenovo Yoga 730 13 | i5-8250U | 4,178 | 13,354 |
| Lenovo ThinkPad X280 | i5-8250U | 4,061 | 13,017 |
| LG gram 15 | i7-8550U | 5,033 | 12,906 |
| Samsung Notebook 9 Pro 15 | i7-7500U | 4,431 | 8,669 |
The Core i5-8250U CPU performed quite well in the single-core test, and with four cores engaged it again hit somewhere around the usual mark. Those who plan on some serious multitasking can always opt for the Core i7 model for extra power.
GPU
Geekbench 4.0 OpenCL (higher is better)
Swipe to scroll horizontally
| Device | Compute score |
| --- | --- |
| Lenovo ThinkPad X380 Yoga | 21,384 |
| HP ZBook 15u G5 (AMD) | 42,071 |
| Lenovo ThinkPad T480 | 18,245 |
| Lenovo ThinkPad T470 | 21,276 |
| Lenovo ThinkPad X1 Tablet | 22,211 |
| Microsoft Surface Pro | 30,678 |
| Lenovo Yoga 730 13 | 21,000 |
| Lenovo ThinkPad X280 | 21,142 |
| LG gram 15 | 22,334 |
| Samsung Notebook 9 Pro 15 | 19,769 |
Integrated Intel UHD Graphics 620 are enough for some light gaming and multimedia editing, but don't rely on this laptop for anything special.
PCMark
PCMark (Home Conventional 3.0)
Swipe to scroll horizontally
| Device | Score |
| --- | --- |
| Lenovo ThinkPad X380 Yoga | 2,861 |
| HP ZBook 15u G5 | 3,323 |
| Lenovo ThinkPad T480 | 3,254 |
| Lenovo ThinkPad T470 | 3,103 |
| Lenovo ThinkPad X1 Tablet | 3,059 |
| Microsoft Surface Pro | 3,055 |
| Lenovo Yoga 730 13 | 3,121 |
| Lenovo ThinkPad X280 | 3,335 |
| LG gram 15 | 3,395 |
| Samsung Notebook 9 Pro 15 | 3,542 |
The PCMark Home Conventional test measures how well the hardware in a laptop works together to accomplish usual tasks. The X380 Yoga scored lower than I expected here (I ran it a few time and this was the highest score), but it's still in the ballpark of where it should be. Using it for about a week, I didn't notice any standout issues with performance.
SSD
CrystalDiskMark (higher is better)
Swipe to scroll horizontally
| Device | Read | Write |
| --- | --- | --- |
| Lenovo ThinkPad X380 Yoga | 3,337.5 MB/s | 1,946.2 MB/s |
| HP ZBook 15u G5 | 3,448.0 MB/s | 1,566.4 MB/s |
| Lenovo ThinkPad T480 | 1,738.1 MB/s | 1,174.9 MB/s |
| Lenovo ThinkPad T470 | 1,079 MB/s | 716.1 MB/s |
| Lenovo ThinkPad X1 Tablet | 3,398.1 MB/s | 1,946.6 MB/s |
| Microsoft Surface Pro | 1,284 MB/s | 963 MB/s |
| Lenovo Yoga 730 13 | 2,790.6 MB/s | 506.8 MB/s |
| Lenovo ThinkPad X280 | 3,366.1 MB/s | 1,901.5 MB/s |
| LG gram 15 | 554.1 MB/s | 449.6 MB/s |
| Samsung Notebook 9 Pro 15 | 549.9 MB/s | 519.3 MB/s |
The M.2 Samsung PM981 SSD here is blazing fast. It's available at checkout in up to a 1TB configuration, and it can always be swapped out later if you'd prefer to save some money now.
Lenovo ThinkPad X380 Yoga conclusion
The ThinkPad X380 Yoga is a well-built laptop with few flaws. Yes, the touchpad might be a bit too small for my liking and it might seem like the bezel is a tad large (though in tablet mode you'll have something to grab onto), but the keyboard is tops, there are plenty of ports, and a built-in pen makes jotting down notes a breeze.
An optional IR camera and a standard fingerprint reader let you log in with Windows Hello quickly and easily, and it has available vPro CPUs with dTPM 2.0 chip for added security and easy management. There were no standout issues with performance while using this laptop, and the SSD is fast. Toss in a display with beautiful color and contrast, and you have a winner.
Who is this laptop for?
This is a great laptop for those who like the look of the X1 lineup but who don't want to pay quite as much or who don't need a 14-inch display. Going cheaper still, there's an L380 Yoga (starting at about $830) with a similar design and size, though there is no Core i7 option and no Thunderbolt 3 port.
Pros:
Speedy SSD that can be replaced.
Deep display color.
Lovely typing experience.
Great port selection.
Cons:
Small touchpad.
RAM and battery are stuck fast.
Windows Central Newsletter
Get the best of Windows Central in your inbox, every day!
Senior Editor, Laptop Reviews
Cale Hunt is formerly a Senior Editor at Windows Central. He focuses mainly on laptop reviews, news, and accessory coverage. He's been reviewing laptops and accessories full-time since 2016, with hundreds of reviews published for Windows Central. He is an avid PC gamer and multi-platform user, and spends most of his time either tinkering with or writing about tech.
Never mind the Trackpad being small. All a matter of personal taste, but I hate Trackpads and love the TrackPoint as a far more accurate device. For example, one can copy and paste with one hand and do it on a rattling train. Getting rid of the pad would leave more room for the keyboard.

From the picture it appears that the keyboard is not optimized for the chassis, an odd gaff from Lenovo. But it is a ThinkPad keyboard so I know it will be good. I'm happy to say the Dell's Latitude 7490 has a keyboard almost as good as the ThinkPad and it has the benefit that it's NOT a Lenovo. I know it was a few years ago but I'm shy about Lenovo since that malware/spyware debacle. A real shame as they make many compelling machines of generally very high quality (P, T & X series specifically).

Agreed, they have been caught 3 or 4 times. That is just to much to take them seriously anymore. Though I read somewhere that the Thinkpads were not shipped with the junk, only consumer models (Yoga) and iirc the Thinkpad Yoga or their Thinkpad consumer models.

We moved from Surface Pro's to these and have around 30 deployed to staff now. They're great.

Looks nice, still rather heavy for a 13 inch convertible. Something like 1.1 kg would have been a lot better in tablet mode and should be doable I think (/more magnesium instead of aluminum in the body).
Also a 16:10 could have been put in there (I know I am dreaming to much). @Cale Hunt, I think you should put touchpad physical buttons and thinkpad nipple as a positive point, that would be fair because you also put the smaller touchpad (as a result of the physical buttons) as a negative point (you get some, you lose some).