Lenovo Yoga C740 15 review: How does it compare to the 14-inch Yoga C740?
The larger Yoga C740 15 differs from its 14-inch sibling in more ways than just its body and screen size. Here's what you need to know.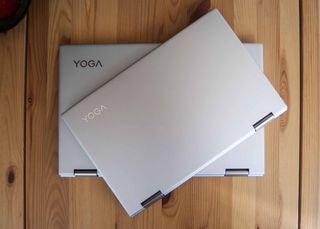 (Image credit: Windows Central)
I recently reviewed Lenovo's 14-inch Yoga C740, a mid-range convertible alternative to the high-end Yoga C940. In my review, I noted its solid aluminum design, robust audio from top-firing speakers, and excellent performance from the 10th Gen Intel Core "Comet Lake" processor (CPU). Following the review, I got my hands on the larger 15.6-inch Yoga C740 sibling that shares a lot of traits with the smaller version. It's not just a larger version of the same laptop, however, and there are some things you should know.
15-Inch Convertible
Bigger screen, more keyboard

Bottom line: The 15-inch Yoga C740 is right for anyone who absolutely needs the extra screen space and HDR support, though the 14-inch Yoga C740 is no doubt going to be better for most people.
Lenovo Yoga C740 15 at a glance
Lenovo supplied Windows Central with a review unit of the 15-inch Yoga C740 complete with 10th Gen Intel Core i7-10510U CPU, 12GB of DDR4 RAM soldered to the board and a 512GB M.2 PCIe solid-state drive (SSD) with integrated 32GB Intel Optane memory. It has an upgraded touch display with FHD resolution, 500 nits brightness, and Dolby Vision HDR400. This exact configuration costs about $970 from Lenovo (opens in new tab). That's about as premium as this laptop gets, unless you add up to 16GB of RAM, a 1TB SSD, and an active pen.
To compare prices, a 14-inch Yoga C740 with the same CPU, SSD, and RAM — though with an FHD touch display that tops out at 300 nits — costs about $920 from Lenovo (opens in new tab). It's not a huge price difference, but it is something, especially when we begin to look at what's on offer with the 15-inch option.
Here's a detailed breakdown of the specs found inside the 14- and 15-inch Yoga C740 review units.
Swipe to scroll horizontally
Category
Yoga C740 14
Yoga C740 15
OS
Windows 10 Home
Windows 10 Home
Processor
10th Gen "Comet Lake"
Intel Core i5-10210U
1.60GHz Base
4.20GHz Max
Four cores
10th Gen "Comet Lake"
Intel Core i7-10510U
1.80GHz Base
4.90GHz Max
Four cores
RAM
8GB DDR4-2666MHz
Soldered
12GB DDR4-2666MHz
Soldered
Graphics
Integrated
Intel UHD Graphics
Integrated
Intel UHD Graphics
Storage
512GB M.2 PCIe SSD
Upgradeable
512GB M.2 PCIe SSD
Upgradeable
Display
14 inches
1920x1080 (FHD)
Touch
IPS, glossy
Dolby Vision
15.6 inches
1920x1080 (FHD)
Touch
IPS, glossy
Dolby Vision HDR400
Ports
Two USB-C 3.1
USB-A 3.1
3.5mm audio
Two USB-C 3.1
Two USB-A 3.1
3.5mm audio
Audio
Top-firing
Dual 2W speakers
Dolby Atmos
Bottom-firing
Dual 2W speakers
Dolby Atmos
Wireless
Intel Wireless AC 9560
802.11ac (2x2)
Bluetooth 5.0
Intel Wireless AC 9560
802.11ac (2x2)
Bluetooth 5.0
Camera
Front-facing 720p
Front-facing 720p
Security
Fingerprint reader
Webcam shutter
Fingerprint reader
Webcam shutter
Battery
51Wh
65W AC adapter
60Wh
65W AC adapter
Dimensions
12.67 x 8.45 x 0.59 - 0.67 inches
321.8mm x 214.6mm x 14.9 - 16.9mm)
14 x 9.27 x 0.63 inches
(357.8mm x 235.35mm x 16.02mm)
Weight
From 3.09 pounds (1.4kg)
From 4.19 pounds (1.9kg)
Comparing Lenovo's Yoga C740 14 and C740 15
Image 1 of 2
The 14- and 15-inch Yoga C740s share the same solid aluminum chassis with firm dual-hinge design. They're nearly physically identical on the outside save for the size and port placement. The C740 15 weighs more than a pound over what the 14-inch model weighs; starting at 4.19 pounds (1.96kg), it's not the better choice for anyone who wants to take their laptop everywhere. This is a convertible, so there's also the matter of using it as a tablet. Weight and size make it a bit unwieldy, but it excels in stand mode.
The left side of the Yoga C740 15 has two USB-C ports (one used for charging) and a 3.5mm audio jack. On the right side are two USB-A ports, one more than the 14-inch Yoga C740 offers. That's especially welcome if you hate using a docking station and want to connect multiple accessories. However, both laptops will work with a powerful dock that relies on USB-C connectivity.
Image 1 of 2
Opening the lid, you're treated to a full-size keyboard with number pad, sizeable Precision touchpad, and a fingerprint reader for Windows Hello. The touchpad is the same size as on the 14-inch model, so it doesn't seem as large, but its glass surface still tracks perfectly. The fingerprint reader is well out of the way, meaning you won't feel it rubbing under your palm while typing. For some added privacy, there is a shutter for the 720p front-facing camera above the display.
Other than the number pad, which isn't present on the 14-inch Yoga C740, the 15-inch model's keyboard has some different sized keys. Tab, CapsLk, Shift, and Ctrl on the left side have all been shrunk down, as well as the Backspace key. You will get used to it, and the number pad is undoubtedly a boon for productivity, but I prefer the C740 14's key sizing.
To make room for the number pad on the 15-inch model, the speakers have been relegated to the bottom of the chassis. You still get Dolby Atmos for a nice boost, and the sound is full and loud, but the top-firing speakers along the side of the keyboard on the 14-inch model do a far better job in notebook mode. Using the Yoga C740 15 in stand mode (where the bottom of the laptop is facing up), however, doesn't result in the same muffled audio as you get on the C740 14.
The 15.6-inch FHD display is available in either anti-glare IPS with 250 nits brightness or IPS glossy with 500 nits brightness and Dolby Vision HDR400. The review unit has the latter display (which tacks on about $100), and it's totally worth the money if you have room in your budget. I noted in the C740 14 review that its 300-nit display was often challenging to see in a well-lit room, but that's less so in the 15-inch model thanks to the increased brightness. I saw about 550 nits at maximum brightness in my testing.
I tested color with a SpyderX Pro colorimeter (opens in new tab) and got back 95% sRGB, 72% AdobeRGB, and 73% DCI-P3, all solid results at this price point. The display works with an active pen like Lenovo's Active Pen 2 (opens in new tab), though one wasn't included to test. Neither laptop is available in 4K, and neither comes with the option to add a dedicated graphics card (GPU). For those types of specs, you'll have to check out something like the premium Yoga C940 (opens in new tab).
Image 1 of 2
Getting into performance, both laptops come with a lot of the same available hardware. These are machines built for rather heavy productivity workloads, though the lack of dedicated GPU means you'd have a hard time getting into any specialized work. Both have RAM that's soldered to the board, though you can upgrade the SSD after purchase. Both laptops also seem only to offer Wi-Fi 5 connectivity.
The C740 15 has a larger 60Wh battery compared to the 51Wh battery in the 14-inch C740, balanced by the larger display and upped brightness. Like the C740 14, the 15-inch model saw about six hours of battery life on a charge at about 60% brightness. It does offer Rapid Charge so that you can gain back about 80% life in an hour. I ran some synthetic benchmarks to see precisely how performance stacks up.
CPU
Geekbench 5.0 Benchmarks (Higher is better)
Swipe to scroll horizontally
| Device | CPU | Single core | Multi core |
| --- | --- | --- | --- |
| Lenovo Yoga C740 15 | i7-10510U | 1,229 | 3,531 |
| Lenovo Yoga C740 14 | i5-10210U | 1,094 | 3,767 |
| LG gram 17 (2020) | i7-1065G7 | 1,208 | 3,349 |
| Acer Swift 5 (SF514-54T) | i7-1065G7 | 1,202 | 3,600 |
| Surface Pro 7 | i7-1065G7 | 1,205 | 4,852 |
| Surface Laptop 3 13.5 | i5-1035G7 | 1,177 | 4,413 |
| Surface Laptop 3 15 | Ryzen 5 | 769 | 2,720 |
| Dell XPS 13 2-in-1 7390 | i7-1065G7 | 1,209 | 3,571 |
| Dell XPS 15 7590 | i9-9980HK | 1,176 | 7,624 |
| Dell Inspiron 13 7390 2-in-1 | i7-8565U | 1,111 | 2,965 |
The 10th Gen Core i7 CPU gets an excellent single-core score, though its multi-core score falls short of the 10th Gen Intel Core i5