Lenovo Yoga C930 vs. Lenovo Yoga 920: Which should you buy?
We test and review a ton of laptops here at Windows Central, including those from Lenovo. If you've been wondering where to turn for your next convertible laptop, we can help you out by comparing a couple of popular Yoga models.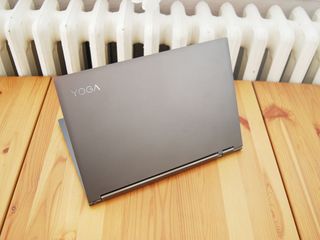 Flagship C-series Yoga

Lenovo's recent Yoga C930 hit better performance benchmarks than the Yoga 920 in our own testing despite having much of the same hardware inside. If you love watching media on your convertible, the soundbar hinge will be a huge boon, and the built-in active pen is always right there ready for inking.
For
Far better availability
Excellent performance
Soundbar hinge
Built-in active pen
Against
Generally costs more than Yoga 920
Battery doesn't last quite as long
Aged but still great

Despite being more than a year old, the Yoga 920 has held onto a lot of value. It's still a beautiful laptop with a unique watchband hinge for a premium look, and it has the same port selection as the C930. Though it might be a bit harder these days to find a configuration that exactly matches your needs, you should be able to spend less than you would on a C930.
For
Watchband hinge
Larger battery
Cheaper than Yoga C930
Modern port selection
Against
Availability is limited
Pen USB attachment is flimsy
Released about a year apart, the Yoga C930 and Yoga 920 nevertheless share a lot of characteristics and hardware. They're both convertible laptops available with FHD or 4K touch displays, active pen support, the same port selection, and they'll both easily fit in at a cafe or in a boardroom thanks to a premium aluminum design. Let's take a close look at the differences between these two laptops to better help you decide which is the right choice.
Lenovo Yoga C930 vs. Yoga 920 tech specs
Swipe to scroll horizontally
Header Cell - Column 0

Yoga C930
Yoga 920
Processor
8th Gen
Intel Core i5-8250U
Intel Core i7-8550U
8th Gen
Intel Core i7-8550U
RAM
8 GB, 12 GB, 16 GB
DDR4
8 GB, 16 GB
DDR4
Storage
256 GB, 512 GB, 1 TB
PCIe SSD
256 GB, 512 GB, 1 TB
PCIe SSD
Display size
13.9 inches
Touch
13.9 inches
Touch
Display resolution
1,920 x 1,080 (FHD)
3,840 x 2,160 (4K)
1,920 x 1,080 (FHD)
3,840 x 2,160 (4K)
Graphics
Intel UHD Graphics 620
Intel UHD Graphics 620
Ports
Two Thunderbolt 3
USB-A 3.1
3.5 mm audio
Two Thunderbolt 3
USB-A 3.0
3.5 mm audio
Biometrics
Fingerprint reader
Fingerprint reader
Battery
60 Wh
70 Wh
Dimensions
12.7 inches x 8.9 inches x 0.57 inches
(322 mm x 227 mm x 14.5 mm)
12.7 inches x 8.8 inches x 0.54 inches
(323 mm x 223.5 mm x 13.95 mm)
Weight
3.0 pounds (1.36 kg)
3.02 pounds (1.37 kg)
Lenovo Yoga C930 vs. Yoga 920 performance
Side by side, it's clear that the two laptops share a lot of specs. A Core i5 option doesn't seem to be available for the Yoga 920 anymore, so if a Core i7 seems like overkill for you, the C930's options are likely better suited to your needs. In a direct comparison between the two laptops using the same Core i7 processor (CPU), the Yoga C930 came out on top.
Swipe to scroll horizontally
| Device | CPU | Single core | Multi core |
| --- | --- | --- | --- |
| Lenovo Yoga C930 | i7-8550U | 4,787 | 15,028 |
| Lenovo Yoga 920 | i7-8550U | 4,485 | 12,297 |
Neither laptop has an option for discrete graphics (GPU) — although the Thunderbolt 3 ports could be used for an external GPU — with the integrated Intel UHD Graphics 620 delivering the same performance in both devices. Solid-state drive (SSD) storage is fast in both laptops, and it's hard to compare due to not every model receiving the same hardware. In either case, read and write speeds are going to be fast thanks to a PCIe connection.
Testing with PCMark's Home Conventional benchmark, the Yoga C930 scored 3,506 while the Yoga 920 score 2,882. This is a measure of how well all system components work together to achieve day-to-day tasks like video conferencing, word processing, and web browsing, and though the C930 came out on top (with 4 GB less RAM!), both PCs are going to be able to tackle just about any productivity work you throw at them.
Overall, if you want the best performance possible, it seems like the Yoga C930 has the Yoga 920 beat. Whether or not that extra bit of oomph is worth the extra money is really up to you. As for the battery, the 70 Wh option in the 920 was capable of delivering about 10 hours of life (and that was with a 4K display), whereas the 60 Wh option in the C930 was able to reach about the same 10 hours, though with an FHD display.
Lenovo Yoga C930 vs. Yoga 920 design and features
Placing these two laptops next to each other and attempting to tell them apart at first glance might be difficult. Both have a sleek, unibody aluminum design with nearly identical dimensions and a 3-pound weight, making either laptop a smart choice if you need something portable yet premium. Both laptops have a fingerprint reader set into the palm rest, allowing you to sign in quickly and securely with Windows Hello.
The biggest difference here is the hinge system in play. The Yoga 920 has a killer watchband hinge that provides 360-degree rotation for tent, stand, and tablet modes. All vents are routed through the hinge, and it really does a good job of setting the laptop apart from other dual-hinge convertibles.
Instead of copying the 920, the C930 went its own direction with a soundbar doubling as a 360-degree hinge. I don't think it really compares aesthetically to the watchband, but it certainly does a great job of pumping out loud and full audio that normally wouldn't be found on an Ultrabook. If you plan on using your laptop for a lot of media, you might want to lean toward the C930 just for the better speaker.
Both laptops provide about the same port selection — though you get USB-A 3.0 on the Yoga 920 instead of USB-A 3.1 as found on the C930 — in just about the same spots. The C930 has moved all ports to the left side (likely to make room for the built-in active pen), whereas the Yoga 920 keep a USB-A port on the right side, a bonus for anyone who likes using an external wired mouse instead of the touchpad.
After using both laptops for a few weeks, I found that the touchpad on the C930 was a bit sticky, whereas on the 920, it was just about perfect. Both also use Precision drivers, giving you full access to Windows 10 gestures. As for the keyboard, there was a bad amount of squeaking in some of the keys on the 920, whereas the C930's keyboard was ideal. These issues are likely not spread across all devices in the line, and your best bet, though not always possible, is to test each keyboard and touchpad yourself before making a final purchase.
Lenovo Yoga C930 vs. Yoga 920 display
Whether you go with the C930 or the 920, you'll be able to choose from a 13.9-inch touch display in either FHD or 4K resolution. You're going to get near-perfect sRGB color reproduction in either case for a vibrant picture, though after testing both, it seemed like working in a brightly lit room might pose a bit of a problem due to the glossy finish and the display not being able to push past a certain brightness.
Both laptops have a thin bezel with a 720p webcam above the display. Those who like a bit of extra privacy can take advantage of a shutter on the C930, whereas those with a 920 will have to stick with a Post-It note to cover the camera when not in use.
If you're buying a convertible laptop to take advantage of inking, you're going to get an active pen with both laptops. The Yoga 920 uses a full-sized pen that delivers 4,096 levels of pressure sensitivity for a natural inking experience, though to attach it to the laptop when not in use, you must use a cheap clip that slots into the USB-A port. This was one of my biggest gripes after using the Yoga 920, and the C930 provides a much more elegant solution.
Instead of a full-sized pen hanging off the side of the laptop, there's a built-in silo where you can safely keep and charge the pen when not inking. It's not a full-sized pen — it rather has more of a pencil style — yet still hits 4,096 levels of pressure sensitivity. It might not fit your hand as well as the larger Yoga 920 pen, but it gets the job done and has a safe home.
The newer Yoga C930 makes it easier to get the laptop you want
Thanks to it being more recently released, the Yoga C930 is much easier to find and customize to your liking. It delivers as good or better performance compared to the 920, it has a better design for its active pen, and the soundbar hinge is ideal for anyone who enjoys media on their convertible.
Flagship C-series Yoga
Living up to the Yoga 9-series precedent

It's pricier than the Yoga 920, but the built-in active pen, soundbar hinge, and superior performance will be well worth the extra money for a lot of people.
The older Yoga 920 is still an excellent laptop that can be found for less
Lenovo doesn't seem to be stocking the Yoga 920 anymore, but it can still be found at Amazon and at Microsoft. Despite being more than a year old, it remains relevant thanks to a premium design, powerful hardware inside, and a beautiful touch display. It can usually be found for less money than a similar C930, making it an attractive option if you love the watchband hinge.
Aged but still great
The Yoga 920 still has a lot to offer

Considering it has most of the same features as the C930 but can be had for cheaper, the Yoga 920 will appeal to those who prefer a sleek watchband hinge, full-sized active pen, and superior battery life.
Get the Windows Central Newsletter
All the latest news, reviews, and guides for Windows and Xbox diehards.
Senior Editor, Laptop Reviews
Cale Hunt is formerly a Senior Editor at Windows Central. He focuses mainly on laptop reviews, news, and accessory coverage. He's been reviewing laptops and accessories full-time since 2016, with hundreds of reviews published for Windows Central. He is an avid PC gamer and multi-platform user, and spends most of his time either tinkering with or writing about tech.