Lenovo's got a new entry-level laptop, the Ideapad 100
Alongside the higher spec Z41 and Z51, Lenovo has today announced the Ideapad 100. A new Windows laptop aimed at the entry level segment of the market.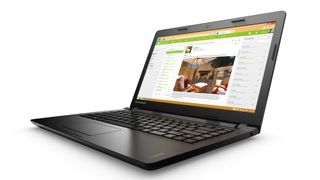 Entry level doesn't have to mean cutting corners, though, and the Ideapad 100 in 14- and 15-inch models has plenty to offer those looking for an affordable laptop.
With a BayTrail-M CPU, upto 8GB of RAM available and options to have a hard drive up to 500GB or an SSD up to 128GB, the Ideapad 100 looks decent enough for its price of $249 and up. That's Chromebook territory on pricing, yet with the benefits provided by having the full Windows 8.1 OS available.
The only areas we're a little wary on the hardware so far are the display, a lowly 1366x768 resolution at both 14- and 15-inches. This isn't going to attract those looking for a killer display anyway, but even so, that's not the greatest. The battery life is also a claimed 4 hours, which for some will be ample, but it's not going to appeal to anyone who needs to be away from an outlet for any extended periods.
And it looks pretty nice, too. It's not the thickest thing in the world and looks pretty sleek in its Ebony Black finish. It'll be available in June from $249, and we'll hopefully get a better look at it soon from the Tech World event in China, In the meantime, check out the full press release and image gallery below.
Image 1 of 9
Lenovo's New Consumer Laptops Designed for Those Who Love Simplicity
Lenovo Z41, Lenovo Z51 and ideapad 100 notebooks kick off Lenovo Tech World's new product lineup
Lenovo unveiled three new consumer laptops, Lenovo Z41, Lenovo Z51 and ideapad 100, for users who value simple and functional design
Lenovo Z41 and Lenovo Z51 (featuring an optional Intel® RealSenseTM 3D camera) are the ultimate multimedia workstations for music and video lovers
The ideapad 100 is ideal for customers who need only the most essential laptop features
BEIJING, MAY 27, 2015 – Lenovo (HKSE: 992) (ADR: LNVGY) today unveiled three new consumer laptops in advance of Lenovo Tech World, the company's first exclusive global technology innovation event in Beijing. The new Lenovo Z41, Lenovo Z51 and the ideapad 100 laptops are as versatile as Lenovo's customers are. Whether users just need to create and edit content or want a fully-equipped multimedia experience to enjoy music and videos, the new Lenovo Z41, Lenovo Z51 and ideapad 100 laptops are ideal for users who value simple and functional design.
The new 14-inch Lenovo Z41 and 15-inch Lenovo Z51 laptops are equal parts home-entertainment center and powerful workstation. Featuring a stunning FHD display, optional AMD discrete graphics and immersive Dolby® DS 1.0 Home Theater® Surround Sound for crisp sound and sharp visuals, they are ideal for streaming videos, downloading music and gaming. The new Lenovo Z41 and Lenovo Z51 come with advanced 802.11 a/c WiFi technology for up to three times the Internet speed of regular laptops for faster web surfing, streaming and downloading content. Engineered for productivity, the new laptops are powered by up to the latest Intel® CoreTM i7 processor with up to 1 TB of storage. The new Lenovo Z51 and Lenovo Z41 stand out for their beautiful color options in ebony black, chalk white and crimson red (for the 14-inch laptop).
The new Lenovo Z51 also features an optional Intel® RealSenseTM 3D camera that brings the world to life in 3D. Featuring full 1080p color and a depth sensor, the revolutionary 3D camera allows the new Lenovo Z51 to sense and capture depth like the human eye. Users can 3D scan objects to 3D print, play 3D games or use gestures to control the laptop. Customers can also create a more lifelike video chat experience by changing the background and sharing content.
Lenovo created the entry ideapad 100 laptop for customers who need only the most essential features, such as surfing the web, creating content and managing lists. It features up to Intel® BayTrail-M N3540 processor, up to 500 GB HDD storage and integrated Intel® Graphics giving users a fast processor, ample storage and solid display. The new ideapad 100 runs up to 4 hours without plugging in so users can work, browse online, watch videos and more with minimal interruption. Measuring at just 20.2 mm for the 14-inch and 22.6 mm for the 15-inch laptop, the thin and sleek ideapad 100 looks anything but entry level with its classic ebony black finish. Starting at an incredibly affordable price of $249, the new ideapad 100 fits in nearly any budget.
"We've created the new Lenovo Z41, Z51 and ideapad 100 laptops specifically for customers who want simple and functional design," said Mr. BAI Peng, vice president and general manager, Lenovo Notebook Business Unit, PC Group. "But because our customers are diverse, so our products are not 'one size fits all' either. Our three new laptops offer customers the choice to select the one that's right for them – two specialized for multimedia and one all-rounder."
The new 14-inch Lenovo Z41 and 15-inch Lenovo Z51 laptops will be available on www.lenovo.com and will hit retail shelves starting in June. Pricing for both laptops starts at US $499. The new Lenovo Z51 laptop with optional Intel® RealSenseTM 3D camera comes with an Intel® Core™ i5 processor and 8GB memory, starting at US $599.
The new Lenovo ideapad 100 14 and 15-inch notebooks will be available on www.lenovo.com and hit retail shelves starting in June. Price will start at US $249.
Windows Central Newsletter
Get the best of Windows Central in in your inbox, every day!
Managing Editor - Tech, Reviews
Richard Devine is a Managing Editor at Windows Central with over a decade of experience. A former Project Manager and long-term tech addict, he joined Mobile Nations in 2011 and has been found on Android Central and iMore as well as Windows Central. Currently, you'll find him steering the site's coverage of all manner of PC hardware and reviews. Find him on Mastodon at mstdn.social/@richdevine
Good??? Are you kidding me??? I mean for 249 dollars its amazing. Most laptops with similar or worse specifications sell north of 400 dollars here in India.

You don't know that yet. The price starts at 250$ but the hardware goes only UP TO an N3540, 8GB RAM and 500GB HDD or 128GB SSD. The one for 250$ will not have 8GB RAM or a 500GB HDD or 128GB SSD, more like 1-2GB RAM and a 160-250GB HDD or 32GB flash storage, paired with some Intel Atom or Celeron CPU.

Totally agree with what you said! The price is linked to the cheapest model, and the specs listed are for the highest speced model. Typical marketing move! Anyway, even if the specs look good on paper, if in reality the plastic casing will fall apart after 3 months, will you be satisfied? Chinese products always LOOK good in specs even on Aliexpress, but when you actually hold the product in your hands, you immediately feel the cheap crap build quality.

Build-quality is not in issue that only concerns cheap laptops (although it's much less common with higher priced laptops). Even formerly reputable manufacturers and certain series have decreased in quality and look/feel like cheap plastic, while costing $500 or even more. On the other hand build-qulity means nothing when the overall performance of the laptop is terrible or really only enough for the bare minimum (Office, no web-browsing).

It seems as though many companies are vying to be the entry-level champions..

That's because of the high potential behind emerging markets that target on budget-friendly devices.

-Good- Scratch that. GREAT!

HP vs Dell vs Lenevo vs Sony vs Samsung? Who wins the throne?

You forgot Asus and Sony don't make laptops no more

Asus still makes laptops :P

Dell. If you get alienware that is. Which is well worth the investment.

Yeah but alienware is focussed on gaming experience more rather a productive one. No doubt they has best notebooks that can easily over take MacBooks even in size.

lol what? Alienware is the apple of gaming laptops you are only paying for that nice little symbol on there. There are much better laptops out there that are cheaper, have better specs, and build quiality.


They should really make something like the Asus X205TA with a better camera. Something that has the BayTrail-M Atom processor with connected stand by. The Asus comes for a great price, only if had better camera.

That 4hr battery life.
Better to watch big bang theory,
Lolzz

Where's my new 8 inch ThinkPad with 1080p display and Long battery life?

Windows central should think about adding support for the "reading list" in the mobile app. I know I can use pocket, but I don't have and want to create an account for it. Hope someone from their team or Jay Bennett reads this.

"Up to" still this dosen't conform what we get exactly for $249 ! I guess there is no problem if we need to shed little more for the right combo ($50 more).

Guess you get the crappies Intel Celeron M with 1Gb RAM and a 30 Gb HDD plus my favorite move from Lenovo: their end-of-sale model G510 has 10/100mbit LAN NIC! Yes, a 100mbit NIC in 2015!! Even the weakest ARM SoC can have a 1Gbit LAN card...

I have always loved ThinkPads; supreme quality and no nonsense. So one time I tried an ideapad. What a mistake. The quality isn't anywhere close to what I was used to with the ThinkPads, and I spent $900 on the ideapad. So seeing an ideapad for $249, really makes me wonder if it is any good.

Still Bay-Trail? Why not Cherry-Trail. Better still, why not AMD' Beema, which is much superior both in CPU and GPU than BayTrail ?

Yup! After "all" the recent scandals from Lenovo its hard to not to think of getting another brand.

But Lenovo? After what they did.

It's the #1 laptops manufacturer.

Its the #1 selling manufacturer. Not so sure about quality any more...

Here is my experience: I'm using a Lenovo G580, over 2.5 years old since I purchased. I operate it for about an average of 7 hours everyday. My friends don't believe me but I never had an issue with it. Yes, I do take care of my devices like real living pets, though. Maybe I'm just lucky with that piece but I totally trust on their quality, at least for what they delivered me few years back :P

I have an Asus T100 - which has been derided for having poor build quality.
I bought it second hand for £130. I've given it a beating over the last 15 months, and it still works perfectly.
My point? Most laptops will be perfectly reliable. However, Lenovo is the only manufacturer that consistently tries to screw consumers (superfish/backtracking on the capabilities of that new multi mode laptop - and offering a paltry discount to compensate).
Lenovo have done a good job of ruining the prestige IBM built up over the years.
They certainly won't be getting my business!

My Yoga works fine. Good luck with your conspiracy theories

Why did you delete your previous comment?
Also, these are hardly conspiracy theories. All of the things I mention have been widely reported.
We are talking about the world's largest PC manufacturer installing malware by default on millions of machines for the sake of just a few million dollars of extra revenue.
They then release a laptop advertised as having multiple modes -- but then backtrack AFTER the product has already shipped, claiming it was a marketing error, and here's a 5% discount.
Any company with such a warped logic regarding customer service deserves to have their nose bloodied.

768p on 15 inch should be a crime

Majority of the notebooks have had this screen resolution for a long time. Entry and mainstream level machines will still ship with these displays. Don't think it's a bad resolution for a laptop.

HP Stream 13 is gorgeous .. this looks a bit ugly !!

Be careful folks. Don't forget the superfish fiasco. Do you still trust this brand?

That got old literally right after the whole thing started and then swiftly ended.

Nevertheless, they installed adware. With that logic and thinking the NSA PRISM got old and died fast as soon as it got revealed. Nothing to see here folks. Posted via the Windows Central App for iOS on my Lumia 940

Surprising comment for a tech journalist.

Here in Brazil an entry-level notebook use to have 2gb RAM and cost at least two times these Lenovo's.

Yes, yes, "up to" and "up to" that. Where does it really start? Where are the source links?

They're kidding with this product right?....somebody?

For the price a 15laptop yea I would indeed
Windows Central Newsletter
Thank you for signing up to Windows Central. You will receive a verification email shortly.
There was a problem. Please refresh the page and try again.