Live action Forza Horizon 2 TV ad morphs from toy track to the real thing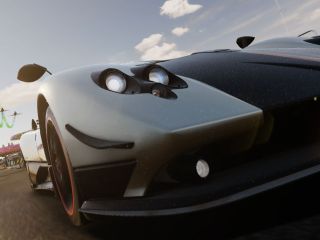 Microsoft's next big first party Xbox One game is Forza Horizon 2, and this week the company released a cool looking live action trailer for the game that shows some cool cars driving both off and on the road.
In fact, the first part of the commercial seems to show a toy racing track with high end sports car models, but it quickly morphs into the real thing as the toy cars break free of their fixed track and hit the road. While there's no actual gameplay footage in this commercial, it does offer a good idea of the open world racing setting that Forza Horizon 2 has.
Xbox One owners can now download a free demo of the game and they can also pre-order and pre-load the digital download version of the game before its official launch on September 30. What do you think of this new commercial for Forza Horizon 2?
We'll be Twitch streaming Forza Horizon this Monday, September 22 (stay tuned for exact time), and we'll also have a full review come September 30. Hope you'll check out both the stream and our review!
Source: Xbox on YouTube
Windows Central Newsletter
Get the best of Windows Central in your inbox, every day!
I like the mood of the video. looking forward to having fun in this game.

Yeah, is a truncated version of this running on TV ad spots anywhere? It should be. Also, I played the demo and holy balls it's amazing! Might be the best racing game ever made. We'll see!

I don't know if I should buy the Ultimate edition (90 dollasrs) or renew my Xbox Music account (100 dollars).

Do you know of any deals for Xbox currency, Forza Horizon 2 or Xbox Music?

I got a music pass for $30 for a year on a Microsoft store black Friday deal. Not saying that will happen again, but the holidays are upon us...

GAMEGASM Car love. The E3 trailer still gives me the good chills.

I'm in love with the launch trailer. Song is "You & Me" Bassnectar.

What do you think about John Callaham not saying"What do you think about... ... ..."

That's not John Callaham!!! That's an IMPOSTER!!! The proof is in the lack of "What do you think about..." He would have gotten away with it too, if it wasn't for those meddling kids!

omg... lmfaoooooo you win sir, you win

I think all games should have voice commands like Need for Speed Rivals. Matter of fact most racing games and sport games. I rather call out my plays/GPS like I'm in my actual car. Need for Speed did it right for Kinect.

Forza Horizon 2 does have some useful voice GPS commands!

Good because I was worried. The demo didn't underline that idea

Yeah, I was just joking. :)

Take my money! Lol, that's what MS/XBox wants you to say after watching this awesome video.

It's an old song from the italian singer Adriano Celentano singing in a fake english language. It's a very famous song. http://youtu.be/E77HpMMbDYc?t=1m18s

Nevermind. Cortana found it for me. Prisencolinensinanciusol by Adriano Celentano

Easily one of my biggest games this year. Forza 5 was a system seller for me. I planned to get X1 at launch but when they announced Forza 5 it was a done deal. Horizon 2 should be crazy fun.

I don't care much for racing games--or, at least I thougth I didn't, until I played the Forza Horizon 2 demo last night. Superb! Amazing graphics, amazing gameplay (so smooth), great presentation, and I loved the offroad racing. Like a 10-year-old boy seeing his first sports car and imagining the possibilities, I thought, "That is exactly what I always wanted to do with a $200,000 car!" Horizon 2 is looking like a must-own game, even for non-racing game fans.

Been playing the demo this week and really enjoying it. Looking forward to the full game release.

Is it Available for the 360?

Yes. It's coming out for Xbox One and Xbox 360.

Thanks. Was wondering cause in another video I saw it for Xbox One and 360. However this didnt have it so was a bit uncertain. Cant wait to play it Looks AMAZING :)

Wow, this was beautifully directed. Seriously really well done...