Live Search for Windows Mobile Gets Updated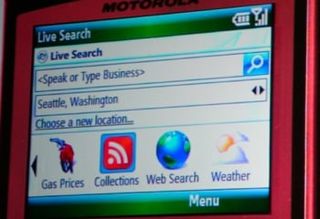 Speaking of Live Services, we'd actually heard this was in the pipeline way back during CTIA 2008, and now it's here: a new update to the excellent Live Search App. Go grab it now at http://wls.live.com.
WLS already offered excellent local search, maps, driving directions, traffic info, gas prices, and movie times. Now we see that the new update adds:
weather (finally!)
Web search
a little section called "collections" that you can basically think of as saved searches combined with a mini-rss reader.
We also hear that it's fully compatible with Windows Mobile 6.1, for the handful of you out there who've managed to snag a Touch Dual at Best Buy.
Bluetooth headset support for spoken searches
You can delete recent locations (i.e., the following is a thing of the past: "What's that hon? Oh, see, I was just driving by that strip club when I was looking for the nearest taco stand. Honest!")
Did we mention that WLS is excellent? It's Bill & Ted excellent, free and a must-install for every Windows Mobile device, bar none.
Get the Windows Central Newsletter
All the latest news, reviews, and guides for Windows and Xbox diehards.
Doesn't work too well on my Touch Cruise. It doesn't want to start when the program is launched. The process is running, but no app.

Just downloaded to my 700WX (VZW) and I'm not seeing any of the new features mentioned.

Me neither. When I fired up the old version on My Motorola Q, the "Client Upgrade Available" option was greyed out, but I went to wls.live.com and redownloaded and reinstalled anyways. No luck, still running v2.5.29, and no weather or categories.

Same here with my Sprint 700wx. Perhaps the WM6 version is the only one to get the new features. I tried to install the WM6 cab on my device, but the install failed. The error message said something about the .NET Compact Framework version being too old.

Try upgrading your .NET CF to 3.x which ships in WM6 ROMS. You probably have 2.x or lower. link: http://www.microsoft.com/downloads/details.aspx?FamilyID=e3821449-3c6b-42f1-9fd9-0041345b3385&displaylang=en

UPDATE: (From MS WLS Blog) It appears you only need .NETCF 2.x. If you have sprint treo 700wx you will get this auto-install if you run the "Get On Demand" link in programs. In either case for VZW or SPC just follow this:
1. Download and install .NET CF2 from this site: [URL="http://www.microsoft.com/downloads/details.aspx?FamilyID=aea55f2f-07b5-4...">[COLOR=#0000ff]http://www.microsoft.com/downloads/details.aspx?FamilyID=aea55f2f-07b5-4.... (Note: this is a desktop installer, not over-the-air.)
2. Install the Windows Mobile 6 version of Live Search. To go this, go to wls.live.com from your phone, then scroll down the page and click the "all versions" link. Then, click the Windows Mobile 6 download link.
Either way, please let us know how it went by sending mail to http://lsmobile@microsoft.com.

My Net CF is 2.0 and the new live search was the same version as the one I have been using on my 700wx. Maybe it wont install on a wm5 device at all.

I didn't have any luck with installing it to my htc ppc 6800 running mobile 6.0 and the updated net frame works 2. All I keep getting is the following error message on install installation was unsuccessful. The program or setting cannot be installed because it is not digitally signed with a trusted certificate Way to go Microsoft

WTF how do I get the old version back on my HTC ? i can't use the upgraded version.