Logitech MX Anywhere 2S review: Best mouse for creators on the go
The Logitech MX Anywhere 2s Mouse is the best mouse for power users on the go.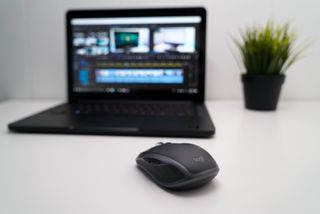 The mouse I use at the home office for video editing is the Logitech MX Master, and I love it. However, it is big and takes up a lot of space in my backpack. I already carry a lot of things in the bag including a laptop, camera, mics, camera monitor, and more, so I need a mouse that's smaller, but doesn't sacrifice on features.
The Logitech MX Anywhere 2S weighs just 3.75 ounces and measures 61 x 100 x 34mm. You can see the difference in size when sat right next to the MX Master. It's available in Graphite, Midnight Teal, or Light Grey.
The MX Anywhere has a 4000-dpi sensor that works on a lot of surfaces, but it did have a hard time when I used it on a hotel glass table. Logitech points out that it has to be thicker than 4mm if you are using it on a glass surface.
A truly mobile-friendly mouse
You can connect the mouse to your computer through Bluetooth or a unifying receiver. I recommend Bluetooth, so you don't have to use a USB port on your laptop. You can pair up to three devices and quickly switch between them with the button at the bottom of the mouse. Also located at the bottom is the power switch, so you can turn off the mouse before putting it in your bag. In front of the mouse is the micro-USB port for charging. This is a great position, and you can still use the mouse while being plugged in.
In addition to the left and right clicks, there are two more buttons on the left side. They're configured as back and forward buttons by default, but you can change it to whatever you want. There's another button below the right and left click buttons. You cannot assign a function to the scroll wheel. Clicking it switches the scrolling mode between smooth free-scrolling and click-to-click scrolling. I prefer the latter but switch to the free-scrolling mode when browsing long documents.
The Logitech Options app lets you customize the buttons. For my workflow, I have the middle button for Task View, first side button for Action Center, and the second side button for Windows Settings. You can also assign any of the buttons as a Gesture button, giving you more options when holding the button and moving the mouse in different directions. For example, you can set it up so that pressing and holding the gesture button while moving up can activate the Start menu, and moving down hides the desktop.
Long-lasting Logitech battery
Logitech Options also lets you see current battery life and create custom buttons and actions for specific applications. I don't use this option, but some of you may like it.
All the buttons are responsive, but the left and right clicks are loud. People sitting next to you in a library or a study hall may get annoyed if you're doing a lot of clicking.
An intriguing feature is Logitech Flow. This lets you switch between computers by moving your cursor to the edge of the screen and copy-paste text, images, and files between them. Both the computers need to be on the same Wi-Fi or wired network, have Logitech Options installed, and the mouse paired. I don't see this being useful in my workflow, but I think it'll be beneficial to others.
According to Logitech, the battery lasts up to two months. I've used the MX Anywhere 2S for a month now without needing to charge, so their claim seems about right. You can check the battery status through the Logitech app.
Pros:
Great design.
Customizable button options.
Can pair with up to three devices.
Excellent battery life.
Cons:
No storage compartment for the USB receiver.
Might be too small for some users.
Overall, I'm pleased with the Logitech MX Anywhere 2S mouse. It has plenty of customizable buttons, and it doesn't take up a lot of space in my bag. I also like that I can use it with three different devices and switch between them with just one button. I still prefer to use the larger Logitech MX Master when I'm at the office, but the MX Anywhere 2S is the mouse I bring with me when traveling or covering events.
Get the Windows Central Newsletter
All the latest news, reviews, and guides for Windows and Xbox diehards.