The long awaited Gears of War movie is in the works at Universal Studios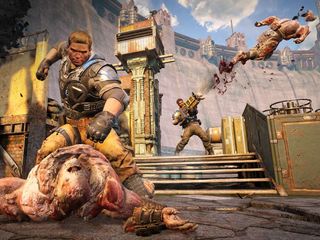 Microsoft has announced a partnership with Universal Studios to release a feature film based on the Gears of War sci-fi game franchise.
Microsoft revealed the movie plans as part of its Gears of War 4 live stream event. Rod Fergusson, studio head for Gears of War 4's developer The Coalition, stated that development of the movie is still in the early stages, with no director or screenwriter assigned yet. No release window has also been provided at this time. Unlike most video game-to-movie adaptations, Fergusson highlighted that Microsoft and Universal want the Gears film to work primarily as a great movie.
This is not the first time a Gears of War feature film has been announced. New Line Cinema bought the rights a few years ago, with Len Wiseman (of Underworld fame) assigned to direct. However, those plans never came to fruition.
Windows Central Newsletter
Get the best of Windows Central in your inbox, every day!
Yes! Hope it'll be awesome. Assassins creed looks great as well.

AC is getting a movie? I don't know if I should cheer or cry.

Yes it does, it's already done, see the trailers in YouTube

And the trailers make it look terrible, in my opinion, I'm sure the majority of critics are going to agree with me on that one.

Wonder if this beats the Halo series with Spielberg to release.

What's actually happening with that? There have been no news for years.

I heard Steven Seagal was casting for the part of Marcus Fenix.

Had to move this to the more appropriate comment. Sorry for the repeat. He's too busy pretending to cop a few miles from my house. https://www.amazon.com/Steven-Seagal-Lawman-Season-1/dp/B002WSZSNM?tag=h... And yes... It is just as ridiculous as it sounds!

You're wrong I think Daniel Radcliffe (Harry Potter himself) was auditioning for the role XD

They are really pushing this franchise.

Its akin to Halo or Sony's Uncharted. Why not capitalize on something thats already got a huge fanbase.

Steven Seagal. God help us. LOL.

Lost all excitement as soon as I read "no director or screenwriter assigned yet. No release window".. Yeah.. I will believe the news when I actually purchase the movie ticket..

I have a hard time with all the grumbly voice acting in the video games (S Segal would fit right in). Sounds like a straight to DVD release.

Lets hope this gets further than Halo did.

Is this going to wind up like the Halo TV series? I'm still waiting for that one.

"Long awaited"? Who's been waiting for this disaster of a movie in the making?

Did you just call a movie that doesn't exist yet a "disaster of a movie"?

No, a "disaster of a movie in the making". I'm prophetic. ;-)

The track record of game to film adaptations don't exactly give this thing a lot of hope.

Actually that has a fairly good track record (Tomb Raider), it's the other way around that ALWAYS sucked.