Lumia 1520 picks up firmware update outside the United States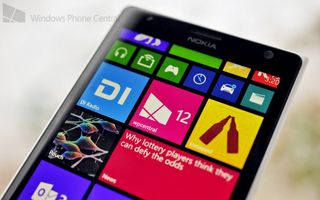 Using a Nokia Lumia 1520 outside the United States? You might have a firmware update ready to download if you are. Reports are coming in that an update is available for the Lumia 1520 that addresses a few issues users have had with it. So far we're already seeing the update for Lumia 1520's in the UK, Finland and Italy. Read on to see what's been fixed.
The latest software update for the Lumia 1520, 1028.3562.1402.10xx, brings a few fixes. Here's what's new for the Lumia 1520 after updating:
Improvements to the quality of the Bluetooth connection
Improvements to discover the headset
Improvements to stability and performance improvements
Be sure to head into settings to check for an update. If you've had any Bluetooth problems let us know if the update fixes it for you. That might not be all though, here's forum member AndyFZ1S on the Lumia 1520 after the update:
We just checked our AT&T branded Lumia 1520 here in the United States and don't see any updates. Again, this looks like it's just for our friends around the world.
Source: Nokia, Via: Windows Phone Central Forums, Windowsteca
Thanks for the tips everyone!
Windows Central Newsletter
Get the best of Windows Central in in your inbox, every day!
Screen sensitivity fixed? I'm still waiting on that. Otherwise good phone.

If you are with AT&T we may get it in two months... We will be the last to receive any updates.

We did receive an update, last month. But it didn't fix anything. Touch sensitivity and video still sucks!

I'm joining this pool; misery loves company, no?

More annoying than misery!

Well actually ATT was doing great with WP updates until GDR2 was released for the 920. It caused some serious issues with reception and a fix update was pushed out. After that ATT and MS must have changed testing standards because updates have been much slower. The 920 was getting updates before any other version including international unlocked phones!

If this def fixes the screen. I dub this the best windows phone ever.. Possibly, "phone" ever

I'm on an rm937, on tmobile. No update yet for me

Me neither, I have the Hong Kong version

I was thinking of getting this phone on T-Mobile as well, would you be willing to share your experiences? Pro's & con's of unlocked on T-Mobile? What types of speeds do you get?

I think I have the hong Kong version as well and I use tmobile. I was gonna return the phone back once i found i cant get 4g. But I was able to connect to H and H+ network (i think equivalent to 3g) which was comparatively faster than my 4g on my earlier phone. I live in Boston where the networks are refarmed most of the place and the H and H+ work fantastically. I don't miss 4g. I can stream hd videos in youtube easily. I don't think i need a higher network speed than that. One thing though, you get only edge connection(2g) where there is no H network. But edge connection is good enough for me to use snapchat and twitter, check emails so cant complain. If you live around in one of the tmobiles refarmed areas, i strongly recommend to get this phone. It's probably the best phones around at the moment.

My phones gets a weird extremely saturated screen when it wakes up. Not the sun readability feature by the way.

My 920 has started that recently no idea where it has come from!

My 920 started that right before I got the 1520. Not sure why either.

Issue started after installing Update 3 (GDR3). All 3 of my phones are having the same issue, L920, L1020, and L1520.

Pretty sure that has to do with glance. My 920 started doing it occasionally when glance background beta was on. I had a pic on the glance screen.

No, it's not because of glance, my gf never uses glance but still she has that on her L920

When you say "fix the screen" do you mean the lag that happens when you try to touch?

My god! You noticed that too? When you switch screens, there's a small lag before you can scroll. It causes me to open an app when I'm trying to scrolling. How about a flicker? Have you noticed that?

No, no flicker, just a brief lag that causes me to open or select something I didn't want to select.

Does anyone get glitchy graphics when you slide the lock screen up? I can see only primary colors and then I have to lock and unlock the phone to work.

ya i got this same problem once , i think the screen has some problems in touch and sensitivity , may be it will fix in windows 8.1 blue update .

No update for Malaysia market, waiting for overly sensitive UI fixes

RM937 Malaysia - no update firmware: 1028.3534.1343.0003

If this fixes Bluetooth I hope it comes to the US soon. My 1520 has serious Bluetooth issues when WiFi is connected and you are trying to stream Bluetooth.

The same here while streaming nokia mix radio connected to home music system

Mines streams music well but while making Bluetooth phone calls WiFi is utterly useless, no internet at all

Not available in Australia yet

I'm sure they're "testing" it!

I'm just happy that they let you remove all of their crap from the 1520. It's the first ATT phone I've owned that didn't insist on remaining filled with bloatware without a root, jailbreak, or other hack. lol

All windows phones have let that happen :)

So why didn't I switch before I bought 4 iPhones and 3 Samsungs? Where the hell were you guys? haha j/k

Downloading now on O2 in UK


Screen brightness dimming bug❕❕

Hoping that the update is available in India. This is the only problem i have regarding the touch issue.One thing i forgot to add is when i stream Nokia mix radio through Bluetooth to my home theater, the audio starts stuttering & hiccups a lot. Hope that's solved.

update seems to have screwed mine up. it had 42% battery and now its saying no battery and wont turn on

Hoping this firmware update does something to fix my father-in-law's Lumia 1520 WiFi issue. http://answers.microsoft.com/en-us/winphone/forum/wp8-wpnetwork/lumia-15...

I have this on my L920, think it is a WP issue with certain routers..

There is a similar issue on the 2520 tablet. For whatever reason, it doesn't like a wireless router set to mixed mode. Has to be one or the other. http://community.linksys.com/t5/Wireless-Routers/Connection-problem-with... MS has another support thread on this, could find it at the moment.

I had this exact issue. Hit 6GB of data in 2 weeks under the assumption I was connected to WiFi at home like I'm supposed to be. After insane amounts of troubleshooting I managed to fix this by getting a new router. Up till a few weeks ago I had been using the garbage router supplied by my ISP. For some reason WiFi wouldn't stick. With my new D-Link dual band router I've never had a problem getting Wifi to stay connected.

Anyone having problems with internet sharing, mine doesn't work

Go to settings and move towards Keyboard, now click on add keyboard now find Spanish(Spain) install it and have some rest till it automatically restarts.

internet sharing should work on the international version but carriers like at&t will lock that feature until you pay for it.

Mine was also international version!! I too was having that problem despite having access point according to the network provider !! It only solved when i downloaded the Spanish(Spain) in keyboard category settings.

I just had an update. Question. Does the Nokia update include a Microsoft OS update also? Earlier my OS was 10517.150. Now its up to 10521.155. Got the Nokia update also.

I'm still having screen click issues as well as Bluetooth issues along with one issue I haven't seen brought up before , every once in a while my volume won't change even though the volume number changes, I have to restart the phone to fix. hopefully we won't have to wait until 8.1 to get things working.

I noticed the volume issue twice too. Had to restart the phone to fix it :(

Nice to hear from nokia! Also Sony updating the Xperia T, Xperia TX, Xperia V and Xperia SP to Android 4.3. Read Full Article here: http://infotechmaestro.blogspot.com/2014/02/sony-upgrading-xperia-t-xperia-tx.html

Still no update from Malaysia

I have the update I'm here in the Philippines.

"like it's just for our friends around the world."
you mean framily! ( plan)

No update in Australia yet - Australian 1520.

I still can't stand the fact I have a broken phone, and have had for 2 months now. It's a joke! Screen sensitivity issues, Extras+Info doesn't open up from settings menu, intermittent mobile network problems.. Why, Nokia, why?

Odd I do not have those issues :/ (well I do have the random issue with the tap/swipe)

Nokia Lumia 1520 India has FINALLY received the update. Woohoo. :)

Screen tap issues seem to be resolved to an extent, but not completely. Other than that no other changes as far as I can see.

Not available for international version / Brazil yet.

There is no Brazil version yet, you bought your phone outside our country so it´s from other contry/courier. I'm from Brazil and bought the phone in USA (Amazn) and my phone is from Malaysia. No update yet...

It appears the Samsung sgh-t899m has also received an update aswell

nothing here in Switzerland - even tried it with my UK SIM (3) using a UK VPN service - no luck

No update on my Lumia 1520.

screen brightness issue seems to be resolved now

Anyone notice a pop sound when typing on their 1520? And I don't mean the key press sound when typing. I mean an occasional pop or crackle sound.

Yea I get it maybe once or twice a day.

Nope, haven't noticed any popping sounds. So, just updated the firmware, I think its safe to say that our USA buds aren't missing anything. There's no discernible enhancements I can see, although I've since had a text from Vodafone to say that my phone settings have changed......so I guess the update was successful, even if I'm not sure exactly what was updated. One things for sure.....this was no 8.1 update :-). COME ON WINDOWS BLUE!!!!!!

Got the update today (I live in Finland). So far so good... No sensitivity issues. Hopefully it stays like this :)

Just updated in UK. Hasn't fixed the screen sensitivity issue for me. It still registers a tap when i am infact scrolling. So apps open when im trying to scroll the screen. I find this happens less in normal sensitivity mode though, rather than in high, but still happens none the less.

I can confirm UPD for L1520 CV Poland. Today I got that.

Vodafone Branded 1520 in Germany. Got the update. Fixed the screen sensivity issue and I finally got Data Sense :)

Downloading the update right now in Italy. Unless they've fixed the sensivity issue, I'm selling the phone (the best phone I've ever owned). I can't take it anymore, expecially when I use my two other windows phones and they don't have it...

update available in the Philippines as well..

Installing in Portugal, on a 1520 purchased in the UK.

Have you noticed any difference? Did you had problems with your 1520? Screen, speaker pops/weird sounds and wifi issues? How stable is your 4G connection? Any droped calls?

Uk here, updated. Unfortunately I've noticed no improvement for the screen sensitivity issue or the auto brightness issue.

I am Disgusted at Nokia for not fixing the Double Tap instead of Swipe Bug! :¬( http://discussions.nokia.com/t5/Nokia-Lumia/I-am-Disgusted-the-New-Nokia-1520-firmware-has-not-fixed-Double/td-p/2412818

Weird.... I didn't get the mentioned update in the post, but after enabled preview for developer my L1520 detected an update but it's 1028.3534.1343.10212

Sensitivity problem seems to be much better now on "high" setting. Also, the info on glance screen is slowly moving up and down (to prevent display overburning?)

Its weird. Some state that there are improvements others don't. Assuming that the update is the same for everybody i thinkt that its not the 1520 screen that is sensitive to touch. It seems like owners are more eye sensible. Some more than others..Oh well its Valentin day...lol.

Does this update address the screen brightness or I should say screen dimming issues? I've been through 3 1520's and I had this same issue with all of them

please release the denim update for CV Malaysia..hate to be waited.
Windows Central Newsletter
Thank you for signing up to Windows Central. You will receive a verification email shortly.
There was a problem. Please refresh the page and try again.