Lumia 550 on sale at Vodafone for £39 in pay as you go deal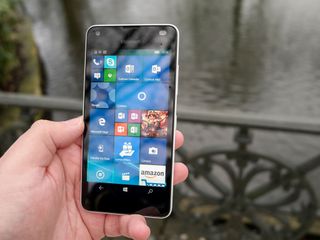 Vodafone in the UK is currently holding a sale on the Lumia 550, offering the Windows 10 Mobile device for £39 (opens in new tab). This deal is for the 550 on a Pay as you go plan, and, unlike the Carphone Warehouse deal for the same phone earlier this week, does not require a top-up of any kind.
The Lumia 550 was announced late last year as a budget-friendly Windows 10 Mobile device. It features a 4.7-inch display, a quad-core Snapdragon 210 processor, and 1GB of RAM. It comes with 8GB of internal storage, which is expandable with a microSD card. Its rear camera is a 5-megapixel shooter, while its front-facing sensor is 2MP. All of this is powered by a 2100mAh battery.
See at Vodafone (opens in new tab)
Windows Central Newsletter
Get the best of Windows Central in in your inbox, every day!
What do you mean? Anybody in the UK can purchase it.

I already have one and works well but with apps with high performance, you may have alot of lag. And also after setting up the phone, updating the apps are really annoying. Other than that I like it.(looks cool with mozo's cover which is in the microsoft store) Sent from Lumia 550, HTC Desire 816 or Dell Inspiron 5122

I have made a small tweak to my 550 by replacing the battery and use a 735 battery instead you will get more 150 mah and it will charge faster

Had loads of these to setup at work and had issues downloading the apps and updates they would just hang on downloading wifi would randomly disconnect and screen would go blank on a number. So I reset phones out of box and lots of issues went and apps downloaded first time. Reading reviews and seems others get same issues. Once all updates done it's a great phone and at that price it's a bargain.

Got a couple of these in my business, and a hard reset does them the world of good, but....how many people buying these would know that? My friend who works for said company has been resetting for people. I went to see him earlier and done one. He's sold 11 today. The good news is, mine run .242 without any issues. A good "cheap" alternative to these horrid budget android devices, and they will get updated, not be stuck on jellybean!

The original release version of the OS on these phones was shockingly bad.
Once I put my friends 550 through WDRT, all was well.

Question. If Vodafone are selling these at £39.00, without the need to buy a top up, what are Vodafone up to?? Seems a bit strange to me? Are they locked to Vodafone? Sounds like I am off researching tomorrow.....

Vodaphone are locked, cpw are unlocked. Posted from my o2 joggler.

That's right. With the exception of iPhones, all CPW handsets are unlocked. Have been for years.


Vodafone will be locked CPW are unlocked 650

Don't forget you can't access your vodafone account from your widows phone's browser and they don't have an app for it either...

You can't access it, even on Edge?!

I can access vodafone account on the web browser with my lumia 630 (build .242) :/

Why shouldn't you be able to access it by edge browser? Makes no sense. Of course you can.

They did used to show a message that says "We don't support your phone at this time" when you tried to use the mobile version of the "My Account" site. You had to switch to the desktop version to get it to work - I haven't used it in a long time though so it may have changed.

Yep, it still gives me that message when I open it in edge on my 930 with win 10 preview. Works fine on laptop/pc

I'd rather a discount for Lumia 650

I agree - I'd be more comfortable buying the 650, which is probably a faster, more responsive phone. As it stands the 650 is a little too high in price atm for me.

Still it doesn't worth it. Lack of core apps or apps with lack of core features !

It's a good phone but it's under power.

Not for £39 it's not it's a good phone and spec for the price if you need more power you need to pay for it. For some users this will be just fine.
Windows Central Newsletter
Thank you for signing up to Windows Central. You will receive a verification email shortly.
There was a problem. Please refresh the page and try again.