The Lumia 830 is reaching the end of its product life 10 months after launch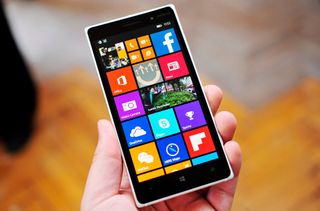 In September 2014, Microsoft first announced the Lumia 830 at the IFA trade show in Berlin. The phone officially went on sale in October. Now it appears that Microsoft is slowly retiring the 5-inch Windows Phone device in its retail stores, 10 months after it first launched.
According to what a source told WMPowerUser, the unlocked Lumia 830 has officially reached its "End of Life" (EOL) status, which means no more units will be made and the current inventory will not be replenished. Once that happens. demo units of the phone will be removed from display at Microsoft's retail stores, in favor of the Lumia 735 in the US and the Lumia 640 XL in Canada.
The Lumia 830 has a 5-inch 720p display, a quad-core 1.2 GHz Snapdragon 400 processor, 1GB of RAM, and 16GB of internal storage, along with a microSD card slot for adding up to 128GB of additional storage. It also had a 10MP PureView rear camera, a 0.9 MP front-facing camera, and a 2200 mAh battery. While Microsoft was very high on the smartphone when it was first revealed, the truth was that the Lumia 830 never really caught on as a so called "affordable flagship". Hopefully the company will have more luck with some real flagship smartphones that the company could release later this fall with Windows 10 Mobile.
Check out the unlocked Lumia 830 at the Microsoft Store (opens in new tab) ($449)
Source: WMPU
This is a shame. I have the phone.

Its a really good phone. Has no problems whatsoever and I like the display. Truth is, the phone is too expensive for its specs.

I agree with you on the price aspect, except for the slightly better 10mp camera it does not compare to the the much lesser expensive and better 730, i.e. you get an oled screen and dual sim which I think is a better deal.

I completely disagree.
I'm on my 4th 830, because of unresponsive capacitive button issues. The display is terrible, it was better on my 822... I won't even mention Glance.
AT&T, Denim.
GPS is really bad.
Bluetooth loses connection ask the time.
The metal frame acts as a radiator and can get extremely hot.
As the specs would suggest, it's kinda slow too.

Wow! Really? I love my 830, and always felt I'd got myself a high-end phone at a mid-range price. Performance is great! Glance is faultless. I use Navigon for my SatNav almost every day and it's faultless. It's currently running Windows 10, and I'll be using this phone for at least another year. No reason to upgrade.

Same here. I do have the issues with the capacitive buttons every so often, but other than that everything is spot on.

I had screen defects and random reboots. This is likely my 6th replacement, hahah. No issues now!

Same here. The 830 was wonderful for me. With that said, i did hear of quite a lot of problematic 830s out there.

I replaced mine so many damn times. This onw is holding up super well though. I love the design!

SD400, 0.9 MP front camera and you call it a high-end phone? The Lumia 730/735 has similar/better internal specifications at a much lower price. I knew the 830 would be a sales disaster as soon as it was announced. The 820 had almost the same internals as the 920 at a much lower price, and it is a shame that MS decided to deviate from it.

Same here. I haven't had any issues with my 830. Love the form factor. The best among all current Lumia IMHO. Shocked to know that it has reached EOL so quickly. Hope they release a successor soon.

I too have a lumia 830 and now they came out with the 950 and it looks like crap. I love my 830 and love glance and it's dimmer screen technology. It's battery lasts a long time 2 days or so and I can leave it facing up and see time. I love the flat, rectangular design. Don't like rounded junk like 950. I will not be buying new phones even if good specs. I never cared about the outward style of the phone but seeing new stuff I will not accept these new microsoft replacements. I bet the nokia 830 had excellent sales and microsoft purposefully wanted to kill it for some reason. It's either that or some how the over obfuscated buissness intelligence and anaysis it does, somehow now does the complete opposite of what it should?

Yeah, I've had my AT&T 830 for the better part of a year now and haven't had any problems. I think the price is too high given that the 640 on AT&T gives you about 80% of the performance for $80 (!!), but it's a good phone. I'll be curious to see what comes out in the next few months.

Never had a problem with mine. I also have a 930 but find the 830 more comfortable to hold and it or sumply looks fab in orange with it's black protective case. The camera is superb, screen , good and performance excellent. What more could you want? Apart from a more realistic price. The 830 was overpriced for the specs, but makes me worry that this is the path Ms are looking at going with their higher Margin business model

GPS is terrible I have a headache just thinking about it

I think that inconsistency is the problem here...
On my 830 the GPS works flawlessly. Fast and accurate.

I'm on my second 830, after 3000 factory resets and using the Lumia tool. I never had any issues u had. But my screen was lifting off the device (never dropped) and like u my Bluetooth was extremely terrible on both

I love my 830, it has shown none of the problems you mention, but I'm not a power user by any definition. It just works for my day in , day out.

From a spec sheet wise comparison the 830 vs 735, the 830 is more feature like. As we any phone, it's a hit and miss. You could get a functioning phone with no issues and you get a brick off the get go. I had a 920 and for the love of me I could not understand why this device was getting so hot on the inside, till I realized that the older generation Snapdragon 4 Pro soc, were the major culprit (also the Win Phone 8.1 software design and hardware design were flawed), if both of the designs of the OS running on these device and the internal device designs were rethought and optimized, maybe (just maybe) these flag ship devices would of been a success. The 9xx range using the old housing design, where (and still are for most) overheating like crazy (all one has to do is google for any of these flagship phones), the 920/925/928/ICON/930 and the word overheating and the amount of results showing off will speak for it self, mostly due to the fact that they were all cranked up to the max possible running frequencies on the MSM8960, if only the engineers would of throttled down the speed a bit and would of optimized the OS even more, this could of been the magic that was missing on these devices. Seeing how the new generation of the Krait architecture is better designed and that it works better, the thermal cooling requirements are less intensive and the newer designed phones work actually well. So far I love my 830, yes, the screen sometimes is unresponsive and the touch keys are sometimes unresponsive, but I have noticed this to be the case when I set the phone into "Battery saver mode". If I disable location service and disable most of the apps that I don't access so often (as I have a busy day of work, looking into facebook a few times a day), I have found that even without battery saver set to on, I can still go through a day time of use EASY and still have enough ample juice till the late hours of the night before pluging my phone into the charger (obviously trying to not let it go over 80% charge and not letting it go less than 40% charge) in the morning (as I get ready for work) and give it a boost to about 60% which is enough for me to get it charged later in the day for a little longer to get it to 80% (or around that number). So, despite of the fact that it does not carry a Snapdragon 800, but Snapdragon 400. I (personally) find it equal (and a better performer when playing 3d intensive games) than my 920 that is a brick now, did I mention that the battery is easy to change, unlike on the 920 where you have to open the phone and pray that you haven't broken anything inside. Just my two cents (and maybe, I got lucky with this phone compared to my older 920).

Yes it is a good, yet over priced phone when compared to equally speced devices. I honestly believe the L830 was a "Fill in the gap device" for L810 and L920 owners awaiting the cancelled MacLaren phone.

Exactly. Wonder what the price of its successor is gonna be like. I'm not digging those 950 & 950 XL Lumias for some reason so I'm either gonna wait for the 850 to come out or jump on the 930.

I suspect there won't be a 850 device. MS has come out publicly and said they are reducing the number of devices. Nokia did have too many models. My humble opinion is that they will have a low end phone 5xx or 6xx series, high end Lumia (950?) and a Surface phone for corp and power users.

I agree completely. It's a great midrange device--except for the price. It would've been worth the money with a Snapdragon 600 processor and a more advanced GPU. Which would've also served to properly differentiate the 830 from the lower end 7xx and 6xx devices. The problem with the 830 is it's competing with much less expensive devices with the same software, from the same OEM.

Nothing strange. It's named Nokia...

At&t's treatment of this phone and its customers in the US has been SHAMEFUL. I can't comprehend why they would want to sully their mostly excellent Windows Phone reputation In this way. I guided two Windows Phone fans towards this phone, and i now question if I want to lock myself into At&t for my next phone.

A good reputation for Windows Phone and $2 will get you a cup of coffee. Actually, it probably won't. AT&T likely lost more than $2 on Windows Phone. Posted via the Windows Central App for Android

Yeah, my father too. I have a Lumia 930 and still that think 830 is a really good smartphone. Very well build, much better than others midrange. I think Microsoft made a bade choice about 830's SoC, maybe Snap 600 would help to sell a little bit more. Lumia 730/35 have a more appealing price and offers almost the same.

I agree. I really like my 830. No real problems with it. I like the metal body. I hand it to people to take photos and they all say its a nice phone. It was too high priced when it was introduced. $450 too much. I got mine on eBay for $275 which is probably about where this phone should have been priced.

Agreed. Love my 830. Launch price was too high..mine was 240€ new&unlocked.

Made it longer than the 929.

I'm Just trying to get the bucks to buy one :(

On the plus side you'll probably be able to find them for less on Amazon or Ebay now.

Definitely not. When a phone is no longer made, resale prices skyrocket.

That's the problem. It was never really"affordable".

Hey find somewhere (phone arena) to compare this phone with the Lumia 640 and report back. I think you'll be surprised..... Aka don't waste time here go for the 640

Just got this phone for my wife for just £112. Its a great phone, really good camera, has glance and step counter too. Bargain for the price!

For those specs, It's overpriced to be honest

Have one myself it's a great device just looking forward to the 950 now

Same. I use it as a stop gap until I get an L950!

Shouldn't have bought this phone anyway damn it... Will never trust you Microsoft. WOW my 8 months phone is now EOL. THANK YOU

EOL = no more new inventory. Doesn't mean End of Support. It will be supported for 48 months at least.

Most phones go for a year, so this isnt a suprise.Dont even look at the Icon. Cant wait till the 950 though.

It will still work... It's not like they suddenly shuts down your phone...

But doesn't mean they'll support it with fw

I would be surprised if they didn't provide FW updates for atleast another year. Even my Lumia 920 still recieves FW updates, and it's almost 3 years old. The real bottlenecks on FW usually end up being the carriers.

Yea... Guess il be using this phone anyway.... I over reacted lol

Uhhh them discontinuing manufacturing doesnt magically render your phone useless, what are you crying about?

Guess my 830 is now collectibles edition. Loving the 830 FYI

It's a great phone but with AT&T selling the 640 for $70 and being able to get an unlock code for free before even opening the box, the price difference is too much for what little more the 830 offers. Isn't it mostly just camera and cosmetics?

Wireless charging. But yeah, same processor and screen.

Smart guy here.... Strictly camera and the edges feel more solid... 640 has better battery and that's what matters to me

Suppose I should move on from my 1020 as well?! ;)

1020 went EOL months ago. It's still the best WP in my opinion. At this time I don't see an upgrade path for it, however, which is a real bummer.

I have a 1020 and will be upgrading to the 950. I don't need or want a 41 MP camera. Other than that, the 950 is going to be an upgrade in every way. Besides, I'm noticing my screen does not respond to touch sometimes and it's getting worse. Also, something is rattling inside my phone. I don't think it's supposed to rattle.

Join the club, Lumia 830 owners (former Lumia 810 owner here). I know, it stings. You'll get used to it.

How does it "sting"? EOL just means they won't continue manufacturing the device. It will still recieve software and firmware updates for some time (heck, they are still providing upsdates for the Lumia 920, which is almost 3 years old!).

Unlocked models maybe, only if for the fact that Microsoft can push updates to those directly. Don't expect anything from a carrier branded device though (another 810 owner here speaking from experience.). Best you'll get is the next firmware update and an OS update; Just one, no more. When a device EOLs, carriers dont seem to care anymore. Only thing 830 has going for it is it's not a carrier variant in and of itself (like the 810, 822, 521, etc.), so it could still get updates for that. Other then that I'm getting a heavy sense of deja vu with this report. May be wrong. Maybe carriers have learned. Maybe not.

From what we've heard, as long as a carrier-locked device gets upgraded to Windows 10, things should be OK from there because it will fall to Microsoft to provide updates, so they should be supported for as long as unlocked models.

To my understanding, FW updates will still have to go through carriers (and OEM's (or non-Lumia devices), even on Windows 10 Mobile. Microsoft will only be directly pushing out software updates.

My Lumia 920 is AT&T branded, and recieved Denim. The device was EOL ages ago, and AT&T still pushes out updates. I have a "unlocked" (actually an Italian carrier varriant, but sold by Nokia as unlocked) Lumia 925 as well, which also has Denim, and EOL quite a while back. The Lumia 830 has had a pretty rough "life". Lots of issues, poor pricing for the specs, and not recieving updates. Really don't think EOL will make much of a difference. It can still recieve updates, it's just a continued question as to whether or not carrier will update it.

My AT&T Lumia 920 received the CYAN update and that was the last one received. My AT&T Lumia 830 has NOT received Denim (I do not count the lame out of the box version) nor the FirmWare updates. EOL will not make a difference as long as AT&T continues to block OTA updates of software (8.1 update 2) and firmware. I will never buy another AT&T branded device.

Not if you're on AT&T! It was never supported. Lol

Why does it sting? It's not like they've said you're not going to be able to upgrade to Windows 10 or something. That would sting.

Well that's the point. My 810 was EOL'D, and never got an update past amber. Carriers don't care about EOL'D devices. That's why it stings a lot in my opinion; just bought a phone I will have for 2 years, and a couple months later never gets another update.

If you sign up for the insider program you'll get all the updates you want.

Have it as well... Good phone but I have a cracked screen... No one will fix it near me. But I will wait for flagship phone

"The affordable flagship". It's end of production makes sense though. Today, Lumia 640/XL is a much better buy.

Not surprised by this news. It was advertised as an "affordable flagship" but actually a "less unaffordable mid range phone" would have been much more accurate. Good phone, but marketed incorrectly and overpriced.

Agreed. The price from the beginning was a bit much, but even with the reduction, it still didn't really make that much more sense.

It's a decent phone. My 920 died a few months back and this was the only thing comparable to hold me over until new flagship. I'm annoyed it never got full demin to take advantage of the camera stuff. that was a shady move. wish my 920 would have held on a few more months :-|

I think many 920 users went this path while waiting for a new flagship, me too. I got lucky and got it for €260 on Amazon Germany, less than half of what I paid for my 920 on launch day. Will never do that again....

What Carrier? What RM Number of your L830? AT&T devices is RM 983.

To bad. My 920 stopped working after 3 years, so it was a 930 or 830. I went for the 830 because it was cheaper. I love the phone, i feel its a lot more snappier than the 920, but I am going to get a wp10 flagship when its out. I love microsoft phones!

It went down quite a lot in price since it's release. If anybody wants to buy it it's possible to find cheap deals of this phone unlocked . I have it and it's a great phone.

Just wondering if this is the Sandra A. Bullock?

Sandra, can you add a profile pick so we can see if it's really you?

I could see this coming. With Microsoft's strategy to produce a few phones and most likely coming out in September, it makes sense.

This is Lumia Icon territory - no way to even get a warrenty claim on it, only comparable hardware they are willing to replace with is the HTC One M8, which is not even close imo. My charging port is broken, and I want to replace it, but they have no phones to replace with. I passed on the HTC, and am in the process of trying to get a refund on my extended warrenty. Luckilly, the wireless charging still works, so i went out and picked up another wireless charger. I only need it to work for a few more months until the new flagship arrives.

Tell me about it. I had an Icon and left Vzw due to lack of updates....now I'm on AT&T with a Lumia 830...*sigh* they are not making it easy to be a Windows Phone user...

It needed to be in the $250-$300 range, or it needed a 6xx or 8xx processor and a 1080p screen. Microsoft just missed it with this device.

You are causing many L830 users (AT&T) pain!

Really liked this phone when it first came out. Unfortunately the 930 had dropped in price to around the same so it was a no brainer decision.

The only gripe I have with my 830 is back cover speaker distortion problem.

Phone had bad specs except camera.

I was just about to buy this phone.. But I went with the 640.. The XL is just to big ..

Calling this as "affordable flagship" without a price tag that clearly says "affordable" was a real MISTAKE.

It's such a great phone. I do agree that it was a bit overpriced for what it is and the marketing was sub-par I do love the look and feel of it. Hard to compart it to anything else. I just hope it gets Windows 10 Mobile

Received the 830 a month ago as a replacement from ATT for my broken 925, the good news is that my contract is up in 1 month and will shop for a new replacement

The whole idea of an affordable flagship was wrong, especially at the price this was initially offered. Just like the actual flagships it was a good device overpriced and was doomed never to catch on and sell well. Irrespective of who or what msft think they are; they need to sell their devices cheaply. They're tho expensive for what is a beleaguered, though good if compromised, ecosystem.

That's fine.
The 830 it's a piece of garbage, particularly the AT&T variant.

Better than the 930 in my book.

Let me guess, you have an 830 and not a 930?

Flip that didn't stay arround long.. 930 will follow soon

Good riddance. "Affordable flagship," LOL.

I have the phone. I really like it. Many are saying it was overpriced. I on the other hand thought the price was ok. However, as the masses didn't agree and rejected it, AT&T has abandoned it completely. What a shame! Can't get W10 unless I go through windows insider program which I will do.

Shame, but good thing I got this phone on Ebay instead of through ATT, though it's locked to them anyway. Saving up for the 950 series because I'm not going to make the mistake of buying carrier locked unless MS can guarantee a much smoother update experience. I really like the 830, too. At least I was able to force Update 2 on it so that'll hold me over for now.

How did you "force Update 2"? Many want to know.

http://forums.windowscentral.com/windows-phone-8-2/359510-5D-in... Worked like a goddamn charm. Enjoy yourself!

One can only hope Nadella does not change his mind again and cancel its follow up model.

I've never really liked my 830. It operates no better than my old HTC8x did, is so much less visibly appealing, and fits so poorly in the pocket. Fortunately, I got mine for 1/2 price.

Never impressed me in the first place. Always seemed like a half-assed attempt to fill a void

Have it and still love it. Will rock the coming preview build on it too.

What about GSM phones isn't the 735 a cdma phone or Verizon?

I got one for my wife, and she is more than happy with it. No Denim? No big deal. The existing camera works very well, and takes better pictures than any phone she is around (except my Icon.) Too many people here treat FutureUpdates!!! as a be-all, end-all feature. My wife, being a typical phone user, doesn't go crazy with apps. She doesn't tax the processor. She doesn't overclock things. She just enjoys a snappy, functional OS with a great camera.

Got one for my wife too. Without Denim the camera takes seemingly forever to start up. Not useful when you're trying to capture a moment with your kids. She's now talking about moving to iPhone because of those sorts of frustrations and a small handful of apps that the platform is missing. She's been on WP since the first version 7 devices were available

Would be a better choice actually. The slow-to-open camera is something that pisses me off real bad with WP, whereas on the iPhone, it is very instantaneous.

I like my AT&T Lumia 830 (first phone with wireless charging!), however I think the camera would have really shined with the full Denim update. I was vascilating between the 830 and the 1520...but now I may just buy a refurb 1520 to hold me over till the new Windows 10 flagships launch! Plus, I'll be able to install the Insider preview to the 830!

Its pretty obvious what Microsoft is after. They want you to upgrade your Lumia phone with their next affordable phone in 12 months. Speaking from the point of view where i purchased a lumia flagship 920 almost 3 years ago, id wished id saved my $ and just ordered unlocked mid range lumia from the Microsoft Store. Since the 920 purchase(once 2 year contract was up), ive traded my phone 3 times, all with Lumia products, 430, then the 635, and now the 640. I will never again waste my $700 on any Flagship phone. Come on Sheep-le pull your head out of your a$$ and realize that forking over 700$ every two years is highway robbery considering most device support ends after 2 years. At least Microsoft and Apple actually upgrade their software. Google just wants you to buy their next phone with upgraded spyware, i mean software.

Sounds logical, they have to retool for the new phones anyway ... I don't know what the fuss all about

Because it was a really nice device. And there is no reason why the 730 still exists ...

Lumia 730 is what killed the 830, awesome phone with dual sim support and same specs as 830 but at half the price. Lumia 830 was heavily overpriced and is rightly killed soon.

Why? The 730 is basically the 640. So there is absolutely no need for it to still be around. And while I agree that the 830 was way to overpriced when it's sales began, the price has gone down by a lot now. And at 264€ it is actually a quite nice phone. Also it is one of the few phones featuring metal in its design while still having a removable battery and expandable storage. Also you get a very good camera when you go for the 830 which remains to be seen on other phones at that price-range.

Microsoft has put out too many phones with confusing numbers to non-windows phone smartphone users. Hopefully, the new product line up will be more attractive and less confusing.

I really hope they will make one with a metal body or at least metal parts. I really liked the 830 designwise. It was the only phone I know which featured metal while still keeping a removable battery alongside expandable storage and qi wireless charging. That is a damn cool combo!

Next in line is the NLxx, all the NL must disappear.

Mr. Callaham, I can't retain myself from telling you that periods (the end of a sentence, the punctuation mark) go before the last quotation mark. I've seen this error in many of your articles.

@Thomas Molina: in American English, not British English

Wow I was always curious about this. The more you know!

Well I just bought one on ebay fo £85 with wireless charger. So far its excellent. Less heavy then my previous 930 and much smaller then my work 1520!

I played with it a bit at the AT&T store. Seemed like a nice phone but way way to expensive for a member of the Snapdragon 400 group. It shouldnt have had the same processor as the 635. Not for $450 dollars.

My biggest complaint is the screen. It's very difficult to view what's on the screen in daylight conditions.

I wanted to buy this......when price dropped....but soon it's been discontinued....so now i have L640....i also have L920.....and eagerly waiting for a flagship LUMIA.

If Microsoft continues selling the 830 for $449, it'll probably still be in stock in another 10 months. This phone is worth $200.

It should have been priced at around 250.00 .

It was a good Phone... RIP 830 ;(

The fuck does that mean for my Lumia 830? I will still receive updates, right?

It's a beautiful Phone, right up there with the 925, but when you call something an 'Affordable Flagship' and it's neither of those things by a long shot, it's no wonder it didn't catch on.

Most of the other manufacturers drop new flagship phones yearly. Is this really a surprise? Especially when you consider that they only sold this for ATT and the US and Windows 10 is coming out in a couple of months. They're still going to support the device (it will likely get the Win10 upgrade), so what is there really to complain about? Technology moves fast nowadays. If you want the device, go buy it ASAP. If you have the device already, enjoy it.

Here in Brazil, in one of the new "Microsoft Authorized Reseller" (an old Nokia stand), the salesclerk told me that, except for Lumia 535, no other x30 series will be refilled. The main order is to sell all the stock and focus on Lumia 640 / 640 XL.

Smh F*cking retire the damn 730 instead ...

Exactly. Shame on Microsoft

Why? 730/735 is selling very well unlike the pathetic failure that was the 830. 730 gives same specs, nice design, dual sim support and all this at half the price of 830.

Honestly unless the 730 supports US bands, it doesn't matter. The 735 is only on Verizon.

Honestly, USA, Verison etc don't matter, it is just one country and anyway windows phone do not sell much there, i was speaking about Worldwide sales in which 830 is a big failure and 730/735 is a successfull model that is why it is still being sold whereas 830 is dscontinued.

Well, here in Germany the 830 goes for 264€ and the 730 for 179€ Also you get a waaay nicer design with better materials if you opt for the 830 and an awesome camera aswell. Also the 730 basically equals the 640 and therefore is kinda obsolete ...

By the way, the Nokia 930 has also reached EOL and it has already disappeared from several Microsoft Stores accross Europe (Portugal, UK etc)

Lumia 830 with a 10MP rear camera ?? Are you sure of this because my father has a Lumia 830 with a 20MP rear camera (one shot takes one in 15MP and directly also a 5MP)...

Then your father has the 930. Because the 830 has a 10mp.