Lumia 920 available at EE stores for £329 with free charger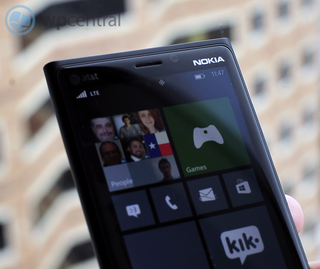 The UK's first network operator to offer 4G, as well as being the exclusive partner for the Lumia 920 is currently offering the Windows Phone for a discounted price when purchased on PAYG (Pay As You Go). EE has been the only operator in the UK to offer the Lumia 920 since the Windows Phone 8 device was launched two months ago.
Restricted to EE, Orange, T-Mobile and reportedly Virgin Mobile, consumers who opt to purchase the Lumia 920 locked to EE will be able to pick one up for just £329. That's over £200 cheaper than unlocked pricing. Unfortunately the Windows Phone will be locked to EE, which is currently going through teething while customers (and potential subscribers) are left baffled by numerous issues.
Ranging from a poorly constructed website to obscene pricing and poor service, EE hasn't had the easiest of transitions when taking up T-Mobile and Orange, wrapping both together with its new 4G service. When browsing the EE website it's not apparent that the Lumia 920 is a hero device for the operator with the exclusivity deal that's currently still in force with Nokia. We're not seeing a strong Windows Phone push.
For £329, the Lumia 920 is a bargain - regardless what network the device is locked to. Sporting an 8.7MP Nokia PureView camera (with a 1.2MP front-facing shooter), a 4.5'' 1280 x 768 IPS display, dual-core 1.5 GHz Snapdragon S4, 1GB RAM, 32 GB internal storage, 2000mAh battery, wireless charging, it's definitely worth the price tag - especially since a free wireless charger is involved.
Vodafone has announced plans to stock the Lumia 920 in early 2013, while Three UK has revealed on Twitter that the company wants to take up Nokia's flagship Windows Phone. We expect other UK operators to follow suit, competing with EE on the 4G LTE battleground. Should you be looking forward to investing in the latest hardware from Nokia and aren't in a hurry, be sure to keep an eye out for deals that will be available with carriers.
Check your local EE store for more information on the deal.
Thanks, yosagojimbo and Andrew for the tips!
Windows Central Newsletter
Get the best of Windows Central in your inbox, every day!
Rich Edmonds was formerly a Senior Editor of PC hardware at Windows Central, covering everything related to PC components and NAS. He's been involved in technology for more than a decade and knows a thing or two about the magic inside a PC chassis. You can follow him on Twitter at @RichEdmonds.
They also throw in a pair of wesc over ear headphones (not sure of quality though as i'm giving them away as a Christmas gift)

I wonder if they can get it in cyan? Seems like the US is sold out of cyan.

The red and yellow are exclusive to phones 4 u, ee stores only have the original black as far as I know. Got this phone yesterday after this deal went live- was willing to pay the more expensive price before the promo so am very pleased!!

The have the white ones instore too.

Love my job, since I've been bringing in $5600… I sit at home, music playing while I work in front of my new iMac that I got now that I'm making it online(Click on menu Home) https://goo.gl/Lfc5S

worst carrier I've ever had to deal with. purchased an unlocked 920 instead

I'm stuck with orange contract till may 2014 so it works out cheaper than the £590 orange wanted from me to buy out remainder of contract. (also they only currently have payg handsets in black, but the handset feels nicer in hand than the white lumia 900 imo)

EE with all of their issue seems like the Sprint of the UK

Don't really understand the criticisms levied at EE. Not much more expensive than Vodafone and they have the best roaming tariff around - free calls and texts to and from any Zone A country when travelling within Zone A (USA, Europe, Australia, Israel, Eastern Europe, etc) for just £5 a month. Phone support has been amazing and a breath of fresh air compared to Vodafone. The stores need more training and I agree, they have done little to push the 920 but reception is great (4G even where I shouldn't have it and better indoors tham Vodafone at home and office) and website now improved. I like them, although I didn't think I would. The PAYG price is amazing. Good to see other carriers now able to take up this great phone too

I used to be an Orange customer for 9 years and my parents for 11.
Around 24-18 months ago the coverage in Manchester noticeably started getting congested. Orange were great about giving me frequent £10 bill credits for paying for a service I wasn't able to use as messages wouldn't go through, calls missed as I was 'engaged'. Even happened on mates phones too.
I moved to Vodafone as last November I tweeted at Orange how I was annoyed and @VodafoneUKDeals offered me a great deal to move. This year I brought my parents over to Vodafone.
Basically anywhere I use my phone - Northern Ireland, Devon, Manchester and Bristol, Vodafone deliver coverage. My HTC Mozart always showed 3G/G on Orange, it showed H on Vodafone and now my Lumia 820 is fairly consistent on H too, if not E.
I despise EE for the way they treated my parents. The coverage in Northern Ireland took a dive as they merged networks and then shut down the T-Mo masts. Even in my Northern Irish home town the central Orange mast has been turned off and now its impossible to go shopping and still be 'mobile'. I had to berate Orange for a few days before they would consider giving PAC codes to my parents as apparently there are no issues in Northern Ireland. Their own coverage checker says there's very little 3G around, yet Vodafone have it in really rural places.
EE retail are a bit dim too, been in the Exeter store a couple of times and tweeted them - they have a Lumia 710 on display with an info tag for the 610. Apparently they've fixed it. Still not right.
The Kevin Bacon ads really annoy me too. We use mobile phones, not mobil phones. Generally it seems that Orange, Hutchinson, T-Mobile, FreeServe, Wannadoo, Everything Everywhere or One2One - whatever name they use this week are having an identity crisis and will ultimately suffer for their foray into 4G first. Its misguided, overpriced - nobody paid a premium for 3G over 2G, what makes this time around any different? The other networks are building out the 4G masts currently hoping they've bet on the right frequencies and equipment and can flick the switch when OFCOM say its all good. In the meantime EE look like a moth eaten patchwork quilt across the UK.


I will like to share my own very first app called Digital nightstand that turn your Tablet or PC into a beautiful clock that sits on your bedside. Set the alarms so that you don't miss your morning coffee or favorite ball game.
http://apps.microsoft.com/wind...ee74-4541-aa74-58440fc95454

It defintely works on Virgin as they are just a MVNO on the EE network.

I wonder if they're discounting it due to low sales

I have to say you really do bash EE in the articles here, I've not had any problems with their website, or customer service, and i truly don't think their pricing is all that bad, its much cheaper than the orange contract I've just come of AND i was restricted with my texts and minutes, and i had less data.
Ill be curious to see what the pricing is like though when the other networks join in with 4G, that will prove whether their pricing was indeed rip off while they were exclusive ;)

Exactly.....
I pay £5 more for same Data, MORE mins and MORE texts; AND I get 4G!
I too have had brilliant customer service and no issues with Operator.... I think people cry because their to tight fisted to pay a few £ extra for 4G.... And then bitch how the prices are obscene... Morons!

Thanks. I'll inform my girlfriend she's moronic for her signal to cut out regularly, receive terrible customer support, as well as ridiculously priced plans (with little to no data allowance) to milk the 4G exclusivity (which is a disaster thanks to Ofcom).

I second you sir. got one from ee and yes they are expensive. I pay the same amount (£36 after my discount) for a 18 month contract on Vodafone with 2Gb of data and unlimited everything else (the price plan is called red). 4G is a gimmick still in the u.k. I have done actual comparisons using my Vodafone sim and its the same actual performance when opening web pages e.t.c. Apparently i used up 1gb of data in 10 days and i am not one for youtube on my phone. They cant even show your data usage on the website when you log on or when you call them. They have to send you a special link. Its all a big joke.

I've had my phone for well over a month....
Not once have I had issues with signal across all spectrums! Nor has my wife with her 820! Ever though your girlfriend has a dodgy phone?!?
I've contacted EE once for settings as initially they didn't have it on their site, and were very helpful! As for prices, I pay £5 more a month for the phone I wanted and 4G with 1GB... I was paying £36 on O2, so how is that obscene?!?

I had a terrible experience with EE when the 920 launched. After searching through their website for it, I went to order, but was left with an error message every attempt. I called the helpline number to find out the number was "unavailable". In the end, I went to P4U. Everything when through just fine, pending EE's processing. After over a week of waiting, P4U told me that EE declined the order with no explanation. I later found out via WPCentral that the tariff I opted for had been changed with an additional £150 added to the upfront payment. I was livid. I had been totally screwed around for over a week all because EE couldn't get themselves in order.

I have been with EE less than a month and have had to ring in 31 times so far to complain. Especially about the massive amount of data that THEY reckon my L920 is using. Up to 5Gig it will be by the end of the month. And I'm not doing anything that I didn't do with my HTC 7pro for 2 years, without ever going over 1Gig. They have no idea.
Add to this, being charged 3 times for the early upgrade fee, (twice on the same bill), a useless website, total lack of support for WP8. Constant badgering to take up their Clone Phone backup service, that's only available for IOS and Android (never mind that WP don't need it as its all in the OS).
All in all, I wish I'd been able to stay with Orange, where I had been for 17yrs with barely any problems at all.

To be fair the clone phone fully loaded service is pretty good, £6 a month and you know you'll get a new phone to replace yours the following day if you do it before 19:30! I don't care about the rest of it because its already covered by Microsoft! I've had no issues with them except for the lack of 4G where i live but i knew about that before i started!

Is that for a new contract or available as upgrade aswell? Hmm nice deal!

Its for pay as you go, no contract involved

Hmm I really wanted a Nokia Lumia 820, but this is the same price as the 820 is at Carphone Warehouse. This is tricky to decide on... I'll probably still go with the 820 though.
EDIT: Holy crap, it's actually cheaper than the 820. I am completely floored. Looks like it might be a 920 for me.

I'm on three uk, £34 a month, 900 mins, 5000 texts and UNLIMITED data!!! Why in the hell would i go to 4G for its internet when it costs £2 more a month just for 500mb of data?! That's just one film! That's why EE is a rip off! Plus the 4G coverage in the UK is shockingly s**t...

EE are a rip off, im on a reduced panther 36 orange contract with my lumia920 (28.50 through p4u) which is fair value. Just have to put up with EE shity customer service.

No problems here with EE. Only been with them a month and so far ive had better service and signal than i did with o2.

ORANGE/EE customer service is horrendous. I had an online account....it got locked when I moved my number to another orange sim - now when I access my account I can't....I rang orange/EE to resolve the issue.

"Im sorry, your number is not an orange number, you aren't our customer" - erm. Your taking £35 a month out of my account and well....my phone says EE so work that one out.

Is this worth getting and then paying for an unlock code? :)

Yeah, unlocked versions are like £500, unlock price from orange was £20. You just have to wait patiently for 3 months.

Typical got one on friday at phones4u at £459

Going to try and get mine unlocked to use on vodafone

I want to know when Deezer will be updated for wp8, I'm with ee and want to use my bonus. At the moment the app doesn't even log in.

Deezer works on mine through orange swappable

The £459 I paid at P4U seems rather extortionate now! Ah well. I love my 920!

I can't imagine that low price will be sustainable - possibly just a loss leader with a very limited number of units. otherwise they will have to drop the price of the 820 also.

Are you retarded? A loss leader being a flagship phone?
What do they want to bring you in with a loss on a £329 phone so you'll come in and buy a 6-pack? Or maybe a bluetooth?

Uk Hot Deals website seems to indicate this is on all PAYG phones. Can anyone confirm? This would make 820 extremely attractive.

The worst decision that Nokia has made to lock with the worst UK network. I would have buy 920 long time ago if it was available.

I showed two friends my Lumia and the both went for this deal. But it is still hard to get the staff to sell the device on PAYG let alone at this price. They had to force the guy to scan the charger and handset through the till and still the salesman could not believe it.

Just been to my 2 local EE stores and niether one of them knew about this deal or if they did they didn't want to let on about it.

I asked instore as they price them at £400 ish but once scanned they take 20% off price due to instore promo 20% off payg deals. The store in pyramids shopping centre, wirral were only aware once i told them. Just ask them to scan the handset and the adjusted price should show.

Thanks! I'll pop back and give that a go, this is a deal too good to not go for even though I'm an O2 customer whose contract isn't up till April I figure I can get this unlocked at http://www.fonefunshop.co.uk/Unlocking/lumia/index.htm
Been happy with my 800 even with 7.8 on it (which is a vast improvement ver 7.5) like I said though, an offer too good to be ignored :)

Do EE sell the WHITE version?

Yes but they didn't seem to have many black seams to be more available on payg ,corporate discount is £20 as well nhs police etc

OK folks, managed to get the guys in the shop to double check the 'Christmas Offer' as they call it and sure enough it is available however, there is no free wireless charger only a set of over the ear headphones available in black or white.
Called EE to double check this and they confirmed no free wireless charger. A bit dissapointed by that although the massive knockdown in price for the 920 has more than made up for it!
I loved my Lumia 800 but I am IN love with my 920 ;-)

The ee shop i went to said the charger was showing full price but gave it to me for free anyway (the bloke said he will just leave the charger off the bill). But anyway i'm loving the phone and the camera (massive improvement ove the lumia 900)

Does anyone here know if a unlocked lumia 920 phone will work on a sprint network? My friend wants to know. Thanks

I feel a bit ripped off having got out a £41 a month contract

Ooo so tempting at that price and totally agree there mobile website is terrible nothing of this offer gunna check Leicester store tomorrow.

I really regret my decision to leave O2 for EE. Their customer service has been absolutely dire. Phone died after I had it for 17 days so they had to send it off for repair (wouldn't replace). Three weeks later and I'm still waiting for it. Trying to complain or at very least speak to a manager seems to be a near impossible task and the shop staff are completely useless. No one at the company seem to realise they work for EE and instead blame other departments and leave their customers wasting hours of their own time to chase things. Phone is a great price at first glance, but at what cost by going with EE?

this is providing they have any in stock. the store near me have none and told me they werent provided with many to start. t-mobile uk have told me that i wont get mine until early jan, having ordered last week.

wow, this sucks.. only 3 weeks ago i spent £459 getting mine from phones4u, still haven't recieved my free charger, got no free headphones either. could of saved £130! That's a lot of money!

I so better not tell my friend about this deal she paid £450 on friday to phones4u for the black model, poor thing.. i was playing with her 920 today and decided even though i liked the phone my HD7 hasnt got anything wrong with it so i wont get the 920.. but now im seeing this deal! like arghhh now im like i kinda want it, i did originally want the yellow one but at this price i wouldnt mind having the black one

Get the Nokia, I did. Knocks the socks off my old HTC HD7

I went for hunting for a Lumia 920 in EE stores on Christmas Eve. I picked up a black one with free wireless charger and free wesc headphones for £319 + top-up. I almost feel guilty taking it from them at that price! I will be unlocking it from a third party website and using it on Vodafone. After reading the forums I'm confident that this will work out sooner or later. I can still use my DVP until that is sorted out.
I got the impression that EE are a mess right now, the staff still consider themselves to work for Orange or T-Mobile, not EE. It will take years for them to integrate properly. The price reductions on their PAYG phones were not advertised anywhere in the store, as far as I could see, it only showed up when scanning it.
The shop I bought from was previously Orange. They had a large poster stating that each 920 got a free wireless charger, and the small print on it didn't exclude the situation, so that had to give it free really. They said they had been doing the same the previous day, manually discounting it, as the till didn't recognise it as part of the deal.
They had no idea when the deal would end, but apparently they sometimes they don't find out until the day it finishes.
Reading this article has saved me at least £100. Hopefully this info will help somebody else too.